It is not given to thee to finish the task hut neither art thou free to desist therefrom.
With this ancient saying (source unspecified) the much-heralded Church of England-Methodist joint report on church unity was made public February 26 in London, after discussions lasting six years.
Two stages are suggested in the outline proposals for the coming together of the two denominations: first, a period of "some years" during which there would be inter-communion while each retained its distinct life and identity; second, an organic union in one church. It is stressed, however, that if stage one is entered upon it will involve also the obligation to achieve stage two in due course. Details of the 63-page report will be discussed this year by the Church of England Convocations and by the Methodist Conference, and it is expected that these bodies will at once commend the proposals to the study of their respective churches at local levels. By 1965, it is hoped, the churches "may be ready to say through their central constitutional bodies whether they accept the proposals and, if the answer is favorable, how they would wish to proceed to their practical implementation."
Dr. H. J. Carpenter, Anglican Bishop of Oxford, and Dr. Harold Roberts, Principal of Richmond College (Methodist), were joint-chairmen of the report committee, and of 28 participants five had died or resigned since talks began.
If the achievement of final unity (which would augment the Church of England by more than 25 per cent and bring the combined total of communicants to more than 3,600,000) demands radical changes on the Anglican side, the Methodists have the more immediate difficulty of coping with stage one, which provides for their acceptance of episcopal church government. The report gives 11 pages to a "Service of Reconciliation," when members and ministers of each church would be formally received by accredited representatives of the other. After the main service in "some central place," similar services would follow throughout the country. As soon as possible thereafter a number of Methodist ministers, elected by their own conference, would be consecrated as bishops. (For legal reasons this may involve parliamentary legislation.) All future ordinations in the Methodist Church would be performed by bishops assisted by other ministers—and this practice would be "strictly invariable." Such ordination services would follow the pattern used in, for example, the Church of South India.
NEWS / A fortnightly report of developments in religion
IMPACT ON BLAKE-PIKE TALKS
Will the Anglican-Methodist merger pattern in Great Britain exert any influence on next week's Blake-Pike talks in Oberlin, Ohio?
Spokesmen for the Consultation on Church Union, which now embraces six U. S. denominations, indicate that the 63-page British report may give American ecumenists some important answers to merger problems.
Attention probably will be focused on how the British propose to reach agreement on the historic episcopate. One source close to the leadership of the consultation predicted that there would be "great interest" in the British plan made public last month.
Meanwhile, a communications official of the United Church of Christ called on the American consultation to lift the "curtain of secrecy" around its talks and admit reporters. In an address at the Pacific School of Religion, Dr. Everett C. Parker said the deliberations need the "disciplining corrective of impartial reporting by competent persons who are not engaged in the heat of the debate."
Parker's plea for open sessions failed to elicit any immediate response from the leaders of the consultation.
At one point in the printed service form the following words appear: "Then shall the Bishop lay his hands on the head of each of the Methodist ministers in silence. After he has laid hands upon all of them the Bishop shall say: 'We receive you into the fellowship of the ministry in the Church of England. Take authority to exercise the office of priest, to preach the Word of God and to minister the holy Sacraments among us as need shall arise and you shall be licensed to do.' " The corresponding words to be spoken by the presiding Methodist minister later in the service, after a similar laying of hands on each bishop and priest, are: "We receive you into the fellowship of the ministry in the Methodist Church. Take authority to exercise the office of a minister, to preach the Word of God and to minister the holy Sacraments among us as need shall arise and you shall be appointed to do."
At the second stage—the achievement of organic union—extensive legal and constitutional changes will be called for in the Church of England, involving a degree of autonomy which that church does not at present have. "It is to be assumed," says the report, "that the united Church will be free to settle its own forms of doctrine, worship and discipline, to appoint its own officers, and to settle disputes in its own courts with the same degree of freedom from State control as is now possessed by the Church of Scotland." This principle would require approval by Parliament.
While Methodist local preachers and class leaders would still exercise their gifts as widely as they do at present, lay administration of Holy Communion would cease. The report raises also, but does not answer, the problem of Methodism's present relations of intercommunion with other non-episcopal churches; such relations might be jeopardized under the new dispensation.
After the nervous scholarly diplomacy of the main report comes the no-less-scholarly but completely forthright "Dissentient View" entered by four of the 12 Methodist signatories: C. K. Barrett, divinity professor of Durham University; T. E. Jessop, emeritus-professor of philosophy at Hull University; Thomas D. Meadley, principal of the evangelical Cliff College; and Norman H. Snaith, noted Old Testament scholar and former president of the Methodist Conference.
Said the weighty minority:
—The report's section on Scripture and tradition does not recognize adequately the primacy of Scripture. "All Christians have much to learn from the past, but it is their perpetual obligation to bring their inherited customs, institutions, and traditions to the bar of Scripture by which Christ rules in his Church."
—The report understands "episcopacy" in another sense than its scriptural meaning. The concept of "historic episcopacy," as understood by the Church of England, is historically incapable of proof and completely without support in the New Testament.
—In the Service of Reconciliation the bishop's laying on of hands and the words which he speaks are capable of being interpreted as an act of ordination which imparts to the Methodist minister this "extra but essential gift" qualifying him for inter-communion. The fact that Methodists lay their hands on Anglicans does credit to Anglican charity, but is irrelevant. "Methodists have no right to lay their hands on Anglicans, and most Methodists would not wish to do so; they can pray for them without the aid of this superfluous act." Episcopal laying on of hands implies episcopal ordination, which almost magical view reflects adversely on Methodist ordinations and ministries in the past.
—The word "priest" as a description of the minister is unfamiliar in Methodism, and is expressly connected with sacrificial views of the Eucharist and with the power to pronounce absolution. The New Testament applies the word hiereus to Christ, but never to ministers.
—The minority stresses that acceptance of the proposals means not just inter-communion, but full union. The exclusiveness which bars the Lord's people from the Lord's Table would have strengthened its grip. "To move from a Church committed to the evangelical faith into a heterogeneous body permitting, an even encouraging unevangelical doctrines and practices, would be a step backward which not even the desirability of closer relations could justify."
THE CHURCH'S ROLE IN POLITICS
The best way for churches to bring Christian principles into government is by persuading Christians to become politicians, says former Congressman Walter H. Judd.
"I am against political action by the Christian church or its agencies," Judd told a meeting of Chicago Theological Seminary's Board of Associates last month. "I am for political action by Christian persons."
He stressed that in political matters the church must not try to speak for its members, but must speak to them.
"The proper role of the church," he said, "is not to try to change government by lobbying in Washington, or by issuing statements on what the government should or should not do; rather its real work is to change men and women in order that they, individually and as groups, may change society and government."
Judd was a Congregational medical missionary to China before entering politics. He was a Republican member of the House of Representatives from Minnesota from 1943 through 1962.
According to Judd, "it is not the business of the Christian church or its agencies to try to run the state." The churches' major "business," he said, is to "challenge and inspire Christian men and women to take Christian principles into every walk of life—including politics—and put them into practice."
He called on the churches to encourage their members to:
"—Study issues and candidates in order to be sure of the facts;
"—Come to conclusions in the light of Christian principles and values, Christian ends and Christian means;
"—Join the political party which the Christian thinks is nearest right on the most important issues, and then work within the party to strengthen its position where he believes it to be right, or change it where he believes it to be wrong;
"—Participate in the machinery of his party to help select good candidates—able men and women with sound Christian convictions and courage;
"—Help elect such candidates by himself voting for them and by persuading others to do likewise; and
"—Be willing to become a candidate for public office and serve in such positions as a public service—yes a Christian ministry."
Five Danger Spots
At a meeting in the White House last month, President Kennedy's favorite Baptist editor spelled out five areas where the "separation principle seems most often endangered."
They are, said Dr. E. S. James, "the disposition of surplus property, distribution through church agencies of Food for Peace in foreign countries, use of Peace Corps personnel as teachers in sectarian schools in other lands, use of foreign aid for building public schools in countries where the system is under domination of a religious group, and subsidies to church-related institutions on any level."
James, editor of the Texas Baptist Standard, said he was "happily disillusioned" as the result of his 40-minute visit with Kennedy. The President has convinced him, James declared in an editorial, that he is a Roman Catholic "who can think independently of exterior forces and act without religious bias."
"Readers of the Standard know and the President knew that this editor opposed his election in 1960," the editorial said. "We made it plain then that our opposition was not political but that it was based purely on our sincere belief that no member of the Roman Catholic Church would be free to think and act independently."
James added that "it was a pleasure to tell the President that he has disillusioned many of us who feared that a Roman Catholic could not make a good President."
The Standard, largest of the Southern Baptist state papers, played a major role in prodding Kennedy to take a firm stand on church-state issues during the 1960 presidential election campaign. Kennedy's response in favor of church-state separation was credited with giving him enough votes to carry Texas and other states with large Protestant populations.
Court Dismissals
In action which preceded hearings on Bible reading and prayer in the public schools (see opposite page), the U. S. Supreme Court rejected an appeal by four Congregational churches seeking to nullify their denomination's merger with the Evangelical and Reformed Church.
The court also dismissed an appeal by Jehovah's Witnesses seeking an injunction against an Arizona school district which expelled pupils who refuse to stand for the singing of the National Anthem. The case was sent back to a federal district court in Phoenix, however, for a further hearing on its merits.
Also handed down by the court was a decision regarded as important in its effect upon control of obscene literature. Supreme Court observers interpreted the decision to mean that if a jury determines that certain magazines and paperbacked books are obscene because they appeal to prurient interests in light of contemporary community standards, the court will not necessarily intervene although it has permitted similar publications to go through the mails. The interpretation was based on the decision of the court refusing a review to Arthur Goldstein, a Norfolk, Virginia, news vendor who was fined $500 for knowingly having in his possession obscene material.
Have something to add about this? See something we missed? Share your feedback here.
Our digital archives are a work in progress. Let us know if corrections need to be made.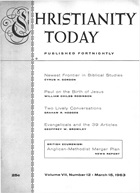 This article is from the March 15 1963 issue.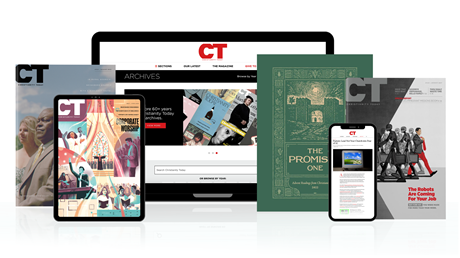 Subscribe to Christianity Today and get access to this article plus 65+ years of archives.
Home delivery of CT magazine
Complete access to articles on ChristianityToday.com
Over 120 years of magazine archives plus full access to all of CT's online archives
Subscribe Now
British Ecumenism: Anglican-Methodist Merger?
British Ecumenism: Anglican-Methodist Merger?