The future of private and church-related colleges is a matter of serious and ever-growing debate. For some observers the mounting competition of public education and the inroads of government spell inevitable disaster to the philosophy and hence the existence of these often small and struggling schools. Others are more optimistic; they refuse to surrender the sustaining factors of dedication to mission and reliance upon Providence. In either case, no one doubts the need for constant self-evaluation, and for courage to make those administrative and curricular changes demanded by the peculiar nature and requirements of the present age.
Ten-year studies done with the assistance of the Ford Fund for the Advancement of Education under the leadership of Sidney Tickton have enabled many small Christian colleges to make important assessments of their programs. Many have been encouraged to put their futures under rational control as effectively as does a modern business corporation, while still utilizing the asset of a mighty faith in God. Such evangelical educators are the people who know and operate upon the corrective principle that "except the Lord build the house, they labor in vain that build it." Other studies have been undertaken by Christian colleges which indicate the need to change to a twelve-month year and to shift the curricular emphasis from the lecture to learning. Such colleges will not need to use the obituary notices already prepared for them by some pessimists.
Evangelical colleges must deal realistically with three factors, for these are their dimensions of operation:
1. Their raison d'être depends upon the place they give to the Bible with its redemptive message and timeless meaning for human existence. Proper understanding of the Bible must be a core matter for the curriculum, a frame of reference for the exploding areas of knowledge in our time, and a clue to the highest integrity in a student's intrapersonal and interpersonal relationships. In such a climate the Bible becomes not just a numbered course but a lifetime resource of spiritual wisdom. Its perspectives enable the student to see man and his world in the light of God's intention.
2. The evangelical college must deal with the academic and cultural realities. This aspect of Christian higher education has been sometimes unnecessarily suspect. The key components are students, faculty, library, and the learning situation. We must be clear about our assumptions. We must ask the question: "Whom are we educating and for what purpose?" The American academic scene has been described as "that odd mixture of status hunger, voodoo, tradition, lust, stereotyped dissipation, love, solid achievement and plain good fun, sometimes called 'college life' " (Saturday Evening Post, March 7, 1959, p. 44).
Evangelical colleges can give a sound preprofessional education if they avoid proliferation of majors and the superficiality of fashionable and transient survey courses. They can produce men and women who serve their divine Lord and humanity with a competence equal to or surpassing that of their non-Christian counterparts. They can provide that good orientation in the social graces which enables the graduate to laugh and to lift his life above the miasmic fogs of self-indulgence and neurotic guilts and anxieties. They can produce a breed of God-fearing men who will save the nation from rising tides of governmentism.
3. Evangelical colleges as corporations are not exempt from economic realities. Their expense items must be scrutinized, and a conscious effort must be directed toward the best utilization of facilities and personnel. The long summer vacation belonged to a no-longer-existent rural economy. Capital assets must have maximum returns in terms of their function. Teachers and administration must make room for more and more new teaching techniques. Faculty salaries must be adjusted to cancel the need for a second job. How can a part-time faculty provide a first-class education? The traditional peaks of campus activity on Monday, Wednesday, and Friday mornings must give way to academic weeks of five and one-half days that utilize time and space from eight in the morning until nine in the evening when necessary. Adult education, too, must not be a barren territory in the evangelical life of America.
On the income side, church constituencies must awaken to their responsibilities as never before. Church-related colleges need college-related churches. Students usually provide only half the instructional income and do nothing for capital programs; their churches, moreover, do not know that they should subsidize them. Private support from individuals, foundations, and corporations is on the increase, but the question of federal aid must be carefully evaluated. While there are helpful scholarship and loan programs without controls, federal grants carry the possibility of compromising separation of church and state.
In a New England regional meeting of the Council for the Advancement of Small Colleges, Dr. Frank H. Sparks said that "the tripod of freedom" consists of free government, free enterprise, and free education. The evangelicals have a large responsibility to ensure that income sources do not carry compromises of freedom into their programs. Many evangelical Christians are totally ignorant of their opportunity under the generous tax provisions for the support of colleges. Annuities, trusts, property and business transfers, wills, bequests, and gifts out of income are to the advantage of the donor as well as the college. Many Christians die intestate who could have directed their assets to the glory of God in Christian higher education.
The present college-age population (18–21 years of age) of over ten million will increase to 14.2 million in 1970, and to almost 17 million in 1980. It is estimated that the 1960 levels of college enrollment will double by 1970. Evangelical colleges will feel this impact no less than other American colleges. Churches and denominations should be thinking about how to advance the cause of church-related institutions, how to utilize teaching opportunities and chaplains' services on non-Christian campuses, and how to develop a strong evangelical university. The questions of a clear biblical philosophy of higher education, of better utilization of facilities and personnel, and of adequate financing should be an active concern of the best evangelical theologians, educators, and business executives today if the future in higher education is to be exploited for Christ. In the national interest and in the interest of the Church we need a clear articulation of direction on the basic issues common to all evangelicals. We need a rebirth of fidelity to God's Word and the impact of the living Christ on our campuses.
The mission and cost of Christian and evangelical higher and theological education must be clearly seen by people, pastors, and professors. Our task is not easy as we face the crucial problems raised and compounded by the rapidity of technological change. We are preparing a new generation whose witness and leadership will reach its point of highest contribution in A.D. 2000 in a world entirely different in its technological dimensions from the one we know today.
The human heart will still hunger for God and for fellowship and for a transcendent purpose. These benefits are the special trust of God's children who know the power of Christ to make men new for man's new day. We can and we must produce first-rate leadership for Christ and his church by first-hand praying and first-class education.
END
CHRISTIAN FAITH AND MODERN DESPAIR
THE FACTS OF LIFE—A pilot survey on attitudes to marriage among students at the University of London reveals that, of 200 couples who answered questionnaires, 70 were living together. Of these, about half looked upon their relationship as a short-term affair, while the other 35 intended to get married as soon as they left the university.—Evening Standard, London.
RECOVERY OF MORALS—A recovery of conscience on campus can come by no way of piling on or tightening up the rules, any more than by taking the rules away, for the rules only touch the outer person.… A Christian answer to the problem of the education of the conscience lies in the practice of the presence of God, through the inner discipline of prayer and worship, which turns the self away from the crowd and from the self to the divine. It is a biblical theme that we come back to, by the long way around: morality is the fruit of the vision of God.—WALDO BEACH, Conscience on Campus.
FACING THE ULTIMATE—Most students who take nursing seriously go through some period when they are acutely aware of their own inability to meet situations; for example, to give support to parents of a dying child. A weird conference or "grave prognosis" is included as part of the curriculum in most schools. The fact is stressed that the student must decide what she believes to be the meaning of life and death before she can function adequately in such situations. It seems that Christian instructors have a special opportunity in this area.—JANE SHREWSBURY, Instructor, Children's Hospital, Pittsburgh.
THE BASIC PROBLEMS—The best secular brains—be they scientists, statesmen, or philosophers—have not been able to answer the basic problems of life and death.… The Christian must be ready to point out that God through Jesus Christ is the only ultimate answer.—Dr. ARTHUR SCHULERT, Assistant Professor of Biochemistry, Vanderbilt University.
Have something to add about this? See something we missed? Share your feedback here.
Our digital archives are a work in progress. Let us know if corrections need to be made.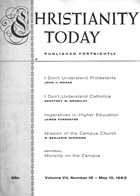 This article is from the May 10 1963 issue.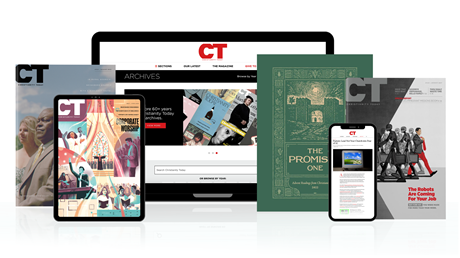 Subscribe to Christianity Today and get access to this article plus 65+ years of archives.
Home delivery of CT magazine
Complete access to articles on ChristianityToday.com
Over 120 years of magazine archives plus full access to all of CT's online archives
Subscribe Now
Imperatives in Higher Education
Imperatives in Higher Education