The turnstiles counted 134,254. Police estimates placed the figure at about 150,000, some 34,000 of them sitting on the grass. Another 20,000 or more stood outside the Los Angeles Memorial Coliseum or were waved on by traffic officers. It was by far the largest crowd ever to turn out to hear Billy Graham in the United States.
It was the closing meeting of the evangelist's three-week crusade in Southern California. Said he:
"There are almost enough people here tonight to have a march on Washington. And if they keep throwing the Bible out of the schools, we might do just that." The size of the crowd prevented Graham from extending his usual type of invitation to receive Christ. Instead of asking inquirers to come forward he merely suggested that they stand in front of their seats and indicate commitment by signing the printed cards used to supply inquirers with counseling literature and to refer them to a church. Crusade officials said 3,856 cards were turned in, and 64 per cent were said to be first-time commitments.
Largest previous crowd to hear Graham in America was the estimated 116,000 at Soldier Field, Chicago, at the close of Graham's 1962 crusade there. In 1959, in the final service of his campaign in Melbourne, Australia, a crowd estimated at between 135,000 and 150,000 was on hand.
In 1960, Graham spoke at a rally of the Baptist World Congress in Rio de Janeiro which drew a crowd estimated at over 180,000.
At the closing Los Angeles service Graham preached from one of his favorite Bible themes—the story of Belshazzar, the king who was "weighed in the balances and found wanting," and whose kingdom was taken away and given to another. Warned Graham:
"There comes a day when God says, 'It is enough.' It is true that God is a God of love, grace, and mercy, but he is also a God of judgment. The Bible teaches that God hates sin. He has the capacity to hate. He will judge sin with the fierceness of his wrath."
The vast crowd brought to 930,340 the number of persons who passed through the turnstiles to hear Graham at the coliseum during the three weeks. That represented an average of more than 44,000 per service.
Graham, sidelined because of illness earlier this year, was reported in good physical condition. The only threat to his health in Los Angeles came from a nattily dressed spectator who sidled up to the evangelist at the coliseum and said, "I am going to kill you before this crusade is over." The stranger then disappeared in the crowd.
Graham was officially welcomed to the city by the Los Angeles Board of Supervisors. The supervisors introduced him at a press conference.
The record-breaking response of Southern Californians to Graham and his message was remarkable in its own right, particularly considering the total number of inquirers: nearly 40,000.
What added even more significance was its setting, in the eyes of some, "out where materialism begins." Evangelicals further east tend to regard the Pacific Coast as breeding ground for carnality, and often look west with an air of religious condescension. They think "an ostentatious California culture" shows up in many professing Christians too conspicuously.
In the last few weeks the Christians of Southern California have shown that they are not a spiritual notch below their eastern brethren. They have proven not only that they can mobilize and act, but that they are concerned for spiritual priorities.
Graham reminded Los Angeles of its special responsibility to the nation:
"No city influences the nation more than Los Angeles. If Los Angeles would lead the way in a spiritual awakening, the whole nation would be affected."
As in many other cities, the "youth nights" of the crusade drew the largest response—both in attendance and in number of inquirers.
Perhaps the person who had come the longest distance to the crusade was Graham's son-in-law, Stephan Tchividjian of Switzerland, who read the Scripture during one of the youth night services. The Tchividjians are expecting their first child in the spring.
Graham challenged the notion that juvenile delinquency stems from underprivilege. He quoted the local police chief as saying, "It is the overprivileged child who is causing us the most trouble in Los Angeles. He is being given so much in the way of material things that he has gone haywire looking for new satisfactions."
For the most part, as is his custom, Graham preached the simple Gospel: man's sin, the need for repentance, and the forgiveness that comes through faith in Christ. Some of the evangelist's secondary remarks, however, were publicly challenged.
Graham, who had insisted on integrated seating at his crusades long before the American race issue flared up, said he was convinced that "forced integration will never work" and that "some extremists are going too far, too fast."
"The racial problem in America is getting worse and dangerous," he declared, "and it will not be settled in the streets."
Graham also expressed concern "about some clergymen of both races who have made the race issue their gospel. This is not the Gospel. The Gospel is the good news that Jesus Christ died for our sins and that he rose from the dead and that God is willing to forgive our sins and to give us new life and peace and joy."
The evangelist's stand provoked some criticism. Marvin L. Prentis, president of the National Association of Negro Evangelicals, said that "Dr. Graham consistently fails to appreciate the intensity of this great social dilemma which cries out to be met." NANE was organized in Los Angeles last April with the help of the Rev. Howard O. Jones, one of two Negroes employed by Graham as associate evangelists (the other is the Rev. Bob Harrison).
The organization subsequently announced that it had adopted a resolution expressing its appreciation for Graham's crusade and ministry in the Los Angeles area. Negroes often are major participants in his evangelistic campaigns. Well-known for her appearances at Graham rallies and in one of his dramatic films is Miss Ethel Waters. She sang at the Los Angeles meetings several times, as did a trio composed of Jones's teen-aged daughters.
Graham also had some terse comments about the Peace Corps. "I have supported Mr. Kennedy's Peace Corps because it offers a challenge to American youth," he said, "but I am disturbed that the Peace Corps does not have a spiritual philosophy and framework within which to move." He said that so far "it is almost completely materialistic in its aims."
Director R. Sargent Shriver denied that the Peace Corps is "godless." He said the evangelist did not have the experience to substantiate his claim. He added that "there are a large number of Baptists in the corps."
In another observation on federal government policies, Graham said:
"If I were Mr. Kennedy, I would spend the $20 billion allocated for the moon project to clean up every ghetto in the United States."
The evangelist's pointed remarks on social issues underscored his contention that the Gospel is indeed relevant to all of culture. But it is a matter of priorities, Graham says, and it is far more important to preach the need for personal regeneration. This he does, and he does it so effectively that 33 million people have heard him preach the world over since his first tent crusade in Los Angeles in 1949. Uncounted millions more have listened to him via radio and television. He has addressed more people than any other person in all of history.
The phenomenon of Graham as a man inspires action in laymen and clergy alike wherever he goes. In Southern California, for instance, 750 churches scheduled a follow-up program of visitation evangelism.
But for all his success, Graham is still implicitly snubbed by some denominational and ecumenical leaders.Occasionally, religionists will go so far as to use Graham for their own purposes while avoiding involvement in his. In Washington, D.C., the local chapter of the Religious Public Relations Council once tried to win public attention for the local council of churches by having Graham sign an anniversary statement praising its accomplishments. But the evangelist's subsequent crusade in Washington drew official support from neither council. He rarely speaks at denominational conventions. His crusades go virtually unnoticed in the publications of mainstream Protestantism. Even the press service of his own denomination, the Southern Baptist Convention, practically ignores him.
Organized ecumenism likewise pretends that Graham does not exist. His name is seldom publicly mentioned and sometimes privately sniped at in ecumenical conferences. Such an attitude toward him is perplexing in view of the fact that Graham's crusades currently represent the most dramatic manifestation of grass-roots ecumenicity—the linking of clergy and laity across denominational lines for the purpose of winning people to Christ.
In Mormon Territory
An eight-day evangelistic series, said to be the first united Protestant crusade for Christ in the Salt Lake City area, drew an estimated 10,000 persons to the Utah Capitol grounds. Some 150 persons responded to the invitation to accept Christ extended by evangelist Myron Augsburger of Harrisonburg, Virginia.
Local churchmen who sponsored the crusade adjudged it a significant success, considering the fact that Salt Lake City's population is about 50 per cent Mormon.
The opening meeting, forced inside the Capitol building by rain, featured a welcome by Utah Governor George D. Clyde and an address by Oregon Governor Mark Hatfield. Hatfield, calling himself a Calvinist and a believer in Christ as God incarnate, said: "We must have Christians dedicated in power, in purpose, and in influence to the person of Jesus Christ."
Christian Coordination
All-out, nation-wide evangelistic efforts which will mobilize in Christian witness the entire evangelical communities of five Latin American countries are scheduled for 1964 and 1965 as a result of an intensive two-week workshop of evangelism in San Jose, Costa Rica. Delegates from Honduras, Venezuela, Bolivia, the Dominican Republic, and Peru returned to their places of responsibility in these efforts with new enthusiasm and zeal.
"The dedication and vision of these men is tremendously inspiring," one observer remarked. "Never have I seen such a level-headed and Spirit-directed approach to the challenge of continental evangelism."
Hosted by the Latin American Biblical Seminary and the Latin America Mission's Division of Evangelism, the conference attracted leaders from virtually every Spanish-speaking nation in the hemisphere, with eighty-seven delegates from fifteen countries registered. A concentrated schedule of lectures, panels, and discussions covered practical as well as inspirational themes. Special features included a "clinic" on evangelistic communication and a series of lectures on the theological problems inherent in evangelism.
Evangelism-in-depth, which emphasizes the evangelistic witness of each believer in the context of his local church, although not to the exclusion of professional or mass evangelism, seems to have gained universal acceptance as providing the best answer to date to the challenge of what evangelist Fernando Vangioni of Argentina called the "period of integral revolution" through which the Latin American world is passing.
Already successfully proven in three Central American countries, evangelism-in-depth programs of cooperative, year-long, nation-wide outreach are in various stages of development in Honduras, Venezuela, and Bolivia. Objectives of the effort are to (1) mobilize every believer in Christian witness, (2) strengthen the evangelistic ministry of the local church, (3) take advantage of every evangelistic resource and activity available to the evangelical community, and (4) reach every section of the country, geographical as well as sociological, with the Gospel of Christ. Usually these efforts have been climaxed by mass campaigns with radio and television coverage which have made a strong impact on the non-evangelical public.
Participating in the San Jose conference sessions were members of the evangelism-in-depth team who had served as coordinators for the 1962 movement in Guatemala, where the year's program of advance netted between ten and fifteen thousand new church attendants. Typical of the philosophy of evangelism-in-depth is the fact that these team members have become specialists in mobilizing Christians more than in ministering to them. They serve thus as coordinators rather than primarily as evangelists. This "in-depth" aspect of last year's Guatemalan effort was particularly successful in the secondary cities and rural areas, they reported. The impact on the more sophisticated capital city was definite but less notable, and it is felt that future campaigns must devote more attention to this problem.
EVANGELIST MEETS COMEDIAN
Evangelist Billy Graham is scheduled to appear as a "guest star" on Jack Benny's first program of the new television season.
The program was to be televised over CBS on Tuesday, September 24.
Graham said he was reluctant to accept the offer to appear on a comedy show.
"I almost said no. But then I agreed because Jack Benny has a clean show."
The evangelist observed that "laughter is a part of our nature. It's a gift of God. Especially at this time of our history, with so much tension, it's good to laugh."
"I think some persons who watch Jack's show might not have seen me. Maybe after seeing me on the show they will come and hear me. And Jack is going to let me say a serious word."
Graham will receive no fee for his guest appearance, but Benny will make a contribution to the Billy Graham evangelistic Association.
Benny normally tapes his show on a Sunday, but in deference to Graham's wishes it was to have been recorded on a weekday.
Between conference sessions, the delegations from the different countries represented in San Jose last month were hard at work ironing out details and plans for the movements already underway or soon to be launched in their homelands. These planning sessions were able to take advantage of the experience acquired in other countries and strove to correct the errors and strengthen the weak spots which have shown up in earlier efforts.
Meeting concurrently were members of an executive committee set up last year at the Huampani (Peru) Consultation on Evangelism, known as CLASE (Comite Latinoamericana al Servicio de la Evangelizacion). Presided over by Vangioni, this nine-man commission decided to form a permanent organization for the promotion and coordination of evangelistic activities throughout the continent. It is expected that the structure will follow the lines already established by sister organizations in the fields of literature and radio. A constituent assembly will be called in 1964.
Cooperating with the CLASE committee are several missionary service agencies whose Latin American representatives are desirous of working together under CLASE's aegis. They include the Latin American departments of the Billy Graham Evangelistic Association, Youth for Christ, the United Bible Societies, Overseas Crusades, the Navigators, and the Latin America Mission's Division of Evangelism. Representatives of these and possibly other groups will seek authorization to meet again with CLASE in January for more definite planning.
"One of the most encouraging aspects of the present situation is the enthusiasm and practical commitment to the evangelistic task of so many different men and organizations," stated one of the conference planners. "It seems to be the unanimous conviction that now is the time for an all-out effort to reach Latin America for Christ—and that this effort must be directed by the Latin Americans themselves. The delegates here manifested a solid harmony of purpose. And with negligible exceptions this same spirit of cooperation holds on the local level. Fortunately our common love for our one Lord transcends our secondary differences. The prospects for an all-out evangelistic advance in Latin America are bright."
W.D.R.
Have something to add about this? See something we missed? Share your feedback here.
Our digital archives are a work in progress. Let us know if corrections need to be made.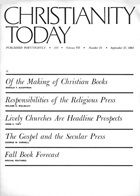 This article is from the September 27 1963 issue.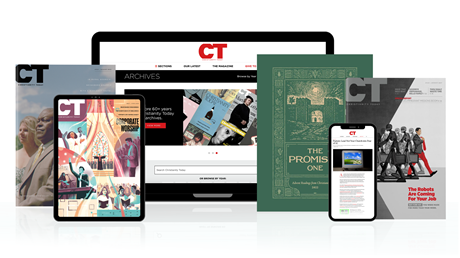 Subscribe to Christianity Today and get access to this article plus 65+ years of archives.
Home delivery of CT magazine
Complete access to articles on ChristianityToday.com
Over 120 years of magazine archives plus full access to all of CT's online archives
Subscribe Now
Evangelism: The Crowded Coliseum
Evangelism: The Crowded Coliseum