"An exceeding subtle document, inasmuch as the spies from the two tribes beheld certain features of the Land of Unity through different spectacles, so that what to the one appeared to be a giant was to the other a dwarf." Thus did a startlingly skittish article in The Christian refer to the Anglican-Methodist report, 100,000 copies of which have now been sold. The report is variously regarded as an irresistible summons to that unity which is Christ's will for his Church; as a clarion call to do battle for principles that are not marketable; and as an academic exercise in controversial divinity. Though described by Dr. J. I. Packer as "a victory for Latitudinarianism in both churches," it has to some extent cut across the usual party allegiances.
A booklet, What of the Conversations?, published by the Methodist Revival Fellowship, warns against approaching the suggested merger with an open mind, unless that mind is first wholly in subjection to Scripture. Developing the latter theme, Dr. A. Skevington Wood says of the report: "We look in vain for an unequivocal affirmation that the Bible not only contains but actually constitutes the inspired and infallible Word of God." The Voice of Methodism (see "Jeopardizing the Union," CHRISTIANITY TODAY, News, February 28) testifies to the depth of opposition feeling within that church.
Even more significant is an open letter to the English archbishops and bishops by thirty-nine Anglican evangelical leaders, both clerical and lay. Affirming their desire for unity and welcoming the report, the writers call for urgent consideration of six points, summarized here:
1. The New Testament principle of one church in one place would demand full union with the other English free churches as well as with the Methodist Church.
2. The deadline date should be extended, as the report was not unanimous, opinion in both churches is divided, and hasty decision to go forward could result in secessions from both denominations.
3. The sections on Scripture and tradition, episcopacy, priesthood, and the sacraments need revision, to be undertaken in consultation with conservative evangelical Anglicans (who were not represented on the original committee).
4. To avoid prejudicing other reunion schemes and to maintain the present Methodist intercommunion with other free churches, the latter should be brought into the negotiations immediately.
5. Clarification is necessary on such matters as doctrinal standards, the establishment, the parochial system, and Prayer Book revision.
6. The proposed Service of Reconciliation implies a depreciation of Methodist orders. The "right way" to unite ministries is by mutual recognition, all ordinations thereafter to be episcopal, as in the Church of South India, with which church full communion should now be established, thus "eliminating discrimination against ministers of an episcopal Church who have not themselves been episcopally ordained."
This last point is interpreted differently by a statement issued by the Anglo-Catholic Church Union. This refers to the wish of Anglican participants in the service "to share with Methodist ministers the gift bestowed in episcopal ordination," and asserts that "the intention and rite seem to be adequate for the bestowal of this gift." The union asks for consideration of "other sacramental ordinances" than baptism and Communion.
The report has some supporters among evangelicals. Maurice Wood, the decorated ex-commando who is now principal of Oak Hill College, feels that it is unrealistic after seven years' negotiations with the Methodists to bring other free churches into the project, especially as Anglicans and Methodists have such close links historically. He is one of several evangelical leaders who see it as their task to share in current ecumenical deliberations, and to support them whenever possible, while still upholding clear biblical doctrines.
The open letter also brought the Archbishop of Canterbury into the fray. About the other free churches, he declared there had been discussions with them in recent years, and that the Faith and Order Conference at Nottingham in September will deal with doctrinal questions important for all the churches. Thus, suggested Dr. Ramsey, it "would make for confusion, repetition and disappointment to substitute another general set of negotiations for them." Taking up the question of the South India Church (a hotly disputed issue in England), he said it involved a difficulty that the Anglican-Methodist negotiations had sought to avoid: that of an interim period, perhaps a lengthy one, "in which some of the ministers of a Church are episcopally ordained and others not, so that some and not others are accepted by many conscientious Anglicans."
The archbishop then made some criticisms of a pamphlet by his predecessor. Lord Fisher of Lambeth. Lord Fisher had said that if a Methodist minister who had received the laying on of hands in the Service of Reconciliation were subsequently to wish to enter the ministry of the Church of England, he would need to be ordained by the bishop. Professing to find this statement "astonishing," Dr. Ramsey stated that "all ministers who will have received what is given in the Service will be indubitably accepted as priests in the Church of God."
That archbishops should disagree may not be a happy augury, but one of the salutary things about this report is the way in which it has indirectly forced ecclesiastical pundits into forsaking prudent reticence on certain controversial issues for plain speech—and this is achievement indeed.
Have something to add about this? See something we missed? Share your feedback here.
Our digital archives are a work in progress. Let us know if corrections need to be made.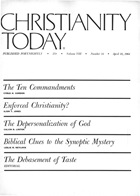 This article is from the April 10 1964 issue.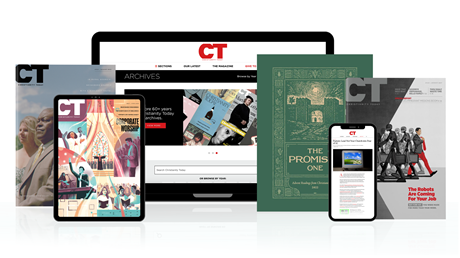 Subscribe to Christianity Today and get access to this article plus 65+ years of archives.
Home delivery of CT magazine
Complete access to articles on ChristianityToday.com
Over 120 years of magazine archives plus full access to all of CT's online archives
Subscribe Now
Current Religious Thought: April 10, 1964
Current Religious Thought: April 10, 1964