Scripture Reading: Matthew 21:28–31
"That race prejudice would cause trouble in the churches we know. It did this in apostolic days. Yet not once did the apostles suggest that they should form separate congregations for the different races. Instead, they always admonished them to unity, forbearance, love, and brotherhood in Christ Jesus."
The casual observer of the reams of resolutions issued on the subject of the Church and race since 1954 might assume that those words came from the subversive presses of the various denominational houses; or from some Communist dupe preacher; or some left-wing easy bleeder of the north country.
If any of these was your guess, you were wrong. They were spoken by a man representing a group far from notorious for social liberalism. These are words of a Church of Christ evangelist. The place was Nashville, Tennessee. The year was 1878. The preacher was David Lipscomb, for whom the local Church of Christ college was named.
Ah, but haven't we come a long way since 1878? Give us time, patience, understanding. Don't pass repressive legislation against us or try to cram anything down our throats and we'll work this thing out.
Now there are two rather remarkable things about this statement.
One: David Lipscomb did not appeal to harmony. He did not try to avoid conflict. Apparently he had the idea that Christian behavior had nothing to do with what people wanted to do or were ready to do. Apparently he had the strange notion that Christian behavior had to do only with the uncompromising demands of Almighty God.
Contrast this to our day, when cardinal virtues are harmony within the fellowship, peace, good will, program, and every-member canvass.
Almost a hundred years after David Lipscomb, laymen organize in church houses to tell the world and the bishop what the Church is and what their church will and will not do. What we are talking about is far more basic than desegregated schools. The churches have failed in this matter of race partly, and perhaps primarily, because we have failed in the matter of authority and the meaning of the pulpit.
The second remarkable thing about Mr. Lipscomb's statement is that he made no appeal to law, to the courts, to democracy, to anything devised of man. His was a simple yet powerful proclamation of "Thus saith the Lord"—this despite the fact that the Emancipation Proclamation was as close to him and as controversial as the Supreme Court decision of 1954 is to us.
Some talked of the failure of the Church in Little Rock with regard to race. If we have failed, I am inclined to believe that it has nothing to do with what we have or have not done about race. Rather, it seems to me, it has to do with the manner in which we have dealt with the nature of God, with the redemptive power of Jesus Christ, and with the judgment of God. Further, it has to do with our failure to proclaim the essentials of the Christian Gospel and with our reluctance to proclaim categorically and with power and authority: "Thus saith the Lord … 'I am the Lord thy God.… Thou shalt have no other gods.…' "
Our failure has to do, not with the Fourteenth Amendment but with the First Commandment; not with constitution but with idolatry. And in this process race has become identified, not as an element of our culture, but as an element of our faith.
This, I submit to you, is the greatest danger facing the Christian Church in the South today. The real danger, it seems to me, is not racism per se, but that racism becomes a part of faith. The Ku Klux Klan no longer exists in my community, but it has left its stamp on the minds and hearts of generations yet unborn. Its modern counterpart will also pass away. But the seedlings they are planting will grow and thrive for a long, long time.
And these seedlings are essentially religious in character. Most of what is written and distributed by those groups subverting the laws of church and country has a religious theme. And the segregationist man in the pew and pulpit who appeals to such support is not simply rationalizing. He defends white supremacy in God's name. It is with Bible in hand and chapter and verse upon his lips that he offers his argument.
We can no longer fail to point out to our people the perpetuation of a whole array of subordinate gods. These gods may be racial pride or prejudice; they may be states' rights; or they may be our own children, or our own selves.
A young white Presbyterian mother said to some of us in Little Rock recently that she could never again send her child to one of the schools built to evade the law as long as they were open to her child but not to another mother's child because of degree of skin pigmentation. She could not do so, she said, and maintain her integrity as a member of a Christian church that stood for just the opposite of what it was doing. She reported with some emotion how it hurt her to sacrifice her son.
What do we say to a person like that? I don't know what the right thing to tell her was, but I tried to converse with her in something of the following manner:
"Lady, you are in good company. You are in the tradition of one of our greatest fathers. 'Take now thy son, thine only son Isaac, whom thou lovest, and get thee into the land of Moriah; and offer him there for a burnt-offering upon one of the mountains which I will tell thee of.' "
We talk about how we can't obey what our country and our church tell us to do because it will hurt our little children! Maybe it will—I'm not prepared to argue the point. But this I do know and here say: This Little Rock mother was right!
"He that loveth … son or daughter more than me is not worthy of me," said a man whom most White Council members call Lord. This is the issue before the Church: Do we believe in the God of Abraham, Isaac, and Jacob, or do we worship at the shrine of states' sovereignty and color supremacy (today it is white; perhaps tomorrow it will be colored)?
The failure of the Protestant faith is not a failure to ask and answer the anthropological question: "What is race?" This question has been answered effectively and efficiently. Our failure, it seems to me, is in not answering the theological question: "What is the Church and what is the nature of the Christian faith?"
But, church people say, look at our amazing rate of growth. Look at the results of evangelistic crusades and the success of contemporary revivalists. Look at the souls we are bringing in. And it is so. Sometimes I wish it were not, for I see others, with no claim to being Christian, fighting for their very lives every step of the way, branded as Communist, involved in lawsuits for the right to exist while we are growing by leaps and bounds.
The Klan leader or White Council president is constantly forcing us to defend what we consider the Christian position against what he considers the Christian position. It is troubling that we who consider ourselves the children of light in regard to race in the South are being much better humanists than we are Christians. Examine our resolutions, our statements, our actions. They speak most often of law and order, of human dignity, of man's rights, of democracy, of constitution, and at best of the principle of the brotherhood of man and the Fatherhood of God.
And we are finding that more and more this is our most vulnerable point. I believe we have left the door open for the attack of the segregationist Christian. This is not to quarrel with the humanitarian, for he has played his role more than well. But for the Christian Church to assume this same role is to bet on the wrong horse. For, as Dr. T. A. Kantonen has suggested, the Christian view of race does not rest on the principle that all of us are brothers and ought to act like it. The Christian view of race is not the universal principle of the Fatherhood of God and the brotherhood of man, as important as that is. If the segregationist is told that the gospel is to obey the law, accept the Supreme Court, or open his lunch counters, he can see no gospel, no "good news" here. It must be elsewhere, and he sets about to find it, for this is only bad news.
But if he is told, as he must be told, that the Christian Gospel was and is a message of redemption; that it was and is "God was in Christ, reconciling the world to himself"—God was in Christ breaking down the walls of hostility that separate man from man and man from his God—God was in Christ loving man, accepting him, forgiving him, even if he cannot love and accept his brother yet—tell him this and if he hears it, believes it, and accepts it, he is a lot closer to an integrated church in an integrated society than if he is told that he "ought" to be a good boy and obey the courts.
Some state there is no such thing as Christian race relations. Indeed there is! And it might be that the racist will force us to see it anew. But it has to do with grace, not law, not order. And by this grace we are no longer Greek, African, Asian; we are, in the words of the Pentecost story, "all together, in one place [yes, integrated], hearing the wondrous works of God." And all our resolutions, petitions, strategies, all our human engineering will fail if we miss that simple point. We are the tertium genus—the third race. The Christian message on race is that race is irrelevant.
It would be ironic if history should prove that the present racists contributed more to the total company of the redeemed of all times by forcing us to re-examine the Gospel than all the present righteous ones. God does indeed work in mysterious ways.
And remember, too, that a man had two sons. The Church, through her pronouncements, resolutions, and statements, has said: "I go, Lord." But have we gone?
Well, all I have tried to say is that we have failed in our message on race insofar as we have failed in our message of redemption.
The obvious converse of what we are saying about the message of redemption is the often neglected message of the judgment of God. Redemption has meaning primarily in terms of judgment. A great deal of our social action has the wrong subject and object. The suffering of the member of the minority does not stand between him and his God, though God is certainly concerned with his suffering. In any concern for social justice the soul of the dispossessor must concern us much as the suffering of the dispossessed.
But our weakness is that we timidly proclaim the message of redemption and apologetically proclaim the judgment of God.
And whatever our interpretation of that judgment—whether we use the words to the hymn, "God, the All Merciful," or the more ancient ones, "God, the All Terrible," there has been a failure simply to point our people to the cemeteries.
Why, in God's name, haven't we convinced our people by now of the simple truth with which the Bible is filled: Life is suffering and sorrow; we all come forth like a flower and are cut down and are of a few days and full of trouble; all flesh is as grass, and we are all here dying together?
So that, no matter how high we rise, no matter the legislation we engineer, no matter the investigating committees we chair, no matter how loudly we shout, "Never!," and no matter how much we invoke the blessings of Almighty God upon the work of our hands, the final outcome will be that of the mighty kings of Judah recorded in the Books of the Chronicles—each one died and slept with his fathers and another reigned in his stead, and so will each of us die and sleep with our fathers and another will reign in our stead, and history will record us in one sentence if we are terribly good or terribly bad, and we will all sleep in this giant sepulcher together and be judged by one God. The best text on race relations is from Second Samuel: "How are the mighty fallen!" There rose up a man in Europe who shouted: "Never in a thousand years," and in one decade it seemed that he was right, but ere that same decade ended he died like a rat in a bunker and sleeps with his fathers and others reign in his stead.
Our sin has not been in neglecting to tell our people that "red and yellow, black or white, they are precious in his sight"; we have told them that. Our sin is that we have not told them what Isaiah said: man is as grasshoppers. We have told man of his worth and dignity and perhaps rightly so. But we have not told him often enough of his insignificance in the total scheme of things. "It is God that sitteth above the circle of the earth; … that bringeth princes to nothing; that maketh the judges of the earth as vanity.… He bloweth upon them, and they wither, and the whirlwind taketh them away as stubble."
There is some virtue in honesty. I am sure that within me lie the vestiges of as much racial pride and prejudice as there is within anyone. They tell us we do not rid ourselves of it simply by intellectual declaration, and I have no reason to disagree. But this sends us racing back over the years to David Lipscomb, who saw that there was a difference between feeling and behavior, between prejudice and discrimination.
During the past few years, as it has been my ministry to move about the crisis areas of the South, I have seen those vestiges of the savage fade and grow dim.
I have been thinking about being with a pastor in what is left of his church after a sack of dynamite has been thrown into it in the dark of a winter's night. There are all the little brown faces outside, not allowed now into what is referred to as "their church." And I wonder what they are thinking as they see a white face crawl through the wreckage. Inside the debris the pastor picks up a small chalkboard which still bears, prophetically, part of last Sunday's lesson, written in what is obviously the handwriting of a child: "God loves all the little children of the world." And remembering the faces outside for a moment I wonder about this "they are precious in his sight" business, and if he really does have "the whole wide world in his hand." But then there are the familiar words: "Let the little children—all children—come unto me, for of such is the Kingdom." And somehow my Southern way of life seems like less than the Kingdom of God.
And I remember who I am and what I am. A white man, a Southerner, a Protestant. And I cry out:
"Lord, have mercy upon us!
Christ, have mercy upon us!"
(Reprinted by permission from the February, 1961, issue of Pulpit Digest; copyright 1961 by Pulpit Digest Publishing Company.)
This sermon was preached by the Rev. Mr. Campbell, a Baptist minister, at Vanderbilt University, Nashville, Tennessee, in 1960.
Have something to add about this? See something we missed? Share your feedback here.
Our digital archives are a work in progress. Let us know if corrections need to be made.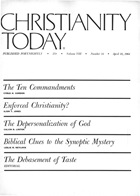 This article is from the April 10 1964 issue.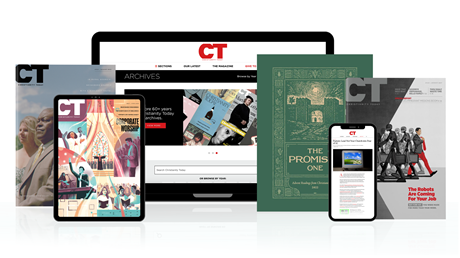 Subscribe to Christianity Today and get access to this article plus 65+ years of archives.
Home delivery of CT magazine
Complete access to articles on ChristianityToday.com
Over 120 years of magazine archives plus full access to all of CT's online archives
Subscribe Now
A Man Had Two Sons
A Man Had Two Sons