A long time ago when I was young, a friend of mine spent a summer working for the railroad. His job was to move baggage around on one of those hand carts. One day when the train pulled in he thought it would help his work a little if the engineer pulled the train about fifty feet up the track, closer to his load of luggage. So he whistled at the engineer and said something like, "Hey Bud. Move this thing up about fifty more feet." The engineer obliged. In about two seconds flat the conductor was tearing down the platform in a fury, screaming to the engineer, "This train doesn't move unless I say so!" To which my friend on the platform replied, "It moved, didn't it?"
Whether we see them or not, the battle lines are always drawn between the men who worry about the systems, the way things are done, and the men who don't hesitate for a moment to break away from the systems in order to get the job done "right now."
I must confess that I am much more an observer of the machinations of the Vatican than a participant, even in sympathy. I note that some Protestants who have been somewhat involved in the Second Vatican Council are slightly disenchanted. Robert McAfee Brown's recent study still expresses optimism; but no Protestant observer, as far as I can observe, is willing to say that anything has been done to make it easier for all of us to unite or for us Protestants to "come back home to Mother." It is nice that they are giving Masses in native tongues, but the throwing down of the gauntlet in such things as the Assumption of Mary can bring Roman-Protestant conversations to an abrupt halt.
There are, nevertheless, individual voices in Catholicism that are encouraging. The funny thing is that encouraging voices in Catholicism are thought to be encouraging because they sound like Protestants! We sometimes envy the great strength of Romanism and its marvelous organization, but that strength is massive and ponderous. That intricate organization means that there are lots and lots of conductors running down the platform saying, "This train doesn't move unless I say so." The very few voices who have had very much publicity (for propaganda reasons that we all understand) are not likely to get the Curia to move very far very fast.
Some people think that I am prejudiced against Roman Catholicism, and I think they are right. If prejudice is the correct word, then I am prejudiced against the power of the church and their willingness to use it. I am prejudiced against their infiltrating of politics and the press. I am prejudiced against their index of forbidden books. I am prejudiced against their international politics and their threats of tyranny in such widely scattered places as Colombia and Portugal. I have a different kind of prejudice against row after row of celibates sitting in funny hats making decisions for their fellow men, and I even have a strange reaction to the representatives of Jesus of Nazareth wearing satin slippers and heavy brocades. All this sort of thing has always appeared to me as being an unhealthy approach to Christianity.
Meanwhile such a one as I sees his own hopeful signs. In a church that has controls I have been impressed to see a willingness to have some ambiguities widely displayed. In a best-selling novel, The Shoes of the Fisherman, there is a Roman Catholic treatment of the papacy. A play of enormous success, A Man for All Seasons, shows the heroism of a churchman, Sir Thomas More, in his decisions against not only the power of the state but the awful complicity and expediency of the church. Becket is a movie presentation of what faces a strong archbishop who at the time of his appointment by his friend, Henry II, "gets" religion. Although he dies a martyr's death, he walks an uncertain path demanding finally a desperate decision in faith.
Rolf Hochhuth has given our day a controversial and incendiary critcism of the papacy during the Hitler regime in his play The Deputy. This play makes great reading, as it also makes great seeing. It may well be that Rome will decide to play down criticism of the play since it has become increasingly evident that Hochhuth may not have the case against Rome but certainly has a case. Significantly, the hero of the play is a good Roman Catholic, and he has his problem with his own church and with the Holy Father to whom he owes obedience. The heart and compassion of a priest and pastor is thrown into sharp conflict with the diplomatic expediencies of a church that is a world power and frequently a worldly one.
In The Shoes of the Fisherman we have a novel set in the contemporary world, and in The Deputy we have a play reflecting a problem as recent as the Second World War. In Becket we have a movie (T. S. Eliot's Murder in the Cathedral is a drama around the same event) and in A Man for All Seasons a play that deal with the inner workings of the church at the time of the Reformation. We have thus a crossing of the centuries but a repetition of the problem. What happens when the individual faces the machine? What happens when the organization that is supposed to be the Body of Christ faces the world? Are not the "problem boys" of these literary masterpieces some variation of a man named Martin Luther? Is not the problem of the church in Rome the same as the problem of your own Protestant denomination when you speak to some social issue like, for example, nuclear warfare? Is not the scientist in The Shoes of the Fisherman a personalization of the old problem of science versus religion? Is he not, indeed, a picture of what confuses a church college when an effort is made to pursue the truth wherever it may lead while being loyal to a church creed?
We are beginning to appreciate Tillich's insights regarding the "Protestant's Principle." It is this principle of freedom for the individual; the ambiguity arises, of course, because no man lives to himself alone. No man has fulfillment without relationships and involvements, and we are faced endlessly with the pressure of our group loyalty and the pressure to say, "Here I stand. God help me."
Aldous Huxley in his Brave New World is wrestling with the same problem outside the religious context. I am certain the physicists are wondering about it as they observe some indeterminants in physical processes. What makes a new movement in art or music? Our Protestant Principle is a real ferment in Romanism. Recent literature would seem to reflect that Rome is well aware of that fact. And this might be the ground for optimism.
Have something to add about this? See something we missed? Share your feedback here.
Our digital archives are a work in progress. Let us know if corrections need to be made.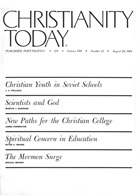 This article is from the August 28 1964 issue.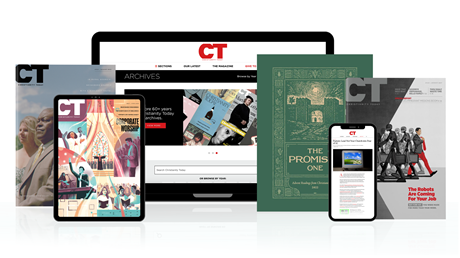 Subscribe to Christianity Today and get access to this article plus 65+ years of archives.
Home delivery of CT magazine
Complete access to articles on ChristianityToday.com
Over 120 years of magazine archives plus full access to all of CT's online archives
Subscribe Now
Current Religious Thought: August 28, 1964
Current Religious Thought: August 28, 1964