The Federal Communications Commission issued its long-awaited "Primer on Fairness" last month. It spells out to some degree the steps radio and television stations should take in presenting controversial issues, including those on religious programs.
The commission's twelve-page public notice is a digest of its major policy decisions on the obligations of broadcasters. Although no religious programs are cited, its impact upon such is expected to be considerable.
The FCC's "fairness doctrine" provides that whenever an individual or an organization is subjected to a "personal attack" over the air waves, the station carrying the program is to transmit the text of the broadcast to the person or organization attacked, together with an offer of free time for a reasonable reply. If no tape or transcript of a broadcast is available, the station is responsible for submitting an "adequate summary" of what was said.
The commission also expects stations to maintain an overall program balance. In a religious sense this means that if a station sells time for evangelically oriented broadcasts, it cannot say there were simply no purchasers of time for other viewpoints. The station is expected to use its "public service" time to the end of achieving program balance. Many evangelical broadcasters are protesting this policy, charging that it penalizes traditional evangelical initiative.
On the other hand, evangelicals may find opportunities under this policy to see their views presented on stations that hitherto have refused to sell them time and that have limited religious programming to free time given over to liberally dominated councils of churches.
In programs involving "attacks" (still undefined by the FCC), the charges sometimes are not specific but are couched in general terms. In these cases, a station must show that it is presenting the other side of controversial issues. Specifically, the primer cites a station that carried programs attacking "the alleged infiltration of our government by communists, the alleged moral weakening of our homes, schools, and churches which have contributed to the advance of international communism."
The station-owner said he did not offer any time to reply because he knew of no Communist or Communist-front organizations in his community. The FCC replied tartly that it did not require him to offer time to Communists but that "the matters listed raise controversial issues of public importance on which persons other than communists hold contrasting views."
"There are responsible contrasting viewpoints on the most effective methods of combatting communism and communist infiltration," said the commission, directing the station to afford time for those to be heard.
When the FCC receives complaints, it forwards them to the station concerned for reply and evaluates the overall performance of the station when its three-year license is up for renewal. In several recent cases, the FCC has extended renewals for only one year to give stations a chance to comply with its standards or face revocation of license.
A Matter Of Labels
Members of Congress were deluged with letters this summer protesting vehemently what the writers believed to be the sudden and arbitrary revocation of second-class mailing privileges for the Christian Beacon, the editorial voice of Dr. Carl McIntire and the American and International Councils of Christian Churches. Postal officials said the publishers had failed to meet labeling requirements. The dispute was amicably resolved when 65,000 copies of the July issue were presented at the Camden, New Jersey, post office, properly sorted in mail sacks, each bearing a red tag with the prescribed "newspaper" label.
Outlawing Poverty
Church-related organizations that work to reduce poverty are eligible to receive federal funds under the $947.5 million anti-poverty bill enacted by Congress this month.
The question whether it is constitutional for churches and church-related groups to receive funds under the bill was raised by Republican Representative Charles E. Goodell of New York.
Goodell told the House that "an example of how broadly this is drawn is that this bill permits a direct grant to a church, not just to a church school and not just to a private school."
"It does not even have to use the money exclusively to fight poverty," he added. "The church does not even have to guarantee that the facilities the church builds will not be used for sectarian instruction or religious worship."
The American Civil Liberties Union has said that the anti-poverty bill creates "a serious constitutional problem threatening to weaken our nation's historic commitment to the independence of church and state."
Antagonisms In Africa
The Rev. Burleigh Law, a Methodist missionary stationed at Wembo Nyama in central Congo, was killed and several other missionaries placed under house arrest by rebel forces who intensified a campaign against the government this month. Circumstances surrounding Law's death were not known.
A number of missionaries have had to evacuate their stations as a result of the rebel activity.
Law, 45, a pilot and aircraft mechanic, was a graduate of Asbury College. He is survived by his wife and two teen-age sons, who returned recently from the Congo to visit the family home at Tallahassee, Florida.
In Southern Rhodesia, meanwhile, American Methodist Bishop Ralph E. Dodge was ordered out of the country as an "undesirable immigrant." Also ousted was Robert E. Hughes, an American Methodist lay missionary; he too was labeled "undesirable."
The government gave no other immediate reasons for the deportation order, but African radio broadcasts said the two were being forced to leave because of "outspoken speeches and statements against racialism as practiced in the country."
Dodge, a graduate of Taylor University, is the author of The Unpopular Missionary, a book published by Revell that calls upon whites to end their feeling of superiority over the Africans.
Calling On The Cardinal
United States Senator Barry Goklwater, Republican presidential nominee, paid a visit to Francis Cardinal Spellman while in New York this month.
The GOP leader, who had not previously met the influential archbishop of New York, conferred with the prelate for half an hour at the cardinal's residence.
The visit was described as social, and no announcement was made of the topic of discussion. It was said that the meeting had been arranged through mutual friends.
Episcopalian Goldwater's vice-presidential running mate, William E. Miller, a Roman Catholic, was not present.
Public Funds And Private Schools
Citizens for Educational Freedom, a fast-growing political-action group whose stated goal is "a fair share of educational taxes for all children in all schools," found considerable cause for encouragement at a two-day convention in Philadelphia this month.
Dr. Peter Muirhead, assistant commissioner of the U. S. Office of Education, told the 700 delegates from seventeen states that "the tide is running in your favor, and your thinking is making an impact in Washington."
CEF, being neither liberal nor conservative, does not take an official stand on federal aid to education, but holds rather to the Barry Goldwater thesis that if federal aid comes, it should be to all children in all schools. Accordingly, Goldwater, as Republican presidential nominee, wired a personal message to the convention:
"Your efforts to obtain equal treatment for all in the field of education are to be applauded. As I have stated on many occasions, I am opposed to all forms of federal aid to education, but if despite my opposition such legislation should be enacted, it should go on equal terms to all non-profit schools, public and private, secular and parochial."
President Johnson also sent a congratulatory telegram but did not spell out his views on the issue.
Dr. Will Herberg, noted Jewish philosopher from Drew University, asserted that "independent, non-governmental schools are in the fullest sense of the term public institutions, performing a vital public service, and therefore are entitled to public support all along the line." This is already recognized to some degree, he said, in that independent schools are exempt from property taxes.
"We intend to make this kind of support more adequate and more equal," he added.
"Promotion of religion has always been and remains today as a necessary and proper function of government in the pursuit of its secular and civil ends," Herberg declared. "In the eighteenth century, nobody—not even agnostics—believed in being able to have good government without religion." As evidence he cited the Northwest Ordinance, the philosophy of Jefferson, the tax exemption of religious institutions, the compulsory chapel attendance at the service academies, and the first Congress' sending out of seven missionaries to the Indians. The latter effort was not for the purpose of saving souls, he said, for the Founding Fathers had doubts about this, but for the purpose of civilizing the Indians.
Herberg contended that "religious symbols perform an indispensable part in the functioning of our democracy and that the systematic elimination of symbols from the public life would constitute a grave threat to our system." He gave as examples of symbols the words "under God" in the Pledge of Allegiance and the Great Seal (found on the U. S. dollar), which portrays the eye of God over an unfinished pyramid (the nation) together with two religious mottoes. These and other symbols, he declared, reminded the people that there is "a higher majesty" above the nation. Without this belief, he said, there would be an absolutization of the nation, race, or culture that would amount to totalitarianism.
Other speakers included Dr. John Vanden Berg, dean of Calvin College, and the Rev. Edwin H. Palmer of Westminster Theological Seminary, both of whom are CEF trustees. While CEF's 31,000 members—compared to 20,000 a year ago—are predominantly Roman Catholic, organization spokesmen always insist that CEF is non-sectarian.
A Kind Of Tolerance
A British Privy Council judgment in 1877 decreed that the only legal vestures for clergy of the Church of England were cassock and surplice, and a cope at communion in certain churches. Last month at Westminster that decision was overturned by 85 votes to 15 in the House of Lords, 205 to 23 in the House of Commons. In the upper house the Bishop of London, Dr. Robert Stopford, stated that the present practice of most clergy was at variance with the law, and that stole, alb, and chasuble were widely worn; the proposed measure would regularize the position.
This point was bewildering to Viscount Brentford: he suggested it was like saying that as bank raids had got completely out of hand, bank robberies should be legalized up to a limit of, say, £10.000 a year (tax free). This, suggested the noble lord, was one of a series of measures, each of which "nibbles away a little bit more of the foundations of our Church and our faith." He expressed anxiety that the new legislation might lead to ordinands' being required to adopt vestments, contrary to their consciences. He cited the former Bishop of London, who refused to ordain three men who declined to wear the vestures he required. One eventually complied under protest, but the two others were not ordained.
Replying to the latter point, the Archbishop of Canterbury, Dr. Michael Ramsey, said that he considered it "inconceivable that any of the bishops would press an ordination candidate, contrary to his conscience, to wear a stole at his ordination." The archbishop said also that he repudiated the allegation that behind the measure was a subtle plot "to assimilate the Church of England to some other church in Christendom," and that those who thought otherwise were being "scandalous or silly." Only five of the twenty-six episcopal members were present as the Lords passed the measure.
In the Commons the debate came late in the day before the summer recess. Many of those who participated stressed the absurdity of the law which required the civil arm's decision on a purely ecclesiastical matter. "This is not of the stuff of which Christianity is made," complained Sir Cyril Black. Yet discuss it they did for some 230 minutes, 98 of which were taken up by the three evangelicals who spoke against the measure. Both sides went over well-worn ground without adducing any new arguments. One of the evangelicals was guilty of a massive tactical blunder when he read a passage from Romans 14—and substituted "wearing of vestments" for "eating of meat." From the roar of protest that greeted this little ploy, one might have thought the assembly was crammed with believers in verbal inerrancy.
"One of the great strengths of the Church of England," suggested the mover of the bill, Sir John Arbuthnot, "is its tolerance." It was not a tolerance that was evident when the third evangelical, Mr. Ronald Bell, was speaking. From a particular quarter of the House he was harassed and heckled relentlessly, and even during a lull he paused to suggest that "members of the High Church faction" were distracting him by apparently conducting "a private meeting of their own."
The measure, which now goes forward for the Queen's formal assent, is hailed as a crushing defeat for the Low Church party, and is seen by them as an ominous warning of things to come.
J. D. DOUGLAS
Have something to add about this? See something we missed? Share your feedback here.
Our digital archives are a work in progress. Let us know if corrections need to be made.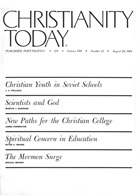 This article is from the August 28 1964 issue.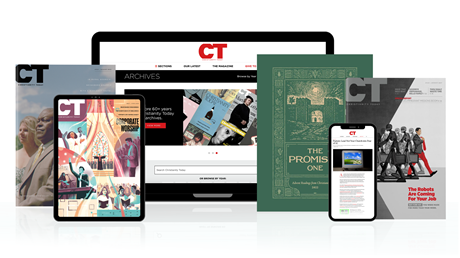 Subscribe to Christianity Today and get access to this article plus 65+ years of archives.
Home delivery of CT magazine
Complete access to articles on ChristianityToday.com
Over 120 years of magazine archives plus full access to all of CT's online archives
Subscribe Now
Radio-TV: Warnings and Opportunities
Radio-TV: Warnings and Opportunities