The following report is based on the recent visit of an American medical officer, Captain John D. Geisler, and his wife to the Kazan Museum of History of Religion and Atheism in Leningrad:
Like so many other museums in the Soviet Union, this one was once a church. It was constructed in 1811 and converted to its present use in 1932. It is believed to be the only museum in the world devoted to atheism.
The exhibits, spread over three levels, were primarily a collection of anti-religious oil paintings, cartoons, drawings, sculptures, and photographs. The obvious motive was to discredit religious faith through charges of hypocrisy. One is supposed to get the impression that Christianity fosters illicit sex, cruelty, murder, and greed; that it retards progress; that it is a religion of sorrow and severe penances; that prayers of Christians go unanswered.
Zoya, an English-speaking woman employee, spent more than two hours explaining the exhibits. She was most gracious.
Entering the main floor, where exhibits were concerned mostly with Christianity (especially Russian Orthodoxy), we saw first a bulletin board with pictures of rockets and cosmonauts. The central display showed a picture of a girl kneeling in prayer, and beside her was a photograph of the first woman cosmonaut. Zoya explained that this showed a Roman Catholic girl praying she would be the first girl in space but that instead a Russian atheist had won the distinction.
Also on the main level was a large photograph of a girl from an American sect accusing her mother, in front of others, because the mother had denied her an education because of religious beliefs … A photograph of Pentecostal women praying with agonizing expressions on their faces … Photographs of priests and monks from the Old Believers shown emerging from dungeons where they did penance … A painting entitled "A Quiet Monastery" showing two nuns fighting over who will go to bed with the priest (see cut) … A painting of a priest blessing a brothel … A porcelain work about fifteen inches high showing a priest hiding his mistress in some sheaves strapped to his back … A cartoon of a bedroom scene wherein a virtually nude woman is dancing with joy because she told a visiting priest that she wants to spend eternity living sinfully and he has just accepted her point of view … A large painting of Christ blessing a Tsar family … A collection of iron chains and helmets allegedly used by the Russian Orthodox for penance … A very large painting depicting God and Christ helping the Tsar defeat the abortive 1905 Russian revolution … A life-size bronze sculpture of Christ, looking very sorrowful, humble, and helpless (Zoya explained that they do not consider humility a virtue) … A painting of a group of superstitious Russian peasants rolling a Russian Orthodox priest on the ground in the belief that this will produce fertile soil … A porcelain sculpture of a priest holding Mussolini and several other figures under his robe … A painting of eighteenth-century Russian peasants, bound and being led away to be slaves in an Orthodox monastery … A painting of the execution of heretics by burning in Red Square, Moscow, in the sixteenth century … A painting of a woman being dragged away to be murdered by a Christian monk in Alexandria. Egypt in the fourth century.
The lower floor was devoted mainly to exhibits against Roman Catholicism. We saw a wooden caricature of Christ on the Cross … A large model of a medieval, plague-infested French village, showing the pope and priests torturing people in the belief that their sins had caused the plague … A group of paintings of fat priests, one (labeled "Lust") reading an obscene book, another (labeled "Gluttony") flicking off a caterpillar from a piece of lettuce he is eating … Several cartoons of Inquisition atrocities … A cartoon entitled "The Real Master of the Vatican" showing a greedy Jesuit holding in his hand St. Peter's Basilica … Several cartoons and paintings of drunken priests, including one reading a book with a wine glass hidden behind it … A painting of Galileo being condemned by the Roman Catholic Church for his views on astronomy … A bronze life-size sculpture of Bruno, a seventeenth-century astronomer, being burned at the stake during the Inquisition … A painting of the Roman Catholic Church hanging people during die Italian war of 1848 … A cartoon of the pope trampling under a mass of humanity … A greatly enlarged photograph of racial violence in the U. S. South, with police and their dogs attacking Negroes, and next to it the American flag with a Negro peering out from behind it, the stripes of the flag acting as prison bars … A photograph of an unemployment line waiting for food outside a Salvation Army building (our guide said this demonstrated how only the indigent turn to the church for help) … A paper-model exhibit of the U. S. Thanksgiving with healthy, colorful people parading in the street and dingy, crippled ones attending a nearby church for food being distributed there.
Also on the lower floor, at the end of a hall, was a full-scale model of an Inquisiting chamber. Several monks stood watching a torture weapon being heated in the fire, and a prisoner was lying with his feet in stocks. Nearby was a chair with protruding metal spikes.
The third floor, not nearly so spacious as the other two, was occupied with anti-Buddhist exhibits. It was here that we talked with Zoya about Christianity for about half an hour. She seemed to be in her mid-thirties and very intelligent. She was an ardent atheist, though she had obviously studied religion and read through the Bible at least once. I commented on the fact that the museum considered only adverse interpretations of religious faith and asked her why no favorable reflections were offered. Her answer was that there was simply no good in religion.
I asked her if she was aware, for instance, that Christian missionaries for the past two centuries have been teaching Africans to read and write and supplying their medical needs. Her reply was that it was simply not true, that it was ridiculous to say such a thing, and that she would discuss it no further.
Protestant Panorama
A five-day witnessing campaign by a band of 896 Southern Baptist laymen on the Pacific Coast produced 6,109 recorded decisions for Christ. Of this number, 1,205 made initial professions of faith.
Methodist-related Boston University won a S19,600 federal grant to develop training programs for community education against the danger of cigarettes to health.
United Church of Christ is distributing a do-it-yourself manual for expansion of Negro job opportunities. It gives detailed advice on methods by which the Church and its individual members can encourage and extend compliance with fair-employment provisions of the civil rights act of 1964.
Swedish Baptist young people are inaugurating a program of short-term missionary service in developing countries. The first group of six volunteers is headed for work in the Congo.
Deaths
DR. HUGH MARTIN, 74, noted British Baptist and ecumenical leader; in East Grinstead, England.
BISHOP EDWARD W. KELLY, 83, retired Methodist bishop; in Detroit.
DR. WILLIAM DAVID TURKINGTON, 71, retired dean of Asbury Theological Seminary; in Wilmore, Kentucky.
DR. HANFORD H. CLOSSON, 63, Methodist missions official; in Newtown Square, Pennsylvania.
Miscellany
A light plane pulling a banner advertising the Texas Baptists' forthcoming Latin American evangelistic crusade crashed shortly after takeoff in San Antonio, killing the pilot.
Federal courts struck down laws requiring daily Bible readings in Idaho and Delaware, citing the 1963 U. S. Supreme Court decision.
The Greek Orthodox Archdiocese of North and South America issued sharp criticisms of Turkish action in Cyprus. The archdiocese also condemned alleged persecution of Greeks in Turkey.
Decision, published by the Billy Graham Evangelistic Association, now circulates more than two million copies of each issue. Among religious publications only The Upper Room has a larger circulation.
Personalia
Dr. Martin Niemöller is retiring as head of the Evangelical Church of Hesse and Nassau.
Dr. Gordon W. Blackwell will resign as president of Florida State University to become president of Baptist-affiliated Furman University.
Dr. F. Brooks Sanders resigned as dean of Gordon College.
Dr. Earl D. Radmacher was named faculty dean at Western Conservative Baptist Theological Seminary.
Dr. R. Laird Harris was appointed dean of graduate faculty of Covenant College.
The Rev. J. Allen Wright was named president-designate of the Baptist Union of Scotland.
Dr. Maurice E. Culver was named dean of Asbury Theological Seminary.
Dr. Robert S. Kreider was elected president of Mennonite-related Bluffton College.
Have something to add about this? See something we missed? Share your feedback here.
Our digital archives are a work in progress. Let us know if corrections need to be made.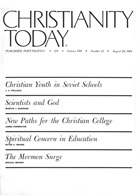 This article is from the August 28 1964 issue.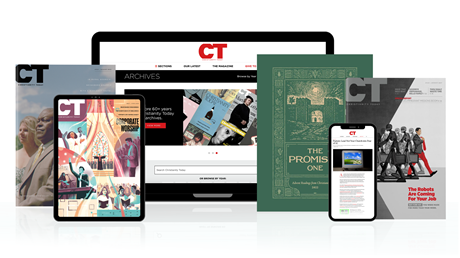 Subscribe to Christianity Today and get access to this article plus 65+ years of archives.
Home delivery of CT magazine
Complete access to articles on ChristianityToday.com
Over 120 years of magazine archives plus full access to all of CT's online archives
Subscribe Now
Visit to an Atheist Museum
Visit to an Atheist Museum