Sixteen years ago this week the World Council of Churches was formally constituted at Amsterdam. It has been steeped in controversy throughout its brief history, but its momentum as an omnibus ecclesiastical organization seems strong enough to propel it at least into another generation. Changes in administrative leadership that faced the World Council's fourteen-member Executive Committee last month indicated that the movement is fast approaching a new era.
Chosen to succeed the venerable Dr. W. A. Visser t Hooft as general secretary was a Scottish Episcopal priest who had not yet been ordained when the WCC came into being in 1918. The Rev. Patrick C. Rodger, 43, has been executive secretary of the Faith and Order Department of the WCC since 1961. His baptism of fire into the ecumenical movement, however, did not come until last summer, when he served in the unrewarding role of secretary of the Fourth World Conference on Faith and Order in Montreal. Although many evangelicals consider the WCC more conservative theologically than the National Council of Churches in the United States, the Montreal conference was viewed with disappointment. It was widely reported to be Visser t Hooft's special interest despite the counsel of ecumenical colleagues who noted that it might publicly lay bare the deep theological cleavages within the WCC rather than promote unity.
The Executive Committee, meeting for five days at the Evangelical Academy in Tutzing, Germany, asked Visser t Hooft to stay at his post until 1966. The recommendation of Rodger as successor must be approved by the WCC's 100-member Central Committee at a meeting in Enugu, Nigeria, next January. Visser t Hooft, who will be sixty-four next month, has a chain of service as WCC general secretary dating back to 1938, when the organization had only provisional status.
Rodger is a graduate of Christ Church, Oxford University. He received theological training at Westcott House, Cambridge, and also studied at the University of Paris. He was rector of Episcopal churches at Milmacolm and Bridge of Weir, Scotland. Not least of his assets is his knowledge of Russian, which he gained while training as an interpreter with the Royal Corps of Signals in World War II.
As a number of ecumenical churchmen see it, one big task confronting the World Council is that of wooing theologically conservative Protestants who have thus far stayed aloof from inter-church organizational identification (non-aligned religious bodies embrace more than a third of U. S. Protestant church members). This goal seems quite dearly to have been in view in the Executive Committee's selection of Dr. Eugene L. Smith, 52-year-old Methodist missionary executive, as head of the World Council's bread-and-butter American division. Smith commands respect among evangelicals as a devout, sincere, and highly motivated ecumenist. He has become known to many evangelical leaders mainly through his initiative in bringing a number of them together in informal "consultations" to thrash out grievances against ecumenical of Churches. These unpublicized meetings have taken place annually for several years in an atmosphere designed to encourage candid discussion. Smith's insight into the nature of the liberal-conservative cleavage was reflected in a definitive article that appeared in the Ecumenical Review and was widely reprinted (see CHRISTIANITY TODAY, August 30, 1963).
Some of Smith's friends among independent evangelicals go so far as to say that he "speaks our language." They even exchange prayer letters with him. Beyond that, however, they raise a caution flag. Some think that mutual understanding more than a formal alliance is a predictable outcome of the consultations, which have brought together influential men from a variety of non-NCC agencies and NCC spokesmen. The ecumenical participants have almost always been leaders of mild conservative views aggressively interested in evangelism.
Smith himself claims to shun theological labels, and evangelicals seem not to be over-optimistic about his theological views. One describes him as something of a "mystic," another as a "semi-conservative." Invited to outline his position, Smith spoke only of his "deep sense of biblical obedience" and a "high Christology" as a basic criterion.
Smith's book God's Mission—and Ours, published by Abingdon in 1961, indicates that he is disillusioned with theological liberalism and its contribution to the Christian mission. He does not believe, moreover, that neo-orthodox pessimism provides the proper antidote to liberalism, but his attitude toward fundamentalism is ambiguous. (CHRISTIANITY TODAY'S reviewer, mentioning a "theological softness," expressed disappointment over the book's doctrine of Scripture and declared that the author had not made clear whether he "distinguishes in principle between revelation in the canon and revelation after the canon.")
Smith's rapport with non-aligned churchmen, therefore, seems predicated on a recognition of evangelical vitality more than on common theological ground. He has seen this vitality in the overseas missionary program which has been his career specialty (evangelically oriented missionary boards sponsor more than two-thirds of the American missionaries abroad).
Smith was born in Rockwell City, Iowa, and attended Willamette University and Drew Theological Seminary. He also earned a Ph.D. degree at New York University and held pastorates in New York and New Jersey. He has been general secretary of the Division of World Missions of the Methodist Board of Missions since 1949.
Smith will assume his new job as executive secretary of the World Council of Churches in the United States on October 1, succeeding the ailing Dr. Roswell P. Barnes. Smith's responsibility entails administrative leadership of the U. S. Conference of the World Council, which consists of the council's thirty member denominations in the United States.
'To Nations Beyond'
A slave boy who became the first African bishop south of the Sahara was honored in special ceremonies this summer in the Nigerian capital of Lagos. In a service commemorating the centenary of the consecration of Bishop Samuel Adjai Crowther, Christian leaders across West Africa gathered in the Cathedral Church of Christ, which overlooks the lagoon where young Crowther along with other pitiable slaves was herded on a slaveship in 1820.
The human cargo on that ship was intercepted along the coast by a British warship and taken to the freed slave colony at Freetown, Sierra Leone. Eleven-year-old Adjai became a Christian, took the name of a benefactor, and went to England.
Twenty-six years after being wrenched from his parents, Crowther returned as a free man and a missionary to his Yoruba people at Abeokuta, where he joyously found his mother. Anglican evangelism spread quickly under the leadership of this son of the soil, and Crowther took the Gospel to other parts of Nigeria. In 1864 he was consecrated the first Bishop of the Niger.
Having seen what Christ did for him and his people, Crowther was driven by missionary zeal to reach others. "We must send the Gospel to nations beyond us," he often said. "Has not Christ, the great Shepherd of the Flock, sent us?"
Crowther would have rejoiced to see missionary vision partly fulfilled as delegates from the Anglican province of West Africa—stretching 2,000 miles along the coast—gathered for the centenary observance. In place of the lone churchman, eleven African bishops were on hand.
W. H. FULLER
Balancing Criticism
Former President Herbert Hoover, marking his ninetieth birthday this month, said that "criticism is no doubt good for the soul" but that Americans must beware "that it does not upset our confidence in ourselves." He then gave some favorable reflections:
"On the moral and spiritual side," he said, "we could suggest that we alone, of all nations, fought for free men in two world wars and asked no indemnities, no acquisition of territory, no domination over other peoples. We could point to a spirit of Christian compassion such as the world has never seen, and prove it by the tons of food and clothing and billions of dollars we have provided as gifts in saving hundreds of millions of people overseas from famine, and many governments from collapse."
Hoover noted "an alarming amount of crime and youth delinquency" but blamed it largely on "the failure of our law enforcement after the police have made the arrest."
On the race issue, he declared:
"Deeply as I feel the lag in certain areas which denies equal chance to our Negro population, I cannot refrain from saying that our 19 million Negroes probably own more automobiles than all the 220 million Russians and the 200 million African Negroes put together."
Have something to add about this? See something we missed? Share your feedback here.
Our digital archives are a work in progress. Let us know if corrections need to be made.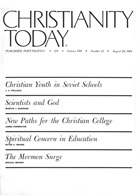 This article is from the August 28 1964 issue.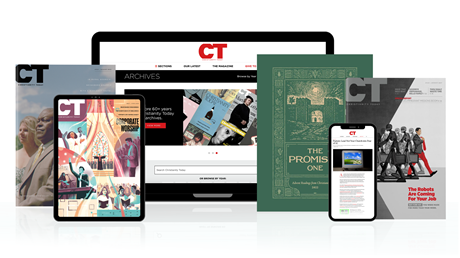 Subscribe to Christianity Today and get access to this article plus 65+ years of archives.
Home delivery of CT magazine
Complete access to articles on ChristianityToday.com
Over 120 years of magazine archives plus full access to all of CT's online archives
Subscribe Now
World Council Faces a New Era
World Council Faces a New Era