The third session of the Second Vatican Council ended in an air of keen disappointment over its failure to bring to a vote the issue of religious freedom. Failure stemmed from two sources. There was a conflict of opinion within the council on how the statement of religious liberty should be structured and supported. Moreover, the council's self-imposed rules called for adequate discussion before a vote on any matter. When the council's presidents decided against a vote, 1,400 of the fathers, led by liberal American bishops, appealed to Pope Paul to force the vote. The Pope refused to override the decision of the presidents and thereby to countermand the conservatives' delaying action.
Had Pope Paul honored the American-led appeal, born out of bitter disappointment, his action would doubtless have appeared to many in and out of the Roman church as an unnecessary papal intervention and dictation. As things stood, the appeal to the Pope made one think of the boys who want to change the rules of the game when they are losing.
Actually, the adoption of a statement on religious freedom is not in doubt. Father John Courtney Murray, of Woodstock College, speaking early this month at a Conference on Freedom and Man, said he was Scottish and therefore would lay a small wager that there will be very few negative votes when the issue comes up at the next and final session of the council. The whole council, he asserted, is in favor of religious liberty.
This means, Father Murray said, that the old doctrine of "tolerance" is dead. In the classical view, truth alone had a right to exist; error had none. Thus in a Roman Catholic state, all non-Catholics were to be "exterminated." In a non-Catholic state, the Roman church tolerated error. Protestants and all the world should be glad that this policy of "intolerance wherever possible" and, where it is impossible, "as little tolerance as possible," is, according to Murray, "archaic at best, and false at worst."
But though there was agreement on the necessity of recognizing religious freedom, the council was far from agreement on why a man should possess this freedom, or even on precisely what such freedom is. One school of thought within the council argued that religious freedom is grounded in the factual, internal freedom of man's conscience and in the free character of the act of faith, and that this provides an adequate juridical basis for religious freedom. This school, predominantly French, was criticized by a chiefly Spanish group who objected that this basis was too subjectivistic, particularly since conscience can err.
Father Murray proposed that the matter be broached from the level of experience and history. He pointed out that man in history has come to the place and time where he now demands increasing rights and the external freedom to express his faith and his inner conscience. One may ask, however, whether beginning with "the state of things as they are today" provides a footing for a view of conscience that really escapes the subjectivism of the French school. Does a shift from the subjectivism of the individual to the moving history of the human race satisfy the Spanish argument? Is a wide historicism inherently more prone to truth than the individual subject?
Protestants have always recognized that before God error has no rights. But they have also recognized that a man has a formal right, before men, to be wrong, and that any attempt to exterminate error is an act of human presumption and to exterminate the erring man an act of murder, unless indeed a man thinks himself God, or one called to act on behalf of God.
But it is precisely here that the question arises about the possibility of freedom of conscience within the Roman Catholic Church. Protestants may be happy to hear Murray say that all Catholics recognize the freedom of the religious conscience, and that they agree that no man may be constrained to do what he believes is wrong or made to refrain (within limits) from doing what he believes is right. The "limits," of course, are the thing. The Roman church will take a big step at the next session of the council if it adopts a statement recognizing the right of all non-Catholics to practice religious freedom according to the dictates of their consciences.
But what about those within the Roman Catholic Church? Can a structuring of religious freedom that recognizes the factual, inherent freedom of the human conscience, and that neither constrains the conscience to do what it thinks wrong nor restrains it from doing what it thinks right—can this be granted by the Roman Catholic Church to those within its membership as well as to those outside? It would seem that this freedom would be so constricted as to be meaningless at that religious center where the individual stands before God. As long as the Roman Catholic Church claims absolute authority and infallibility on all doctrinal and moral matters, there would seem to be no room for the non-constraint and the non-restraint that the Roman church is said to recognize as of the essence of freedom of the religious conscience.
Is this perhaps the reason why Father Murray seeks a grounding for religious freedom in the actualities of the historical situation, "in things as they are," and thus disagrees with the French school by insisting that religious freedom is first of all a juridical, not a theological, notion?
America As Seen From Abroad
An American Christian traveling around the world sees and hears much to make him thankful for his citizenship and for the liberties and favors his country enjoys under God. To see at first hand something of how hundreds of millions are living without sufficient food, clothing, and shelter, and to realize that multitudes of the physically undernourished are spiritually without the Bread of Life, is humbling. We who are so surfeited with material things and who live in a nation the state of whose poor would be comparative affluence for refugees from Red China pouring into Hong Kong or for the homeless in India, have much for which to thank God. And high among our blessings are religious and political freedom. Americans are blind indeed unless they acknowledge God as the source of these and many other privileges they so casually take for granted.
To look at other peoples without compassion or with a careless feeling of superiority betrays an unbecoming heartlessness. Better to say, "There but for the grace of God am I." Moreover, any attitude of superiority is strangely ill-founded in the light of our own defects.
The writer of this editorial was given pause by being asked by the daughter of a friend in Athens whether she would be safe on the streets if she were to come to America for her college education. With a note of puzzlement she asked, "Is it true that in Washington women cannot go safely on the streets at night?" The answer—not only for Washington but also for others of our great cities—had to be a shame-faced affirmative. Whereupon she replied, "But in Athens we are quite safe alone on the streets, even up to midnight." It takes only casual observation of other great foreign cities, including those in non-Christian lands, to realize the rebuking implications of her remark.
Surely one of the scandals of America is that in the most privileged country in the world, where the Gospel has been preached as fully as in any nation in history and where the message of Christ is constantly disseminated by radio and television, lawlessness abounds. There is much about his country for which an American abroad has reason to be grateful. The noble efforts of missionaries are inspiring; educational and medical institutions built by gifts of American Christians are creditable; government programs of aid to underdeveloped nations speak well for our country, as do most of our representatives abroad. But on the other hand, the penetration of alien cultures by the baser productions of Hollywood and by the salacious products of our presses and other effluvia of a materialistic, sex-obsessed society that seems bent on repudiating its spiritual heritage—all this dispels feelings of innate American superiority.
One's heart is deeply moved as he sees the appalling need of the world. And his perspective is badly distorted if he fails to include in this need his own favored nation. The scriptural principle is always that of those to whom most is committed most is required. What about our stewardship of the blessings God has poured out upon America?
Have something to add about this? See something we missed? Share your feedback here.
Our digital archives are a work in progress. Let us know if corrections need to be made.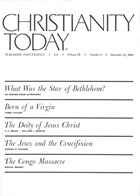 This article is from the December 18 1964 issue.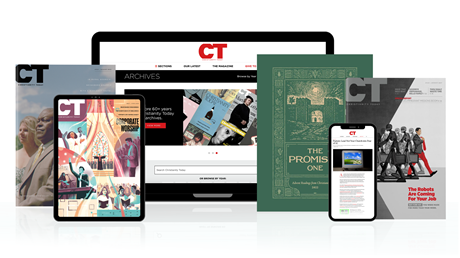 Subscribe to Christianity Today and get access to this article plus 65+ years of archives.
Home delivery of CT magazine
Complete access to articles on ChristianityToday.com
Over 120 years of magazine archives plus full access to all of CT's online archives
Subscribe Now
Rome and Religious Liberty
Rome and Religious Liberty