Pope Paul VI blazed an ecumenical trail from Rome to Bombay this month. Highlights of his four-day visit to the Indian metropolis included unprecedented discussions with representatives of non-Christian religions. He even quoted from the Upanishads, the Hindu scriptures.
It was the second long journey this year for the 67-year-old pontiff. Last January he travelled to the Holy Land for a historic meeting with Orthodox Patriarch Athenagoras. No pope in recent history has undertaken comparable jaunts, and no pope had ever before visited the East while in office.
Paul VI made more history by holding what amounted to the first papal news conference. He answered reporters' questions aboard the Air India jetliner on which he travelled as a regular first-class passenger to Bombay. Associated Press correspondent Eugene Levin reported that the pontiff also walked through the tourist-class cabin and chatted with passengers.
Announced purpose of Paul VI's visit to Bombay was to attend a gigantic Eucharistic Congress, wherein Roman Catholics exalt what they regard as Christ's real presence in the bread and wine of Communion. There had been some anxiety in Bombay prior to the Pope's arrival as posters appeared advising him to go back home. He was greeted, however, by record crowds estimated by some as numbering in the millions. On the evening of the first day he conferred with Prime Minister Lal Bahadur Shastri, and the next day he saw President Sarvepalli Radhakrishnan.
His meeting with non-Christian religious figures included Hindu, Islamic, Buddhist, and Zoroastrian representation. "Are we not all one in this struggle for a better world, in this effort to make available to all people those goods which are needed to fulfill their human destiny and to live lives worthy of the children of God?" he asked.
The Pope also met Roman Catholic, Orthodox, and Protestant churchmen in Bombay. He told them he was striving "humbly but confidently for the reconciliation of all Christians."
An Indian photographer died of injuries suffered in an accident which marred the Pope's trip from the airport. The pontiff gave $5,000 to help the victim's family.
In the meantime, the papacy was also making news in Washington, D. C. The jewel-encrusted crown which Paul VI gave up in a symbolic gesture toward poverty was being dispatched to the U. S. capital for permanent display at the National Shrine of the Immaculate Conception. The priest who brought the ten-pound tiara into the country said he paid no duty on it. He listed the crown, the estimated value of which is $10,000, as an "ecclesiastical ornament." He said customs officials did not ask him what it was or what it was worth.
A historic conference in Washington marking Georgetown University's 175th year featured Roman Catholic theologian Hans Küng, who boldly but delicately raised the question of the adequacy of the term "infallibility." He said that the First Vatican Council of the last century laid stress on the "binding character" of doctrinal pronouncements but that "never having faced the arguments of Protestant theology, it passed over in silence what we may in accordance with St. Paul call the fragmentary character of these pronouncements."
Küng added: "St. Paul's words apply to every human utterance, including the solemn utterances of councils and popes, when he says, 'For we know in part, and we prophesy in part.' "
Küng suggested that one might be able to find "a more comprehensive concept than the concept of infallibility," one which would include the "binding" and the "partial."
Protestant Panorama
Four small congregations in the tiny town of Schellsburg, Pennsylvania, were merged into one last month. The new church is affiliated with the United Church of Christ. The others were Presbyterian, Methodist, and Lutheran.
The United Church of Canada and the Anglican Church of Canada are sponsoring a series of radio messages by Stan Freberg. The one-minute spots, pioneered in the United States by Presbyterians, were tested in Canada last July.
The newly organized Utah-Idaho Southern Baptist Convention will be welcomed into the Southern Baptist Convention January 1. It is the twenty-ninth SBC state convention.
Presbyterians in New Zealand approved a new program of dialogue with Roman Catholics, including occasional combined worship, prayer, and Bible study.
Miscellany
The Garden Grove (California) Community Church unveiled plans last month for its proposed 18-story "Tower of Hope" capped by a "Chapel in the Sky." Also envisioned is a prayer room for a permanent 24-hour prayer vigil.
The American Church Institute says that Okolona College, a 62-year-old junior college for Negroes in Mississippi, will close next June. The institute, an Episcopal-related agency which helps to support the school, says that it may be reopened, however, as a different kind of educational agency.
The twenty-fifth anniversary of the Back to God Hour, radio program of the Christian Reformed Church, was commemorated last month with a thanksgiving jubilee service at McCormick Place, Chicago.
A public monument was dedicated in Buenos Aires last month in memory of the late William C. Morris, noted Anglican missionary to Argentina who founded numerous evangelical schools.
Personalia
Dr. T. Watson Street is resigning, effective September 1, 1965, as executive secretary of the Presbyterian U. S. Board of World Missions.
Dr. David J. Wynne was appointed vice-president of Wesley Theological Seminary.
Bishop Shot K. Mondol of India was appointed by the Methodist Council of Bishops to supervise the Manila area of the church after the Philippines Central Conference failed to agree on a candidate.
G. Herbert Shorney was elected president of Hope Publishing Company, noted producer of hymnals, succeeding his brother, Gordon D. Shorney, who died in October.
Have something to add about this? See something we missed? Share your feedback here.
Our digital archives are a work in progress. Let us know if corrections need to be made.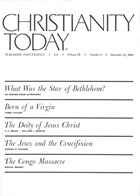 This article is from the December 18 1964 issue.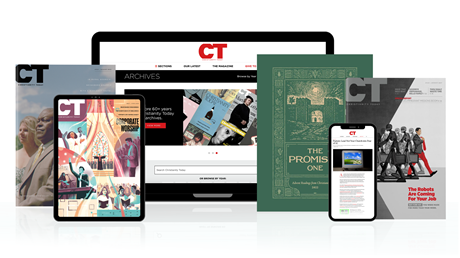 Subscribe to Christianity Today and get access to this article plus 65+ years of archives.
Home delivery of CT magazine
Complete access to articles on ChristianityToday.com
Over 120 years of magazine archives plus full access to all of CT's online archives
Subscribe Now
India Greets the Pope
India Greets the Pope