The crime bill in the United States now runs $20 billion a year. Offenses have increased four times faster than the population—which may seem a marginal matter, until hoodlums strike just down the road. While a task force of intellectuals projects the Great Society, the number of serious crimes in the District of Columbia in a single month has increased 19.3 per cent over last year's figure. Pornography has become a $500 million a year business, which is lightly tolerable as a mirror of modernity until some teen-ager seriously wonders whether his grandparents read the Prophets only because they didn't have Playboy. United States illegitimacy has increased 300 per cent in ten years; that too may seem no cause for alarm, until a friend's teen-age daughter drops out of college to raise her out-of-wedlock baby. The 25,000 suicides a year cease to be cold, impersonal statistics when John Smith is suddenly absent from the car pool and nobody can understand why he did it.
Modern man conceals his inner anxieties from his neighbors, who are busy submerging their own discontents. He scarcely remembers the strands of tragedy that scar the hinterlands of contemporary existence. The "great" wars sired man's feeling of life's futility; the lightning-spread of Communism spawned a sense of his smidgen-smallness; and the loosening grip of the supernatural heightened his sense of meaninglessness. Even intellectuals mounted philosophies of despair as the last silver linings faded from the clouds of doubt. Some mortals conceal their fears beneath a zest for life in an age of spectacular science. But the rising tide of irreligion, the immoral tone of society, and the uncertainty over future destiny have worked toward a dehumanization of modern man. A bright-tinted sepulcher, his sick soul is mirrored on the screen and stage, is chronicled in every newspaper, and casts a shadow on every Main Street.
This wayward society the Church of Jesus Christ illumines with the evangel of God's grace. Its first word is not the false assurance that "things are better than you think," for in truth modern man's predicament is worse than he thinks. The worldling is neither spiritually asleep nor in a moral coma; worse yet, as the New Testament insists, he is spiritually dead, though he thinks himself alive. Lost in sin, his life is not simply life without meaning and life without God; it is survival without life.
The problem of meaning gains special urgency in these distraught times. The pervasive secularism nullifies an interest in eternal realities. The sudden arrival of the space age has dwarfed man's spirit. The swift dominion of atheistic Communism over much of the earth has detoured human energy to wrong purposes. The nuclear potential for massive destruction seems to relegate respect for spiritual power to the past. Scientism discourages religious faith by exalting only scientific knowledge as genuine and dependable. An affluent society's creature comforts coupled with the prospect of state welfare seem to promise all the security man needs. If he does have problems of balance, he can make it down any street to the psychiatrist's office.
Modern man is separated from what he is meant to be, from what God intends him to be. Live for this or that though he may, in his heart of hearts he feels that he is not living for anything really worthwhile. Yet he dare not wholly abandon his quest for meaning. The blank walls of apathy and boredom invite failure of nerve, and beyond inner emptiness stands mental breakdown. A person who loses heart for life is all dressed up with no place to go but the cemetery.
Yet man cannot "invent" a satisfying meaning for his life. No one really thirsts for reality who lacks all interest in theology. For what makes sense of our experience is a divine given. The worth, meaning, and goal of life are connected with God's purpose and provision. We come from God; we return to God; we have a duty under God; and our destiny in eternity turns on whether we receive God's grace and live for him. The meaning of our lives is inseparable from the meaning of the Incarnation and the Atonement and the Resurrection; these great saving events disclose what God intends us to be. The New Testament speaks of "fullness of life." The Apostle Paul knew that life's durable meaning must be spiritual and moral, and he affirmed: "To me to live is Christ."
The Christian knows with Paul that "in Christ all things cohere." His great discovery is that the One who stands at the beginning of creation and at the center of history stands also as the source of his new life. The Christian knows more. He knows that the future belongs to all who are in Christ. Others may moan, "Stop the world, I want to get off!," but he urges them, "Stop your flight, and get on the Rock!" We who know Christ know who we are and what we shall be. We know the true identity and worth of the individual. Moreover, we know why we are, that is, the meaning of human existence. Not only in one's fate after death but in the sanctification of life here and now the Gospel makes a decisive difference. So the Christian cries out, "Meet Christ and live!" And where this summons is truly heard, men may hear in it the echo of the Redeemer's own victory shout: "I was dead, and am alive again." That is why those who truly know Christ have it in their power to unleash a tide of Christian compassion and reconciliation around the world.
The man freed by Christ need fear nothing—and he alone need not fear. In the ancient world the fear of death terrified pagan mankind. In the pre-Reformation world guilt and fear harassed even religious souls. In the modern world the fear of meaninglessness grips bewildered spirits. The Gospel of Christ carries tidings of great joy to every man afraid of life and of the future. The redemption that Christ offers erases all these fears and more. "The hopes and fears of all the years are met in Thee tonight"—so Phillips Brooks's words in "O Little Town of Bethlehem" speak still in these days. The Christian evangel is the one true hope of our times. The only good news remaining to our century is a message almost too good to be true—that Christ died for sinners and that he lives to remake us in his image. The Christian evangel is the one message that decisively determines the currents of destiny in modern society.
Have something to add about this? See something we missed? Share your feedback here.
Our digital archives are a work in progress. Let us know if corrections need to be made.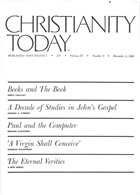 This article is from the December 4 1964 issue.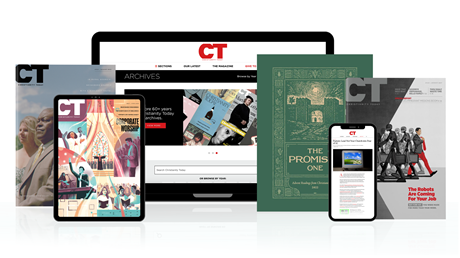 Subscribe to Christianity Today and get access to this article plus 65+ years of archives.
Home delivery of CT magazine
Complete access to articles on ChristianityToday.com
Over 120 years of magazine archives plus full access to all of CT's online archives
Subscribe Now
Life for a Wayward Society
Life for a Wayward Society