Why does a growing minister preach better in each successive decade of his life? Partly because he keeps preparing every time as well as he can. Next week he strives to do still better. Except in vacation time he prepares a new sermon every week, new in content and in form. Alas, the converse often holds true. Many an able man preaches better at forty than at sixty. As every thoughtful hearer knows, the dominie has begun to slip. He has quit doing his best work on each sermon. Only a man's best can begin to be good enough for God.
A wise man early forms the habit of writing out in full a sermon every week. Instead of writing two, he revises one. In preparing a sermon, as in penmanship, the more a man scribbles, the worse the end product. In making the first draft he sits down with everything needful close at hand. He writes straight through, as though speaking to friends in church. Then he asks his wife or teen-age daughter to read the message aloud, deliberately, to see if every part is as "clear as a cloudless moon," as interesting as the facts warrant, as effective as he desires. If so, it all has a pleasing prose rhythm. When a man's heart is moved his words flow. The next day he can revise the message.
What about other sermons and addresses, several in a week? After an apprenticeship, he can make ready to speak on the basis of a full outline. Seldom does a mature minister prepare more than one new sermon a week. Thus he has the advantages of making ready and speaking in two different ways. As for committing a sermon to memory and repeating it like a parrot, a typical pastor now does not have such ability. Neither does a church want that sort of sermon. However, with an exceptional man God blesses methods not ideal.
The immediate effectiveness of a spoken sermon depends on delivery more than on anything else. In a community where a given pastor speaks well but has little to say worthy of note, another has much to communicate but does not speak well. If both men do their best, the former has the larger hearing. This may be fortunate, since it is easier to excel as a public speaker than as a pulpit interpreter. Either one can do a vast deal of good with powers that he dedicates to God and people.
What does it mean to speak well? "The Lord God hath given me the tongue of the learned, that I should know how to speak …" (Isa. 50:4). Here our schools and books have rendered young men a disservice. We have taught them to admire a pulpit orator, who calls attention to himself, and a sermonizer, who directs attention to his message, often as an end in itself. In the Bible the stress falls on one whom I term a pastoral evangelist.
A pastoral evangelist aims to speak so that the layman will think about the Lord and about his own needs. From this point of view "the best preaching voice never is heard." Neither by mellifluous beauty nor by a nasal twang should a minister's voice call attention to itself and away from the Saviour. A man of God learns to speak so that the layman will fix the eye of the soul on the Lord, and part of the time on himself. As of old on the holy mount, other bases fade from view until a hearer sees the Lord and is transformed into His likeness, so as to serve.
As for ways and means, who can lay down rules? Would any reader make ready for Christ-centered, hearer-directed pulpit speech? Why not ask a wise layman to come in from elsewhere and on a tape recorder take down the morning service for a month? Then, alone with God, listen to yourself as a voice speaking for him to a layman who has come to church to find the Redeemer. In our sin-cursed, war-blasted, sorrow-stricken time, how can a pastor do more for his God than learn to prepare every sermon for His glory, and then deliver it so as to move every heart to resolve here and now to do His holy will?
A dedicated pastor never strives to prepare a great sermon, bringing glory to the speaker. He makes ready for a good message, bringing every hearer face to face with God in Christ, and leading the hearer to begin doing the will of God as it is done in heaven. Such a speaker looks on himself and his sermon as vessels of earth through which will shine forth "the light of the knowledge of the glory of God in the face of Jesus Christ" (see 2 Cor. 4:5–7). Such a man prepares as though everything depended on him. All the while he prays, because everything depends on God, who alone can send the fire. He will if his servant prepares with faith and holy expectation. (See my book The Growing Minister, Abingdon Press, 1960.)
Have something to add about this? See something we missed? Share your feedback here.
Our digital archives are a work in progress. Let us know if corrections need to be made.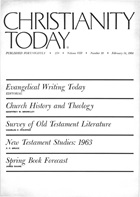 This article is from the February 14 1964 issue.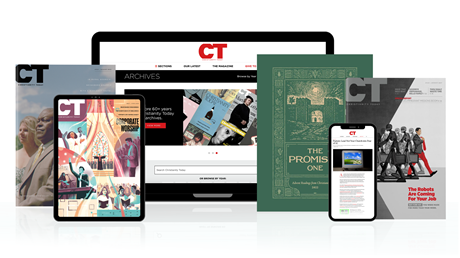 Subscribe to Christianity Today and get access to this article plus 65+ years of archives.
Home delivery of CT magazine
Complete access to articles on ChristianityToday.com
Over 120 years of magazine archives plus full access to all of CT's online archives
Subscribe Now
The Minister's Workshop: Making Ready to Deliver a Sermon
The Minister's Workshop: Making Ready to Deliver a Sermon