The Federal Communications Commission will soon issue a "primer on fairness" to radio and television stations. Although not specifically directed at religious programming, it implies stringent curbs ahead for ministers who use the air waves to make "personal attacks." FCC sources say religious programs give them the most trouble.
Direct government censorship is forbidden by the Federal Communications Act. But the FCC feels that under its "fairness doctrine" it can require holders of radio and television station licenses to give any individual or organization subjected to a personal attack a reasonable opportunity to reply.
This means that stations, unless they want to donate extensive free time for such replies, will take the initiative to restrict personal attacks.
The FCC says it is merely restating a position taken in 1949. It was delineated in a public notice to all broadcasters July 26, 1963, in which the commission declared: "Whenever a controversial program involves a personal attack upon an individual or organization, the licensee must transmit the text of the broadcast to the person or group attacked, wherever located, either prior to or at the time of the broadcast, with a specific offer of his station's facilities for an adequate response."
The new primer will say that a station owner can rightfully demand to see the text of a sermon scheduled to be broadcast so that he can decide whether to risk it. Except in the case of political speeches, which are governed by a different code, stations are held responsible for knowing what they are putting out over the air. And if anyone is attacked and a complaint is received, the stations have the obligation to inform the person of the attack and to offer him time for response.
The time need not be equal, says an FCC spokesman, but the forthcoming document will indicate that an "adequate" opportunity is expected.
What the FCC is trying to get rid of is the type of presentation that easily degenerates into repeated name-calling. Stations may still broadcast any kind of program that they desire. But it is nonetheless obvious that programs involving extensive personal attacks will get the station into a string of red tape and the granting of so much free time for response as to make the operation uneconomical. If any station fails to abide by the new primer and listeners complain to the FCC, the station may not be able to get its license renewed. Station licenses granted by the FCC are valid only for three-year periods.
Some broadcasters may be eager to see how the new primer defines "personal attack." Does reasonable criticism of a theologian's viewpoint constitute such an attack? And what about adverse comments on people who are dead?
The broader question of liberal or conservative interpretation of theology comes under a different FCC policy, one in which the commission expects stations to present a balanced diet with respect to controversial issues. Listeners can complain to the FCC if, for instance, a station's religious programming reflects a decidedly liberal bias. If the FCC then determines that the area served by the station includes a substantial population of theological conservatives it can raise the complaints at license renewal time. A severe bias can conceivably prompt the commission to withhold a license because the station in not serving its public adequately.
Free Time For Atheists?
Does the Federal Communications Commission require radio and television stations to be "fair" to atheists and Communists?
FCC Commissioner Robert E. Lee, in a statement to the first International Christian Broadcasters Convention, said no. He declared that the "fairness doctrine" of the FCC does not apply in the case of atheists who seek radio or television time for rebuttals to religious sermons.
"This country believes in God," Lee said during a question-and-answer period, "and we do not consider this a controversial issue."
The three-day convention combined the twenty-first annual meeting of the National Religious Broadcasters and the fourth triennial World Conference on Missionary Communications. Delegates saw the intensification of efforts to meet the challenge afforded by modern electronic media. NRB approved a plan to establish a permanent secretariat, and a spokesman said it would begin operating "in a matter of weeks."
Capturing the fancy of many a delegate were reports of the effectiveness of commercial-type radio "spots" carrying a religious message. Use of such spots, usually paid for at commercial rates, seems to be growing rapidly. The most exhaustive test campaign thus far appears to be one sponsored by Mennonite Broadcasts, Inc., and carried out by a Washington, D. C., advertising agency. A representative of the American Bible Society also reported a campaign with spots. One delegate said that messages with a "word for the Lord" had been interspersed in a series of play-by-play accounts of college football games.
A research firm that conducted surveys in connection with the Mennonite campaign claimed that the spots had "brought one out of every four men in a predetermined age group (18 to 40) in Terre Haute, Indiana, from a condition of ignorance to awareness of a selected Christian truth" (see News, CHRISTIANITY TODAY, January 3, 1964).
Most controversial speaker at the convention was Dr. John Bachman, a Union Theological Seminary professor and noted authority on religious radio and television programming (and new chairman of the Board of Managers of the National Council of Churches' Broadcasting and Film Commission). Bachman called for rapprochement among broadcasters with differing theological views. His appearance prompted the Presbyterian Journal to "wonder if Dr. Theodore Epp of 'Back to the Bible' fame will be invited to address the next NCC convention?"
Have something to add about this? See something we missed? Share your feedback here.
Our digital archives are a work in progress. Let us know if corrections need to be made.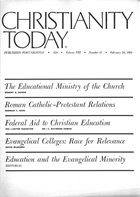 This article is from the February 28 1964 issue.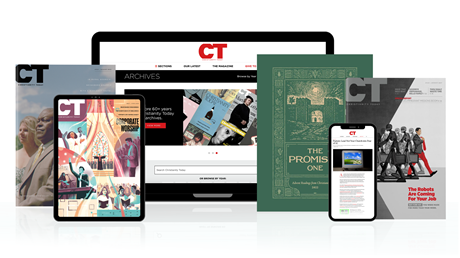 Subscribe to Christianity Today and get access to this article plus 65+ years of archives.
Home delivery of CT magazine
Complete access to articles on ChristianityToday.com
Over 120 years of magazine archives plus full access to all of CT's online archives
Subscribe Now
FCC Enforcing 'Fairness Doctrine'
FCC Enforcing 'Fairness Doctrine'