President Johnson climbed out on a theological limb this month. Addressing nearly 1,000 guests at the twelfth annual Presidential Prayer Breakfast in Washington, Johnson proposed establishment in the capital city of a "memorial to the God who made us all." It should be, he said, "a center of prayer, open to all men of all faiths at all times." He suggested that International Christian Leadership, sponsor of the breakfast, round up necessary support.
The Chief Executive's idea found no immediate groundswell of acceptance (see editorial on page 26), but if nothing else, it was noteworthy for its very daring. Seldom does any high-ranking politician, much less the President, have any suggestion to make to the religious community much beyond a variation of "keep up the good work." Johnson at least showed that he wants to be a participant rather than just a spectator. Some observers felt his word choice was unfortunate; critics immediately drew the inference from the term "memorial" that "God is dead."
Hundreds of government leaders, including Chief Justice Earl Warren, House Speaker John W. McCormack, six members of the Cabinet, and several state governors, were crowded into the grand ballroom of the Mayflower Hotel. Amidst notables at the head table was Los Angeles publisher William Jones, who each year picks up the entire tab for the Presidential Prayer Breakfast. Republican Senator Frank Carlson of Kansas presided.
Johnson said that "prayer has helped me to bear the burdens of this first office which are too great to be borne by anyone alone." In remarks to the Congressional Wives' Prayer Breakfast, held simultaneously in another room, he recalled "those first dark days of November, when the pressures were the heaviest and the need of strength from above the greatest." "Lady Bird and I sat down together to eat a meal alone," he said. "No word or glance passed between us, but in some way we found ourselves bound together, and I found myself speaking the words of grace that I had learned at my mother's knees so many years ago."
First public endorsement of the Johnson memorial plan came from the National Association of Evangelicals. Dr. Robert A. Cook, NAE president, noted in a letter to Johnson that "the Scriptures are replete with … references which make it plain that nations as well as individuals should acknowledge God, even as the founding fathers of our nation were careful to do."
"The God of our American heritage is the Judeo-Christian God of the Bible," Cook said, "and recognition of this fact can have great significance. An edifice for this purpose could serve as a testimony to the thousands who annually visit our nation's capital, as well as to those who live and work here. It would stand in the same marked contrast with the idol of the godless dialectical materialism as does your confession of faith in God and His Son, Jesus Christ."
The letter conceded "problems and difficulties" but added that "complete agreement on theology … is not necessary for the limited project under consideration." Cook concluded by saying that "we are hopeful, therefore, that the International Christian Leadership, in accord with your suggestion, will take the lead in exploring the possibility and feasibility of implementing your splendid suggestion."
Johnson was preceded on the breakfast program by Republican Governor Mark Hatfield of Oregon, who said that "the call for spiritual mobilization is a clarion call in this day," and evangelist Billy Graham.
Graham cited a series of pressures that currently plagues the United States. He said that the nation is pressed demographically and psychologically, as well as by moral and social problems, by international crises, and by a pessimistic philosophy.
"The victory," he said, "is found in a spiritual dimension, and I believe that the greatest need of America at this hour is a moral and spiritual awakening that will sweep the nation from coast to coast and put back into our society a moral fiber that we need, and a will to resist the forces of tyranny, and a will to maintain our freedoms at an hour when they are being attacked."
Later that day, Graham and his wife, who had addressed the wives' breakfast, went to the White House at Johnson's invitation. Graham said he had telephoned Johnson several days before to assure the President that, press reports to the contrary, he had absolutely no presidential aspirations.
The President introduced his suggestion of a memorial as a "personal thought." This is what he said:
"This Federal City of Washington in which we live and work is much more than a place of residence. For the 190 million people that we serve and for many millions in other lands, Washington is the symbol and the showcase of a great nation and a greater cause of human liberty on earth.
"In this capital city, we have monuments to Lincoln, to Jefferson, to Washington, and to many statesmen and soldiers. But at this seat of government, there must be a fitting memorial to the God who made us all.
"Our government cannot and should not sponsor the erection of such a memorial with public funds. But such a living memorial should be here. It should be a center of prayer, open to all men of all faiths at all times.
"If I may speak this morning as a citizen and as a colleague and as a friend, I would like to suggest to this group, which has done so much through all the years, that it undertake the mission of bringing together the faiths and the religions of America to support jointly such a memorial here in this Federal City—the Capital of the Free World.
"The world is given many statistics about the per capita vices of Washington, but the world knows all too little about the per capita virtues of those who live and labor here.
"I believe—and I would hope that you would agree—that the true image of Washington is not that of power or pomp or plenty. It is, rather, that of a prayerful capital of good and God-fearing people."
Have something to add about this? See something we missed? Share your feedback here.
Our digital archives are a work in progress. Let us know if corrections need to be made.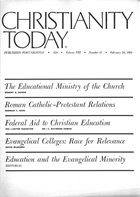 This article is from the February 28 1964 issue.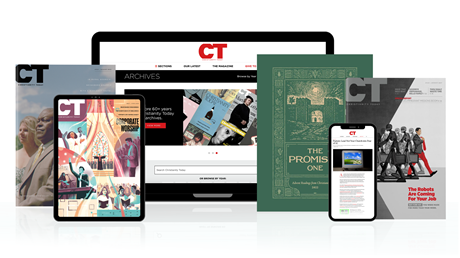 Subscribe to Christianity Today and get access to this article plus 65+ years of archives.
Home delivery of CT magazine
Complete access to articles on ChristianityToday.com
Over 120 years of magazine archives plus full access to all of CT's online archives
Subscribe Now
A Memorial (?) to God
A Memorial (?) to God