On five occasions our Lord asked of different groups of religious leaders a question simple in itself but with manifold implications, "Have ye not read?" Twice he asked the question of Pharisees, twice also of the chief priests and scribes, and once of the Sadducees. All of these five occasions are described in the Gospel of Matthew; three are found in the parallel passages of the Gospel of Mark.
When the Pharisees complained that the disciples of Jesus were plucking grain on the Sabbath Day (Matt. 12:3–5), our Lord gave a dual reply by asking first, "Have ye not read what David did, when he was hungry?" (referring to 1 Sam. 21:6), and then, "Have ye not read in the law, that on the sabbath day the priests in the temple …?" (referring to Num. 28:8, 10). Later when the Pharisees asked him if it was lawful for a man to put away his wife "for every cause" (Matt. 19:4), Jesus answered by asking the same simple question, "Have ye not read?," with reference to Genesis 1:27 and 2:24. Shortly after this, when the chief priests and scribes resented the children's recognition of Christ as the Son of David (Matt. 21:16), Jesus replied, quoting Psalm 8:2, "Did ye never read, Out of the mouth of babes and sucklings thou hast perfected praise?" After uttering the parable of the wicked husbandman to this same group of chief priests and scribes, he sealed the truth he sought to teach by quoting Psalm 118:22, 23, introducing it with the question, "Did ye never read in the Scriptures?" (Matt. 21:42). Finally, during Holy Week when the Sadducees attempted to trap the Lord with a question regarding an impossible hypothetical case of seven brothers' successively marrying the same woman, he once again asked, "Have ye not read that which was spoken unto you by God?" (Matt. 22:31), quoting Exodus 3:6.
From these five texts there stands forth the basic fact that Jesus insisted that the great questions of life can be answered from the Word of God. His replies clearly reveal also that whatever he did or said during his earthly ministry was fully justified by the Word of Truth. Perhaps it is not too elementary to call attention to the fact that Jesus in each case was referring to the Scriptures of the Old Testament, and not to any philosophic concepts or principles of logic. He asked not simply, "Have ye not read?" but, "Have ye not read in the Scriptures?" He does not suggest in these passages that his listeners ought to be wide readers in contemporary Greek and Latin literature; his emphasis is exclusively upon the reading of the Word of God.
Looking again at our Lord's oft-repeated question, it is necessary to insist that these men were able to read. Jesus would probably never have asked such a question as this of shepherds. He was addressing the most educated men in Israel, who as you and I, were able to read. And not only were they able to read; they were doubly privileged in that they could read the Word of God. No other people on earth at that time had this privilege. Neither the Greeks nor the Romans had any divinely inspired volume. Those to whom Jesus spoke not only had read these Scriptures but continued to read them every day. Some of them preached every Sabbath from the Scriptures, and others were the official interpreters of the Word of God. Because they could read the Word of God, they had a responsibility to understand, believe, and obey it.
The word "read" is a far richer one than we might think. Even the desk-size American College Dictionary gives it twenty-five different definitions. The Oxford English Dictionary reminds us that the Middle English root of our word "read" meant to deliberate, to discern, to have an idea, to think, to interpret thought, and then to peruse. The Greek verb means to know exactly or to recognize; and the noun form anagnōsis is the word actually translated knowledge as in Acts 13:15, Second Corinthians 3:14, and First Timothy 4:13. (There is a very interesting illustration of this matter of reading in John's description of the inscription on the Cross, John 19:19–22.)
Omitting books that are trash, evil books false in their purpose, and ephemeral books, and confining ourselves to the best and noblest literature, to the records of what men have done, thought, suffered, and said, what worlds open to us through this portal of reading! Even apart from the literature of imagination, such as Hamlet, Faust, Les Misérables, and Oliver Twist, the whole history of the human race unfolds before us as we read. Never shall I forget the experience of sheer wonder when as a young man I first read Professor Breasted's fascinating Ancient Times. What a privilege through biography to enter into the struggles, the joys, the achievements of great men—of scientists such as Agassiz, or teachers such as William Lyon Phelps and Bliss Perry, or preachers and theologians such as Alexander Whyte and Robert Rainy. And best of all, what iron enters one's blood as he peruses the thought-provoking pages of Augustine's City of God, or Bruce's Training of the Twelve, or Fairbairn's Place of Christ in Modern Theology.
But my present intention is not to encourage Christians to read the great books, although I have often done just this and shall no doubt do so again. My purpose is rather to underscore the kind of reading of which Jesus spoke—the reading of the Word of God.
Bible Reading In Decline
I am afraid it is true, as many are saying, that private, serious reading of the Bible has for decades been decreasing among Christian people. Some of the reasons for this should be particularized. People in the Western world today have more leisure than in the past. At the same time there are more pressures for their time than ever before. Listening to the radio and watching television carves out a large segment of time for millions of people, and I should judge that the ordinary Christian gives far more time to these things than to the Word of God. The vast amount of reading material today also tends to push Bible reading to the side. Who does not feel that he must read regularly at least one daily newspaper and one weekly news magazine? No group is more tempted by reading than the clergy, who seem to feel obligated to read the newest theological theories coming out of Germany and do not want to be embarrassed by not knowing the latest utterances of Tillich or Ferré. In 1963 alone, there were 1,459 new religious books published in the English language and 324 new editions of earlier works! No minister could possibly read even all the more important volumes of this staggering library. The layman knows something of these pressures, also. "The average business or professional man today, far from being a non-reader, [is] a continuous reader—in the sense that he [casts] his eyes over print.… The amount of paper that goes over any executive's desk today is tremendous. One must not forget this in trying to understand why, if a business or professional man has an hour or two in the evening for relaxation, he might not choose to read" (Reading for Life, edited by Jacob M. Price, Ann Arbor: University of Michigan Press, 1959).
Moreover, there are many subtle temptations for Christians to substitute some other worthy activity for the reading of the Word of God. Visiting Rome and the art galleries of Florence or even traveling in the Holy Land is not a replacement for personal reading of the Word of God. Gregory, the Bishop of Nyssa, far back in A.D. 380, said something we should ponder: "Before I even saw Jerusalem, I knew that Christ was Very God. I knew that God was born of a Virgin before I saw Bethlehem's stable. I believed in the Lord's resurrection before I looked upon the church built upon its memory. This little profit alone did I get from my journey: I learned that our places at home are far more holy than those abroad." Visits to mission stations around the world, important as they are, are never to be considered a substitute for Bible reading; neither is the distribution of the Scriptures, nor listening to television services on the Lord's Day. Because of a forced confinement following surgery, I recently listened on four successive Sunday mornings to services on television in Southern California, and not once did these ministers, who I presume are believers, use a text or attempt to expound the Word of God. Now that we all have automobiles and substantial vacations, we must also be careful to remember that beholding the great scenic wonders and historic places of our land is not apprehending God's revelation to us in his Word.
From mingling with ministers, I have learned that with many of them the personal study of the Word of God is the most tragically neglected area of their lives. Thirty years ago the distinguished Methodist preacher of the Broadway Tabernacle of New York, Dr. Charles E. Jefferson, in a Bible Sunday sermon entitled "Searching the Scriptures," issued a warning needed more today than then:
Possibly we have been reading too many papers, too many magazines, too many novels. We have too much neglected the Divine Library which leads to One who can give us abundant life. Too many of our preachers have lacked the Biblical mind. They have the newspaper mind. Sermons have a fatal tendency to be like articles or newspaper editorials. The newspaper mind is of the earth earthy, and the modern novelist is an expert in exploiting the world, the flesh, and the devil.
In Scripture the greatest theme that can ever occupy the attention of men is unfolded—the incarnation of the Son of God, his perfect life, his holy and vicarious death, his glorious hope-begetting resurrection, his eternal pre-eminence, his judgment of the quick and the dead. What tragedy to know Heidegger but not Christ; to know Thomas Mann or Sartre but to be deaf to the inspired apostles. We must never forget that it is before Christ that men will someday stand. In the Scriptures and only there we find the will of God. It is not in the latest book about God by some skeptical bishop that we discover the truth about God but in his holy Word and through his only begotten Son. Not to know what the Word of God says about the great problems of life is to expose ourselves to innumerable deceptions, false teachings, and demon-inspired, man-exalting philosophies. Here is hope for men stained with sin and a revelation of the certainty of a life to come, whose very reality modern science almost unanimously repudiates. For us as believers it is more important to know who Christ was and what he did and said, what he now is doing as our high priest, and what he will do when he returns to this earth, than it is to know any other subject available to men. How many believers today, through the neglect of the Word of God, should take upon their lips the prayer of the Psalmist, which God will answer if it is sincerely uttered: 'My soul cleaveth unto the dust: quicken thou me according to thy word" (Ps. 119:25).
Blind Readers
Let us go back to the question Jesus asked, "Have ye not read?" Of course, those of whom Christ asked that question had read the Scriptures. But though they had read them and could quote hundreds of passages, they had not entered into the deeper implications of many of these revealed truths. Thus they had constructed a system of error, were ethically insincere, and were blind to the fact that their Messiah stood in their midst. Many of them were living in disobedience to the very Word they defended and believed to be inspired. What a terrible condemnation of these Bible-believing Jews are the words of the Saviour recorded in the twenty-third chapter of Matthew.
It was eighty years ago that Professor Charles Augustus Briggs of Union Theological Seminary issued his still valuable work, Biblical Study. Though no paragon of conservatism, he began with this unequivocal statement: "Biblical study is the most important of all studies for it is the study of the Word of God which contains a divine revelation of redemption to the world." In his chapter on "Exegetical Theology" is a statement transparently true but too seldom heard today in our seminaries or found in our more influential theological literature: "Unless theology freshens its life by ever-repeated draughts from the Holy Scriptures, it will be unequal to the task imposed upon it. It will not solve the problem of the thoughtful, dissolve the doubts of the cautious, or disarm the objections of the enemies of the truth."
In the midst of so much secular reading, such contradictions of theological opinions, such a lowering of ethical standards, such a growing prevalence of deceiving cults, such a speeding up of life, leading to so much exhaustion and weariness amid the sheer fascination of this materialistic mid-twentieth-century world in which we live—if ever our souls needed the refreshing watering of the Word of God, its cleansing, its power as the Sword of the Spirit to beat back our diabolical foes, it is now. Whatever else we do, we must make room daily for time to feed upon the bread that comes down from heaven.
True Theology
The learned world is today studying the Scriptures too much as the learned world studied nature two thousand years ago. We philosophize and then see if the Word does not give us support. If it does, well; if not, then it is bad for the Word, and so we doubt it, we reject it, we turn away from it. There can be no great progress in biblical knowledge on this plan any more than there was progress in science in the earlier centuries of the Christian era. What is needed is another Bacon to appear, to change the method of Bible study and to induce the theologian to lay aside his theories and preconceived notions, and to inquire reverently what the Word of the Lord is. Oh, if the theologians would lay aside their systems and sit humbly at the feet of Jesus, the wonderful progress we should see in biblical science would correspond with the wonderful progress we are permitted to see in these days in natural science!
The nineteenth century has witnessed a most wonderful revival of learning concerning the book of Nature, which is one of the books of God. We can plainly see how the revival came about. It was because men ceased to think what Nature ought to teach and reverently inquired what she did teach. May not the twentieth century witness as great a revival of learning concerning the book of Revelation, which is another book of God? And if it should, can we not see how it may be brought about?
I think that there are already intimations that biblical theology is to have a higher place than it has ever had before, and that systematic theology, theology of the creeds, is to occupy second place rather than first place in the estimation of God's people. The Bible is being studied as never before. The Church is reverently standing before the Scriptures saying, "Lord, what wilt Thou have me to believe?" The true attitude of man before the book of Nature is the true attitude of man before the book of Revelation. We must stand as reverently before the one as before the other.
The modern scientist is a patient inquirer in the presence of natural phenomena. He gives the highest authority to what he sees and hears and feels, and not to what he thinks. He makes facts primary and theories secondary. And so by patient continuance in well-doing he has accomplished wonders in these latter days. So the Christian student should be a patient inquirer in the presence of God's Word. He should give the highest authority to what is actually written and not to what he conjectures. It is only in this way that there can be progress in Christian knowledge: it is only in this way that theology can keep step with science—The Rev. Dormer L. Hickok, minister, 1882–1902, Historic First Church (Presbyterian), East Cleveland, Ohio. Reprinted by permission from Contact, published by Historic First Church.
Wilbur M. Smith, who is professor of English Bible at Trinity Evangelical Divinity School, Deerfield, Illinois, was one of the original professors at Fuller Theological Seminary and taught there for many years. Dr. Smith is the author of numerous books and magazine articles and has been the editor of "Peloubet's Select Notes on the International Sunday School Lessons" since 1933.
Have something to add about this? See something we missed? Share your feedback here.
Our digital archives are a work in progress. Let us know if corrections need to be made.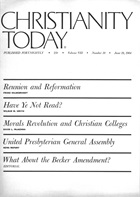 This article is from the June 19 1964 issue.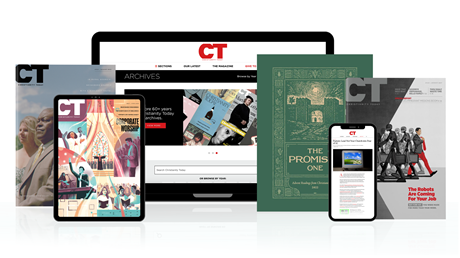 Subscribe to Christianity Today and get access to this article plus 65+ years of archives.
Home delivery of CT magazine
Complete access to articles on ChristianityToday.com
Over 120 years of magazine archives plus full access to all of CT's online archives
Subscribe Now
Have Ye Not Read?
Have Ye Not Read?