"Church Music for the Whole Church." This was the motto over the stage of Convention Center in Louisville, Kentucky, during a three-day conference that celebrated the twentieth anniversary of the church-music program of the Southern Baptist Convention. Twenty choirs from Baptist colleges and seminaries delivered erudite sacred classics and sophisticated arrangements of folk hymns, then joined with the Louisville Symphony Orchestra for the premiere performance of Talmage W. Dean's Behold the Glory of the Lamb, an apocalyptic oratorio commissioned for the occasion. Workshop sessions met thirteen at a time, with recognized experts discussing topics ranging from "How Is Your Diction?" to "Vocal Problems of the Pre-Adolescent." More than 5,000 delegates had a chance to review the revolution that has taken place in American church music since World War II.
While some experts speak of a "church-music renaissance," the change is better described as the first advent of serious church music in America. It is a product of democratic music education and of a spirit of self-examination unique to our time—with money enough to support it.
Statistically, the movement toward better music is impressive, especially among Southern Baptists. The larger seminaries boast music schools on an equal footing with schools of theology and Christian education. Yet they are not able to turn out enough ministers of music to supply the demand of their churches. Southern Baptists print two monthly church-music magazines. A field services department works through more than thirty state music secretaries, conducting numerous workshops and clinics and two annual conferences.
Twenty years ago, some observers imagined that a Baptist music program would make its greatest contribution in the realm of church promotion and organization. Intervening years have made it clear that Christian education and Christian art have profited as well. A typical urban church has five to ten choirs enrolling up to 500 people. Standards of choral literature and performance have improved remarkably. Two hymnbooks and a hymnal companion have been produced by Southern Baptists within the last ten years, and historic hymns of English, German, and Latin tradition are being added to the Baptists' own particular heritage of gospel song.
Inevitably, other denominations suffer by comparison with Southern Baptist numbers, but church music is on the move everywhere. Music education is growing in importance in all seminaries. Bible colleges offer strong music majors, hoping to continue their leadership in supplying professional church musicians. Master's and doctor's degrees in church music are available in many secular universities and conservatories. As a result, American churches today offer the most new opportunities for a performing music career. Even small churches with part-time choir directors and organists can get help through fellowships and literature.
Methodists have had a national fellowship for musicians for more than eight years; they publish a monthly journal. Lutherans support two magazines in testimony to their leadership in the liturgical arts, one a monthly published by the Lutheran Church in America and the other a quarterly of the Lutheran Society for Worship, Music, and the Arts, whose membership and officers come from three Lutheran bodies. Younger organizations include the Association of Disciples Musicians, which began annual workshops in 1962, and the Fellowship of American Baptist Musicians, whose organizational meeting was held a few weeks ago.
Musicians of other small church groups banded together twelve years ago in the National Church Music Fellowship.
The spirit of introspection implicit in all this activity can probably be traced to two important volumes: Church Music in History (1937) by Canon Winfred Douglas and Protestant Church Music in America (1933) by Archibald T. Davison. They were written from the safety of cloisters; yet their attack on Romanticism in anthem music and hymn tunes, "erotic" and "self-centered" gospel hymnody, a "concert choir" and a "spectator audience," has had a telling effect. It need not detract from their contributions to insist that Douglas and Davison espoused a simple, though possibly impractical standard for music in the house of God: The best church music is the best music. The last twenty years have seen a long line of moderate and even more helpful books—from Methodist, Baptist, Lutheran, and independent evangelical authors—based on the premise that church music belongs to the people, not only to church musicians or the laity who have been musically educated.
One noted author, Austin C. Lovelace, minister of music at New York's Christ Church (Methodist), was invited by Southern Baptists to help delineate church-music philosophy at the Louisville conference. His lectures reflected a profound understanding of the relation between music and theology as well as a self-effacing dedication to a Christian ministry that is rare among musicians of his stature. He contended that Christ is the center of a wedding scene, not the bride, and that the music should deal with worship and dedication, not romantic love. He urged that funerals move back from the funeral home to the church, with a congregation singing hymns of trust and faith, rather than a soloist intensifying the feeling of grief by singing "John's favorite."
It was in the area of Baptist distinctives—corporate evangelism and its accompanying pietist hymnody—that delegates at Louisville seemed to be a little embarrassed. Not one of the new hymns presented in the conference was a gospel hymn. A group of gospel songs effectively sung by soloist Claude Rhea seemed somewhat like museum pieces apologetically associated with Brahms, Vaughan Williams, and Mendelssohn. Most of the audience walked out on a discussion of music in evangelism. Dr. C. E. Autrey, director of the Southern Baptist department of evangelism, pointed out dynamically the historic relation between song and revival. But he offered no standard by which evangelism's music should be measured today, no encouragement for evangelicals to guard their heritage of informal "experience" hymns against the growing apprehension (even of Baptist musicians) that they are poetically and musically unworthy.
Visitors at the exhibits were tempted to believe that the convention motto was to be translated, "Something for everybody—from Latin motets and a moderately dissonant oratorio to the frothiest of religious ballads." Obviously, a continuing program of education will contribute to a norm of literature—at least a gamut not quite so wide. Many observers see the need to ignore the commercial religiosity of today's so-called gospel music while at the same time perpetuating the best of yesterday's artless expressions of Christian testimony. They regard it no more necessary to justify spontaneous folk hymns of Christian witness than to argue the validity of personal Christian experience.
Some evangelicals have expressed a fear that the heritage of congregational singing may be lost to the graded choir system or to an unrealistic standard of hymnody. One observer noted, with a little unholy glee, that the best congregational singing at the conference was done by the smallest crowd, singing "To God Be the Glory." Dr. W. L. Howse. an official of the Baptist Sunday School Board, said the next program of education was to be aimed primarily at the congregation.
Education of pastors also came up. One seminary music professor said his greatest burden was the feeling that, to the rest of the faculty and to many fledgling pastors, music was of peripheral value as a ministry.
Many working musicians and some church-music professors have not yet developed their philosophy beyond Douglas and Davison. Church music for them is only a matter of aesthetics, not Christian communication and education. They seem intolerant of those to whom Bach may not communicate.
In the cycles of history, the church-art pendulum has swung from one extreme to another. More than once, reaction against highly developed forms resulted in an obscurantist orgy that outlawed choirs and "figural" music and destroyed manuscripts and musical instruments. The age of Bach, for instance, was followed in Germany by a pastoral insistence on simplicity and later by church music that was almost operatic. Today's situation may be described by the title of a Baptist book, Church Music in Transition, by William Hooper.
The unanswered question is whether the great potential displayed in Louisville can be harnessed and controlled for the total spiritual good of the ecclesia. Musicians face the responsibility of insuring that their art remains a true servant of the Church. If it is allowed to become master, the future could spell another iconoclastic war that, figuratively, will put the ax to choir lofts and organs and make fancy robes and graded choir materials fuel for a bonfire.
Black Sheep Prodigy
Not many boys ever play Stradivarius violins. But this 17-year-old Wins critical acclaim with them in leading concert halls across North America. Next week, for instance, he will perform as featured soloist with the Baltimore Symphony Orchestra. He is probably the only American prodigy who combines a concert career with high school studies and still fits in a daily hour of Bible study.
A clue to his biblical interest is found in his name: James Oliver Buswell IV. As a musician he is somewhat of a family "black sheep," inasmuch as his two living namesakes excel in altogether different fields. His father (James III) teaches anthropology at Wheaton College. His grandfather (James Jr.) is dean of the graduate faculty at Covenant College and Seminary in St. Louis. Both are interested in music, however, and the youth's mother—who lives with him in a New York apartment during the school year—is an accomplished organ and piano teacher.
As for the young violinist, reviewers have been charmed by his music, and their comments give an insight into the kind of person he is backstage. Washington's Alan Doerr said of a December recital at the National Gallery of Art:
"Most young artists of his age are simply well-trained parrots, but Buswell plays from within. He seems genuinely involved with his music-making.… Though the fiendishly difficult Bach Chaconne was not an unqualified success, I have to admit that he generated more excitement with it than I have heard in a long time …"
"Jamie," as his friends call him, attends the private, 160-student Birch Wathen School and studies under Ivan Galamian at the Julliard School of Music. He is an incurable opera fan and owns thirty full operas on record. He approaches music with a spontaneous enthusiasm, and he may well be on the way to one of the outstanding concert careers of the coming generation.
Jamie's parents started him on the piano at the age of three and on a one-eighth size violin at five. But apparently there was not much forcing, because he says that music fascinated him even then.
He believes strongly in the performer as a creator, not just a "machine" turning out notes—one reason he says any serious musician must respect jazz. His favorites among the classics vary, and he suggested not quoting his likes and dislikes because "I change every week."
One thing is constant. He can't take rock 'n' roll, even though his girl classmates call him the "spare Beatle" (his brown hair sometimes strays over his forehead like that of the British singers).
At any rate, he is not greatly bothered by the girls. His only dates have been on a Dutch basis at concerts. He was the only stag at the school's elegant open-house dance this year. He said he felt sorry for the girls wearing "pounds of make-up" and underpinnings such that "they could hardly sit down."
"They were trying their best to make a big impression," he declared, in somewhat the way of an elderly woman who came up to him after a concert and piped, "Young man, I think you're good enough to play with Lawrence Welk!"
The contagious energy the reviewer noticed in Jamie is evident in a glance at his schedule. He has appeared in concerts from Rhode Island to Montana in the past year. He has prepared seven concertos for this season and at any one time has four or five sharpened to performance quality. He is thinking of going into concert work full-time next year.
About four years ago, Jamie began systematic, daily study of the Bible, and lately he has also started reading commentaries and books on theology. Right now he is "tangling with predestination." The family belongs to the College Church of Christ (Congregational) in Wheaton, and in New York he is still trying to find a church that combines "a fine teaching pulpit and good music." Most of his Bible study comes after midnight, and some of it is from a French Bible. He memorizes a proverb every day.
Jamie's own faith in salvation never came at a specific time, but at the age of seven or eight, he said, he began to "think out what I'd heard before and crystallized my belief beyond just knowledge of Bible stories."
DICK OSTLING
Have something to add about this? See something we missed? Share your feedback here.
Our digital archives are a work in progress. Let us know if corrections need to be made.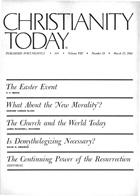 This article is from the March 27 1964 issue.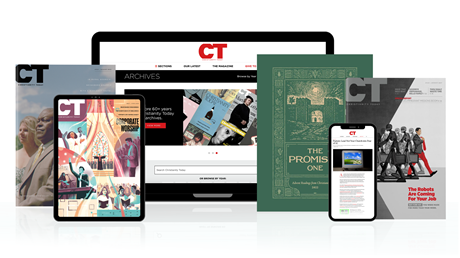 Subscribe to Christianity Today and get access to this article plus 65+ years of archives.
Home delivery of CT magazine
Complete access to articles on ChristianityToday.com
Over 120 years of magazine archives plus full access to all of CT's online archives
Subscribe Now
Revolution in the Choir Loft
Revolution in the Choir Loft