In the ancient and honorable city of Noyon, almost under the shadow of its noble cathedral, Jean Cauvin, known to us as John Calvin, was born on July 10, 1509. His father, Gérard Cauvin, was a busy notary whose employments brought him into contact with prominent families of the city and included services to the cathedral chapter. This relationship enabled him to procure for John and his elder brother, Charles, during their boyhood, certain church benefices that were to provide funds for their education. Their mother, a devout and beautiful woman, died when John was three years old; a stepmother succeeded of whom virtually nothing is known. Calvin's younger brother, Antoine, and his half-sister, Marie, were later to accompany him to Geneva.
Calvin's formal higher education, at Paris, Orleans, and Bourges, extended from 1523 to 1533. From a good school at Noyon he was sent at fourteen to the University of Paris. At the Collège de la Marche he came briefly under the instruction of the eminent Latin teacher Mathurin Cordier, with whom he formed a lasting bond of friendship and mutual esteem. Calvin long afterwards attributed this brief association with a great Latinist to a kind Providence and saw it as the means by which all that he later achieved for the Church of God became possible. Too young to be allowed to make his own decisions, he was soon removed to the theologically renowned Collège de Montaigu, where the lectures were good with a strongly conservative accent, the meals notoriously bad, and the discipline severe. Laggards were flogged at Montaigu, but there is no reason to suppose that Calvin suffered under the scourge. It is more probable that his health was impaired at the hands of the cooks. He attended the lectures in dialectic (no doubt seasoned with theology) of Noël Beda, doughty champion of the old order against Erasmus and Luther; Beda had earlier led the attack on Lefèvre, the biblical humanist who had been driven from the university. Calvin was probably also in the crowded classroom of the eminent Scottish schoolman John Major, who would shortly afterwards write against Luther, and who must also have introduced his students to the theories of conciliarism and representative government for which he is well known. Calvin appears to have read Peter Lombard's Sentences and to have made a beginning of his later unexcelled familiarity with Augustine. He can hardly have escaped some extracurricular reading of Erasmus, who despite the frown of the authorities was in favor among many of the students. But we lack evidence of his attitude to certain undergraduate excitements connected with the new stirrings in religion and centering around Louis de Berquin, whose approval of Luther would later bring him to the stake. At the time of his first known responses to the Reformation, Calvin, though still in his early twenties, was a graduate in arts and in law.
With every educational advantage young Calvin entered readily into the world of learning. Extraordinary gifts of understanding and memory, ready speech, and a passion for knowledge marked him out among students; and his many friends included world-renowned scholars and their sons.
Gérard Cauvin, having quarreled with the canons of Noyon, suddenly required of John a shift to the study of law (1528). During three fruitful years he pursued this study at Orleans and Bourges with good success, participated in a small controversy among lawyers, broadened his range of friends, and took beginner's Greek under Melchior Wolmar, a Lutheran from Wurtemburg. He later expressed his warm gratitude to Wolmar but without reference to any religious influence. As he matured he must have decided clearly against a legal career, and after his father's death in 1531 he felt free to follow his real bent. He entered eagerly on the study of the ancient languages and literatures under the Royal Lecturers lately established by Francis I at Paris. In this environment he produced his first book, the commentary on Seneca's treatise On Clemency, a brilliant little work and a typical product of Christian political humanism with minimal concern for theology.
A Sudden Subduing
That which made the Calvin we know was an inner transformation by which all his intellectual and personal resources were directed to new ends. John Calvin was one of the great converts of history, and a convert who thereafter with singular intensity lived by his new convictions. From a number of passages in his writings, especially the preface to his commentary on the Psalms (1557), we learn something of the circumstances and the nature of this experience. He describes himself as "stubbornly addicted to the superstitions of the Papacy" until "God by a sudden conversion subdued my heart to teachableness." He must have declared his new faith boldly, for he was soon surrounded wherever he went by ardent inquirers after the "purer doctrine."
No statement of Calvin's enables us to date this event with confidence, but we can infer from incidents otherwise known that it probably occurred in the early months of 1534. By his association with Nicholas Cop in the latter's sensationally bold rectorial address in the university (November 1, 1533), he had become publicly identified with the party of Marguerite d'Angoulême and of Lefèvre, whose biblical humanism remained submissive to the hierarchy. The sentences from Luther and Erasmus in this discourse do not add up to an avowal of Protestantism; whether Calvin assisted in writing it or not, it is not a Protestant utterance. But he visited the aged Lefèvre, protected by Marguerite at Nérac, early in April, 1534, and promptly journeyed to Noyon, where he resigned his benefices on May 4. From that date Calvin's every utterance unambiguously proclaimed him a recruit to the Reformation and an advocate of the evangelical cause in France and in Europe. It was his unquestioned conviction that God had claimed him for lifetime service in a sacred ministry. Thereafter, more than most Christians, he felt the constant presence of God, commanding him to faithful testimony and strenuous labor in the interpretation of the Word of God and the restoration of the purity and order of the visible Church. Calvin's conversion was a dedication; he was expendable. He said little of this, but it is well expressed in his emblem, a flaming heart on an extended hand with the motto: Cor meum tibi Domine offero ("To thee, O Lord, I offer my heart").
Already a trained scholar and a fluent writer, Calvin determined to give his fellow believers a book that would confirm and clarify their beliefs and at the same time serve as a manifesto to confute their detractors. For this he needed a time of retired study not possible for him in France, where persecution and death were now being inflicted on those of his persuasion. Early in 1535 he was in Basel, and by August of that year he gave to a printer there the manuscript of the Institutes of the Christian Religion. By the time it was published (March, 1536) Calvin was on his way to Ferrara, soon to return for a brief while to France. The book in this first edition was a compact, arresting summary of Christian doctrine and was intended for believers and inquirers rather than for academic readers. In the subtitle it is called a summa pietatis, not a summa theologica. Even in its enlarged editions and numerous reprintings, in the course of which it was vastly enriched in content and redesigned for the use of theological students, it retained something of its appeal to the lay public. In the Latin edition of 1559, with its French version of 1560, the book had expanded to five times its original bulk. In Latin it reached educated readers through all Europe, lay as well as clerical; and it was soon spread in translations to large numbers of the common people. The life of an influential writer is in a large sense the life of his books. Even while Calvin lived, those who felt the impact of his thought through reading what he wrote must have greatly outnumbered those who sat under his instruction.
Detour To Geneva
Calvin would have been content to serve the evangelical cause as a writer. More even than most scholars, he craved the peace of private study. But he was pressed into service in an unforeseen role of public responsibility. Traveling with a friend from Paris to Strasbourg and forced by military movements to detour by Geneva, he was subjected to an urgent plea by William Farel, zealous leader of the first stage of reform in the city, who solemnly in the name of God summoned Calvin to cooperation with him. "It was," wrote Calvin afterwards, "as if God from on high had laid his hand upon me." To such a call, he could offer no resistance.
The two Reformers labored in full harmony until, through the interference of Bern, which was ambitious to control Geneva, and a basic disagreement with the magistrates over church discipline, they were obliged to leave. In the crisis, Calvin, citing Chrysostom's example, declared he would rather die than profane the sacrament by administering it to defiant offenders. Strasbourg now became the scene of his ministry of teaching and writing. But Geneva called again, repeatedly and importunately. "There is no place," he wrote, "that I am more afraid of." Farel, now at Neuchâtel, urged him on the highest sanctions to return; and many Reformed leaders joined in the effort to get him back. At length he consented, like a man going to martyrdom. Mutual tears were shed as he left Strasbourg, where he had profited much from the companionship of Bucer.
On his return to Geneva in 1541 Calvin had nearly twenty-three years to live, years of intense effort and almost continuous strife. Promptly with the other ministers he prepared, and the magistrates accepted with some revision, the Ecclesiastical Ordinances by which the church of Geneva was to be administered and to cooperate with the civil government. The constitution provided for a ministry consisting of pastors, doctors or teachers, elders, and deacons. Elders were chosen from the members of the three governing councils of the city and were associated with the ministers for discipline. The primary motive in the discipline was to provide a standard for admission to the Lord's Supper and thus to protect the sacrament from profanation. Detailed prescriptions regulated the work of the different classes of ministers. The deacons were appointed to serve the sick and the poor. The consistory, the body of ministers and elders, exercised "fraternal correction" and claimed the right to exclude from Communion. Physical penalties were solely in the province of the civil authorities. The old morally restrictive laws of Geneva were revised (1543) under Calvin's influence. The earlier reforms of Basel and Strasbourg furnished some elements of Calvin's church order, but the consistency and permanence of the Geneva plan gave it a unique and commanding influence in the development of the Reformed churches.
As he had expected, Calvin soon after his return found himself and his reforms under attack. In the consistory there were tense scenes involving citizens of rank and members of their families and sometimes occasioning angry controversy in the city. Prior to 1555 there existed a more or less coordinated opposition party, the so-called Libertines. After their victory in the elections of February, 1547, Calvin expected to be once more thrust out of Geneva; but the real purpose of his enemies was to intimidate him and nullify the discipline. On one occasion he faced a riotous crowd and, baring his breast, exclaimed: "If you must shed blood, let mine be the first"; thus he won a hearing and quelled the turmoil. In such a role the naturally timid scholar was out of his element: "I wish God would grant me his discharge," he wrote to a friend. But his wish was not granted, and he fought on.
The Ghost Of Servetus
Some of his opponents assailed his theology. Of these the most famous is Servetus, the Spanish anti-trinitarian. There are people who know almost nothing about Calvin except that he "burned Servetus." They are unaware that Calvin was probably the only man in Geneva who made a plea to the council for a "more merciful" form of execution. Calvin was at a low point of influence with the magistrates when Servetus appeared, and there was reason to expect that his opponents would support the accused stranger against him. But in the end they failed to help Servetus and voted in the council for his death by fire. As for Calvin, he unquestionably sought a death sentence, and he afterwards defended the act. Had Servetus not escaped from prison in Vienne but suffered death there under the Inquisition that condemned him, his burning would have been little noticed. But ever since that deplorable scene in October, 1553, on the hill of Champel (where an expiatory monument, erected in 1903 by French and Swiss Calvinists, now stands), his ghost has dogged the reputation of Calvin.
The Geneva Libertines by their behavior were increasingly discredited, and the civic elections turned in Calvin's favor. From 1555 the Reformer could rely on the general good will of citizens and magistrates. The dangers to Geneva, a Protestant outpost between France and Savoy, were now from these external enemies. Henry II of France was preparing to attack the city when his sudden death intervened in 1559. Later that year an agent of Savoy, seeking the submission of Geneva, was repulsed by a magistrate in the words: "For the sovereignty of God and for the Word of God we will adventure our lives." During these years the city's population was swollen by the coming of thousands of refugees, most of them already under Calvin's influence. Calvin played an increasingly important part in civic affairs. He was influential in the adoption of statutes covering sanitary reforms, protection from fires, balcony railings to keep children from falling, and the introduction of manufactures to provide employment. With much forethought and labor he brought into existence the Geneva Academy, destined to be the alma mater of generations of trained Calvinists who came from, and returned to, all parts of Europe.
An Energetic Pen
Calvin's labors as preacher, teacher, director of the church, and public servant were constant and exacting, and quite sufficient to keep a man of high ability busily employed. He lived with taut nerves and suffered frequent headaches. But with amazing mental energy he continued to produce works of distinction that endure in the esteem of millions today. A stream of commentaries and treatises flowed from his ready pen, all marked by sound learning, persuasive argument, and spiritual insight. His beloved wife, long an invalid, died in 1549, but his house remained a place of generous hospitality to refugees, as testified by their letters of gratitude to him. His extensive correspondence reached high and low in many countries, with admonition, encouragement, religious and political news, and friendly confidences. Numerous bodily disorders assailed him, and we may be sure that habitual overwork hastened his death (on May 27, 1564). With the fifty-nine volumes of his opera before us, it is hard to realize that he died before reaching the age of fifty-five.
Those who take the measure of Calvin by his severity toward opponents and his lapses in speech and writing into personal vituperation overlook what really distinguishes him among the men of his time, indeed of any age. In these days we do well not to forget that the guidance of God's Church, through an understanding of Scripture, was the task to which Calvin had set himself. "All that we have attempted," he declared in 1539, "has been to renew the ancient form of the Church." And the last words he dictated bore a reminder to his first co-worker, Farel, that their union in service had been "useful to God's Church." Because he labored with distinction alike to interpret the entire Scripture and to revitalize the entire Church, his contribution is indispensable and his name imperishable. There will be other centenary celebrations.
John T. McNeill, formerly a faculty member at Queen's University, Ontario; Knox College, Toronto; and the University of Chicago, is Auburn Professor Emeritus of Church History at Union Theological Seminary, New York. He edited Calvin's "Institutes" for "The Library of Christian Classics." Among the many books he has written is "The History and Character of Calvinism."
Have something to add about this? See something we missed? Share your feedback here.
Our digital archives are a work in progress. Let us know if corrections need to be made.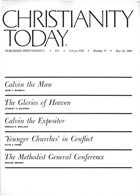 This article is from the May 22 1964 issue.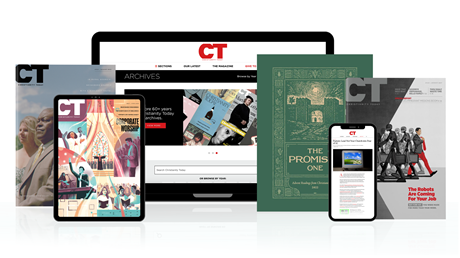 Subscribe to Christianity Today and get access to this article plus 65+ years of archives.
Home delivery of CT magazine
Complete access to articles on ChristianityToday.com
Over 120 years of magazine archives plus full access to all of CT's online archives
Subscribe Now
Calvin the Man
Calvin the Man