I have gone back to seminary for my senior year. Frankly, I am a lot wiser now than I was right after middler examinations in June. I spent the summer learning to know the people in the parish I serve as student pastor. The 353 members, in a medium-size midwestem city, have taught me much. They have helped me realize some of my weaknesses, and they have opened my eyes to the brass-tack problems of the Church of Jesus Christ today and to the problems of us who are ministers.
At the beginning of the summer, I decided to concentrate on visiting some of our seventy-three most marginal members—the ones who never worship or contribute. I did not see all of them, because I found it necessary to spend quite a bit of time with each person. But usually the longer I took to get acquainted, the more I learned.
One of my first visits was to the home of a young woman who had "grown up in this church." I had never seen her, and it took some time to break the ice. When I invited her to a Communion service she seemed startled.
"Do we have Communion?" she asked. "I thought that was only for Catholics." She was visibly uneasy when I mentioned Christ and openly said she did not believe he was the Son of God.
I marveled and thought I had stumbled upon a maverick. How could anyone grow up in a Methodist church without knowing that Protestants take Communion and without believing in the divinity of Jesus Christ? Yet as the summer wore on, I learned that the only thing unusual about this woman was her frankness. The more I talked with our marginal members, the more I became aware of a richly varied heresy—one I encountered in assorted shapes and sizes.
One day I sat on the front porch of the home of a member whose name has been on the roll for more than fifty years. She cannot come to church for physical reasons. As she reminisced about days gone by, I heard no hint of Christian faith. Finally, in desperation, I probed to see what image of the church she carried.
"The thing I remember about church," she finally said, "was how I used to enjoy working in the kitchen for those church suppers. I sure do miss going to church!"
I sought the recollections of two other old-timers, now stay-at-homes. "I earned a rest," said one, candidly. "I held every office in the church, so I kinda retired, you might say." The other remembered social dances held after choir rehearsals, and roasting chestnuts around the old stove at youth parties.
Strange—nobody mentioned Jesus Christ. None of the stay-at-homes regretted missing worship.
It all added up to an alarming picture of the church, emerging from the lips of some who had been "regulars" for twenty years or more. Nowhere did the faith seem important or even existent. Nowhere was there a glimmer of recognition of the timeless message of Jesus Christ incarnate, crucified, risen, and coming again. Nowhere was there the language of prayer. Nowhere was there familiarity with the Bible. In place of all these was the image of the church as a social center … long, bitter memories of impertinent canvassers … the recollection of indignities suffered at the hands of former ministers. Jesus Christ was notable by his absence.
This summer I learned that we have not been about our business locally. What else could explain the things I have seen and heard? The question came to me again and again: In the name of God, what has the Church been doing for the last few generations? What has it been telling the people? I wonder.…
Could it be that we have been so busy promoting racial demonstrations and passing high-sounding resolutions that we have failed to offer Christ to the people in our pews? Could it be that all our energy is going into building and financing huge denominational structures and institutions? Could church bureaucracy be claiming too many men who ought instead to be feeding the flock of Christ as local pastors? Could it be that we pastors have been so busy with community affairs that we have failed to spend time visiting and praying with our people? Could it be that too much education has gotten us barking up the wrong tree? Are we so busy treading the labyrinthine pathways of higher and lower criticism that we have forgotten to tell the old, old story? Could it be that we have gone chasing after Kafka and Kierkegaard at the expense of the little old lady on the front porch who is moving steadily toward eternity without the saving knowledge of Jesus Christ?
These and many other questions have gone back to seminary with me. I hope my professors will help me find the answers.
And I am also bringing some new convictions back to school this fall. I am sure there is a desperate need among the brethren for old-fashioned conversion that brings men to their knees trembling before God. We had better start preaching conversion.
I am sure that every visit should be considered an evangelistic opportunity, though the Holy Spirit may direct us differently in dealing with each person. I am sure that ministers—myself included—ought to spend more time talking to people about ultimate matters, about faith and prayer and abiding in Christ.
I think God's Kingdom would be better served if we had a little less amateur psychology and a little more knowledge of the Bible.
Another devastating impression that emerged during the summer was of the low priority so many people put on God's work. How does it happen, I kept asking myself this summer, that so many people rank the affairs of Christ's holy Church on a par with those of the Eastern Star and the Izaak Walton League? How has the Church managed to hide the desperate urgency of eternal things? In this, at least, we have succeeded rather well, if my experience in the pastorate this summer is typical.
Well, classes have begun. And I am looking for the answers.…
Have something to add about this? See something we missed? Share your feedback here.
Our digital archives are a work in progress. Let us know if corrections need to be made.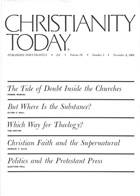 This article is from the November 6 1964 issue.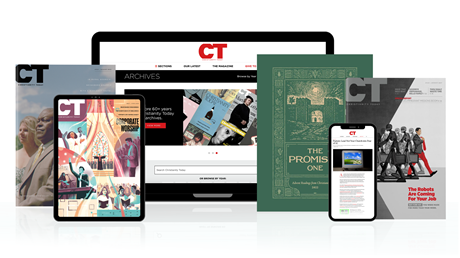 Subscribe to Christianity Today and get access to this article plus 65+ years of archives.
Home delivery of CT magazine
Complete access to articles on ChristianityToday.com
Over 120 years of magazine archives plus full access to all of CT's online archives
Subscribe Now
Some Things I've Learned
Some Things I've Learned