GOD AND MAMMON
If you are looking for a good point of reference for the solutions of about 70 per cent of your ethical problems, you might call to mind, "You cannot serve God and Mammon." Most people think they are discussing the issue when they are really trying to discover some rationalization by which they can make the best of two worlds. They can see very clearly what they ought to do, and they see with equal clarity what it will cost. It's the cost in the decision that is the real trouble.
This covers all sorts of things, such as how you will spend the Sabbath Day, where you will engage in sharp practices in business, how long it will take you to get even with somebody else, and what to do with your money.
The all-American "success motif" gets into all kinds of things. There was a wife who almost refused to go along with her husband to a foreign mission field because she couldn't stand to part with her electric toaster. There was a girl who wanted to be a missionary but whose good Christian mother talked her out of it by saying, "Why don't you work for a few years and get a little money ahead, and then you will have something to fall back on." And another mother advised her daughter, "Get your three-year teaching certificate; and then, if anything goes wrong, you will have something to fall back on." In the last analysis, what we "fall back on" is our real god, no matter what else we say.
Someone has suggested that our easiest forgetting is forgetting that we inhabit a planet. Right now we are hurtling through space in at least seven different directions (according to Einstein), and it is interesting to suggest that while we are riding on such a bolt in the blue our security rests on a three-year teaching certificate.
One time I followed a yellow bus full of nuns. In large print on the side of the bus it said, "Sisters of Divine Providence," and in small print on the back it said, "Emergency Exit." Take another look at your "emergency exit," and see whether you are serving God or Mammon.
SEX AND A SINGULAR CHURCH
I read in your news section (Apr. 23 issue) of a church called Judson (New York) and a pastor called Moody (Howard—I hope no relation to D. L.) that claim to be American Baptist and [of] the heathen ritual (nude dancing) performed in their building. I would hope this was a mistake in reporting, but likely it is not.
We as American Baptist pastors realize that because of our democratic procedures anyone or anything from soup to nuts can parade under our name. I'm sure I speak for the vast majority of American Baptist pastors who try to be honorable servants of our Lord in apologizing to the Christian world for the behavior of one who uses our name.
Adoniram Judson, for whom Judson Church was very likely named, suffered much humiliation in a Burmese prison, but I'm sure it would be nothing compared to the humiliation he would suffer if he could know of the behavior of his namesake church in New York. I feel the least such a church could do would be to drop the name of such an honorable man. May I suggest a new name—The Church of "St." Ashtoreth. First Baptist Church
Williston, N. D.
How far do we go in our obsession with relevancy? New York is probably no more sex-obsessed than was ancient Corinth; yet a bachelor Christian minister by the name of Paul did not instruct or give license to the church to duplicate the sex practices of Corinth. In fact, he sought to lead them in just the opposite direction.
If being relevant means adopting non-Christian standards of conduct, then I would rather be "irrelevant." If the biblical ethic in sex conduct is unacceptable to our age, then it is nothing unusual, for it has always been so.
Incidentally, Judson Memorial Church is also a member of the United Church of Christ.
First Baptist Church
Dover, Del.
THE VICTORIA INSTITUTE
Dr. J. D. Douglas has drawn the attention of your readers to the foundation and activities of this institute in your journal (Current Religious Thought, Apr. 9 issue). Perhaps … your readers may be perplexed as to where details of the institute's prizes (of which only one was mentioned) and membership may be obtained. All enquiries should be addressed to the Secretary, 12, Burcote Road, London, S.W.18., England.
The Victoria Institute
London, England
Editor
FLOOD TIDE
I want to commend you on your editorial. "Facing the Tide of Obscenity" (Apr. 9 issue). There can be no question … that our society is simply being overwhelmed by a flood of pornography in paperback books, magazines, and motion pictures. The long-range impact of this upon our civilization is going to be serious unless measures are taken to bring it under control.
I am sure that most Protestants concerned with this field would share your fear of boards of censorship, for censorship is a double-edged sword that a free society cannot tolerate. However, the Supreme Court—if the courts would but follow a strict interpretation of its dictum—has laid down an intelligent and reasonable standard for judging obscenity that is denied the protection of the free press.… We must go deeper than repression, of course, and educate people to the need for maintaining our historic Judaeo-Christian standards of sex behavior.…
Your editorial convinces me that you see this problem in proper perspective. We need very urgently to get this message before the American public.
Washington, D. C.
I was impressed with your demand for "a creative literature that dips into the restless revolt of our times," but I am afraid that most of the modern work which fits that description has been frowned upon by the Church as "immoral." If the modern world believes anything is "outdated," it is not the "morality" of former days but the moralist's ill-conceived attitude toward that morality.…
Amherst, Mass.
Thank you for your editorial. "A Time for Moral Indignation" (Mar. 12 issue). We thought this was great.
We suggest a practical program to follow up on this editorial. We have found it effective for five people to meet together weekly, each writing a letter to a magazine or newspaper. They should read the letter to the group, so that the best possible letter goes for publication. They should undertake only a six-week campaign so that their work does not look endless. We feel this type of approach is necessary, since the Supreme Court has enunciated that all obscenity questions rest on the expression of community standards. A silent community means there are no standards in that community.…
Secretary
Operation Yorkville
New York, N. Y.
THE MARCH
I appreciate each issue of CHRISTIANITY TODAY as we receive it. In the issue of April 9 is an article on the news pages entitled "The March to Montgomery." May we have permission to reprint it in the pages of the Church Advocate?…
Editor
The Church Advocate
Harrisburg, Pa.
You have been very unfair toward us and write as though you felt we were all a very evil people.…
Atlanta, Ga.
There has always been love and respect among the different races in our state. The colored do have the right to vote. They also have some of the finest schools and colleges here. They have every opportunity a white child has.…
Huntsville, Ala.
Assuming you are a Christian, do you not know anything about the Bible, the separation of people, races …?
Girard, La
Most of the letters (April 23 issue) are self-righteous concerning the racial problems and troubles in the South.
We ministers and church members in the South have failed to follow the commandments of our Lord: "And thou shalt love the Lord thy God with all thy heart.… Thou shalt love thy neighbor as thyself …" (Mark 12:30, 31).
God help us to repent and to be followers of Christ!
Hackleburg, Ala.
I strenuously object to the analogy set forth in the first three paragraphs of the news article "Selma: Parable of the Old South" (Mar. 12 issue). The first sentence tells me that Mr. Taft is naïve and uninformed, or is a Southerner himself and is writing in defense of the system of segregation.…
I do not mean to speak harshly or in generalities, but if I would generalize on the same level of Mr. Taft, I would rather compare Selma's attitude (and the rest of those who uphold the system of segregation) to "A Boy's Smothering Love for His Dog." I say this for two specific reasons: (1) As long as a boy can play with his dog, as a dog, on the level of a dog, all is well. As long as the dog does not assert himself to rise to the level of the boy all is well. The dog may live a life "smothered in love," happy, without a care. As long as he stays in the place of a dog, he will never have any trouble. (2) Let the dog try to ascend to the place of the boy, however, and the dog is in trouble. The boy may try to reason a little while. He may try to control the dog with love first; then a little force. He may try to make allowances for some things. But in the end the attitude is hardly one that "sets about to reestablish, with God's help, the bonds of love on a more mature and satisfying basis that recognizes her child as a person in his own right." Rather, that dog is sub-human. If he thinks he has a right to the same place in society that the little boy has … that dog must die.
Cedar Avenue Church of God
Sharon, Pa.
REVERENDS, RIGHT, VERY, ETC.
If you're mad at that man of Divinity
Who is taking pot-shots at the Trinity
Likewise, if the Bishop of W.
Continues to worry and trouble you,
Here's some thought-provoking news:
Free will enables you to choose!
You don't have to get with it,
You can simply dismyth it!
There's no rule that says you have to go along,
Rt. Reverends or not, they could be Wg.!
San Antonio, Tex.
Have something to add about this? See something we missed? Share your feedback here.
Our digital archives are a work in progress. Let us know if corrections need to be made.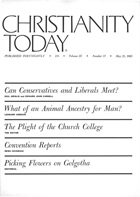 This article is from the May 21 1965 issue.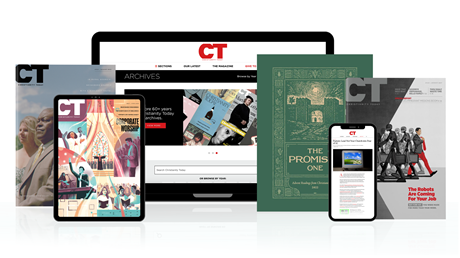 Subscribe to Christianity Today and get access to this article plus 65+ years of archives.
Home delivery of CT magazine
Complete access to articles on ChristianityToday.com
Over 120 years of magazine archives plus full access to all of CT's online archives
Subscribe Now
Eutychus and His Kin: May 21, 1965
Eutychus and His Kin: May 21, 1965