Throughout the long years of the people of God, it has pleased him "by the foolishness of preaching to save them that believe."
Admittedly there is a great deal of preaching today unworthy of the name. There are dialectical sounds and existential fury, signifying nothing. There are the sounding brass of religious rationalism and the tinkling cymbals of a sterile fundamentalism. But in the midst of it all, God's eternal Word continues to break through, bringing life.
Great preaching has always been and will ever be. Its nature remains substantially the same from age to age. First, and most important of all, a man must have great spiritual gifts. Natural talent is needed also, but the spiritual is the sine qua non. Great preaching is the result of a living and transforming relationship with the risen and ascended Christ, of a genuine and authentic piety, of a fellowship in the life eternal from which emanate great convictions, great compassion, and great understanding.
Unless a man is marked in some unmistakable measure as truly a man of God, then no matter what his gifts for preaching may be—a silver tongue, a golden voice, a towering intellect, a "powerful pulpit presence" (whatever that means)—he ought to consider some other calling. He might do splendidly on the stage or the screen, on the rostrum, in the school, the courthouse, or the chambers of Congress, but without the Spirit of the living God he has no place in the pulpit.
In my own preaching, I try to follow the lessons I have learned. The art of preaching is now a familiar skill. As is true of so many of my fellow ministers, my problem is no longer knowing what to do or how to do it. It is simply getting on with the job. We all find it too easy, with the many demands upon our time and energy, to shirk this sublime task for which we are peculiarly called.
This leads me to say something that is obvious, but that must be repeated often: A good sermon must be well prepared. No man should attempt to serve God in this high and holy way with that which cost him little. The preacher must read much; he must give much time and effort to his primary task. Preparation is general before it is specific.
Preaching is not preaching unless it is based upon the Word of God. Much of my own preaching is textual or expository. The mid-week and Sunday-evening messages are largely of this type. There is more variation in those of Sunday morning. Though predominantly textual, they are often topical in character; but they are always biblical.
The seasons and events of the church year form a significant part of my preaching program. I stake out the broad outlines of this "occasional preaching" well in advance. There is a certain discipline in these matters that comes to a man who speaks fourteen or fifteen years from the same pulpit—two, three and four times a week, "in season, out of season" (and sometimes he is more out of season!).
A man ought to be thoroughly familiar with any portion of Scripture he tries to expound, and he ought to know precisely the point he is trying to make. If he does not, it is doubtful whether many of his congregation will be able to divine his intention. Therefore, I believe that the structure of every sermon ought to be carefully and simply wrought. The sermon may be weighty, it may be profound, it may even be eloquent; but it ought to be simple in the best sense of that word (mine have not always been so). To quote Dr. William Evans: "Jesus said 'feed my sheep,' not 'feed my giraffes.' "
Preparation includes not only wide reading in many fields—such as history, literature, biography, current affairs—but also careful observation of people (especially children) and quiet reflection upon what one has read, seen, and experienced. Remembering Him, there is not only a full heart but a full cup.
Illustrations, not always the most felicitous part of sermons, may well come from a variety of sources, but they come best out of one's own experience. It took me a long time to discover this simple fact. Nothing ever exciting or dramatic happened to me, and so I would talk about what happened to others and what George Washington said at Valley Forge. Then I found that when I take proper care to avoid any unseemly projection of self, people really want to hear what Christ means to me in my daily experience.
However, just as an introduction should introduce and a conclusion should conclude, an illustration ought always to illustrate something!
The occasion is rare—all too rare—when I write out a sermon in full. Speaking is easy, writing a chore. I generally write out a brief introduction and a brief conclusion, and then write the outline of the body more or less fully as time and circumstances permit. The outline is clear (to me) and the transitions unmistakable. I then preach without notes. The advantages and disadvantages of this classic method are well known. The younger minister ought frequently to write out his sermons in full, but as he becomes more experienced he also ought to experiment with the tremendous freedom of extemporaneous speech.
As a sermon is not a sermon unless drawn from the Word of God, so preparation is not preparation unless conceived in prayer and concluded with prayer. Prayer is not only "the soul's sincere desire" but also the touchstone of the preacher's utterance.
Whereas preparation and prayer are the twin fountains of light springing from the oracles of God, so each sermon ought to be prophetic and personal. A prophet seeks to declare the mind of Christ—not his own views, not his own thoughts, predilections, hopes, or desires. The prophet is God's spokesman, and his only authority is the Word of God, "which liveth and abideth forever."
Many a good sermon fails of its purpose because the "net is left dangling"; the application is not made. George Buttrick would say that the Gospel ought to be applied in every sermon of whatever character, and Edward Mack would say that a good sermon like a good hymn should end in heaven.
Surely no matter where we start or where we go, we ought at last to make "cross country" to Christ. "Christ is the end for Christ is the beginning; Christ, the beginning, for the end is Christ."
And this is the purpose of all preaching, the consummation of our noblest hopes, and the coronation of our best efforts.—The Rev. J. WAYTE FULTON, JR., Shenandoah Presbyterian Church, Miami, Florida.
Have something to add about this? See something we missed? Share your feedback here.
Our digital archives are a work in progress. Let us know if corrections need to be made.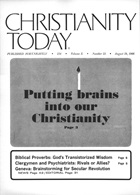 This article is from the August 19 1966 issue.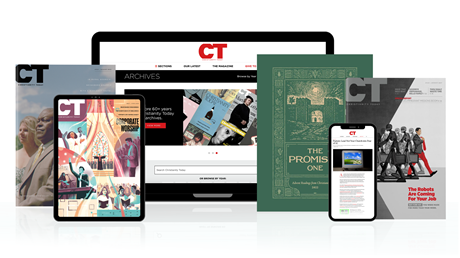 Annual & Monthly subscriptions available.
Print & Digital Issues of CT magazine
Complete access to every article on ChristianityToday.com
Unlimited access to 65+ years of CT's online archives
Member-only special issues
Subscribe
The Minister's Workshop: Preparing to Preach
The Minister's Workshop: Preparing to Preach