Dear Christmas Shoppers:
Conservative and modest though I am, I do take a certain amount of godly pride in my liberal distribution of presents to ecclesiastical friends at Christmas time. To avert duplication of gifts, I want you to check what I have in mind for certain mutual friends:
✓Thomas Altizer—a one-way ticket to Argentina so that he can search for you-know-whom, said to be alive and hiding there. ✓John C. Bennett—a replacement for his dog-eared copy of Fabian Essays in Socialism. ✓Eugene Carson Blake—a hot cup of COCU and a cool head (but not the kind on Geneva ale). ✓Harvey Cox—a sacred hide-away deep in the heart of the rural Bible Belt. ✓Edward Dowey—a Presbyterian confessional box where he can privately read his favorite book of confessions and hear the contrite pleas of PUBC members. ✓Billy Graham—an authorized fire extinguisher to use on global conflagrations. ✓Billy James Hargis—a special red-letter edition of protest songs by Pete Seeger, inscribed: "Folk singers of the world, unite!" ✓Carl Ferdinand Howard Henry—an honest-to-goodness last name to go with his four first names: the unassuming monicker of Mr. Evangelical. ✓Bob Jones, Jr.—accreditation for his most unusual university and leads on qualified Negro professors he might hire. ✓Martin Luther King—a new pair of brogans and a 45 rpm of Nancy Sinatra's "These Boots Are Made for Walkin'." ✓Carl McIntire—an engraved scroll making him an honorary member of the World Council of Churches. ✓Chauncie Kilmer Myers—a military manual needed by any successor of Bishop Pike: "How to Shoot from the Lip." ✓Pope Paul VI—a gift deserved by one who handled Vatican II with such dispatch: a lifetime post as manager of the St. Louis Cardinals. ✓Oral Roberts—a personal eternal flame like the one dedicated to financial backers at his new university. (Hope he doesn't send me the eternal gas bill.)
My generosity, of course, does not end with this meager list. I have something for you, too: Merry Christmas! Undemythologized.
Yours Yulely,
EUTYCHUS III
Berlin Congress Footnotes
Only God in his perfect understanding will ever know how much good will result from this great World Congress on Evangelism, but I am personally convinced it will be most significant.
KERMIT LONG
General Secretary
The Methodist Church
General Board of Evangelism
Nashville, Tenn.
I would express my sorrow at being unable to be with you in Berlin. Kenneth Wilson [executive editor, Christian Herald] was deeply impressed.
DANIEL A. POLING
Chairman and Editorial Consultant
President of Philanthropies
Christian Herald
New York, N. Y.
We shall long rethink and relive those days: days like "Bible-days".… Some wished for more "action," more of a "program" to be projected. As if the molding of all those diversified evangelicals into a new oneness were not action—the deepest divine action!
ARMIN R. GESSWEIN
Pasadena, Calif.
It was a tremendous experience for me, and I feel that it has definitely brought me forward considerably in my work for the IFES among theological students. I was able to make contact with a vast number of theologians as well as many theological students from other countries around the world, and this has given me a much better idea of what is needed than I had before coming to the congress. Thus over and above the purposes for which the congress was called and from which I derived a great deal of personal benefit and inspiration, I also found that there was this unexpected and very valuable secondary benefit for me.
HAROLD O. J. BROWN
Theological Secretary
International Fellowship of Evangelical Students
Lausanne, Switzerland
It was a marvelous conference. It profoundly affected the lives of a thousand people, and its fruits will have an eternal significance. Not only were individuals helped, but entire denominations and organizations were affected. I am grateful not only for what the congress meant to me but also for what it meant to Dr. Laubach and to the cause of literacy-missions.
DAVID E. MASON
Associate Director
Laubach Literacy, Inc.
Syracuse, N. Y.
I was deeply impressed with the unity that existed. I moved a good deal amongst the delegates from India, Malaysia, and other parts of Asia and found them most appreciative, even though, as might be expected, certain parts of the program did not appeal to them as they might have appealed to Westerners.… Personally I could not help wishing that there might have been a little more time given to facing the problems of our African and Asian brethren, but there was so much to be fitted in that this was perhaps inevitable.
ARNOLD J. LEA
Assistant General Director
Overseas Missionary Fellowship
Singapore
I was glad to have the privilege of being there in that significant world fellowship, especially in view of the fact that many of those who were there are identified with the world ministry of The Upper Room. It was good to meet with many persons whom I have known and many who have written for our publication, like Joseph Horak of Yugoslavia and others. Four of the persons we have given citations to were there, Frank Laubach, Billy Graham, Helen Kim, and Harry Denman.
J. MANNING POTTS
Editor
The Upper Room
Nashville, Tenn.
Every detail of congress operation was beautifully handled and magnificently taken care of. Above all, the congress program provided a rich spiritual experience.… I know that we go back into our specific field of Kingdom labor refreshed and renewed, with a determination to do everything in our power, under the blessing of God, to help work toward the evangelization of the world in our generation.
EUGENE R. BERTERMAN
Executive Secretary
This Is the Life
St. Louis, Mo.
We shall continue to pray that the spirit and the inspiration of this great meeting may lead those of us who were present to follow through with the suggestions received to the end that every individual in all the world might be brought face to face with the Lord Jesus Christ.
J. A. PENNINGTON
Secretary
Dept. of Brotherhood and Evangelism
Baptist General Convention of Oklahoma
Oklahoma City, Okla.
Many precious memories linger with me in the afterglow of those days together, but I think the one impression which stands out most in my mind is the spirit of Christian fellowship which we shared. It was a genuine unity issuing from the sense of our common faith and mission.… The Congress on Evangelism demonstrated the basis for a true ecumenical movement.
ROBERT E. COLEMAN
Dept. of Evangelism
Asbury Theological Seminary
Wilmore, Ky.
There is no way to express fully the meaning of the congress not only to me but to every one of the seventeen men from Overseas Crusades who attended. We were blessed beyond measure, and we have asked God to help us carry the full meaning and the full fire of the congress back to the fields to which God has called us.
DICK HILLIS
General Director
Overseas Crusades, Inc.
Palo Alto, Calif.
I have come back with an even deeper and stronger sense of the Church's primary task as the evangelization of the world, and I hope that this will have a marked impact on an even deeper commitment to evangelism on behalf of our own students.
MAURICE A. P. WOOD
Principal
Oak Hill College
Southgate, England
I returned from the congress with new horizons, and my own spiritual life greatly strengthened. It is my feeling that my own ministry can never be the same as a result of the congress.
J. C. MCPHEETERS
Representative for Development
Asbury Theological Seminary
Wilmore, Ky.
In Berlin, God warmed my heart and challenged my faith. Tears came to my eyes, and through them I saw a kaleidoscopic world in need of the Saviour. I return to my homeland and to Asia fired and imbued with a greater inspiration than Hitler's youth possessed thirty years ago as they goosestepped to battle. I go in loving obedience to the Great Commission of the Führer of my soul, even the Lord Jesus Christ. Claiming the victory he has already won for me on Calvary's cross and over the tomb, this Christian soldier marches on—conquering and to conquer.
MAX D. ATIENZA
Vice-President for Asian Evangelism
Far East Broadcasting Co.
Manila, The Philippines
God has done a new work in my heart, and I shall be returning to India with a new sense of responsibility—a new challenge and burden and a renewed dedication to God and the Lord Jesus Christ.
WINNIE BONNER
Hyderabad, India
So many of us who attended must confess that our lives will never be the same again; and we trust that under God our world will not remain the same as a result of the sharing we had together in the presence of God and each other.
JAMES EARL MASSEY
Principal
Jamaica School of Theology
Kingston, Jamaica
Especially am I thankful for the manner in which the idea of scholar evangelism was infused into the congress. We evangelicals have for too long, particularly in Latin America, turned away from scholarship and only offered a "milk" diet to our people. Berlin '66 is the turning point …
Above all, the corporate sense of urgency in evangelism will urge upon the minds of all who attended to infuse this upon their colleagues around the world and usher in a new era—I pray—in evangelism.
WILBERT FORKER
Editor
Advance
Speightstown, Barbados
Farewell To Eutychus
I am doubly saddened at the retirement of Eutychus II. First, because I'll miss Dr. Leitch's "wry eye on life," which has always made things a little more bearable; and second, because I'm losing the self-satisfaction of identifying an anonymous columnist to my friends. You see, his former students recognized his writing long ago. There are too many unique "Leitch-isms" and, besides, what other theologian ever drew key illustrations from baseball, and assorted other sports, and his barber? So we're grateful for his term of office and grateful for the man. He fits the definition of an outstanding teacher—we didn't learn everything from him, but we didn't have to unlearn what we did learn. May he keep teaching and writing for years to come.
TOM STARK
University Reformed Church
Michigan State University
East Lansing, Mich.
It all adds up! As a former student of Dr. Leitch, I blush with shame to admit that I did not recognize his trenchant comments and witty, incisive style. In retrospect it all seems so clear.
R. DOUGLAS BRACKENRIDGE
Associate Professor of Religion
Trinity University
San Antonio, Texas
The Two Carls
I receive the Christian Beacon and was shocked to read the letter [Dr. Henry] wrote to Dr. Carl McIntire. I shall watch with interest what is written concerning the congress and your attitude toward evangelicals who differ with you.
WILLIAM RANDALL
Orchard View Congregational
Muskegon, Mich.
If only a few more persons like yourself would answer him as forcefully as you did, he would eventually reveal himself even to his devoted followers as a person who is not helping the cause of Christianity.
JOHN D. SCHWARTZ
Niagara Falls, N. Y.
I enclose a copy of a letter I wrote Mr. Kennedy, editor of the Christian Beacon, in regard to criticism of your letter to Dr. McIntire as being full of "acerbity." I thought you might be interested. They have a bit of "acerbity" on their own doorstep to clean up before they pounce on others.
MARCIUS E. TABER
Delton Methodist
Delton, Mich.
I was very much disappointed in Carl McIntire's attitude toward the great evangelistic congress.… I was equally disappointed in your letter to McIntire, which he printed in his paper.
MRS. WILLIAM GUSTAFSON
Hillsboro, Kan.
It seems to me that there is only one thing for you to do now in this matter, and that is to write an unconditional letter of apology to Dr. McIntire and the readers of the Christian Beacon, which I am sure Dr. McIntire will publish in full.…
C. D. HATTON
Alliance, Ohio
For the past few days, I have noticed that Dr. McIntire has spent an inordinate amount of time taking apart the recent congress held in Berlin.… This is to commiserate with you as regards the amount of damage this man must have done to the good purpose of the congress.
H. BRAYTON GIFFORD, JR.
Media Presbyterian
Media, Pa.
Progress Report
I would suggest that you run another article concerning your views on the need for an Institute of Advanced Christian Studies. I, for one, missed the original one and only after spotting your notation in the October 14 issue did I know of your idea. I feel sure this may be the case with many other readers of your fine magazine. If they knew about it, they would respond immediately.
MRS. F. I. KOLBE
Seattle, Wash.
May I suggest that you begin a little "box-score" corner to be published in a page corner of each issue, stating the amount received and banked as of press time? This would be greatly appreciated by the many "grass-roots" contributors, and would serve as a stimulus to action by those whose interest has not yet reached the point of commitment.
JOHN CAMERON MCDONALD
Osaka-fu, Japan
Here is our $4 for our family of four.
BILL SULLIVAN
Corpus Christi, Tex.
• Dollar gifts for the proposed Institute of Advanced Christian Studies now total $660. The spring education issue (Feb. 17) will carry further news about a dramatic endorsement of the project. The proposal was made editorially in our May 13, 1966, issue.—ED.
Have something to add about this? See something we missed? Share your feedback here.
Our digital archives are a work in progress. Let us know if corrections need to be made.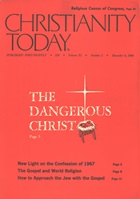 This article is from the December 9 1966 issue.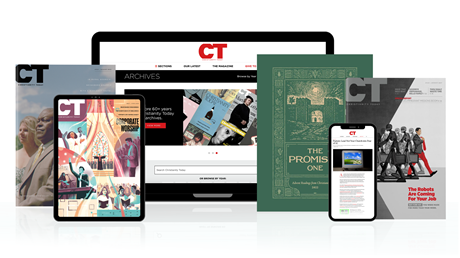 Annual & Monthly subscriptions available.
Print & Digital Issues of CT magazine
Complete access to every article on ChristianityToday.com
Unlimited access to 65+ years of CT's online archives
Member-only special issues
Subscribe
Eutychus and His Kin: December 9, 1966
Eutychus and His Kin: December 9, 1966