Hi-Ho Preacherinos And Church Pillars:
It isn't every issue you have the dubious privilege of meeting a spankin' new Eutychus. During the past decade only two other scribes have dared dip their quills in this particular pot of ink to have a-go-go at dialogue with you ecclesiastical cats. But it's quite appropriate for Eutychus III to make his debut at this time. In this Thanksgiving week issue, CHRISTIANITY TODAY is only too happy to serve up a turkey.
Now, if I were Eutychus I, I'd take pride in being a great innovator. If I were Eutychus II, I'd try harder. But since I'm number three, I'll probably fall asleep on my journalistic window sill, like the original Eutychus in Acts 20. It will be up to all of you to awaken me and keep me abreast of the absurd side of the religious scene where folly, foibles, and phonies are so frequently found. (The prior passage was planned for pulpiteers who use a preponderant part of their preaching preparation period pursuing proper and persuasive alliteration.)
But it's easy to see that the religious fun house is going full blast. You may not be aware that Homer A. Tomlinson, Bishop of the 63-year-old Church of God and self-crowned King of the World, now rules over us all on the Throne of David. He recently appealed to the nations of the world to kick in 10 per cent of their annual income to his government or face curtailment of rainfall. King Homer is sending an envoy to Viet Nam with an olive branch from the Mount of Olives to enforce his edict that "wars will come to an end."
On a more mundane level, we note with pleasure that Mrs. Joan Kruger of Detroit, Michigan, was awarded a beautiful red Scofield Bible for winning the recent "Pew-Packing Contest" at Detroit's Chandler Park Drive Baptist Church. Picture in your sanctified imagination how it might have been: 137 happy Christians piled into one creaking pew with Mrs. Kruger aloft, waving her crimson morocco. Those college kids in telephone booths have nothing on her.
In our future fortnightly visits, you may be tempted at times to engage in a bit of Euty-cussing. But restrain yourself. Given time, you'll learn to love me. Actually I've got a heart as big as all outdoors.
Thanksgivingly,
EUTYCHUS III
Up In Arms
Let me begin by stating very forthrightly that I am (and have been for the last five years) a paying member of the National Rifle Association; and I resent Mr. Moberg's insinuations (review of The Right to Bear Anns, by Carl Bakal, Oct. 28) that the NRA is nothing but a group of "gun nuts" whose sole activities are "heading the pro-gun lobby in Washington." …
Mr. Moberg accepts as true author Bakal's assertion: "The lie that Hitler used firearms registration lists to disarm and conquer Europe and other lies are panned off as fact" … With my own ears I've heard people from Poland, France, the Ukraine, and other places say that Hitler did use firearms registration lists to disarm conquered peoples, prevent any large-scale guerrilla-type operations, and so forth; and also, for good measure, that the Soviet Union adopted and still uses that very same practice!
Again: Mr. Moberg states that Senator Dodd's 1965 Firearms Bill "was greatly distorted in a letter sent by the NRA to all its members. Requests that a new mailing be sent to correct mistakes were unheeded, and distortions were repeated in subsequent publications of the firearms lobby".… These charges simply are not true, and I have NRA material at hand to prove that statement.… If you can't find any better material than such slander to publish, then kindly peddle your libel sheet to someone who is just as misinformed (and here I am being most charitable!) as Mr. Moberg. If this article/review is really representative of CHRISTIANITY TODAY in the twentieth century, we had all better pray for another Reformation. Immanuel Lutheran DAVID J. BEHLING Norton, Kan.
You could do us all a service if you would attempt what no one else has, to my knowledge. We need a confrontation of the two sides of this [gun control] argument in which each side deals with the real concerns of the other side instead of knocking down straw men. We also need to have some discussion in which each side assumes the basic integrity of at least most of the people on the opposite side. If one listens now to what each side says about the other, he must assume that Communists and fellow travelers are ranged against hoodlums, the insane, and the callous.
DANIEL C. REUTER
Malone, N. Y.
Faculty Reader Speaks Out
Your editorial, "Let Student Editors Speak Out" (Oct. 14 issue), will doubtless receive the approbation of disgruntled students who want a sounding board for their grievances, of some members of the administration and faculty who feel above criticism and would like to see their associates under fire, and of the vast majority of us who like to see a fight and enjoy the sensationalism of touching the untouchable.… But I question whether it is biblical. My Bible tells me that if I have a quarrel with anyone I should go to him directly and see if I cannot solve the problem personally. Your editorial seems to suggest that I should make my quarrel public.
In a Christian college where the administrators are Christian, and the students elect to attend it because of its emphasis on Christian behavior, surely your editorial sounds a discordant note.
G. ARTHUR KEOUGH
Assistant Professor
Department of Religion
Columbia Union College
Takoma Park, Md.
Your editorial "Let Student Editors Speak Out" (Oct. 14) has been an inspiration to many on our campus.… Many of your articles speak well of the conflict on today's Christian college campuses. Thank you for letting us hear your voice.
ROBERT ZAWOYSKY
Mishawaka, Ind.
Scoop Of The Decade
The scoop of the decade is Sartre's demise ("Dynamics of a Decade," Oct. 14) in the grand company "… of a Generation of Giants"! When did Sartre join Camus in the non-existent existential netherland?
DALE SANDERS
Denver, Colo.
• We goofed.—ED.
Force, If Necessary
I was very glad to read your report of General Council of the United Church of Canada (News, Sept. 30). I think you brought out some of the major emphases very well.…
You indicate that we were in favor of the termination of the Ian Smith regime, "without use of force." Actually the fifth section of the Rhodesian resolution placed General Council in favor of "the use of necessary police action" under the United Nations in order to oust the Smith regime. This would certainly involve the use of force.…
J. R. HORD
Secretary
Board of Evangelism and Social Service
The United Church of Canada
Toronto, Ont.
Fill In The Blank
Would you kindly elucidate on your positional statement, "A crude anti-Communist reaction survived in some segments of the Church and society, but other Christians were more concerned that the Communist Bloc remained the most challenging unevangelized area on earth" (Oct. 14, p. 58).…
It might have been more appropriate to predicate the expression with "An enlightened and realistic anti-Communist.… In fact, your own editorial on the NCC and Red China (p. 35) was indeed "an enlightened and realistic anti-Communist" editorial. Or do you consider your own position "crude"?
DAVID A. NOEBEL
Christian Crusade
Tulsa, Okla.
Problem Promulgation
We are enclosing two copies of the article "The Problem of the Underpaid Pastor," printed in your September 30 issue and reprinted by us for use in a mailing to the churches of this presbytery, by your permission.
I find CHRISTIANITY TODAY to be very helpful and informative to me, and am an appreciative reader.
JAMES H. MONROE
Executive Secretary and Stated Clerk
Presbytery of Winston-Salem
Presbyterian Church in the U. S.
Winston-Salem, N. C.
Back On The Track
James Panoch's discussion, "Is Prayer in Public Schools an Illegal Maneuver?," (Sept. 30) is much appreciated. Technically, Senator Dirksen's amendment is not needed, but the general impression has gone out that prayer has been banished from the schools. Across the country baccalaureate services have been discontinued, and the simplest attempts at Bible reading and prayer have been discouraged. The schools have been made safe for the atheist but not for the Christian. We need the Dirksen amendment or something else to get us back on the track again. We do not want an established religion, but we do want religion in all of American life.
BYRON S. LAMSON
Editor
The Free Methodist
Winona Lake, Ind.
Preaching In Dialogue
My class in "Contemporary American Preaching" is studying dialogue preaching. I would be happy to hear from any minister who has done some of it, and especially to receive copies of sermons.
WILLIAM D. THOMPSON
Assoc. Prof. of Homiletics and Speech
Eastern Baptist Theological Seminary
Philadelphia, Pa.
Written More Boldly
Thank you for your editorial comments on the political integrity of Charles Long-street Weltner (Oct. 28).…
An earlier statement, recorded for use in the church schools of five denominations, is now written more boldly because of Weltner's act of conscience. He wrote: "I believe that the problem of doing what is right in the face of tradition, in the face of convention, in the face of what we fear others may say about us, is one of the great impediments to progress and true living Christianity that faces all Americans today, particularly to those of us who live in a troubled part of the world—south of the Mason-Dixon line."
JOHN A. KIRSTEIN
Board of Christian Education
Presbyterian Church in the U. S.
Richmond, Va.
Understanding, Please
I live amongst the "troubled nation" you refer to in the editorial ("After Verwoerd—What?," Sept. 30), about four miles from Sharpeville! I should know about all the "troubles" we go through, caused by "the snares of … apartheid." May I refer you to the same issue and your own editorial on page 33, "Playing With Fire"? Such riots, burning and murder in the U. S.! I prefer to live four miles from Sharpeville.
You speak of Christians around the world setting an example to us. Then do it! Convince us that you really understand what is going on here and that you respect our strong Christian convictions that the policy of separate development is the only policy that will do justice in our situation to the demands of Scripture. When, on that basis, you raise a sound Christian concern, it will be respectfully and prayerfully received.
J. J. le ROUN
Dutch Reformed Church
Vanderbylpark, South Africa
More On Communication
My compliments to you on an interesting and provocative issue on this entire matter of Christian communications (Oct. 14). I think that such a treatment of this complex problem will help our clergy and lay people awake to the possibilities of religious journalism. Your continued membership in the Associated Church Press is a helpful factor in providing us with the proper orientation.
ALFRED P. KLAUSLER
Executive Secretary
Associated Church Press
Chicago, Ill.
Your recent issue emphasizing the continuing crisis in communication was sensible, sensitive, and indeed quite provocative.
CHARLES R. SUPIN
Vice Chairman
Department of Radio and Television
Protestant Council of the City of New York,
New York, N. Y.
Congratulations on your outstanding tenth-anniversary issue: "Crisis in Communication." George W. Cornell's article, "Religion's New Entree to the City Room," was especially perceptive.
RUSSELL CHANDLER
Religion Editor
The Modesto Bee
Modesto, Calif.
Have something to add about this? See something we missed? Share your feedback here.
Our digital archives are a work in progress. Let us know if corrections need to be made.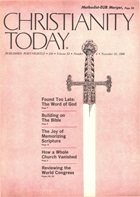 This article is from the November 25 1966 issue.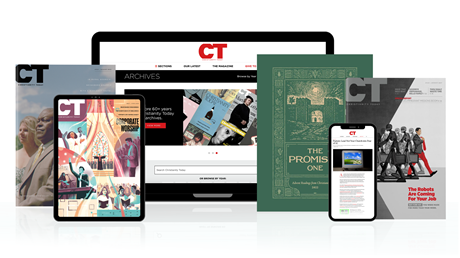 Subscribe to Christianity Today and get access to this article plus 65+ years of archives.
Home delivery of CT magazine
Complete access to articles on ChristianityToday.com
Over 120 years of magazine archives plus full access to all of CT's online archives
Subscribe Now
Eutychus and His Kin: November 25, 1966
Eutychus and His Kin: November 25, 1966