The preacher must read and hear the Word till it engages him in conversation
"Every good sermon has been heard once before it is preached; it has been listened to by the preacher."
I don't know who said that; it may even be something I have phrased for myself out of my own experience. For I am profoundly convinced that it is true. Whatever method I have in preparing for the pulpit grows directly out of this principle.
The starting point is the Bible. I cannot conceive of a sermon without a text, whether it be only part of a verse or a larger section. The Word must be read and heard by the preacher. I am not ashamed to say that I usually read it out loud—and read it until I am stopped, questioned, cornered, by, as I believe, the Holy Spirit speaking out of Scripture.
Strange how it works. I am stopped by a phrase today that I slipped right past a month or a year ago without hearing a thing. Or sometimes I am stopped so often in a short space that I cover scarcely a chapter or two in several days. I am not conscious of anything I can do about this except to be still and listen.
Such listening, however, calls for a systematic plan of reading the Word. For a long time, because of the tradition in which I was raised, I found that plan in various lectionaries for the Christian year. I still would not despise that way and find myself using it from time to time. But more recently I have found it more profitable to follow the Reformed tradition of lectio continua, the systematic pursuit of a single book of the Bible. I do not wish to argue for any particular plan, however, but simply to plead that there should be one.
Beside my Bible is a notebook in which I jot down, as they come, the stopping places, the questions, the places where the Word of God has engaged me in some kind of conversation. The second part of my method involves following myself up, so to speak. First I have a look at the original of the verse or section that has begun to speak. My Greek is only tolerable, my Hebrew extremely lame; but even so, both are sufficient, with some generous help, to inform me whether what I thought I heard in English was really there in Hebrew or Greek. I have had to surrender enough good texts this way to know that it is a very necessary discipline!
Then come the commentaries. Shall I be badly misunderstood if I say that for me their chief function is to help me decide what not to preach? Well, that is usually what happens. For some reason that I do not try to explain, the study of the time, place, situation, and meaning of several verses causes me to lose interest in some while another begins to speak to me with increasing clarity and force.
Once that has happened, I file that word in the back of my mind and let it go to work on me. Hopefully it is there for as long as several weeks, and never for less than a week. I try to make it a constant companion and, as time goes on, connections begin showing up. An article or book that I read not too long before, an event in the daily press, a conversation with a parishioner or even with someone on the bus—these all begin to connect. Usually I try to jot the connection down. By the end of a week, my desk—to say nothing of the pockets of my jackets—is a mess of scraps of paper, backs of used envelopes, and whatnot, the raw material for the next step.
With me that next step usually takes place on a Saturday morning. I assemble all my raw material, try (sometimes in vain) to remember the jottings I forgot to make, and spend time looking at it all, thinking about it, thinking about the people to whom this Word is to be spoken. (I find preaching to a strange congregation an increasingly difficult experience, although I still do it).
At this point, I suppose I should say that I begin to write an outline. But I don't. Sitting down at my 1932 Remington portable (my thinking process has somehow become bound up with it) I begin to take down what I hear. Sometimes this dictation process is simple and is finished within a few hours. At other times it is extremely difficult. Whole pages are torn up, or several beginnings are made, or, more often, at a certain point the process simply stops. Sometimes as much as several hours must elapse before it can be started again.
Indeed, I can record the frequent experience of having a sermon turn out to be so different from what I had envisioned when I began that I have had to rewrite the whole introduction, because it was obviously introducing the wrong sermon. There have been some Saturdays spent with nothing to show for them, but I think I should have to confess that they were usually times when I wanted to impose my idea on the clear message of the Word.
In twenty-one years (all of them in the same pulpit) I have written out every sermon in full. I usually read it before I retire on Saturday night; I always preach it aloud in my library on Sunday morning. By that time the manuscript means little or nothing. But I have tried the outline and ex tempore methods just enough to know that I am a wool-gatherer who needs the discipline of putting down to the end what he has heard if he is to repeat it faithfully to his people.
In twenty-one years I have repeated a sermon possibly five times. In each case the reason was my failure to be a faithful hearer of the Word. And in each case I was painfully aware that I was giving an address, not preaching a sermon.
A sermon to me is the Word of God addressed to a particular people at a particular time in a particular place. Even a week later in another congregation I find that it has lost some of its livingness. For that reason I never keep sermon manuscripts in an accessible place for more than six months. By that time they are almost worthless for me. It is not what the Spirit speaking out of Scripture said but what he is saying that gives preaching its power to raise men from the dead.
My method is suited to me; I expect no one else to follow it. But I do expect any man who is called to preach to believe that the word he has to speak cannot be his own.—The Rev. HOWARD G. HAGEMAN, North Reformed Dutch Church, Newark, New Jersey.
Have something to add about this? See something we missed? Share your feedback here.
Our digital archives are a work in progress. Let us know if corrections need to be made.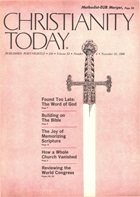 This article is from the November 25 1966 issue.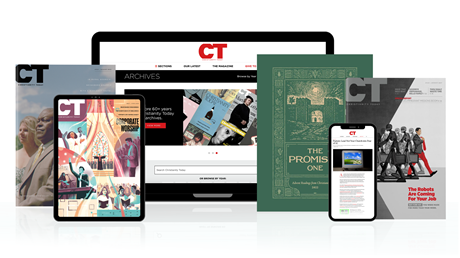 Subscribe to Christianity Today and get access to this article plus 65+ years of archives.
Home delivery of CT magazine
Complete access to articles on ChristianityToday.com
Over 120 years of magazine archives plus full access to all of CT's online archives
Subscribe Now
The Minister's Workshop: Listen before You Speak
The Minister's Workshop: Listen before You Speak