I wish we had less about marshmallows and jello in church and more Bible study," said a smart young suburban housewife. Her comment reflects a feeling many women have: in providing programs for them, their churches underestimate their intelligence. This is especially likely to happen in suburbia, where the educational level is often high.
As an effective means of reaching women for Christ, I recommend the serious Bible-study class. It has the appeal of the "soft sell" rather than the "hard sell." It can reach those who would never set foot in an evangelistic meeting or other preaching service.
The idea of attending a weekday Bible study can be presented to women who are not church-goers as a form of adult education. Middle- and upper-middle-class housewives in the suburbs attend all kinds of classes. They study flower-arranging, fur-remodeling, Great Books, or Chinese cooking. Or they go back for a post-graduate course at the university. Women who have no intention of getting themselves into a Bible class can be persuaded by their neighbors that everybody should know what's in the Bible—after all, it's listed as one of the Great Books!
A minister can hardly add teaching a women's Bible class to his many other duties; but he can inspire a capable woman to teach it. To reach college-educated, alert, well-read women, a teacher must be willing to make Bible-teaching a matter of lifetime dedication. Not that it is a great self-sacrifice to be one of these teachers; for the right person, teaching may be a welcome escape from other church duties.
I have taught Bible classes for over twenty years. At times I have wondered whether I was justified in spending so much time studying in preparation for teaching. When I talked to my pastor-husband about this, he would say, "Absolutely. There are few enough people in the world who like to study. You enjoy it, so go ahead." And when I was tempted to shoot off in other directions, he would firmly set me back on what he considered the main track: "You're not needed as a piano-player, and the organizations can get along without you. You're needed as a Bible teacher."
Tips For Success
There are four main guidelines, I think, for making these classes go:
1. Make every minute count. A woman from another church said to me, "Our assistant pastor has started a class also on Tuesday mornings, and I went a few times, but he doesn't seem to realize how valuable our time is. It's such a struggle to bundle up the children and get there that we want every minute to count."
Start on time and end on time. It's always a pull to get the class started, but it has to be done, on time. Equally important, especially for mothers of school children, is ending on time. We meet from 9:30 till 11:00 in the church for the Tuesday-morning class, with no hymn-singing and no social time—strictly business. The attendance is now running about 270, and more than twice that number are on the roll. New women are coming in constantly.
We follow a course that will take us through the entire Bible in eight years. This course involves about two hours of outside preparation, though some spend more time than that, some less. As teacher, I spend perhaps twelve hours in preparation, plus an hour of review before each of the three parallel weekly classes that I teach in the city and the suburbs. Their preparation and mine is all part of making every minute of class time count. If the class members are prepared, they come with questions in their minds, and much more can be packed into the teaching time.
Women can and will find time for home study; what they object to is having to come out of their homes for too many meetings. Our class has no social organization, no committee meetings.
2. Make it practical. Perhaps the common denominator of successful women's Bible-class teachers is the ability to make the Bible practical. Classes should deal with the everyday problems of the home as they relate to the Scripture being studied—such things as how to give the headship of the family to the husband, and why it is necessary; how to stand up to the children; how to accept the monotony of housework.
I like a good ballast of background facts, too—historical, geographical, archaeological. The Bible comes alive when it seems anchored in time and space.
3. Keep the class informal and personal. The lesson should not become too much like a lecture or sermon. If the class starts small (and they usually do), it is quite easy to keep the informal atmosphere as the class grows. Two or three people with a knack for informality can keep the atmosphere from congealing; they can give others the courage to say what's on their minds.
I like it when someone speaks up in the middle of class: "Margaret, where are we? I don't know what you're talking about." Everybody laughs, and I have a chance to clarify my point.
Or when someone new says about such a chapter as Numbers 31, which tells of the Israelites' killing the Midianites, "I just don't like that chapter. And our minister says it's only legend anyway." Don't swat down this person with a pat reply. Such a remark opens the way for an invaluable discussion, and if it is tactfully handled, the woman can be persuaded to keep on coming and postpone judgment until she has studied the Bible more.
4. Use fresh language. Presenting the age-old truths in fresh language is perhaps the most important factor in reaching people who are unacquainted with the Bible. Theological and doctrinal cliches so freely bandied about in evangelical circles are unintelligible to those outside. These clichés may be bricks in a great wall that separates the chance visitor to the class from the closed world of evangelical belief.
How much better is it to follow the example of the Bible by using new, fresh, vivid language and imagery. Think of the many different figures Christ used to invite people to himself: new birth, water, light, bread, the weary laborer, shepherd and sheep, the lost and found coin. Not one of these was hammered away on over and over again. We too can get across the idea that people need the complete life-change that Christ alone can give without saying "saved, lost," "born again," "sinner," every time we get up to speak.
And think of the different elements of the Old Testament that can be tied up with New Testament passages and used to invite people to Christ, such as redemption of the Israelites out of Egypt, the Levitical offerings, the high priest, the cities of refuge.
People who would take violent exception to a pounding sermon on sin and salvation will study and discuss such terms for months when they crop up in the Bible lesson. As with any other method of evangelism, sometimes these persons find salvation, sometimes they don't. Sometimes they come for months, finally feel they must decide, and then either come through with a wonderful change of life or else turn sadly away. But if they do turn away, isn't it good that they have all those months of solid Bible study behind them? Who knows when the Holy Spirit might use what they have learned to work in their lives?
The teacher can also stimulate her use of fresh language by continually making bridges with the thought and the reading of the day. She must connect with the spirit of the day in order to make herself understood as she presents age-old truth. Sometimes, for example, a spiritual lesson can be put into psychological language and be much more readily understood. Sometimes comparisons and contrasts can be drawn from works of great authors, both those of the past and those of our day.
All this is what makes Bible-teaching so exciting. One's interest in everything—reading, travel, art, the out-of-doors—is enlivened, because anything and everything might provide an illustration. Drawing from many sources is appreciated by these education-minded women.
A Class Cross Section
Many different kinds of women are attracted to a serious Bible-study class. In our class eighteen groups are represented, including Roman Catholic, Greek Orthodox, Christian Scientist, Plymouth Brethren, Bible churches, Episcopal, and Presbyterian, and there are nineteen persons who claim no church.
A beautician who had little connection with a church before closes up her shop every Tuesday morning and comes to Bible class. The mayor's wife pushes aside her many responsibilities to come. A beautiful young housewife who recently earned an M.A. degree bundles up a couple of toddlers and comes. Several professional women drive across the city to get to the class.
"I like a class where Bible study is taken seriously," they say. And, "It's a challenge to have something to work on at home."
A woman's schedule is subject to interruptions, for a new baby, perhaps, or for sickness in the family. We tape-record the lessons for these people, and some of the tapes have found their way to Canada, Florida, and other states. Sometimes little groups of neighbors gather to listen to the tapes and keep up their lessons that way. Once a woman showed up at the closing luncheon of the year, when awards are made for completed work, with her notebook all in order. She had been at class only twice all year, because of a new baby, but she had kept up at home.
Teaching a Bible class is a great ministry for a minister's wife—she can use her husband's library—or for any woman who wants to build up a little library of her own and devote her spare time to studying out the riches of God's Word.
Have something to add about this? See something we missed? Share your feedback here.
Our digital archives are a work in progress. Let us know if corrections need to be made.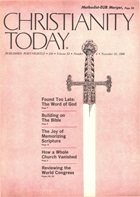 This article is from the November 25 1966 issue.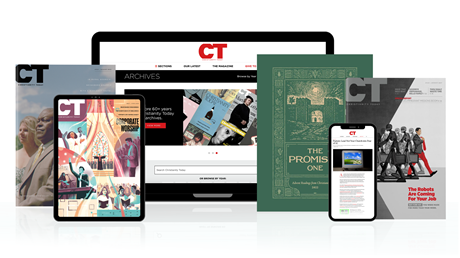 Annual & Monthly subscriptions available.
Print & Digital Issues of CT magazine
Complete access to every article on ChristianityToday.com
Unlimited access to 65+ years of CT's online archives
Member-only special issues
Subscribe
Weekday Bible Classes: A Way to Reach Women
Weekday Bible Classes: A Way to Reach Women