There are at least 1,111 ways of viewing the World Congress on Evangelism, for at last count that was the total number of delegates and observers. Each obviously had a different way of looking at what happened during those eleven days from October 25, when Editor Carl F. H. Henry delivered the opening address, to November 4, when evangelist Billy Graham conducted a service of prayer and consecration just before the closing recessional.
In the most sobering sense, CHRISTIANITY TODAY'S tenth-anniversary project was a council of war. Participants from some 100 countries vowed to battle evil with unprecedented intensity and to defend the Scriptures against snowballing traditions as well as new speculations. There was a substantial degree of truth in one analyst's observation that the meeting represented a legitimate "backlash" against secularist theologies emerging from contemporary worship of intellect.
From another perspective, the congress brought a major breakthrough for evangelicals in news-media exposure. Congress developments won front-page display in scores of American newspapers. America's most distinguished daily, the New York Times, carried interpretative on-the-spot stories daily. Religious News Service said its coverage matched what it had given Vatican Council II and last summer's Geneva meeting on Church and Society. Even Vatican Radio took sympathetic notice. All this spells encouragement for Protestant conservatives, especially those from areas where they are few and far between.
Evangelicals found new confidence, not only in such global attention, but also in the spirit of togetherness that characterized the congress in prayer, praise, and fellowship. As perhaps never before there seemed to be a willingness to sacrifice individualism in the interest of working hand in hand for world evangelization. It was perhaps the most encouraging aspect of the congress that without proposing new structures, its participants fanned out over the world with fresh determination to win the lost for Christ.
No one would claim, on the other hand, that the congress was an unqualified success. The most common complaint seemed to be that daily discussion groups opened up great issues without striving to arrive at a consensus. The relation of evangelism to social concern—to cite the major example—was a recurring theme, and many delegates felt there should have been more of an effort to crystallize thinking on it.
A number of delegates did take the initiative, however, to communicate their convictions to congress chairman Henry. From these grew the 1,000-word declaration that was issued at the close of the congress. The statement was approved by congress officials and the fifty-five-member list of sponsors. But since the gathering was not a deliberative assembly, no vote was taken among delegates. They were given the opportunity to make it their own, if they wished, by applauding it. Many did, and there was no publicly expressed dissent. The approved statement, (which appears on page 24,) with the congress, provided a springboard for evangelical renewal and fresh outreach to the world.
The major addresses and position papers delivered at the congress have appeared in the two previous issues of CHRISTIANITY TODAY. Congress highlights included strong demands voiced for racial equality, for identification with the world, and for much wider demonstration of Christian compassion. A dramatization (following story) collected these moods effectively. It might best be described as a plea to rid the church of phonies and to narrow the gap between words and works.
Two Auca Indians deeply moved the hearts of fellow delegates with the simplicity and sincerity of their new-found Christian faith. Kimo Yaeti and Komi Gikita got their first taste of civilization, in their journey to the congress, accompanied by Miss Rachel Saint of Wycliffe Bible Translators. Miss Saint is a sister of the late Nate Saint, who with other missionaries, died at the hands of Kimo and his fellow tribesmen in 1956.
"There are lots of people here," Kimo said about the city. "Some believe in God. Some do not. Why don't they all believe in God?"
Halfway through the congress, evangelical gadfly Carl McIntire turned up in Berlin with an armload of mimeographed literature denouncing "ecumenical evangelism." Congress officials refused to give him a newsman's credentials, explaining that he had applied too late. They said they had already turned down some forty applications for press accreditation and that they were not about to make an exception for McIntire. He was invited in, however, and was offered observer and visitor badges, but he ultimately refused both.
The musical program of the congress catered to a variety of tastes. Among those heard were a Liberian drummer, a Paris folk-singer, and an American Indian who sang some tribal melodies and acted others in sign language. Familiar Gospel tunes were sung by George Beverly Shea and Jimmy McDonald.
Ted Engstrom, executive vice-president of World Vision, issued a plea to mission-minded churches and organizations to put more resources into evangelistic research. He urged wide use of computers, saying that "the ways in which proper use of computerized information can speed the message of the Gospel worldwide are beyond imagination." World Vision is carrying on a pioneer program of this sort.
Maxey Jarman, a Southern Baptist layman who is chairman of GENESCO Corporation, stimulated spirited discussion with a panel paper. "Because individual Christians feel their own individual weaknesses," he declared, "they are greatly tempted by the seeming strength of political power to force reforms and improvements among people." He urged Christians to count on spiritual power, "the spiritual power of faith and hope and above all, of love, the love that comes from God, that is of God, that can take full possession of us and make us more influential than anything else that we could possibly do."
The Rev. Louis Johnson, a Detroit Negro Baptist, responded that "law did for me and my people in America what empty and high-powered evangelical preaching never did for 100 years."
Evangelist Oral Roberts won a significant measure of new respect through the congress. He made a host of friends among delegates who were openly impressed with his candor and humility. When a panel got around to discussing over-emphasis on healing, Roberts readily acknowledged that he had made "some mistakes" in the past. He indicated to a plenary session that he wanted to be identified more with mainstream Christianity.
It was perhaps a basic element of the congress that evangelicals showed their willingness to take a hard look at themselves. The concern was voiced articulately by World Vision's Paul Rees, who declared that when "practices contradict our principles" the result "fills the victims of our discriminations with frustration and turns its observers into cynics."
"We have loved the silken complacency of our verbal tidiness," he said, "when what we have needed is to feel the savage rawness of human ache and fury and despair." He contended that there are close ties between evangelism and social responsibility: "It is a terrifying thought that in a presumably free society, abject poverty, family disorder and disintegration, work insecurity and joblessness, can erect psychological barriers to the reception of the Gospel that are as real as the suppression of free speech."
Among observers at the congress were several Roman Catholic priests and a Jewish rabbi and a representative each from the World and National Councils of Churches. Several churchmen from Hungary, Yugoslavia, and East Germany were also on hand. All sessions were conducted in the ultra-modern Kongresshalle along the banks of the Spree near the Berlin Wall.
Congress officials were gratified that the historic meeting proposed to tackle world evangelism with greater zeal, but without plans for new organizations to compete with already existing ones.
The 'Why' Generation
"Christians are a betrayed people."
"Don't tell us—show us."
"We need a bloke who'll take a deal to make it real what Jesus has to say."
These voices heard at the World Congress on Evangelism (story above) were those, not of the delegates assembled from across the globe, but of the mods of Soho and the surfers of Hermosa Beach, of youth on the campuses of California and the streets of young Africa.
In an offbeat production, The Why Generation, congress staffers Ed Bailey and Jim Collier and a company of teen-age recruits dramatized unforgettably the shrinking influence of Christianity on today's young people.
All the words spoken by a miniskirted blonde or a slim-jeaned hipster were culled from hundreds of actual letters and interviews. The epigrammatic commentary was woven together with a brash beatnik "Passion" in free verse about "Jerusalem Slim" and a tragicomic narrative poem about a teen-ager's visit to a London church.
Some gripes: "Most Christians are sterile, hypocritical cowards.… We just won't buy that white Anglo-Saxon God anymore.… It's easier to identify with the Beatles than with God.… Christianity is too fantastic, too miraculous.…"
A melancholy theme song recurred throughout the production, reminding congress delegates of "All the Lonely People." The concluding line was, "We're lost, but few men care."
A girl who has completed four years in a Christian college bemoaned her insecurity: "I should now be a stable, vital Christian," she said, "but I'm not.… My faith was not my own.… I was acting from external pressures." Poised and chic, she expressed her longing for reality in cultured tones. "About the worst sin in the book is not to be yourself. And many Christians are afraid to be themselves."
In one of the final scenes, three ministers discussed their problems in getting through to the current generation. "If we don't change," one said, "we may soon find ourselves equipped to evangelize the world of twenty-five years ago.… Yet the very word 'change' seems to threaten us evangelicals.…"
"Christians are the 'salt of the earth,' " he said, "but it is still stockpiled." He bowed his head, and the spotlight dimmed.
"Meanwhile, the world gets hungrier."
The light went out.
W. DAYTON ROBERTS
Sing A New Song, Tenderly
Jazz continually raises its rhythmic sound in New York City's worship life these days. An October 23 instance was an ecumenical triple-header: the Lutheran Foundation for Religious Drama presenting a Roman Catholic jazz mass at the Broadway United Church of Christ.
A Pan-Christian Bible?
Boston's Father Walter Abbott, 43, was scheduled to meet the American Bible Society's Advisory Council last week in what the New York Times thinks might be "the most important, concrete Christian unity step" since Vatican II closed a year ago.
Abbott, a former associate editor of America, was named November 8 to direct the Vatican's new drive for a series of common Bible translations, used by all Christians. Pope Paul VI made the move to implement the council's call for "easy access to Sacred Scripture." Roman bishops around the world are filling out questionnaires on problems in Bible translation and distribution, and are conferring with local Protestant Bible societies.
The work, Missa Hodierna, was written by schoolteacher-jazz pianist Eddie Bonnemere. He Latinized his fifty-six voice choir, ten-piece band complete with conga drum, and congregation in an engaging hour that ended with a triumphantly syncopated "Go, the Mass is ended: Thanks be to God."
Bonnemere attributes the mortality rate of regular churchgoers to the lack of participation in services allowed the worshiper. A Roman Catholic, he says most Mass music spurs feelings of "instant strangulation." His remedy is a "functional service," combining Latin American rhythms, modern thematic lines, and a touch of Gregorian chant for historical continuity.
The Church was officially represented at this $3-a-seat service by the Rev. John Gensel, who is usually evident at such events and carries on a supportive and counseling ministry with jazz musicians and their families. His chaplaincy to the New York jazz scene is an outgrowth of his weekly jazz vespers at St. Peter's Lutheran Church (LCA), where he is one of the pastors.
The St. Peter's services allow the jazzmen to worship regularly in their vernacular, and open communication to them from the more traditional church. Gensel collaborates with trumpeter Joe Newman in O Sing to the Lord a New Song, which puts jazz behind and around spoken words of Scripture.
Gensel thinks jazz worship has "freshness.… It's like when you are tired and you take a shower." "The motive makes the difference," he says; "the motive of love and grace of God makes the difference in the new song."
But some credit for the difference must also go to Newman and the rhythm section. His group weaves an exotic sound of intense meaning with the words of the Testaments, coupling Psalm 137 with "Willow Weep for Me,"First Corinthians 13 with "Tenderly," and portions of Solomon's Song with "Stella by Starlight." Despite the secular sounds, Newman says the work is "not to entertain, but … to worship."
JOHN EVENSON
Church Giving: $3.3 Billion
Americans and Canadians gave a record $3.3 billion to their churches last year, says a November 11 report from the National Council of Churches. Per-member contributions rose an impressive $5.71 over 1964, and the average member gave 67 cents more to benevolences (home and foreign missions and overseas relief).
As usual, omissions and qualifications are important. Figures came from only eleven of the NCC's thirty members, representing two-thirds of its constituency.
Denominations receiving more than $200 from each member were, in order: the Wesleyan Methodist, Evangelical Free, Brethren in Christ, Pilgrim Holiness, Orthodox Presbyterian, and Evangelical Covenant Churches. The highest-ranking large denomination was again the Presbyterian Church, U. S. (Southern), at $118.72.
American Baptists Say 'No'
The American Baptist Convention's General Council this month declined to join other Western Hemisphere Baptists in a united evangelistic "Crusade" in 1969. Instead, the ABC will concentrate on separate strategy with ABC-related churches in Latin America and on its new curriculum, also due in 1969.
The ABC thus spurned the first project of the new North American committee of the Baptist World Alliance. ABC President Carl Tiller pointed out that baptisms had dropped from 63,632 in 1955 to 43,759 in 1965, and gave hesitant support to the 1969 effort. But the council followed advice of staffers in the evangelism and program divisions.
Meanwhile, those in the ABC who favor unity with non-Baptists got some ammunition for next year's Pittsburgh convention when northern California delegates failed to endorse the "Armstrong Amendment" that stressed "Baptist distinctives" in unity talks. And the New York State convention reaffirmed last year's call for full participation in the Consultation on Church Union. Indiana's convention, however, opposed COCU.
Greek Crisis Ends
The Greek parliament, ending a year-long crisis, approved nomination of fifteen Orthodox bishops and left the hierarchy to decide on controversial transfers of two bishops to richer dioceses. Though weaker than an earlier reform bill rejected by the hierarchy, the measure pays all Greek bishops a salary equal to that of senior judges, with side income from marriages and other services to be pooled and distributed to poorer clergymen and theology students. Also, bishops appointed in the future must retire at age 80.
Have something to add about this? See something we missed? Share your feedback here.
Our digital archives are a work in progress. Let us know if corrections need to be made.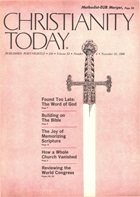 This article is from the November 25 1966 issue.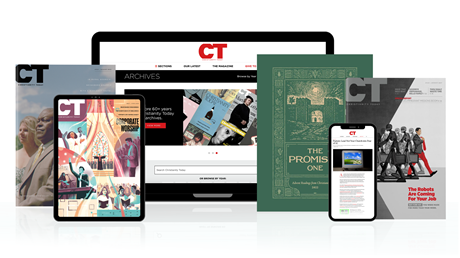 Annual & Monthly subscriptions available.
Print & Digital Issues of CT magazine
Complete access to every article on ChristianityToday.com
Unlimited access to 65+ years of CT's online archives
Member-only special issues
Subscribe
The World Congress: Springboard for Evangelical Renewal
The World Congress: Springboard for Evangelical Renewal