The battle-scarred Child Development Group of Mississippi (CDGM)—the nation's most bitterly attacked and fiercely defended "Head Start" program—swung back into action this month, revived by an $8 million grant grudgingly given by the U. S. Office of Economic Opportunity (OEO).
Jubilant liberal churchmen boast that the grant represents a major victory for the "church lobby" similar to its success in the passage of the 1964 Civil Rights Act. Clergymen claim it was Vice-President Hubert Humphrey's intervention at their behest that got the money.
"The Church got emotionally swept into this matter," says Theodore M. Berry, director of OEO's Community Action Program, which funds Head Start. The nation-wide Head Start project provides preschool experience for poor children with an emphasis on parental involvement.
CDGM holds a warm spot in the hearts of liberal churchmen because the staff of the National Council of Churches' Delta Ministry provided impetus and leadership during CDGM's early days. The Board of Missions of the United Presbyterian Church designated its Mary Holmes Junior College in West Point, Mississippi, as legal recipient (grantee) for CDGM-earmarked funds.
CDGM has been hit by both the Left and the Right since its inception in May of 1965. White Mississippi politicians charged the program was run by civil-rights activists and northern troublemakers. Black nationalists regarded mere acceptance of federal funds as corrupt. Student Nonviolent Coordinating Committee (SNCC) members working with the group quit in disillusionment, calling the program a sell-out. CDGM supporters hail it as a grassroots crusade against poverty, oppression, and the White Power Structure.
Aaron Henry, NAACP state president, states bluntly: "It's the biggest industry in Mississippi."
Facts support Henry's view. OEO channeled $7 million through CDGM in its first year. By the end of last summer, CDGM was operating 121 centers for 9,135 children and employing 2,272 persons. The centers served the children hot lunches, provided medical and dental care, and exposed many youngsters for the first time to books, blocks, and blackboards.
The project was continually criticized by Mississippi congressmen and the local press. Over $100,000 was spent by the OEO Office of Inspection and the General Accounting Office in investigating CDGM.
Last October 2, OEO chief Sargent Shriver cut off CDGM funds. He charged payroll padding, nepotism, mismanagement, and failure to involve white Mississippians. His announcement triggered a three-month struggle that attracted national headlines and resulted in a church-labor-civil rights coalition dedicated to reversing Shriver's position.
On October 14, seventy-five urban-church specialists from three Protestant denominations flew to Washington to picket OEO. Five days later a full-page advertisement in the New York Times, paid for by the ad hoc National Citizens Committee for CDGM, pleaded in bold headlines, "Say it isn't so, Sargent Shriver." The leftist New Republic thought it spotted a political conspiracy: "In part, Shriver's decision was in response to pressures from Senator [John] Stennis [Democrat of Mississippi] and represents the desire of the White House."
Administration critics became even more agitated when Shriver began showering anti-poverty gold on newly created agencies in Mississippi. A bi-racial group of loyalist Democrats, called Mississippi Action for Progress (MAP), got a $3 million grant. MAP, led by Henry, LeRoy Percy, Hodding Carter III, and leading Southern Baptist layman Owen Cooper, was promised $7 million more to conduct its own Head Start program.
Dr. John David Maguire of Christianity and Crisis magazine, a former Mississippi Freedom Rider, later wrote: "The President seemed to think that turning over the Head Start program to a new bi-racial board of 'moderate' Mississippi Democrats would provide him with a sufficient powerful political base to rally a loyalist Democratic Party and take the state in 1968."
Henry scoffs at the Maguire analysis. "I am sure the White House was not involved. Berry called me and asked if I could help organize a group to carry on the program because CDGM could not legally be refunded."
The church-labor-civil rights leaders, gathered under the umbrella of the Washington-based Citizens Crusade Against Poverty (CCAP), dispatched a ten-man inquiry team to Mississippi. Not very surprisingly, the group returned a strongly worded twenty-one page report refuting the charges against CDGM.
Shriver stood his ground. He said the report added nothing new and "therefore OEO does not foresee any change in its position."
The "church lobby" made its most potent pitch for CDGM in the plush suite of Vice-President Humphrey in Miami Beach's Fountainebleau Hotel. About a dozen clergymen gathered in Humphrey's suite after his address to last December's NCC General Assembly.
The genial Vice-President was in an expansive mood. He knew many of those present by their first names. They had worked closely with him when, as Senate majority whip, he led the bipartisan effort to pass the 1964 Civil Rights Act. Humphrey reiterated the administration's appreciation. He then asked about current NCC-sponsored programs and whether he could be of help.
"Mr. Vice-President, we need your help right now," interjected Dr. Truman Douglass, executive vice-president of the Board for Homeland Ministries of the United Church of Christ. He told Humphrey about the plight of CDGM.
"We do not operate this program." Humphrey said, "but if we can't find a solution to this sticky question I think we should close shop." He promised to get to work on it right away.
"It was the force of that conversation with Mr. Humphrey that night that is as important a factor as any that led to the refunding of CDGM," says Dr. Kenneth Neigh, general secretary of the Board of National Missions of the United Presbyterian Church.
Humphrey's pledge to the churchmen was made on December 7—a date former Navyman Shriver shouldn't have overlooked. The NCC assembly adjourned December 9. The next day, Douglass was having lunch in the National Arts Club in New York City when he got a call from Washington.
"It was the Vice-President," says Douglass. "He said OEO had offered to give CDGM an $8 million grant and he hoped we would agree to it."
Negotiations that had been stalled for months suddenly began moving again. CDGM board members came up from Mississippi and closeted themselves with OEO officials. All this time, Humphrey obviously was keeping the pressure on.
Neigh and Douglass both received calls in New York City from Humphrey on December 16. The Vice-President said a settlement was in the offing and advised Neigh to come to Washington. When Neigh walked into the CCAP basement offices, a call was waiting him from Humphrey. Neigh said the Vice-President assured him OEO would make the grant. That evening Shriver issued a statement saying he was "delighted that OEO has been able to resolve its problems with CDGM." He emphasized that the grant was made only after CDGM agreed to tighten its overall operation and follow OEO guidelines. One provision was that the United Presbyterians accept fiscal and administrative responsibility for CDGM.
"That was just a slick public-relations job by Shriver," says Neigh. "There is no change at all in our responsibility. Over-emphasis of our part makes it look like we are in violation of the church-state principle."
Actually, both sides made concessions. CDGM's scope of operation was cut back from twenty-eight counties to fourteen. The board of directors was enlarged, and a guarantee was given that six of its nineteen members will be white. OEO backed away from its demand that Harvard-educated CDGM director John Mudd be replaced. Mudd stays in Mississippi.
CDGM board chairman James F. McRee, a 48-year-old Methodist minister, says that "if it hadn't been for the churches, the full story may not have been told."
OEO's Berry, tamping the tobacco in his pipe, remarked: "If this will in any way strengthen the churches' interest in the War on Poverty, then let them enjoy the luxury of their boast. I think CDGM would have been refunded even if the churches had not been involved."
Grape Lobbyist Picked
The bitter battle between grape growers and pickers in Delano, California, spread to Washington, D. C., this month. The Rev. Eugene Boutillier has been ordained by a church-labor coalition to lobby for the striking grape pickers.
Boutillier, a United Church of Christ minister who has walked the picket line in Delano, will head the National Campaign for Agricultural Democracy (NCAD). His office is in the Methodist Building across from the Capitol.
The minister's goal will be to get grape-pickers in particular and farm workers in general under the National Labor Relations Act. This would mean the NLRB could enter the Delano dispute, enhancing pickers' chances of gaining recognition for their union. He will register as a lobbyist—unlike most religious representatives.
U.S.I.A. Religion Troika
The U.S. Information Agency chose an interfaith capital trio as religion advisors, replacing Executive Director Edgar Chandler of the Church Federation of Greater Chicago, named in 1960 and inactive of late. Msgr. George Higgins and Rabbi Richard Hirsch—Catholic and Jewish social action directors—and Methodist District Superintendent Edward Carroll will check for accuracy and sensitivities in religious material.
Hargis Vs. Internal Revenue
Billy James Hargis says his militant, anti-Communist Christian Crusade lost federal tax exemption because it politicked for legislation to permit school prayer. "LBJ and his administration are not beyond using departments of the government to harass those who disagree with them," Hargis contends. He charges that the Johnson administration has singled out his organization as an example to other fundamentalists.
Hargis argues that it is unfair for his group to lose exemption while the National Council of Churches and other tax-exempt groups continue to lobby in Washington on legislative matters. He said that his finances are in good shape and that chances are good for reinstatement of exemption in a court appeal.
Meanwhile, Christian Herald reveals this month that Hargis was the author of the famous 1951 speech in the U.S. Senate by the late Joseph McCarthy attacking the late Methodist Bishop G. Bromley Oxnam.
The Reign'S The Same
The final version of Spain's new law on religious freedom is turning into a disappointing document that is ecumenical only in that it restricts Protestants, Jews, and progressive Catholics alike.
The new law, passed overwhelmingly in a nationwide referendum, was weakened by last-minute changes made by the Spanish Cabinet presided over by Generalissimo Franco. The final text is expected to win parliamentary approval in a few weeks.
Protestants fear the alterations will limit, if not prevent, spreading the Gospel by writing or over radio and television and may prohibit making converts.
Baptist pastor Jose Cardona of Madrid, secretary general of the Evangelical Defense Commission, called a meeting of all Protestants for March 20 to determine what their attitude should be toward the new law.
Objections are aimed primarily at the rewriting of Article 9, covering communication, and the elimination of Article 12, governing the organized activity of Spaniards "moved by their religious beliefs."
The first version of Article 9 granted "rights of individuals and religious communities to 'dissemination' of their faith by word of mouth and written word."
The new text substitutes "teaching" for "dissemination." Cardona points out that in Spanish "dissemination" has a much wider meaning than "teaching" and that the change may presage renewed difficulties over unauthorized "propaganda" and "proselytism" by religious minorities.
Article 12 would have permitted Spaniards "moved by their religious beliefs" to set up educational, cultural, and social establishments. The total suppression of this article indicates that Protestant churches may be restricted to devotional activity.
Similar restrictions are a recurring complaint of Catholic Action leaders, another group of Spaniards "moved by their religious beliefs," who feel that certain forms of religious activity should be carried on outside the walls of churches.
The Roman Catholic hierarchy has cracked down on Catholic Action groups, suspending all activity of the organization on a national level and confiscating Action publications. The hierarchy also dismissed the editor and entire editorial board of the Catholic youth weekly Signo, one of the most outspoken and controversial Catholic voices in Spain.
Suppression of Catholic activity has been most notable in Barcelona, where a year ago police beat more than 100 demonstrating priests.
Cardona, taking a broad view of the new law, says, "It is the best we can do at the moment."
A high government official commented, "Nothing else was possible within the present political realities of Spain." Apparently, the reign in Spain is mainly the same.
College, Hospital Cut Church Ties
For the first time, a Southern Baptist college has been freed from church control so it can get federal aid. Action formally releasing Kentucky Southern College from the state Baptist convention was taken March 11 by the convention executive board.
Only days before, the Arkansas Baptist Convention had severed official ties with its medical center in Little Rock to enable the center to apply for federal funds.
Kentucky Baptists last June prohibited public aid, though they relaxed the policy in November to permit federal loans. President Rollin Burhans said his 800-student college would die without federal aid. The seven-year-old school joined the Baptist convention in 1962, but the Baptists' $420,000 in aid has fallen far short of a pledged $2 million. Burhans puts immediate college needs at $5 million.
To help out, the Baptists granted $300,000 immediately, another $200,000 by July, and $77,010 annually for five years to repay loans. But the Baptists balked at assuming responsibility for a $898,000 loan to the college last year.
Burhans predicts that "every church-related college that does not have tremendous endowment funds" ultimately will have to cut church ties to maintain "quality Christian colleges." Maybe, he said, Kentucky Southern will become a Baptist "satellite."
DOUGLAS N. KANE
Have something to add about this? See something we missed? Share your feedback here.
Our digital archives are a work in progress. Let us know if corrections need to be made.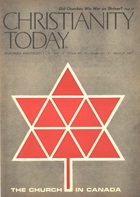 This article is from the March 31 1967 issue.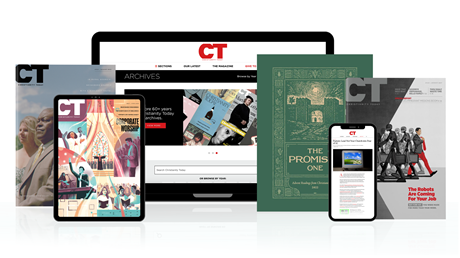 Subscribe to Christianity Today and get access to this article plus 65+ years of archives.
Home delivery of CT magazine
Complete access to articles on ChristianityToday.com
Over 120 years of magazine archives plus full access to all of CT's online archives
Subscribe Now
Did Churches Win War on Shriver?
Did Churches Win War on Shriver?