It was very early Sunday morning, and Avery could not sleep. Thoughts about the Christmas cantata and the Sunday-school Christmas program made round after tedious round through his weary mind. Then he began to worry again about the gifts Janet was buying for the children. He knew they couldn't afford them. But attempts to talk about the matter always seemed to end in irritated disagreement.
His sermon for that day was to be on hope for the hopeless, good news for the frustrated. Now he wondered whether he would be able to preach convincingly the new reign of peace in the lives of men through Jesus Christ, when he didn't feel that peace.
Christmas had not been very enjoyable around the manse the past few years, he thought. It seemed to be a continual round of discussion, negotiation, ultimatum, and capitulation. As father and minister he felt that the spiritual values ought to outweigh the material aspects of celebration. But it was very hard to bring the season into focus this way, even in his own family.
The outdoor decorations should have been up by now. Lights along the roof line. A well-proportioned tree in the picture window. Just like last year—and how many years before that?
Where was the joy to the world—or the joy in his world anyway? What had happened to all the pleasant excitement of the Christmas pageant and the family tree and other familiar parts of the holiday season?
Avery got up, walked across the hall into his study, and stretched out in his lounge chair, as if to try to get a better perspective on God, the world, Christmas, the good news, money, God's love, his family, and all the other things that were bothering him. Just what was the matter? Didn't he like his people and his work? Didn't he love Janet any more? Would leaving the ministry and starting a new life help them grow closer?
As pastor he had tried earnestly, he felt, to lead his people to a greater understanding of the meaning of Advent and Christmastide. He wanted them to look beneath the tinsel and bright paper and bright lights and find God's answer for frustrated man. But he couldn't see that his efforts had done much good.
Maybe the cause of his problem lay with him rather than with his wife, or his church, or the Christmas commercializers. Maybe what he really wanted to do was to come with the Magi and bring a gift to the baby-king and then leave for the kingdom in the East, never to return.
Maybe he was too involved in his daily schedule—visiting in the hospital, calling on members and potential members, writing sermons, working with the young people, taking part in PTA and other community activities, taking radio talks, meeting with the women's council, sitting in on committee meetings. Maybe he couldn't be both a good pastor and a good father and husband.
Critical members, family tensions, the sermon he didn't really feel like preaching, unpaid bills, the gradual end of family devotions, jealousy—all these things seemed to settle into a thick fog of anxiety. Where was the creativity and inspiration, the firm trust in God and the accompanying self-confidence, that he used to think he had? If only his life were a story, he thought, he would walk out into the clear starry night and the heavens would speak to him, and guide him back to a stronger faith.
Avery reached over to pick up his Bible from the desk. It was open to Luke's account of the Christmas story, which he had needed to refer to while finishing his sermon the evening before. "And in that region there were shepherds out in the field, keeping watch over their flock by night." He remembered a time many years ago when he had memorized this passage to recite at a Sunday-school program. He had had to limp up to the platform, because earlier in the day he had stuck a knife in his foot while playing a knife-tossing game with a couple of his friends.
"And an angel of the Lord appeared to them, and the glory of the Lord shone round about them, and they were filled with fear." He thought of the moon shining on the snow one evening shortly after Pearl Harbor, long before he had met Janet. He was driving out to Sue Anne's, and the radio in his '39 Ford was playing, "I'm Dreaming of a White Christmas." Later they had walked hand in hand under the stars and felt that God was very close. Would it take a heavenly vision to stir his belief now?
He read on. "And the angel said to them, 'Be not afraid; for behold, I bring you good news of a great joy which will come to all the people; for to you is born this day in the city of David a Saviour, who is Christ the Lord. And this will be a sign for you: you will find a babe wrapped in swaddling clothes and lying in a manger.' " News of a great joy. During his last days in college everything had seemed right. He had a firm faith in God and enthusiasm to serve him. He had a college degree and a good job that promised a profitable future. And though he did not realize it then, the ground work was being laid for his decision to go into the ministry.
"And suddenly there was with the angels a multitude of the heavenly host praising God." A brief tour of duty in the business world was only a happy prelude to a decision to go to seminary. During this time he had met Janet. Their courtship had been rich and exciting, and they were married in a beautiful church wedding. Together they enjoyed the three years in seminary, good years of learning and personal growth, overflowing with service to God and man.
"Glory to God in the highest, and on earth peace among men with whom he is pleased!" Peace here and now was the problem. Years had passed since seminary, and disillusionment had set in. Avery felt a dissatisfaction that people didn't respond, that ideas didn't blossom. The renewal he planned time and again didn't come about. People continually disappointed him. His financial problem was always lurking in a back corner of his mind, ready to bother him in the small hours of the night. He remembered many times of deeply satisfying closeness with Janet and his family, but now he felt distant from them, overwhelmed by the goals he had set for himself.
"When the angels went away from them into heaven, the shepherds said to one another. 'Let us go over to Bethlehem and see this thing that has happened, which the Lord made known to us.' " He thought of the stories he had written in the hope of recapturing the spirit of Christmas. Still Christmas seemed to stay on the tinsel and shiny-ball level. The Christmas Eve service never seemed to get through to many of the people.
"And they went with haste, and found Mary and Joseph, and the babe lying in the manger. And when they saw it they made known the saying which had been told them concerning this child." Was he holding back? Was he failing to go to the manger and lay his life at the feet of Jesus? Why couldn't he and Janet seem to find time to pray together, or to read the Bible and pray with the children? Was it because he advocated things from the pulpit and didn't do them that he felt depressed at Christmas?
"And all who heard it wondered at what the shepherds told them." How long had it been since he had told the Christmas story anywhere but in the pulpit for anyone to "wonder at"—even his own children? How could he say that this was such great news, if he didn't feel it was vitally important to him?
"And the shepherds returned, glorifying and praising God for all they had heard and seen, as it had been told them." He put down the Bible. How was he glorifying and praising God? By being concerned about a Christmas bonus big enough to make ends meet? By becoming so involved with the theological implications—or lack of them—in the Christmas celebration that he missed the opportunities to show God in his best light?
Perhaps he had been trying to find his job at the crib, instead of going all the way through childhood and manhood with Christ—to the hillside where he fed the five thousand, to where he healed the lepers, to Jerusalem, scene of the triumphal entry, to the Upper Room, to the Garden, to Calvary, to the empty tomb, to the seashore. He began to realize that joy comes in sharing the suffering and the death and the resurrection, as well as the birth, which is only the beginning.
Avery knelt by his chair. "Dear God and Father, forgive me. Forgive my frustrations and anxieties. Take me, weak and miserable, and use me. Make me realistic when I am too confident. Lift me when I am depressed. But always keep me close to you." He felt a little like the shepherds, who couldn't stay long at the crib but had to get out and tell the story. He looked at the clock on the wall and saw it was a little after six. In a few hours he would be standing before his people. This time, he thought, maybe he could help them to see Christmas as the starting point of faith—to see Christmas anew.
Have something to add about this? See something we missed? Share your feedback here.
Our digital archives are a work in progress. Let us know if corrections need to be made.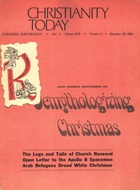 This article is from the December 20 1968 issue.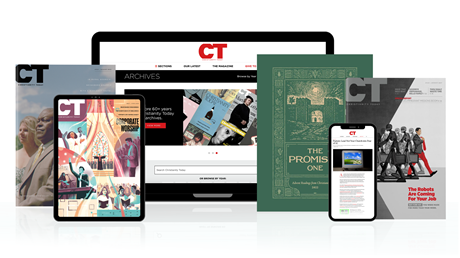 Annual & Monthly subscriptions available.
Print & Digital Issues of CT magazine
Complete access to every article on ChristianityToday.com
Unlimited access to 65+ years of CT's online archives
Member-only special issues
Subscribe
Christmas Anew!
Christmas Anew!