Fortunately I picked up an expression from the Spaniards recently: "I am very sorry, but to cry I cannot." For the first time in my life this gives me a kind of middle ground for sadness between endurance and grief, and it serves beautifully as I try to absorb Jackie Kennedy, Onassis, Cardinal Cushing, and the Roman Catholic Church.
All kinds of people are passing judgment on Jackie and Onassis, and I don't care to join the troops. I try to keep reminding myself that nobody really knows enough to pass a judgment on anyone else, especially if he tries to get into the realm of motives. If we know ourselves, we know that we operate constantly from mixed motives; and yet we constantly tend to judge somebody else's motive sharply and harshly.
Loneliness is a disease for which there are no very good cures and in which time stretches out and life seems to be lived on dead center. In Jackie's case it was a loneliness subjected constantly to the public gaze. Maybe she now wants to get away from it all. How better than to come under the shadow of one who has the money and therefore the power to protect her? But this is only one man's guess, and we shall "leave her to God."
Cardinal Cushing is something else again. He is a man of great heart and broad sympathies. As someone so wisely put it, "Young men know all the rules; old men know all the exceptions." I think I am old enough to sympathize with the Cardinal. A man does not wear his red hat all the time, and I am sure that in his long interviews with Jackie he was more concerned with his sympathies than with legalism. James Harper once said, on the subject of universalism, something to the effect that "one could entertain a pious hope that all men will be saved." We all have our "pious hopes," and it is desperately easy in a sad situation to swing over on the side of a kind of universal redemption for everybody. No one who has listened to some other man's outcry can find it easy to hold the line on his legalism.
Such things being so, there is still a problem. Society has never figured out what to do about the hangman or the policeman or the judge. All these men are necessarily used by society to do what society requires, and they are in the official position of letting the law take its course and insisting that law does take its course even when their heart is against their head. No man is qualified for public office, especially public office that requires harsh action, unless he sees his duty to the law instead of to his sympathies. It can be argued that the law is not what it should be; but he represents the law just the same, and he either does his job in that position or he moves out. This accounts, I am sure, for Cushing's statements regarding his early resignation. He cannot stand to the law of his church because he cannot see the law active in at least one case that has come under his pastoral care.
This still leaves the problem of what to do about structure. No life and no organization can hold together without discipline and at least some sort of framework. It was this discipline and this framework that Cushing was called on to represent. If a Cardinal can slip his moorings, what can a weaker man—a parish priest, for example—do? Is there a Roman Catholic Church that has definition, and, if not, is there a "thing" that can be defined or described as the Roman Catholic Church? The Roman church could hardly have endured as it has without a sacrificial loyalty to the definitions and maintenance of its form.
Meanwhile there is a complex and matrix of rules and regulations; even in our society of fluid standards, to allow the position to become indistinguishable is to destroy the structure. The Roman Catholic Church being what it is now, no Cardinal by virtue of his office has any freedom at all in some matters.
It is easy, of course, for a Protestant to point the finger at the Roman church. I don't care to discuss that matter here and now. Rather I should like to take the finger we point at Rome and point it at ourselves. I have argued for a long time that there is a cast of mind that constantly allows for slippage when issues before us begin to sound a little harsh as applied with discipline and finality. This problem in Protestantism can begin in all kinds of places. One can think of the old disciplines inside the official bounds of the church by which serious-minded men by virtue of their office said that some people could stay in the church and that others were excommunicated. The temptation of session members was to say, "Who are we to pass judgment on our fellow men?" The answer, of course, is that no one has a right to pass judgment on his fellow man, especially in terms of excommunication, if he thinks about himself as only a man; but as an official of the Church he still faces the requirements of his office. He is not passing a judgment on the law. He is really deciding that the law should take its course. If he feels like a hangman when he is doing this, he reminds himself that it is no place for feelings.
In the larger sweep of things, Protestants are casting about in all directions to determine what the structure of the Church is and where they will to hold the line. General attempts in most denominations to recast their confessions and statements of faith simply illustrate the uneasiness generally felt over trying to bring to bear on others what the Church says it is and what the Church requires. I argued one time with another man about what constitutes the essence of Protestantism. "Surely," I said, "there must be some way of saying that this man is a Presbyterian and that this man is not—even by his own choice if not by our requirements." My friend argued that the important thing was that we are not supposed to be Presbyterians but Christians. To this I can only answer that the attitude of mind that refuses to draw lines around a denomination will eventually refuse to draw lines around a whole religion. The ecumenical movement is illustrative of this constant chipping away of differences for the sake of a larger wholeness. I simply want to point out that unless lines are drawn somewhere they will not be drawn anywhere, and that it is always painful to take a stand on matters, wherever you take your stand. I am sure it would have hurt Cardinal Cushing grievously to take a stand for Rome against Jackie. Would he argue from this that there is no place for a Roman Catholic or a Presbyterian or even a theist to take a stand with the recognition that the stand, whatever it is, will require hard discipline and will certainly look harsh to those who would try to blur the lines?
So it goes. You can call a man lost when he doesn't know where he is. Just where are we in defining the Church?
ADDISON H. LEITCH
Have something to add about this? See something we missed? Share your feedback here.
Our digital archives are a work in progress. Let us know if corrections need to be made.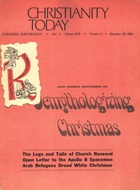 This article is from the December 20 1968 issue.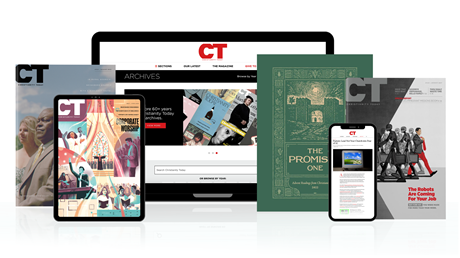 Subscribe to Christianity Today and get access to this article plus 65+ years of archives.
Home delivery of CT magazine
Complete access to articles on ChristianityToday.com
Over 120 years of magazine archives plus full access to all of CT's online archives
Subscribe Now
On Drawing Lines
On Drawing Lines