Satan turned his smoke-wreathed face toward his underling and sighed. "Christmas again!"
"People are rushing around like mad," said Fireball. "Crushing each other in the stores. Kris Kringle is back in the windows. The trees are lighted. They're singing carols, with now and again that song about a red-nosed reindeer. Kids are talking about toys. Business is booming. Any number of people are getting drunk."
Satan shrugged. "The usual thing. Man has no imagination. His capability for duplication astounds me."
"Millions are celebrating, Majesty. But most of them don't know why, I'm happy to say."
Satan nodded. "Things look well for us, I trust."
"Rather, sir. I feel nothing is happening that threatens our cause."
"Look. Ignore the gift-giving, the cork-popping, even the stable scenes in the yards, the lighted churches, and all that. Just make sure you keep them away from the real reason for celebration."
"You mean," said Spitfire, "don't let them think about its being the Enemy's birthday?"
The devil frowned. "Let them think about that, if they wish. Let them read Scripture and sing hymns. Even let them wax sentimental over the Lord's visit to the earth. Just don't let them dwell on why he did it!"
"You mean …"
"Allow them to talk about peace and joy and all that. Just get them away from that word 'sin.' They must feel that somehow there's an incongruity between that word and the happy holidays. This shouldn't be too hard. Men don't like to think much about sin at any time, particularly not at Christmas."
"Sin—that is why he came, isn't it?" mused Fireball.
Satan nodded. "That's why we've got to keep them away from that theme. Keep them singing, trimming trees, shopping, throwing parties, even having church services—but shoo them away from the real significance of the Incarnation. They mustn't see that the cattle shed was a starting point for Calvary."
"Come to think of it, Majesty, that's what the Book says—the Enemy was to be called Jesus because he was to save the people from their sins."
" 'The Word was made flesh,' " grumbled the devil. "And that wasn't just so he could rub elbows with mankind, or tell them about how the higher world lives. He had a specific mission, remember? He came to die. And for one reason, 'the sins of the world.' "
"True," muttered Fireball.
Smoke curled about Satan's face as he went on with his explanation. "There's that other thing, too."
"Other thing, Majesty?"
"The Enemy didn't come only to die. He came to come—again. That first coming was a prelude to the second. Now, this we must never let enter their minds—even if they do remember he came to go to the cross the first time. Keep them away from those Scriptures that say he will appear again."
Fireball nodded assent. "It won't matter too much, then, if they preach eloquently about the birth in the cattle shed, or even on the great life he lived. Just so they don't realize that nothing matters if he never comes again."
"Precisely," said Satan. "That's the bastion we must hold at any cost, at any time—but it's especially important that we hold it during the Yuletide. Little brother, I almost break out in a cold sweat every Christmas when I think how close the masses come to that big truth—he came once to die to save men so that he might come again and establish his Reign. But, thanks to me, they have usually been sidetracked. We must keep it that way."
"It sure wouldn't help our business if people got to thinking what that Incarnation really means," agreed Fireball. "What I mean is, there's so much involved. Not just his coming as a Baby to the earth but his resurrection, his coming again—even the Judgment!"
"Even the Judgment," said Satan. "We musn't let them think about that, either. But that won't be too difficult. No one ever thinks of associating the Judgment with Christmas."
"But they really belong together, don't they?" said Fireball. "Those things all belong together—his birth, his death, his resurrection, his second coming …"
"Naturally," growled the devil. "But that's our business—to keep men from seeing the truth whole. We won't be able to keep them from celebrating the Enemy's birthday, or celebrating his resurrection, or quoting from his sermons, or talking about his good life. But if we can keep a curtain drawn over his coming again, we will have gotten ourselves a great victory."
"Quite so, Majesty." Fireball hesitated, then added, "There will always be some, though, who will see the whole picture."
"I know," said Satan, "but they are comparatively few. They have no loud voice and they aren't very well organized. Their publicity is often atrocious. See that things stay that way."
"Depend on me, sir!" Said Fireball stoutly. "I'll try to see that Christmas remains meaningless!"
"Get going, then," ordered Satan. "The shoving, jostling masses are out there, making ready for the big celebration. Invade them!"
Fireball chortled. "I'll get right out and do my thing!"
Satan glowered darkly. "How often must I counsel you to forego that hippie talk? Off with you."
Fireball started to scamper away, but paused. He grinned impishly. "Merry Christmas, Majesty!"
"Keep it merry, little brother," growled the devil. "If they ever get serious about it we may be in trouble! Happy holiday!"—LON WOODRUM, Hastings, Michigan.
Have something to add about this? See something we missed? Share your feedback here.
Our digital archives are a work in progress. Let us know if corrections need to be made.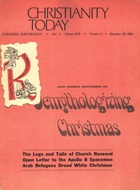 This article is from the December 20 1968 issue.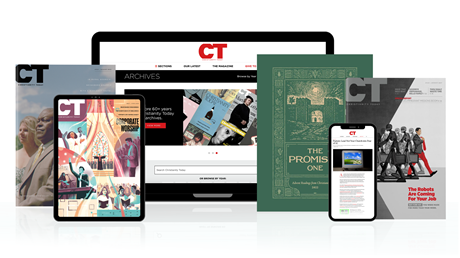 Annual & Monthly subscriptions available.
Print & Digital Issues of CT magazine
Complete access to every article on ChristianityToday.com
Unlimited access to 65+ years of CT's online archives
Member-only special issues
Subscribe
Dark Counsel at Christmas
Dark Counsel at Christmas