Reputable scholars as different in time and perspective as last century's Edmund Gosse and our contemporary Roger Sharrock have thought that the author of The Pilgrim's Progress was unconsciously a consummate artist. I should like to argue, however, that there is evidence aplenty that Bunyan was consciously concerned with the literary merits of his masterpiece. Undeniably, his primary purpose in writing was to teach and edify; but it is equally clear that both in theory and in practice he showed that art is no enemy of belief. In its fascinating story, its balanced structure, its living characters, and its generic features as an allegory, The Pilgrim's Progress shows the hand of a literary artist who knew what he was about.
Bunyan's rhymed preface shows that he had done some thinking on the fictional and imaginative in relation to truth. (For all quotations from the work I shall use Roger Sharrock's Oxford edition of Grace Abounding and The Pilgrim's Progress [London, 1966].) He tells of the personal satisfaction this realm affords, of the delightful experience of having his thoughts come intuitively, and of the legitimacy of writing in the style he had chosen. Summoning the authority of the Old Testament writers and the teachings of Christ and the apostles, Bunyan insists that truth can be released through fiction. In the final section of his preface, he shows his perception of imaginative literature—its illusory quality, its nexus of meaning, its tragi-comic essence, and its power to evoke response:
Would'st thou be in a Dream, and yet not sleep?
Or would'st thou in a moment Laugh and Weep?
Would'st thou loose thy self, and catch no harm?
And find thy self again without a charm?
Would'st read thy self, and read thou knowst not what
And yet know whether thou art blest or not,
By reading the same lines? O then come hither,
And lay my Book, thy Head and Heart together [p. 145].
In theory, then, Bunyan asserts his confidence in the value of imaginative literature. And in practice he shows similar confidence.
Bunyan tells the reader that he purposes to "chalk out" the journey of a man who seeks "the everlasting prize," and one of the strengths of the work is, of course, the fascinating story of that journey—a story that, as Professor Livingstone Lowes has observed, puts Bunyan's allegory "not far from the kingdom of great fiction." Bunyan loses no time in getting his story moving: His main character, Christian, has fled from the place of destruction and started upon his adventuresome pilgrimage to the Celestial City. Along the way he encounters Pliable and Obstinate, "wallows" in the Slough of Despond, meets histrionic Worldly Wiseman, receives instructions in Interpreter's House, unburdens at the cross, "clambers" up the Hill Difficulty, crosses the plain Ease, fights with Apollyon, trudges through the Valley of the Shadow, suffers persecution in Vanity Fair, sinks in despair in Doubting Castle, converses with faithful and unfaithful pilgrims, catches a glimpse of the ultimate goal from the Delectable Mountains, and crosses the river of Death. Finally he triumphantly enters the Celestial City. Bunyan does not neglect the landscape through which Christian's pilgrimage takes him. Consider the view from the House Beautiful: "When the morning was up, they had him to the top of the House, and bid him look South; so he did: and behold at a great distance he saw a most pleasant mountainous Country, beautified with woods, Vineyards, Fruits of all sorts, Flowers also, with Springs and Fountains, very delectable to behold."
The manner in which Bunyan controls his fascinating story shows the hand of a craftsman. As he moves his character across an indefinite terrain of roads, hills, and valleys, he skillfully balances action with contemplative interludes. After Christian's experiences at the Slough of Despond, his confrontations with Worldly Wiseman and Legality, and his chastening interview with Evangelist, there follows an interlude of study and reflection at the Interpreter's House. After the incident at the cross and the rigors of Hill Difficulty, the "retreat" of the House Beautiful awaits Christian. The renewed confidence gained in conversation with Evangelist comes after the trials of the Valleys of Humiliation and of the Shadow of Death. The persecutions in Vanity Fair and the sufferings in Doubting Castle are followed by the quietness and peace of the Delectable Mountains; the Land of Beulah succeeds the Enchanted Ground. And finally, after the ordeal of crossing the River of Death comes the victorious entrance into the Celestial City.
Perhaps the most notable of Bunyan's artistic achievements is his character depiction. Often he shows the essence of a personality with only a few strokes. Obstinate begins almost every speech with a remark ringing with finality; his mind is made up, and he needs no help from either books or people. He makes intimating assertions about those who fail to share his viewpoint, thereby confirming his disregard for knowledge. When Pliable indicates his inclination to follow Christian, Obstinate's intimidating reply is, "What! more Fools still? be ruled by me and go back.…" Earlier he says to Pliable, "Tush, … away with your Book; will you go back with us or no?" Among many other well-drawn characters is By-ends, one of the most subtly depicted. Eager to impress, By-ends proudly says he is a "Gentleman of good Quality" and arrogantly gives the names of his family connections, an impressive roll call including such men as Mr. Smooth-man, Mr. Facing-both-ways, Mr. Anything, and Mr. Two-tongues. In By-ends' own words, "Mr. Two-tongues was my Mother's own Brother by my Father's side." Not only must he define his social position; he must leave no one in doubt about his religious distinctiveness. In only "two small points" do the By-ends couple differ from those of "stricter sort": they never "strive against Wind and Tide" and they are "most zealous when Religion goes in Silver Slippers." By permitting By-ends to become his own satirist, Bunyan shows how thoroughly hypocrisy is worked into this little man's being. Even Christian himself is no plaster saint; he has a man's magnificence and a man's stupidity. He is complex and has within him something of Sloth, Mistrust, and Timorous—to name only a few of his fellow agents present in his own character.
As a literary form for his story of Christian, Bunyan chose the genre of allegory. Dorothy Sayers, referring to Bunyan as the last of the English allegorists in the great tradition, suggests that even though the extent of his reading in allegories of literary repute is subject to question, their influence is evident in The Pilgrim's Progress in that all the distinctive features of allegory are present: the pilgrimage, the dream framework, the personifications, and the "debates" or dialogue.
Bunyan places his story within the framework of a dream. And, moving his chief character toward his goal while at the same time keeping his finger on the contending forces within Christian, he makes abundant use of personification. This is perhaps the allegorical feature least palatable to contemporary readers. But readers of allegory might well heed the counsel of C. S. Lewis that they keep in mind both the literal and the allegorical sense and treat the one not as a mere means to the other but as its imaginative interpretation. This could mean that those capital-lettered words are far richer than they immediately appear. Consider Talkative. What the word means is clear. But what has Bunyan done to create his Talkative? How and why does he "imagine" him? Even the slightest observation of Talkative reveals that he is excessively loquacious. According to him, his capacity for discussion stretches over an astonishing expanse of subjects. And what a keen, inquiring mind this loquacious man thinks he has! To talk "of the History or the Mystery of things" and on any number of subjects "is most profitable," for by so doing, says he, "a Man may get knowledge of many things." On and on he talks until his empty words catch him in a web of contradictions from which he finally extricates himself by accusing Faithful of being "some peevish or melancholly man not fit to be discoursed." Bunyan shows his Talkative to be a pretender who lacks the qualities needed for the pilgrimage. But Talkative is not merely a conceptual equivalent; he is an imaginative interpretation.
Characteristic, too, of Bunyan's allegory is the "debate" or dialogue. That he had done some thinking about dialogue is evident from his rhymed preface: "I find that men (as high as Trees) will write/Dialogue-wise; yet no Man doth them slight/For writing so." His fondness for it is obvious in his story. Though at times his dialogue is hardly more than stereotyped conversation, at other times he gives it a highly dramatic quality. Many episodes might be cited: the conversation of Christian with Talkative, with Mr. By-ends, with Ignorance. But the dialogue between Christian and Mr. Worldly Wiseman has a special excellence. In a few paragraphs Bunyan reveals the self-satisfaction of Worldly Wiseman, his contempt for Christian's thinking, his bland censure of Evangelist's counsel, and his complacent confidence that Christian's earnestness arises from weakness of the intellect and from following faulty advice. At the same time Bunyan shows a great deal about Christian, too: he is not quite prepared for Wiseman's insidious counsel; he is nervous and uncomfortable in the presence of this man of worldly reputation and lacks the discernment to cope with Wiseman's quality of mind.
In the dialogues that fill the pages of his allegory, Bunyan usually has an artistic purpose. Acclaim for the quality of his dialogue has come from numerous critics, and no less a dramatic critic than George Bernard Shaw speaks of the terse manageableness of some of the speeches and of the manner in which the sentences go straight to their mark. Even the long, drawn-out conversations, admittedly weak as dialogue, are not meaningless digressions, for as the pilgrims march toward their goal the chief subject of conversation is naturally Hopeful's experience as a pilgrim.
Through his fascinating story, his well-balanced structure, his keen depiction of living characters, and his skillful handling of allegorical features, Bunyan shows his awareness of the artistic demands of imaginative writing. The story of the pilgrimage of Christian from the City of Destruction to the Celestial City is a masterpiece from the hand of a conscious artist.
Have something to add about this? See something we missed? Share your feedback here.
Our digital archives are a work in progress. Let us know if corrections need to be made.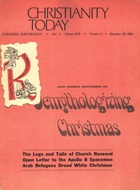 This article is from the December 20 1968 issue.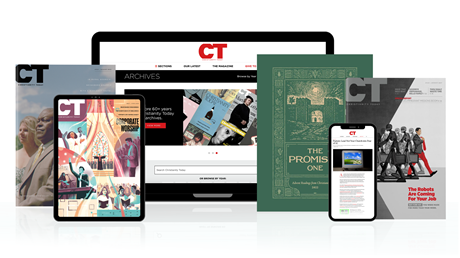 Annual & Monthly subscriptions available.
Print & Digital Issues of CT magazine
Complete access to every article on ChristianityToday.com
Unlimited access to 65+ years of CT's online archives
Member-only special issues
Subscribe
John Bunyan: Conscious Artist
John Bunyan: Conscious Artist