This article, which first appeared in the December 7, 1962, issue, is published again by request:
The evening shadows lengthened into night as a group of neighborhood children played together on the lawn. Bushes here and there made perfect hiding places, and the shrill voices of boys and girls gave evidence of carefree childhood, unaffected by responsibilities and unaware of a restless world about them.
An old man walked by and stopped to watch the children at play. A little boy was hiding behind some shrubbery close by the fence, and to him the old man said, "Sonny, my car broke down and I had to leave it at the garage down the street. Can you tell me where there is a place where I can spend the night?"
The boy turned and looked at the shadowy figure outside and replied, "Naw, I can't. Run along. I'm busy."
A crowd of teen-agers were out together. First a movie, then a stop for a Coke and dancing to a jukebox.
Crowding into their cars to continue the party in the basement recreation room of Dick's home, they hurried by a boy walking manfully down the street with the aid of leg braces and two crutches. They all knew him, but his handicap kept him from joining in their fun. Only in his studies did he excel all the rest of them.
After the cars had started one boy remarked, "We should have asked Mark to ride. It must be pretty tough carrying yourself down the street with nothing much but your shoulder muscles." "Aw, he's all right. He's used to it, and besides we haven't got room in the car," was the reply.
Across the town, students in the state university were busy preparing for exams. Many were affluent by the standards of the rest of the world; many were content with just getting by; all were enmeshed in the grind to cram enough information to graduate, in the hope of getting a good job one day.
There came a knock at the door of a room where two boys were slouched deep in chairs reading, and together they called, "Come in." The door opened and a quiet fellow neither knew very well, though they knew some of the fellows spoke of him as a "holy Joe," walked in. "I just wanted to invite you fellows to come over to the 'Y' tomorrow night to hear Dr. Ivan Cushman. He's one of the world's leading archaeologists, and he takes the Bible and makes it come alive in his lectures."
"Who wants to hear an old gravedigger anyway?" asked Jim, with little politeness to their visitor. "And who wants to hear anybody stupid enough to believe the Bible?" Chuck chimed in. "Besides, we've got an astrophysics test day after tomorrow, and that's all that counts. Toddle on and get some weaker minds to go with you."
A beautiful woman, wife of a prosperous executive, was arranging the flowers in her home for guests who were coming for dinner—one couple particularly important because his influence could mean a large government contract for her husband's firm.
The maid announced the guests, and in a few minutes gay laughter filled the air as cocktails were served and men and women mingled in the relaxed anticipation of good food and exciting companionship.
During the beautifully prepared and served dinner, a maid came to the hostess, leaned low, and whispered something in her ear. A shadow of annoyance crossed her face as she replied, "Tell them to ask someone else. This is no time to interrupt me. They should know that we have guests for dinner."
The evening passed with laughter (some jokes few would have repeated in a mixed group a few years before), and with a friendly hand of bridge followed by final drinks before the friends left.
As they were preparing to retire, the executive asked, "Jane, what was the maid whispering to you about during dinner?" His wife replied petulantly, "Oh, those Smiths down the road had a sick baby they wanted to take to the hospital. It was too far for a taxi and the buses only run every hour. They asked if someone here could drive them in one of our cars. They should have seen that we were entertaining guests."
A week passed. The midnight broadcast was about to begin, and across the city radios were turned on. Into homes and bars, cars and nightclubs, mansions and slums, there came these words of the first Advent: "And she brought forth her firstborn son, and wrapped him in swaddling clothes, and laid him in a manger; because there was no room for them in the inn."
A little boy in troubled sleep thought of an old man he had rudely told to "run along" because he was busy playing.
Some teen-agers who only a few minutes before had been gaily dancing to loud music suddenly remembered Mark shuffling down the street on his crutches and wished they had made room for him in their cars.
Two university students home for Christmas vacation paused to wonder whether they should have been too busy even to listen to a famous man who believed God and the Bible.
The executive looked at his wife, and she returned the uneasy stare. Had their guests been so important that they could not have spared a little time to help some poor neighbors, desperate because of a sick child?
"No room in the inn." These haunting words carried their meaning to many people in many places.
No room for Christ? No time for him! No concern for things of the spirit! No love and compassion for needy people right at their side!
The broadcast concluded with these words: "How like the people of Bethlehem are many of us tonight! No room for the Christ child! But he is no longer a child. He grew to manhood and died on a cross for the sins of the world, and he arose from the dead—and he is coming again. He speaks to us: 'Verily I say unto you, Inasmuch as ye did it not to one of the least of these, ye did it not to me.' "
In the dim recesses of many minds there came back these words: "Behold, I stand at the door and knock: if any man hear my voice, and open the door, I will come in to him, and will sup with him, and he with me."
L. NELSON BELL
Have something to add about this? See something we missed? Share your feedback here.
Our digital archives are a work in progress. Let us know if corrections need to be made.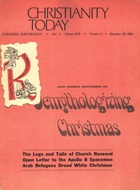 This article is from the December 20 1968 issue.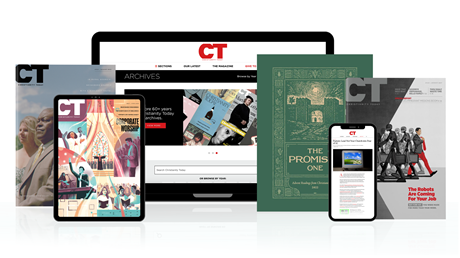 Annual & Monthly subscriptions available.
Print & Digital Issues of CT magazine
Complete access to every article on ChristianityToday.com
Unlimited access to 65+ years of CT's online archives
Member-only special issues
Subscribe
Go Away!
Go Away!