Only a genuine faith can win a world-wide hearing
William Graham Cole relates that Khrushchev is said to have asked the Russian cosmonaut Titov after his journey in space whether he had seen anyone "out there." Titov said, "Yes, I really did see God." Khrushchev responded, "I knew that already, but you know our policy, so please don't tell anybody." Titov's next interview was with the patriarch of the Russian Orthodox Church, who also asked whether he had seen anybody "out there." Titov, faithful to his instructions, replied, "No, there was no one." And the patriarch's response was, "I know that already, but you know our policy, so please don't tell anyone."
That story suggests the tragic twist to church and state in this late afternoon of our lives. What now terrorizes our most holy faith is not outside anti-faith, contemptuous as that has become. The really chilling threat to the world as well as to The Way is false witness from within. And before we make what might well be a last plea to the world for faith in Christ, we who profess it must first make sure our faith is genuine. Our hope of winning the world is waiting for the Church to regain confidence in its own Gospel.
Dr. Joseph Sizoo told of the easygoing prison chaplain who routinely asked men condemned to die whether they were prepared to repent of their evil lives and accept Christ. One morning a criminal spat his refusal to this chaplain, who stood at a safe distance from the gallows. As the condemned man pointed to the New Testament tucked under the chaplain's arm, his indignation shook the prison walls: "If I believed half that story you have there, I'd crawl on my hands and knees over cut glass all the way to London to tell them."
Countless pulpit tape recorders routinely murmur words like that chaplain's to pews full of desperately needy men. The pity is they do not believe. Countless conscientious church workers have not the slightest notion of what it is to exult in the riches of Christ. Weary ministers and members have no confidence in the prayers they say at the bedside. The ring of the resurrection has gone out of the voices reading at the graveside. No one is even surprised now that he habitually leaves church wholly uninspired after saying or hearing such high-sounding assertions. Many will not confess their emptiness even to themselves.
The benediction pronounces "the peace that passeth all understanding," but God knows most of the congregation have never known such peace. Christians are promised the joy the world cannot give nor take away; yet they often possess very little of it. If Christians were accused of lacking these precious treasures, they would self-righteously insist they were long-time members (or ministers) in good standing. To admit how unhappy and lost they feel would be too embarrassing and too painful.
We cannot see the pallor of the Church and the feebleness of its witness without feeling that for the vast majority Christianity had become a social convention. Might not a huge reason for the contrast between our time and Pentecost be that the resurrection from the dead is being preached and professed by those who have not been resurrected? As an old man said, "We can't give what we ain't got." Surely it is now as Isaiah said it was in his day, "This people draw near me with their mouth and honor me with their lips, while their hearts are far from me, and their fear of me is a commandment of men learned by rote" (Isa. 29:13).
A Christian should be exhilarated by the knowledge that prayer is answered, by the realization of distance between the way he felt unforgiven before and the way he feels forgiven since. True faith distinguishes between "before" and "after" God. The fruits of the faith shake the ground under our feet when they fall. They can be tasted and savored; they are blessings to be counted, one by one, in front of someone ready to hear about them. I cannot imagine what it means to be Christian unless one's heart has been both broken in shame for his sins and strangely animated by God's tender mercy—not merely in abstract "growth" but in dramatic encounters.
The condemned prisoner was right. If we had an inkling of what it is to know God, if we even half-believed in this burning news of Christmas and Easter, it would be hard, even impossible, to keep it to ourselves. No man in darkness can have the lights come on without having it shown to him.
I am not proposing an abandonment of doctrinal belief, nor condoning the rampage of rejection all around us. I am simply asking for a fresh and honest confession of doubts and fears we have too long officially pretended did not exist. I do not know where else to begin if we want to win a hearing in the world. Peter's acknowledgment of his treason, Paul's revelation of his despicable intentions in Damascus—these disarmed unbelievers into admitting their own sin and accepting the Saviour. How could Pentecost have happened if the disciples had assumed the Spirit was already in their midst? The only way Pentecost could come was through their honest admission that the Spirit was absent, that they were powerless to live and serve as they knew they should.
The miracles of Christ happened to men who found courage to confess their helplessness. Not until that desperate father finally abandoned his front of self-sufficiency was he open to suggestion from a Saviour. And his prayer—"O Lord, I believe; help thou mine unbelief"—reflects not only honesty about his poverty of faith but sorrow. Instead of bitterness, there was longing. If we could die for shame for our apostasy, our resulting resurrection would raise the whole world. We have been so preoccupied with reproaching the world that we have forgotten our footing—"to believe." If we only believed, the world could not contain the consequent outpouring of God's power.
Milton D. Hunnex is professor and head of the department of philosophy at Willamette University, Salem, Oregon. He received the B.A. and M.A. degrees from the University of Redlands and the Ph.D. in the Inter-collegiate Program in Graduate Studies, Claremont, California. He is author of "Philosophies and Philosophers."
Have something to add about this? See something we missed? Share your feedback here.
Our digital archives are a work in progress. Let us know if corrections need to be made.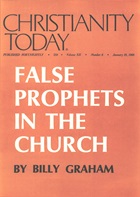 This article is from the January 19 1968 issue.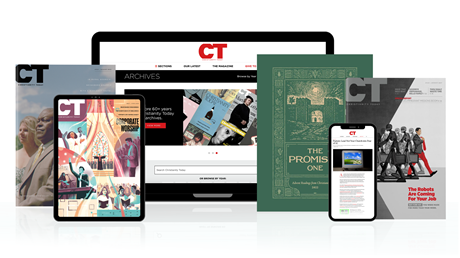 Subscribe to Christianity Today and get access to this article plus 65+ years of archives.
Home delivery of CT magazine
Complete access to articles on ChristianityToday.com
Over 120 years of magazine archives plus full access to all of CT's online archives
Subscribe Now
Are Christians Stumbling over Themselves?
Are Christians Stumbling over Themselves?