Dear Friends of Billy Graham:
It's hard to believe that Billy Graham is now pushing fifty. After twenty years of crusading as the world's best-known evangelist, he still has the lean and handsome appearance and zestful spirit that mark him as a man of perpetual youth. His dedication to Christ, faithfulness in proclaiming the biblical Gospel, love for people, and effectiveness as a communicator have resulted in his preaching in person probably to more people than any other man in history. A sampler of his thought has been compiled by Bill Adler in The Wit and Wisdom of Billy Graham (Random House, $3.95). Along with many of Billy's stimulating observations on God, man, the Church, and the world, Adler presents dozens of anecdotes that have enlivened Graham sermons. Here are condensations of a few.
♦ To stop rascals from raiding his watermelon patch, a man put up a sign: "One of these melons is poison." He got up the next morning and sure enough, no melons were missing. Everything was the same—except the sign. It now read, "Two of these melons is poison."
♦ A woman said to her minister, "This morning I stood in front of the mirror for half an hour admiring my beauty. Do you think I committed the sin of pride?" The minister replied, "No, I don't think you committed the sin of pride. It was more the sin of a faulty imagination."
♦ After reading about transmigration of souls, a man asked his wife, "Does that mean if I die I will come back to this world in a different form?" "Yes, that's what it means," she replied. Said he, "Do you believe, for example, I would come back as a worm?" She answered, "Sweetheart, you are never the same twice."
♦ A fellow told his friend, "Boy, my wife is an angel." He replied, "You're lucky; my wife is still living."
♦ "I was coming down on an elevator with some friends," said Billy, "and a man got on about the fifth floor. He said 'I hear Billy Graham is on this elevator.' One of my friends pointed in my direction and said, 'Yes, there he is.' The man looked me up and down for about thirty seconds and he said, 'My, what an anticlimax.' "
To those who know him, Billy Graham is anything but an anticlimax. And it may well be that the climax of his amazing ministry still lies ahead.
May the Lord bless you—and Billy—real good,
EUTYCHUS III
FINE NOTE
Many thanks for your "Editor's Note" in the May 24 issue. Fine!
DONALD C. STUART
Asheville, N. C.
CHURCH DEFECTORS
Mr. Jones may be relatively valid in his indictment about "the power-wielding role of the Church" ("The Church's Defection from a Divine Mission," May 24). The Church must work independently of political power.
However, to assume that some rather anemic religio-political "weapon" is responsible for the disruption in local parishes is rather naive and hypocritical. Most of the people who leave the Church do so because the Church (or at least that particular pastor and congregation) is taking seriously biblical admonitions to "seek justice," to "love your neighbor," to "welcome the stranger" (be he black or white).
RICHARD L. ERICKSON
Grace Lutheran Church
Belview, Minn.
JOY READING
I just finished reading Eutychus on "So-kagakkai" (May 24). How interesting to know of the "In" religion of California. Your man Eutychus writes so well. It is a joy to read.
MRS. E. STANLEY PEDERSON
Omaha, Neb.
With keen interest and frequent smiles, I read Eutychus and his kin. The "preface" is the best reading of all.
C. W. KIRKPATRICK
Housatonic Congregational Church
Housatonic, Mass.
POSITIVE-NEGATIVE PAINS
I cannot refrain from pointing out the unfair implications of the single sentence, "The union process began in 1957, and in 1962 only 3,933 out of 5,458 Congregational Christian churches were in the merger" ("Dissent in the Churches," May 24). The inference is that a very sizable minority acted negatively.… My study of the yearbooks shows that many of the churches which did not vote … or which voted negatively were not very active in positive support of the mission of the denomination even before.
It pains me to see certain positive aspects of CHRISTIANITY TODAY undercut by a negative response to the potentials of church union such as evidenced by your editorial.
But the slant seems quite different when applied to the National Association of Evangelicals.
CHARLES S. SANGREE
The First Congregational Church
Holliston, Mass.
N.A.E. RESPONSE
I must confess to a bit of surprise and disappointment at your report of the recent convention of the National Association of Evangelicals in Philadelphia (May 24).
From the story I get the impression of some difficulty on the part of your correspondent in understanding the perspective of the convention that its leaders would almost unanimously have described as constructively evangelical.
A bit more serious, the story puts together material covering only one aspect of the convention relating to social concern. This is understandable, since a reporter can attend only one of a dozen or more meetings running concurrently and hear the response to papers presented. Consequently, some of his statements appear out of context, convey a distorted picture of the whole, and leave the impression of a reporter's preoccupation with social activism rather than the actual picture of the convention's preoccupation with the relevancy of the Gospel.
CLYDE W. TAYLOR
General Director
National Association of Evangelicals
Washington, D. C.
APT CAPTION
How well captioned was your article "Methodist Militants Bid for Power" (May 24). The Methodist "pink fringe" has followed the well-known pattern of socialist-Communist action, with its emphasis on social concerns and ecumenical one-worldness. I see no particular merit in the bigness of a Church, when you lose your values and identity in accepting the dictates of the "militants."
ELEANOR DURR
Lakeside, Ohio
HELPING THE HELPLESS
"Nobody's Nothings" (May 10) was indeed heart-searching. I wish it could be read by all pastors and Christians. As a Christian nurse, I have experienced the joy one receives when an abused or neglected child responds to love and understanding.… Every human being wants to feel "wanted" by someone.… Mr. Rote is carrying a heavy burden. I appreciate and understand his love and concern for these helpless bits of humanity.
ESTHER FROSTAD
Bentley, Alberta
You are to be commended for publishing "Nobody's Nothings." It is easy for the Church to forget about the spiritual and other needs of the mentally retarded.
In an otherwise excellent article, however, the author has made some inaccurate statements about mental retardation.… "Mental retardation" refers only to persons whose IQ's are lower than 70. This comprises 3 per cent—not 20 per cent—of the population. Persons with IQ's between 70 and 90 are below average, but usually able to live productive and useful lives. Furthermore, the causes of this condition are not limited to brain damage and cultural deprivation. Mental retardation is often caused by inherited genetic factors and other physiological conditions. In almost all cases, mentally retarded persons canmake some improvement in response to treatment.
GARY R. COLLINS
Associate Professor of Psychology
Bethel College
St. Paul, Minn.
STUDENTS SEEKING
Congratulations for once again attacking the problems of higher education (May 10).… The nation's colleges and universities are undergoing great stress during these trying times. They are filled to capacity with students seeking truth and direction. The tragedy is that higher education, and we who are involved in it, fail miserably in guiding the student. Until we realize that only Jesus Christ can show us the truth and guide us, we will not succeed in our task.
My special congratulations to Dr. Reid for his penetrating and refreshing article pointing the way to knowledge only through our Saviour and Lord. Somehow we must become aware of the fact that we can only find "the unity of truth in Christ."
MARVIN J. PETROELJE
Chairman, Div. of Social Sciences
Northwestern College
Orange City, Iowa
I read with great interest and some despair the article by Mr. Allison on "The American Campus as a Spiritual Force" (May 10).… Mr. Allison despairs of the fact that the "American campus" is no longer a "positive spiritual force" and derides the fact that church-related students go to college to discover "answers to life's problems" and find that they get only "more questions." Yet in Allison's own words, "perhaps more than any other, this generation recognizes injustice and wants to do something about it."
This in and of itself is the strongest possible reaffirmation of the spiritual force which is upon the campus, and it is precisely here that colleges serve as a training ground for the secular church of the future. In our "post-religious" age, verbal affirmation of Christ will be displaced by concerned action in the field of recognized injustice.… Only committed action on rather unpopular fronts is a way to show positive spiritual force. In this context, the college generation is far ahead of ours.
IGOR I. SIKORSKY, JR.
Hartford, Conn.
IN PERSPECTIVE
I want to express my admiration and appreciation for the group of editorials in the May 10 issue which I consider to be of unparalleled relevance and insight. The evaluations of these key contemporary issues were profoundly placed within proper perspectives—both historical and eternal.…
I must particularly applaud your suggestion that truly concerned civil-rights leaders "would do well not to stage a useless tent-in but to organize a program for economically deprived Negroes to work together to remove the rubble and rebuild many facilities destroyed by rioters in past weeks".…
Those who clearly have the greatest need possibly render themselves the greatest harm by sitting, marching, or rioting. In fact, the nation's attention becomes focused on these disruptive elements of so-called corrective action to such an extent that the actions themselves become major social issues, further delaying progress on the basic needs and problems.
THOMAS E. MCCABE
Valley Forge, Pa.
MOVING TO UNITY
I read with great interest your reporter's account of the ecumenical stirrings within Wesleyan conservatism ("Other Wesleyan Ecumenics," May 10).…
Methinks there are thousands of anxious on-lookers who applaud the trend and pray for the day when Wesleyan factionalism shall be done with in favor of a singular, united force. Christian holiness deserves no weaker a voice than such a movement most certainly would possess. Its "future effectiveness" may indeed be at stake!
DAVID GLENN GROSSE
Chaplain, Captain, USAF
Vandenberg Air Force Base, Calif.
AS A DOG BITES
Someone has said that as every dog is entitled to one bite, so every man should be allowed one far-out theory.
If John Warwick Montgomery's "Cry-onics and Orthodoxy" (Current Religious Thought, May 10) is his only "far-out theory," he may be allowed to have it. Granted, that truly progressive evangelical theologians will develop serious theologies of cryonics, but not in the direction that he suggests.
May I say that the Bible does imply the possibility of a resuscitation of one who has been clinically and unquestionably dead (Rev. 13:3). So remarkable will be the event that the whole world will marvel.
My own serious theology of cryonics is that it is not impossible that some misguided evangelical may stumble upon the very means of resuscitating an archenemy of Christ and of God, the destroyer of the saints—the Antichrist.
WILLIAM G. LOWE
Berlin Bible Church
Narrowsburg, N. Y.
Dr. Montgomery overlooked a possible difficulty confronting the space-age voodooism of cryonics. A scientific observer of an earlier age pointed out: "There is a spirit in man, and the inspiration of the Almighty giveth them understanding" (Job 32:8). Will this spirit and inspiration congeal at the temperature of liquid helium and be revived by the glorious science of the future?
Despite the intriguing prospect of being among the first orthodox zombies, most evangelicals will opt for the kind of restoration proposed by the Apostle Paul in First Corinthians 15.
OVERTON W. BROWN
Chiapas, Mexico
AFFLUENT PROTEST
It is not possible for this minister to longer keep his silence about the misuse of the term "affluence" by all too many ministers of all denominations. "Affluence" is a respectable word. It means prosperity flowing in a fluctuating manner. However, the way this word is misused it means that every affluent person is a crook, dishonest, and downright unchristian.
This, ministers imply, certainly characterizes the thousands of church members in their parishes. They condemn affluence in their speeches, in their conventions, and in their newspapers.
We would remind them that everything in America is affluent. And of all people who should be careful of the manner he uses "affluence," it is the minister. He is a man of affluence, especially the ministers who are serving on denominational staffs. Most of them work in "affluent" buildings. They have affluent offices; in fact most of them look like they are presidents of banks or oil or steel corporations. They get affluent salaries, compared with most of their church members. They receive affluent privileges, such as part of, if not all, free tuition in schools and colleges for themselves and their children. They are so affluent that they are exempted from military service. They get affluent discounts from the department stores, special discounts from their doctors. They travel on railway trains with affluent discounts. Yet they vilify their parishioners who contribute generously to support ministers in their affluent kind of living.…
All of us Americans are affluent. We even have "affluent poverty," compared to the poverty in Haiti, India, China, Russia, and even South America.…
Some time ago someone sent me a press release which quoted an editor who declared, "The velvety affluent ought to get mugged." … Such declarations do not solve our problems. They make more of them.…
GORDON PALMER
Los Angeles, Calif.
A FEW LEFT
I find your magazine stimulating. It is an encouragement to know that there are a few evangelical magazines left on the market.
OTTO T. ZEEB
Good Shepherd Evangelical Lutheran Church
Dover, N. J.
Have something to add about this? See something we missed? Share your feedback here.
Our digital archives are a work in progress. Let us know if corrections need to be made.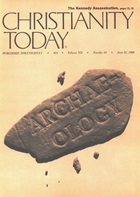 This article is from the June 21 1968 issue.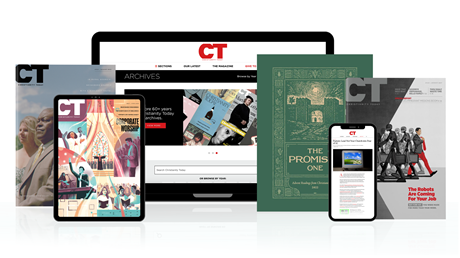 Subscribe to Christianity Today and get access to this article plus 65+ years of archives.
Home delivery of CT magazine
Complete access to articles on ChristianityToday.com
Over 120 years of magazine archives plus full access to all of CT's online archives
Subscribe Now
Eutychus and His Kin: June 21, 1968
Eutychus and His Kin: June 21, 1968