In the shadow of the nation's memorial to Abraham Lincoln, a makeshift city took shape last month. The announced resident requirement was enslavement to poverty, the announced aim emancipation by the government. Plywood-plastic shacks housed some 3,000 persons, mostly Negroes, in Resurrection City. Among them was temporary "mayor" Ralph David Abernathy, the clergyman who inherited from Dr. Martin Luther King, Jr., not only the top position in the Southern Christian Leadership Conference but also the job of administering the Poor People's Campaign in Washington (see story following).
Campaigners coming from all parts of the country leaned heavily on volunteers and donations from churches, many of which quickly made clear that aid was not necessarily endorsement.
Among evangelicals, response seemed left almost entirely to individual discretion. The National Association of Evangelicals made no official comment on the campaign. The Greater Washington Association of Evangelicals recommended prayer as well as material expression of Christian love. Some member churches donated food but did not offer facilities.
At New York Avenue Presbyterian Church, where Lincoln worshiped, one room became an SCLC information center where volunteers were directed to needs and a television reporter worked on his network's newscasts.
The National Council of Churches' Department of Social Justice moved to Washington for the campaign, bringing staff members from around the country. Its purpose was to coordinate national religious leadership and provide liaison.
Some church groups, such as the Topeka (Kansas) Church Council, dissatisfied with local coverage, sent representatives for on-the-spot reporting. Father James E. Groppi, Milwaukee civil-rights activist, accompanied a group of Midwesterners to Washington Coliseum (Resurrection City was not ready for them), where he conducted a Mass with singing and handclapping.
Reports indicated that the SCLC appealed mainly to white churches—though some officials appeared to fear that too much white suburban aid could ruin the movement. Apparently little was done to enlist Negro church aid.
During its first week in Washington, the campaign tottered uncertainly. Demonstrators who arrived before Resurrection City was completed went to overcrowded churches while other churches remained empty. More campaigners were expected than the Department of the Interior would allow on the fifteen-acre tract, and what to do about the overflow was undetermined. The SCLC issued no schedule for early demonstrations; some that were planned were canceled or postponed, and others took place with little advance notice. Even the date of the final demonstration—to which, according to some reports, ministers may be specially called—was changed from May 30 to June 19.
Resurrection City has some of the atmosphere of a rustic summer camp. Volunteers play ball with youngsters or take them on sightseeing excursions. A loudspeaker blares announcements and pages leaders. On a line between two plywood "tents," tennis shoes hang drying. A "big top" provides the community dining area, and trailers house medical facilities.
That shelters are temporary and insufficient is obvious. Plastic draped around the top and a curtain over the open front can hardly provide adequate protection against rain or the sun that in late May often beats without mercy on the capital. Furnishings are sparse at best. On some shelters, bold letters and colors proclaim "Black is beauty" and "God and his angels watch over us." Refuse burns in large containers along the "streets." Inside the main gate is a Seventh-day Adventist welfare van where residents "shop" for clothes.
KING'S SUCCESSOR
The Rev. Ralph David Abernathy was there at the beginning—December 1955. Mrs. Rosa Parks, a seamstress in Montgomery, Alabama, was tired from shopping and refused to give up her seat on the bus to a white man. She was arrested. Abernathy, pastor of First Baptist Church, got together with the Rev. Dr. Martin Luther King, Jr., of Dexter Avenue Baptist Church.
They formed the Montgomery Improvement Association, which spearheaded a 381-day Negro boycott of city buses. The drive was later vindicated by the U. S. Supreme Court ruling against bus segregation.
From the start, King overshadowed Abernathy, who was three years his elder. King called Abernathy "my closest friend," and in 1957 the two became founders of the Southern Christian Leadership Conference, to extend their civil-rights drive across the South. Abernathy was vice-president and treasurer. Two years ago King made provision for continuing the organization in case he died by naming Abernathy vice-president at large.
When King was shot, Abernathy was standing directly behind him on the Memphis motel balcony. In the chaos he knelt in prayer over the body, then rode in the ambulance to the hospital, cradling his dying friend's head in a towel.
The next day, at his first press conference as the new president of the SCLC, Abernathy vowed to continue nonviolent strategy, for King "sought redemption of man, not vengeance."
Abernathy was born in Linden, Alabama, in the state's black-belt farm area. He graduated from Alabama State College and did graduate work at Atlanta University. Before the twelve-year Montgomery pastorate, he had a church in Demopolis, Alabama. Abernathy is currently the pastor of Atlanta's West Hunter Street Baptist Church, which is located near the city's four Negro colleges.
PROTESTANT PANORAMA
The Queens Federation of Churches defeated, for the second time this year, a proposal to merge into the Protestant Council, which represents New York City's other four boroughs. A two-thirds majority of the 150 member churches is required. The Queens merger is considered a first step toward inclusion of Orthodox and Roman Catholics in a citywide council.
The necessary two-thirds of Christian Churches area organizations approved the denomination's proposed restructure. Final step for passage will be two-thirds approval at the Kansas City convention, which opens September 27.
A Church of England commission recommended that this month's assembly permit intercommunion on special occasions—but only with Methodists and Presbyterians, with whom the Anglicans are discussing merger.
PERSONALIA
Dr. Roger J. Voskuyl resigned as president of Westmont College, a Christian liberal-arts school in Santa Barbara, California. Next January 1 he will become executive director of the Council for the Advancement of Small Colleges in Washington, D. C.
The Rev. Andrew J. Young, executive vice-president of the Southern Christian Leadership Conference, was named chairman of the National Council of Churches' controversial Delta Ministry in Mississippi. He is a former pastor of Congregational Christian churches and once before worked with the NCC.
Dr. Paul D. Clasper, former American Baptist missionary to Burma, was appointed to a professorship and made academic dean at Berkeley Baptist Divinity School.
The Rev. James Roy Smith, a Methodist pastor in Arlington, Virginia, and a colonel in the Army Reserve, was chosen president of the Military Chaplains Association.
The Rev. Emmanuel L. McCall will become the first Negro to hold a staff position with a Southern Baptist agency. He will work in the Home Mission Board in Atlanta, where he has been a pastor and teacher.
Dr. John D. Godsey was appointed associate dean and professor of systematic theology at Wesley Theological Seminary.
Deaths
Newell S. Booth, 64, Methodist bishop and former missionary to Africa; in Harrisburg, Pennsylvania.
Peter Kleperis, 63, archbishop-elect of the Latvian Evangelical Lutheran Church; of a heart attack while traveling on a train in the Ukraine.
George T. Peters, 64, field representative of Concerned Presbyterians, independent lay organization in the Presbyterian Church in the U. S.; in Charleston, West Virginia.
James C. Suggs, who has been heading the public-relations agency of the Christian Churches (Disciples of Christ), has been given the newly created position of managing editor of the Disciples' official weekly, The Christian.
Prominent Roman Catholic attorney-realtor Victor Orsinger was indicted by a federal grand jury on charges of using $1.5 million in investments of the Sisters of the Divine Savior to further his own interests while he acted as the order's financial adviser. Another pending suit charges him with fraud in public sale of $16.5 million in bonds for the order and two other groups.
Latest gimmick among free-lance revivalists, reports the Minneapolis Tribune, is used by a one-eyed preacher, Ronald Coyne, 24. He tapes shut his good eye, pops out his plastic eye, then "reads" from items collected in the congregation.
French Dominican Father Damien Boulogne, 55, became the first clergyman to receive a heart transplant. He was reported in satisfactory condition two days later.
The Rev. H. Robert Cowles, former missionary to the Philippines, was elected editor of the Alliance Witness, official organ of the Christian and Missionary Alliance. He succeeds the late Dr. V. Raymond Edman.
The Rev. J. Berkley Reynolds won reversal of an ecclesiastical order that barred him from accepting a call to the pastorate of West Ellesmere United Church in suburban Toronto. The local presbytery had been upheld by the executive group of the Conference (regional) Settlement Committee in refusing approval on the grounds that the theologically conservative Reynolds might split the 1,000-member congregation. The order was overturned by the full committee after the congregation vowed to appeal to the national meeting of the United Church of Canada.
MISCELLANY
United Methodist Board of Missions, perennially short on recruits, is opening the way for appointment of Roman Catholics. Ecumenism "may need this kind of interchange," said the executive committee of the board's World Division.
Evangelist Leighton Ford returned to his home town, Chatham, Ontario, for an eight-day crusade in May. He preached to a total of 23,750 persons, including a capacity crowd of 4,100 at the closing service in Chatham Memorial Arena.
Roman Catholic clergy have formed a national federation. Among goals is a reform of canon law forbidding priests to marry.
Encounter California, said to be the biggest evangelistic effort ever undertaken by a Baptist state convention, resulted in an estimated 18,860 decisions. Local church revival meetings were supplemented by cooperative crusades in municipal auditoriums over a three-month period.
Toronto Bible College and London (Ontario) College of Bible and Missions are merging to form Ontario Bible College. The new school will be located on the Toronto campus. Dr. S. L. Boehmer, president of Toronto Bible College, will be president.
Western Baptist Bible College in El Cerrito, California, last month became the first school of the General Association of Regular Baptists to win regional accreditation.
Mrs. Martin Luther King, Jr., turned down an offer of the Washington, D. C., Cathedral (Episcopal) as the permanent burial site for her husband, who delivered his last Sunday sermon there before his murder.
Philosophy Professor W. Robert Smith of Bethel College, St. Paul, has a hunch that the Viet Cong murdered missionary C. Edward Thompson because "he knew too much" and talked about it. Among other things, Thompson believed "Cambodia is involved in the war to the hilt," Smith said.
For the first time since 1957, circulation of the semi-monthly Presbyterian Life, leading Protestant house organ, dropped below one million (to 993,605 as of February 15). Denominational subsidy for 1967 soared to $489,094, largest in the twenty years of publishing.
The Christian Broadcasting Network was awarded television Channel 46 in Atlanta. CBN President Pat Robertson said he hopes to air programs by the end of the year. The network has been operating a television channel and an FM station in Tidewater Virginia. A new AM station is being purchased in Bogota, Colombia.
The New Hampshire Supreme Court ruled that the opening of town meetings with prayer is constitutional.
THEY SAY
"I was a sinner when I went into that mine, but I came out a Christian."—Joseph Fitzwater, one of six survivors rescued after ten days of entombment in a West Virginia coal mine.
Have something to add about this? See something we missed? Share your feedback here.
Our digital archives are a work in progress. Let us know if corrections need to be made.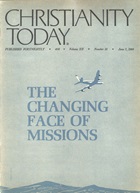 This article is from the June 7 1968 issue.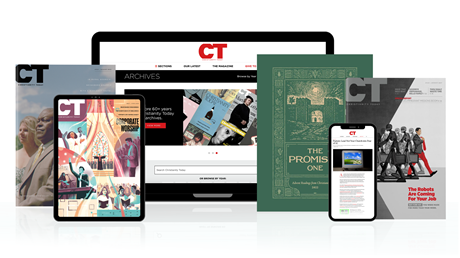 Annual & Monthly subscriptions available.
Print & Digital Issues of CT magazine
Complete access to every article on ChristianityToday.com
Unlimited access to 65+ years of CT's online archives
Member-only special issues
Subscribe
Poor People's Campaign Enlists Clergy Aid
Poor People's Campaign Enlists Clergy Aid