A gowned, draped figure lay on an anesthetic cart awaiting transportation to the operating room. Some gauche zealot had placed on his chest a tract: "Are You Prepared to Die?" The minister who goes to a home or a hospital to see a dying person must be far wiser and more sensitive than that. He goes as an ambassador of the Risen Christ to give comfort, to pray, to empathize, to make known the promises of God.
Conduct. This is no time for the ecclesiastical smile, for Dale Carnegie ebullience or Charles Atlas salubriousness; nor is it the time for a countenance of gloom or for the insincere playing of games. Between the minister and the dying patient there must be authenticity. Masks and roles must be swept away.
A dying person is enervated, fatigued, often in pain and nauseated, without appetite for food or entertainment. He is psychologically and physically incapable of listening to talk about the case histories of others, the pastor's latest golf score, community tragedies, or the world situation. This is the time to make every moment count, for drugs, disease, and impending death reduce the patient's span and energy supply.
Communication. The minister should sit or stand near the bed in the place where the patient can most easily see and hear him. Although the patient's vision may be blurred, the reassurance of seeing the emissary of God, even fuzzily, is very valuable in these last hours of his life.
The senses of touch and sound are important also. In recent years medical publications have stressed to physicians the value of touching the geriatric patient. From the pastor, too, the patient may appreciate the tactile expression of concern, particularly during prayer. This may well prove a means of spiritual communication. Christ used the laying on of hands in healing (Mark 5:23; 7:32) and in benediction (Mark 10:16; Luke 24:50). This practice, made part of life of the Church, was used in both healing and blessing (Acts 9:17). From it sprang the apostolic rite of transmission of the Holy Spirit. What wholesome expressions of loving concern, tenderness, and oneness in faith can be embodied in this simple act.
The clergyman should speak clearly and loudly enough to be easily heard. He can do this without sounding pontifical or disturbing nearby patients. And he should never conclude that his words, his prayers, or his Scripture readings fail to reach through the seemingly impenetrable mist of unconsciousness. That a patient is unable to respond does not necessarily mean that he is not conscious of what is being said and done. And, of course, any dismal comments on the patient's condition must be reserved for the hospital corridor. The dying patient may fully comprehend any unguarded comment, such as that of a crass and careless intern, "He's had it! Don't forget to ask for an autopsy."
When a relative, a minister, or a physician places a finger in the hand of the semi-comatose person and asks him to squeeze it, there will usually be a response, indicating the patient's ability to hear and comprehend. Even when his clinical profile indicates that he is definitely unconscious, there is still the possibility of perception. Often hearing is the last of the senses to go. On the assumption that the patient can hear his voice and the promises of God, the pastor must continue his ministry. Who can know how many dying souls have at that point silently cried: "God be merciful to me, a sinner!"
Content. The clergyman should, at first, let the conversation flow where it naturally goes. The patient may only wish to listen to the promises of God. Or he may long to repent, to express his worries or fears. He may ask searching questions about the meaning of it all. Or he may wish to confess. The prudent minister is a superb listener. At some point, however, he may feel he should pose thoughtful questions that will encourage the patient to express any concerns he is feeling.
After this the pastor may read passages of Scripture, not the morbid "ashes to ashes, dust to dust" variety but loving messages from the One who is all love and forgiveness. "The LORD is my light and salvation; whom shall I fear? The LORD is the stronghold of my life; of whom shall I be afraid?" (Ps. 27:1) As a final gesture before leaving, he may grasp the patient's hand or lay his hand upon his head as he prays. This prayer should be simply phrased and rich in the message of hope, of repentance, of reconciliation, and of redemption.
Charismata. Ministering to the fatally ill is probably the most challenging of all pastoral functions. Any man who enters a room of death without prayerful preparation is in dereliction of his spiritual calling. As Christians we are undergirded by the assurance that God "comforts us in all our affliction, so that we may be able to comfort those who are in any affliction …" (2 Cor. 1:4). We are promised the gift of speaking the word of wisdom (1 Cor. 12:8), to enable us to receive and explain the deep things of God. Much is mysterious in God's dealings with men, and the unenlightened Christian is often in need of a particular word that will throw light on the human dilemma. How profoundly the pastor needs compassion, concern, sensitivity, empathy, and, yes, special charismatic gifts to help him lovingly transmit to a dying man God's promise that he can share Christ's risen life.
Christ. The ambassador of God enters the sick room to proclaim and uphold Christ. His effectiveness rests on spiritual and technical depths. Has he lived Christ, exalted Christ, proclaimed Christ, served Christ, radiated Christ? All the diabolical forces of disease, degeneration, and death cannot overcome the dynamic of such a life, for it communicates the power of the One who said, "I am the resurrection and the life; he who believes in me, though he die, yet shall he live."
—A. D. DENNISON, JR., M.D., Indianapolis, Indiana.
Have something to add about this? See something we missed? Share your feedback here.
Our digital archives are a work in progress. Let us know if corrections need to be made.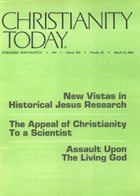 This article is from the March 15 1968 issue.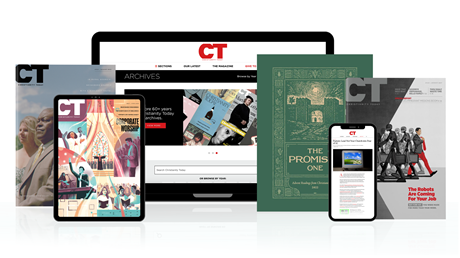 Annual & Monthly subscriptions available.
Print & Digital Issues of CT magazine
Complete access to every article on ChristianityToday.com
Unlimited access to 65+ years of CT's online archives
Member-only special issues
Subscribe
The Minister's Workshop: Counseling the Dying
The Minister's Workshop: Counseling the Dying