Much is being written and said these days about the Church in mission and about what God expects of believers as they confront such problems as poverty and racism. Many Christians, hardened by their own affluence, pressed by busy schedules, and even insulated by church programs, drift into a state of indifference or at least inaction in regard to these pressing problems. This has produced a credibility gap between the Gospel of compassion they profess and its application in life. There is a social dimension to the Gospel that no Christian dare ignore, and God wills that the Church, which is Christ's body on earth today, show the same compassion and concern for the human predicament that characterized Christ's own ministry.
But God expects more of the Church than social action. As part of Christ's body every member has a function, though not all parts have the same function. All must face up to one clear expectation that the Apostle Paul sums up in First Thessalonians 4:3: "This is the will of God, that you should be holy" (NEB). The King James Version uses the word "sanctification."
"Sanctification" is a term that has fallen into disuse in the contemporary Church. The Hebrew word in the Old Testament is qadosh, which conveys the idea of otherness or separateness and was used to describe the holiness of such things as the Ark of the Covenant, the vessels of the Temple, the sabbath, priestly garments, and sacred feasts. Generally speaking it was applied to externals. A broader meaning could be implied in Psalm 96, however: "Worship the LORD in the beauty of holiness." The expression "beauty of holiness" may refer to inward character rather than external trappings. If it does, the psalmist here anticipates the New Testament emphasis.
In the New Testament the word translated sanctification is derived from the Greek hagios, which also means otherness or separateness. The basic difference from the Old Testament usage is that in the New Testament the term is applied to men rather than things. Christians are called saints or hagioi, and Paul makes a point of telling the Corinthians, "Your body is the temple of the Holy Spirit which is in you" (1 Cor. 6:19). In the Old Testament, sacrifice was made to God by the offering of external gifts in the sanctified ritual of the temple; but Paul told the Romans that Christians must sacrifice, not by offering things, but by giving themselves. "I beseech you therefore, brethren, by the mercies of God, that ye present your bodies a living sacrifice, holy, acceptable unto God, which is your reasonable service" (Rom. 12:1).
Sanctification, then, has to do with personal holiness. To be sanctified is to be set apart and dedicated to Christ. It is to long for and appropriate to oneself the righteousness of Christ. It is to become a holy vessel fit for his service (2 Tim. 2:21). Sanctification is rooted in the character of God and is made possible for men by the sacrifice of Christ (Eph. 5:26). It is essential to the Christian life, for without holiness we can neither please God nor fulfill his will.
But holiness must not be thought of as the caricature common among many Christians who emphasize sanctification. It does involve otherness or separation unto Christ, but it is neither irrelevant otherworldliness nor a narrow, negative legalism. Withdrawal from the world is not necessarily evidence of holiness; it may only indicate neuroticism. Nor are we holy because we refrain from certain practices—though we may refrain from some things because we are holy. Jesus never feared contamination by the world. He was completely set apart to do his Father's will, but he associated with sinners and drew the fire of the Pharisees for doing so. After all, they said, a holy man would have no dealings with sinners. The holiness of the Pharisees was external. Christ likened them to "whited sepulchres, which indeed appear beautiful outward, but are within full of dead men's bones, and of all uncleanness" (Matt. 23:27). The holiness of Christ emphasizes not only the deed but the thought; not only the action but the motive; not only the package but its contents. The holiness God wills for us is principle put into action, faith at work, and love of Christ expressed in daily conduct.
God's expectation of holiness among his children disturbs many Christians. When they see the contrast between his righteousness and their own imperfection, they wonder how they can ever hope to fulfill his will. Their plight is like that of Charlie Brown in the comic strip "Peanuts," to whom Lucy says: "Discouraged again, eh, Charlie Brown? You know what your trouble is? The whole trouble with you is that you're you!" Charlie Brown replies, "Well, what in the world can I do about that?" And Lucy's answer is, "I don't pretend to be able to give advice.… I merely point out the trouble!" Sanctification seems beyond the reach of many, an impossible dream, because they are themselves.
But Paul not only points out the trouble with men and reveals that God wants them to be holy; he also declares that believers are holy already by virtue of their faith in Christ. To the Corinthians he said, "but ye are washed, but ye are sanctified, but ye are justified in the name of the Lord Jesus, and by the Spirit of our God" (1 Cor. 6:11). His letters are usually addressed to the church in a particular place and then the phrase is added, "called to be saints." But the verb "to be" is not present in the Greek; this implies that a Christian is in fact already a saint or a holy person. In Hebrews we read of God's will in the death of Christ and then are told, "We are sanctified through the offering of the body of Jesus Christ once for all.… For by one offering he hath perfected for ever them that are sanctified" (Heb. 10:10, 14).
Sanctification accompanies salvation. If we are saved, we are sanctified. We may not feel or look different, but we are different. The fact comes first, the feeling follows. Mark Twain wrote about a slave who lived in Missouri on a narrow neck of land that jutted out into the Mississippi River. The current ran very swiftly at that point and gradually cut through the neck of land. One night it completely severed it. According to the law, as soon as the land was cut free from Missouri it became part of Illinois. Hence this man who had gone to bed in Missouri awakened in Illinois. But best of all he went to bed a slave and awakened a free man, for Illinois was a free state. This is what God does for us in Christ. We come to him defiled and unclean, but when we claim his salvation we are "made the righteousness of God in him" (2 Cor. 5:21).
God's will for the believer, then, is not so much that he be sanctified as that he live out the sanctification he already has as a result of salvation. When Paul tells us that God wills our sanctification, he means that God wants us to appropriate the gift he has already given. The Westminster Shorter Catechism defines sanctification as "the work of God's free grace, whereby we are renewed in the whole man after the image of God, and are enabled more and more to die unto sin, and live unto righteousness."
It is with the latter part of this definition that we are concerned when we say that God wills that we be sanctified. He wills that we "more and more … die unto sin, and live unto righteousness." This is similar to Paul's charge to the Philippians: "work out your own salvation with fear and trembling: for it is God which worketh in you …" (Phil. 2:12, 13). If we are saved, we must work our salvation out in life—we must live it! As a musician must express the music within him, and an author express his thoughts in writing, so the Christian must express his salvation in life. This is what sanctification is all about. We grow into the likeness of Christ. We progress in sanctification, not toward it.
The secret of progress is our relationship to Christ. What we cannot do ourselves, we can do through his strength at work in us. There is nothing we cannot do through the strength he supplies. As Paul said, "I can do all things through Christ which strengtheneth me" (Phil. 4:13). But we must claim the strength. We must present our bodies as living sacrifices and make our life a series of surrenders to him. In the Mammoth Cave in Kentucky near what is called the pulpit rock, there used to be a sign, "Keep close to guide." That is the secret for Christians who would become like Christ. Paul told the Corinthians, "Bad company ruins good morals" (1 Cor. 15:33, RSV), but the opposite is also true, and it is the crux of sanctification. If we keep company with Christ, we will become like him.
Holiness of life is not ascetic withdrawal from reality. It is practical goodness. It is the necessary corollary of saving faith, for as Paul asked the Corinthians, "What fellowship hath righteousness with unrighteousness? what communion hath light with darkness?" (2 Cor. 6:14).
The Church today needs to understand that the world will not take notice of buildings and budgets, plans and programs. It will be challenged by Christlike lives. It does not need institutionalism; it needs Christ. Christians must remember their calling: "You are a chosen race, a royal priesthood, a holy nation, God's own people, that you may declare the wonderful deeds of him who has called you out of darkness into his marvelous light" (1 Pet. 2:9, RSV). This is God's will for each of us.
Have something to add about this? See something we missed? Share your feedback here.
Our digital archives are a work in progress. Let us know if corrections need to be made.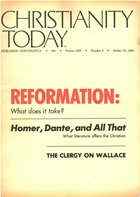 This article is from the October 25 1968 issue.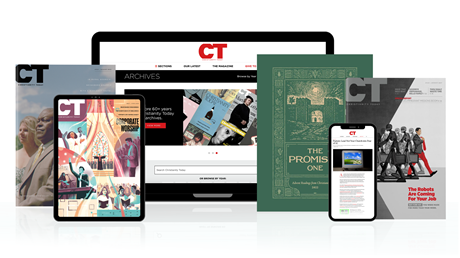 Annual & Monthly subscriptions available.
Print & Digital Issues of CT magazine
Complete access to every article on ChristianityToday.com
Unlimited access to 65+ years of CT's online archives
Member-only special issues
Subscribe
God's Will for the Church
God's Will for the Church