There is a famous bookstore in Washington, D.C., that I visit frequently. Almost daily new books are on display. Many have eye-catching jackets, and often the publisher's blurb gives the impression that anyone who does not read this book will suffer from ignorance about earth-changing personalities or events.
Unquestionably many of these books are interesting, instructive, or thought-provoking. Others portray moral filth in attractive and sophisticated ways. But one ventures the conviction that in all of the tens of thousands of books available—good or bad—there is not one single volume that is of eternal significance to its readers—except the Bible.
Despite all our advantages, we as a people suffer from the greatest of all deficiencies—spiritual starvation—because of our ignorance of the Bible. Let's think for a moment about this Book that is so available and so neglected.
The Bible is certainly the only book in all the world that comes with the seal of divine authority resting upon it. In its pages God speaks to man so that he sees himself as God sees him, and sees time and eternity in their proper perspective. Every spiritual awakening has been accompanied by a turning to the Scriptures for instruction and light on the daily path.
The Bible is a book of many facets, and the ways in which its teachings can be brought to bear upon our lives are limitless. As a physician, I often see medical analogies in its pages and have often noted that in a very real sense the Scriptures are like a spiritual X-ray. We read in Hebrews 4:13: "Before him no creature is hidden, but all are open and laid bare to the eyes of him with whom we have to do."
Some years ago a woman walked into my office, limping and complaining of increasing pain in her foot. One look through the fluoroscope showed me that a sewing needle was imbedded in the sole of her foot. Removal was easy, and before long the pain was relieved and the patient cured.
The world—even some church members—goes limping along with personal and social problems unresolved because God has not been permitted to speak through his Word, diagnose the disease and offer a cure. Many true Christians are miserable, at outs with themselves and others. They long for the peace and joy that should be theirs in Christ but never permit the searching light of God's truth to enter their hearts and reveal the sickness there.
The Bible may also be likened to a mirror in which we see ourselves as we really are. Many are unwilling to look into it because of their fear of what they may see.
Years ago a Confucian scholar was brought into our missionary hospital with a broken hip. During the weeks he was with us he was given a Bible to read, and the night before he was dismissed he gave a feast for the staff. With typical Oriental courtesy he expressed appreciation for the care given him. Then he continued, "When I came to this hospital I thought I was a good man. I had tried to lead an honorable life and had done a great deal for the poor. But after reading the Bible, I saw myself as I really was, and I saw too that God had made provision for a sinner like me in the death of his Son on the Cross. I am leaving this hospital believing in Christ as my Saviour."
We also find that the Bible is at times truly like a sword—"the Sword of the Spirit." As such it pierces the respectability that we put on as a cloak. It goes to the heart of the matter to discern "the thoughts and intentions of the heart." Only this morning I was reading a portion of Scripture that exposed a secret sin in my heart.
At the core of the Holy Scriptures is found Jesus Christ, the Son of God. To him both the Old and the New Testament bear witness. Paul indicated this in writing to his spiritual son Timothy: "But as for you, continue in what you have learned and have firmly believed, knowing from whom you learned it and how from childhood you have been acquainted with the sacred writings which are able to instruct you for salvation through faith in Christ Jesus" (2 Tim. 3:15).
We tend to look for Christ only in the New Testament, but the risen Christ himself said to his disciples, "These are my words which I spoke to you, while I was still with you, that everything written about me in the law of Moses and the prophets and the psalms must be fulfilled" (Luke 24:44).
To divest Christ of his supernatural and miraculous nature, work, and power is to talk of a Christ who never existed. To accept him as he is means a transformed life and destiny.
The Apostle Paul makes a bold assertion (and experience shows the folly of denying its truth) that all Scripture is inspired by God. Because of this it is profitable:
First, for teaching. The world searches for knowledge, but the Bible gives true wisdom. Lacking the insights afforded by this wisdom, man gropes in the darkness of human speculation. Secular education leads to knowledge about many things, but true wisdom and understanding are found only in the divine revelation. It is hard for the academic world to accept the fact that "the fear of the Lord is the beginning of wisdom." Far easier to deny or ignore him!
The Bible is also profitable for reproof. The world is suffering from sin, and sin must be reproved. Men are going in the wrong direction and need to be told of that fact. Permissiveness in matters of eternal import is folly. The Bible calls sin sin.
In addition to teaching and reproving, the Bible has power to correct. It shows the difference between good and evil, between right and wrong. As glasses correct vision or a cast corrects a bone weakness, the Bible speaks clearly and frankly about what God requires of man and tells of his provision to that end.
The Bible trains in righteousness, makes the Christian complete, and equips him for every good work.
Finally, the Bible is the only book that authoritatively speaks of the past, the present, and the future. In its pages are to be found the answers to the problems and pressures of life.
Little wonder that Satan hates God's Word! From the beginning he has asked with a sneer, "Did God say?" He fears the Bible because it is the Sword of the Spirit" against which he cannot stand. His greatest victory today is among those in whom he has planted a seed of doubt, by frank denial or by insinuation, in classrooms, in books, and in the pulpit itself.
God's words through Jeremiah speak to us today: "The wise men shall be put to shame, they shall be dismayed and taken: lo, they have rejected the word of the LORD, and what wisdom is in them?" (Jer. 8:9).
But to the believer he also speaks: "For ever, O LORD, thy word is firmly fixed in the heavens." "The unfolding of thy words gives light; it imparts understanding to the simple (Ps. 119:89, 130).
May our response be: "I rejoice at thy word like one who finds great spoil" (Ps. 119:162).
It's worth trying, because it works!
L. NELSON BELL
Have something to add about this? See something we missed? Share your feedback here.
Our digital archives are a work in progress. Let us know if corrections need to be made.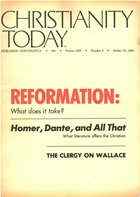 This article is from the October 25 1968 issue.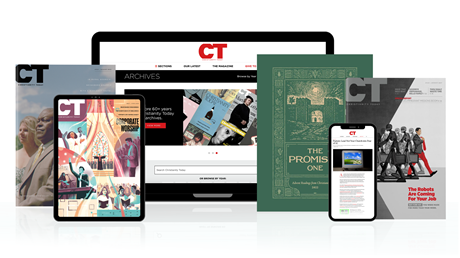 Subscribe to Christianity Today and get access to this article plus 65+ years of archives.
Home delivery of CT magazine
Complete access to articles on ChristianityToday.com
Over 120 years of magazine archives plus full access to all of CT's online archives
Subscribe Now
The Unique Book
The Unique Book