An unprecedented symposium of thirty evangelical scholars the last four days of August decided birth control—"artificial" and otherwise—is neither forbidden nor sinful. Though scheduled long ago, the meeting came on the heels of Pope Paul's decree against artificial methods and in the midst of continuing Catholic ferment on the issue (see story below).
The Symposium on the Control of Human Reproduction, co-sponsored by CHRISTIANITY TODAY and the Christian Medical Society, did not rule out sterilization on principle, but urged caution because this means of birth control "is usually irreversible."
The scholars agreed that some therapeutic abortions are necessary, though some insisted nevertheless that all abortions are sinful. The group generally endorsed abortion guidelines approved in May by the American College of Obstetricians and Gynecologists. But it said abortion is a last resort, should not be a general means of population control, and should be permitted in individual cases only after careful consideration. Indiana University sociologist John Scanzoni had argued in one of twenty-two papers presented at the symposium that abortion should be a means of general birth control.
Stomping Out Catholic Dissent
The running battle over Pope Paul's birth-control encyclical raged about Patrick Cardinal O'Boyle, archbishop of Washington, D. C., this month as he tried to stomp out rampant dissent among his priests.
Acting on three fronts, O'Boyle emerged among the world's Catholic bishops as one of the few to take an absolutist position against those who cannot accept Paul's continued ban on artificial birth control.
The 71-year-old prelate:
• Called a board meeting at Catholic University to seek action against eighteen CU theologians who have spearheaded national criticism of the encyclical. In a compromise move, trustees ordered an inquiry into whether the theologians had violated their responsibilities to the university by their public dissent.
• Fired the Rev. T. Joseph O'Donoghue, an assistant parish priest and a leading proponent of married couples' right of individual conscience regarding the use of contraceptives. He is believed to be the first U. S. priest removed for criticism of the encyclical.
• Threatened to fire about fifty more parish priests, all O'Donoghue supporters, unless they recant. They said they would not back down, but O'Boyle gave them until September 14 to send him individual statements of position on birth control. Days before the deadline, executives of the federation of 120 local priests' associations and senates urged O'Boyle to recognize due process, reconsider the O'Donoghue suspension, and name an impartial panel to decide the case. Many members of O'Donoghue's parish also issued an appeal.
While the board's decision avoided a crisis, Catholic University promises to be a hot point in the controversy. Its dissenting professors are led by the Rev. Charles A. Curran, a moral theologian whose firing from the university last year led to student-faculty protests that closed down the school for six days, until Curran was rehired.
Looming over the situation is O'Boyle, who stated flatly that if a priest could not follow the Pope's teaching, "he ought to be his own pope and get himself a church." But O'Donoghue challenged O'Boyle to call a meeting with West German and Belgian cardinals who have upheld the encyclical but also honored the rights of individual consciences on the matter. O'Donoghue asked if birth control was "virtuous in Europe but sinful in America?"
Many theologians predicted the controversy would lead to a reinterpretation of papal authority in the church.
Rumblings of dissatisfaction continued to be heard around the country. Seven of eighteen faculty members at the major seminary of the Buffalo (New York) diocese were transferred because of their dissent. And a Los Angeles priest, Father Russell Karl, claimed that he was relieved of his priestly duties by James Francis Cardinal McIntyre because he disagreed with the encyclical and the church policy of priestly celibacy.
BARBARA H. KUEHN
The symposium, held at a beachfront resort in Portsmouth, New Hampshire, assembled evangelicals from medicine and psychiatry, with seven theologians and three sociologists. The legal framework for discussions was provided by former Supreme Court Justice Tom Clark, who spoke on "The Law as It Governs Decisions Today," and Thomas E. Lambert, Jr., editor of the journal of the American Trial Lawyers Association, who gave a brilliant address on legal rights of the fetus.
Discussions were chaired by the Rev. Dr. Harold John Ockenga, minister of Boston's Park Street Church, and the Rev. Dr. Harold Lindsell, new editor of CHRISTIANITY TODAY. Representatives of the CMS included Dr. Walter O. Spitzer, general director, and Carlyle L. Saylor, arrangements chairman.
In contrast to the Pope's encyclical, the evangelicals' 1,000-word declaration says that "each man is ultimately responsible before God for his own actions, and he cannot relinquish this responsibility to others." Where the Bible is unclear, it says, Christians can not speak with "binding authority," and those seeking to follow Scripture may reach different conclusions.
Birth-control decisions may be based on such factors as psychological debility, family size, and finances, the declaration says. As for the various methods, the evangelicals said this is not a religious issue but a scientific one, to be determined in consultation with a physician.
The declaration begins with a strong affirmation of the holiness of sex that implicitly rejects negative views that have characterized some conservative Protestants, as well as early Church Fathers. It says that "coitus was intended by God to include the dual purposes of companionship and fulfillment, as well as procreation." Although the Bible sees procreation as one purpose of marriage, the statement says, God also intended sexual intercourse to be enjoyed even when procreation is impossible. "Therefore procreation need not be the immediate intention of husband and wife in the sex act, which may be simply the expression of love and of a desire for the mutual fulfillment of normal human needs."
The evangelical statement opposes situation ethics and condemns intercourse outside marriage.
On abortion, the scholars concluded that:
1. The fetus is "an actual, or at the least, a potential developing human life," and therefore regard for the "value and sacredness of human life" requires "great caution" in prescribing an abortion.
2. Induced abortion should be used "only to safeguard greater values sanctioned by Scripture," either "individual, familial, or societal."
3. From the moment of birth the infant is a human being, with all the rights required by the Bible, and "infanticide under any name should be condemned."
The Rev. Dr. Bruce K. Waltke of Dallas Theological Seminary, argued that no Bible text forbids therapeutic abortion, and that under Old Testament law the fetus was not regarded as a soul, for the death penalty was not imposed for destroying a fetus (as in Exodus 21:22–24).
MISCELLANY
The head of the International Rescue Committee said church and other refugee agencies in Western Europe are preparing to deal with the estimated 100,000 touring citizens who may decide not to return to Czechoslovakia.
Time says one of Czechoslovakia's last uncensored radio programs was a forty-five-minute reading on Fifteenth-century Reformer Jan Huss, who was betrayed while traveling on a safe-conduct pass. The script said that under torture Huss refused to deny "his truth" and went to the stake saying, "Jesus, our Saviour, have mercy on me and my country."
Charging "irresponsible administration" of the freewheeling Catholic Liturgical Conference (see September 13 issue, page 50), five board members resigned, including a bishop and the head of Helicon Press.
North Viet Nam is making propaganda capital out of U. S. bombing of the Roman Catholic Cathedral in Vinh.
The Harris Poll says 78 per cent of Americans think the U.S. Supreme Court was wrong to ban public-school prayers.
Colorado reports more than half the 338 legal abortions performed in the first fourteen months under a new liberal law were for "mental health" reasons. Some 100 have been done on out-of-staters.
PROTESTANT PANORAMA
The 100 top state and national executives of the United Church of Christ said they would schedule no more meetings in Chicago until the right of assembly is guaranteed, and hoped this protest against police actions during the Democratic convention would be joined by other church groups. The Chicago-based home mission staffers of the Lutheran Church in America protested "undue harshness."
In and around its protests over "brutality" by Chicago police during the Democratic National Convention, the United Church of Christ announced officially at a conference in nearby South Bend, Indiana, that since February it has cooperated in Christian-education planning with the United Presbyterian and Episcopal Churches.
After two years of talks, the three major U. S. Lutheran denominations announced a joint pre-service training program for their missionaries.
The United Methodist Church has half as many pre-ministerial students in its colleges and universities as it had in 1960.
Methodist women's societies last year contributed a record $14.3 million to missions and related causes.
The new Southern Baptist TV cartoon series "JOT" is drawing more than 1,000 fan letters daily. Newsweek calls it "the first genuinely entertaining—and effective—use of television for preaching morality to pre-teen children."
BACK TO SCHOOL
For the first time, Louisville public schools are providing teachers for all science classes at a Catholic high school. The Catholic school has no control over course content or teachers assigned.
Ohio Valley College (Churches of Christ) in West Virginia is raising $76,000 to pay back a federal construction grant because the government would not allow chapels or Bible classes in the building.
Three years ago Shelton College, Cape May, New Jersey, lost its president, dean, and half the faculty. Since then President Carl McIntire has gone through one more dean and two administrative assistants. Only a dozen students graduated in June and local bus ads say the school is "open to all." But the college said it expects more than 200 students at this month's registration.
Deaths
ARTHUR LICHTENBERGER, 68, presiding bishop of the Protestant Episcopal Church 1958–64; in Bethel, Vermont.
JOHN GORDON MEIN, 54, U. S. ambassador to Guatemala and son of Southern Baptist missionaries to Brazil; machine-gunned on a Guatemala City street by terrorists.
Concordia Seminary (Missouri Synod Lutheran) in St. Louis set up a course-sharing plan with Catholic St. Louis University's seminary. The Episcopal Theological School in Cambridge, Massachusetts, is sharing its campus facilities with the Jesuits' Weston College School of Theology.
PERSONALIA
The Rev. Clifford H. Brewton resigned his $9,000-a-year job as speechwriter for Georgia Governor Lester Maddox to take the pulpit of First Christian Church, Hampton, Georgia, but will continue as head of the governor's tobacco-alcohol commission. Brewton previously had led his Savannah congregation out of the Presbyterian Church in the U. S.
The Rev. Hosea Williams of the Southern Christian Leadership Conference began a third-party race for a Georgia state House seat.
The first Negro teacher at Oklahoma Baptist University is a former community-action director, Walter O. Mason, Jr. He will direct the school's Upward Bound program.
Seventh-day Adventist Paul Arct, fired from a postal job in Laguna Beach, California, because he wouldn't work Saturdays, was reinstated.
Americans United is appealing to the U. S. Supreme Court the littering conviction of Baptist pastor Vernon C. Lyons for handing out copies of the Book of Acts in a Chicago parking lot.
The Family of Man dinner, which raises money for New York City's Protestant Council, will give its award next month to John D. Rockefeller III, chairman of the Rockefeller Foundation.
Executive Secretary William H. Rhoades of the sometimes criticized home-mission office of the American Baptist Convention is retiring next April 1.
The Rev. Abel Muzorewa, 43, was elected to four years as bishop of the 28,000 Methodists in Rhodesia, succeeding retiring missionary Bishop Ralph E. Dodge, 61, who was elected a bishop for life.
John Cogley, former New York Times religion editor and Catholic lay theologian, abandoned his weekly column in protest against support for the Pope's birth-control decree by the diocesan weeklies that carried the column.
Have something to add about this? See something we missed? Share your feedback here.
Our digital archives are a work in progress. Let us know if corrections need to be made.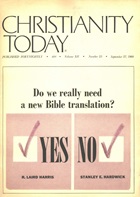 This article is from the September 27 1968 issue.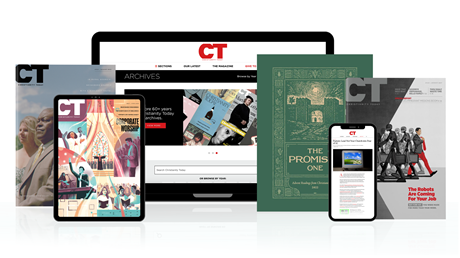 Subscribe to Christianity Today and get access to this article plus 65+ years of archives.
Home delivery of CT magazine
Complete access to articles on ChristianityToday.com
Over 120 years of magazine archives plus full access to all of CT's online archives
Subscribe Now
Evangelical Scholars Endorse Birth Control
Evangelical Scholars Endorse Birth Control