Nothing reflects confusion more than a flock of sheep without a shepherd. Beset by barking dogs, frustrated by one another and by the natural obstacles around them, leaderless sheep will mill about in a frenzy of indecision, unable to cope with the problems that confront them.
That the world of men is in a like state of confusion is seen in even the most casual reading of any newspaper. The problems are economic, racial, political, and social. They are also educational, emotional, and—above all—spiritual.
Each geographical area has its own problems, with resulting alignments and counter-alignments that jeopardize local and world peace.
For the world's confusion, as for each man's confusion, there has been committed to the church and to individual Christians a simple and direct answer. This answer, which can be either accepted or rejected, forms the very watershed of life now and for all eternity.
Jesus was constantly confronted by religious leaders who rejected his claims and disputed his words. On one occasion he made a series of statements about man's deepest needs. He said, "I am the bread of life; he who comes to me shall not hunger, and he who believes in me shall never thirst" (John 6:35). He went on to say that there will be a "last day" when those who believe in him and therefore have eternal life will be raised up to be with him.
Christ's claim to have come down from heaven was challenged, and he countered by asserting the centrality of his mission—to draw men to his Father. This he followed with the astounding affirmation that his own flesh was the bread from heaven: "Unless you eat the flesh of the Son of man and drink his blood, you have no life in you; he who eats my flesh and drinks my blood has eternal life, and I will raise him up at the last day" (John 6:53, 54).
Throughout this discourse Christ spoke as God's supreme gift to man and man's only hope. The condition for man was to "believe"; the rest was an unfolding of God's love, grace, and mercy.
The result? Many of those who had been following him said, "This is a hard saying; who can listen to it?" Jesus replied, 'Do you take offense at this? Then what if you were to see the Son of man ascending where he was before? It is the spirit that gives life, the flesh is of no avail; the words that I have spoken to you are spirit and life."
This was too much. "After this many of his disciples drew back and no longer went about with him."
This same state of affairs prevails in the world today. Men have rejected the divine revelation in God's creative power and wisdom. They have rejected his revelation in the person of his Son. They have rejected the revelation given in his Written Word. The results: confusion and chaos.
At this point in the story our Lord turned to the twelve he had chosen as apostles: "Will you also go away?" he asked. Simon Peter—bless his impulsive heart!—replied: "Lord, to whom shall we go? You have the words of eternal life; and we have believed, and have come to know, that you are the Holy One of God."
Confronted as we are by a world in chaos and confusion; daily encountering people who, bruised by the world and living in spiritual darkness, are as sheep without a shepherd, what shall we do?
So often we, as individual Christians and as a corporate Church, fail in our obligations to others. Our failure is a tragic reminder of our need for constant renewal in Christ.
Jesus repeatedly healed the sick. On occasion he fed the hungry. There was never any question about his love and compassion. But as one reads the total record, this stands out: he came into the world not so much to preach the Gospel but so that there might be a Gospel to preach.
These deep truths he uttered about the bread and drink of life had to do with eternal life. He was speaking of the spiritual implications of his death and resurrection, and the majority of his hearers rejected his message and went their own way.
Men are no wiser today. Even in the circles of religion," many reject the clear affirmation of Jesus Christ in favor of doctrines more acceptable to human reason and philosophical presuppositions. And because they offer a lost and desperately confused world the stones of worldly wisdom and human speculation, the confusion is increased.
The Pharisees were "blind leaders of the blind" in their day, and they have their counterparts today in those whose wooden interpretations reject the spirit of Christ's message, and in those who reject the deep spiritual truths of man's lost condition and his need of redemption.
Our Lord's attitude to the Pharisees was one of ruthless denunciation for their legalism and hypocrisy. With equal forcefulness he showed the folly of the Sadducees: "You are wrong, because you know neither the scriptures nor the power of God" (Matt. 22:29).
Called to bear clear witness to a confused and lost world, we only too often add to the confusion by interposing our own opinions rather than the simple Gospel of redemption in the person and work of Jesus Christ. Little wonder that the world has turned from the Church! Little wonder the Church has lost its influence! Little wonder that we individual Christians find ourselves powerless!
Too many of us know neither the Scriptures nor the power of God. We are compromising our witness by living inconsistent lives. We are rendering our teaching and preaching void by "interpreting" away the true meaning of the Holy Scriptures, by substituting for "Thus saith the Lord" the opinions and denials of "scholars" who depend more on their "findings" and those of others like them than on what God would say to us in his Word.
Little wonder that the world is confused! Too many trumpets give an uncertain sound. Some Christians lack love and compassion, some magnify the creature more than the Creator, some are more concerned with what man thinks than with what God has clearly said.
These are stirring days, days of great opportunity and challenge. But we must remember this: the needs of the world, and of individuals, are fully met in that which Jesus Christ has done once for all. Beneath the veneer of a sophisticated and affluent man of the sixties lie the same sins of the flesh and spirit that have beset men of every generation. And it was to forgive men and cleanse them from these sins that Christ came, died, and rose again. That is the Gospel in its stark simplicity.
Why complicate what God has made so simple? Why seek for solutions that are no solutions? Why not give God a chance in our own lives and in our witness to others—the chance to prove that faith in what he has done is the power of God for salvation to all who will believe.
With Jesus Christ one stands on an unshakable foundation. Without him there can only be confusion.
L. NELSON BELL
Have something to add about this? See something we missed? Share your feedback here.
Our digital archives are a work in progress. Let us know if corrections need to be made.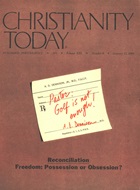 This article is from the January 17 1969 issue.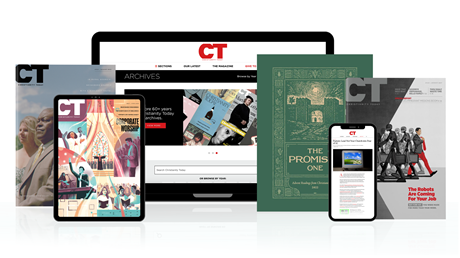 Subscribe to Christianity Today and get access to this article plus 65+ years of archives.
Home delivery of CT magazine
Complete access to articles on ChristianityToday.com
Over 120 years of magazine archives plus full access to all of CT's online archives
Subscribe Now
Confusion or Tranquillity
Confusion or Tranquillity