No Studied Neglect
Each year on December 26 a friend of mine is given to surveying his ravaged household and addressing thus a wilting wife and family: "Just think, 364 more days and we go through the whole wretched business again." For him it is a season of stocktaking, wound-licking, and shuddering masochistic memories.
I know what he means. In my own youthful circles we invariably had party games—an institution mystifying to strangers and totally disruptive of family life. There is, for example, no clutch of circumstance quite so fell as being required to pass half a matchbox from nose to nose while standing next to a man who has grown a beard for Christmas (go on, try it).
A clerical critic declares that Christmas is made an excuse for meretricious salesmanship, and adds that for a month before the feast (he was lucky) the cry is "Buy … Adeste, Fideles … Nylons for your lady … It came upon the midnight clear. What come, Mommy? Santa Claus, my darling."
The aforementioned S.C. comes in for a clobbering from many quarters. Any child who believes in him, announced eminent psychiatrist Dr. Brock Chisholm two decades ago, "has had his ability to think permanently injured and will become the kind of man who will develop a sore back when there is a tough job to do, and refuse to think realistically when war threatens." Punning apart, I do like that last clause. It has all sorts of interesting overtones for today.
It reminded me, moreover, of George Washington, who spoiled the Hessian Yuletide by crossing the Delaware and surprising their revels 192 December 25ths ago. He wouldn't have caught napping the early New Englanders, who are reported as having worked steadily through 12.25.1620 in "studied neglect" of the day. About forty years later the General Court of Massachusetts decreed punishment for those who kept the season: "… anybody who is found observing, by abstinence from labor, feasting, or any other way, any such days as Christmas day, shall pay for every such offense five shillings."
Alas, things evidently deteriorated after that, and in 1827 Bishop Case was constrained to write to his wife: "The devil has stolen from us … Christmas, the day of our spiritual redemption, and converted it into a day of worldly festivity." The diabolical possession has continued to this day.
What to do? Next Christmas some intrepid dissentients are planning to cross the Delaware and astonish a few Hessians. Care to join us?
Speaking Of Tongues
With the publication of "The Confusion About Tongues" (Dec. 6), you may have touched off an emotion-charged issue similar to the George Wallace matter, but I commend you for it. It is about time we study the matter on the basis of what the Scripture says instead of the experience of some friend.
I would only add that the conduct of those who preach this experience as necessary for all Christians, usually supports Dr. Tuland's contention that tongues is a sign of spiritual immaturity rather than spiritual maturity.
Grabill Missionary Church
Grabill, Ind.
It upsets me that Dr. Tuland seems to dismiss those experiences which are not acceptable to the mind. Has he ever been in love? How does his mind comprehend the "foolishness" of the Gospel? If I were to accept his criteria, I would probably be living a dull life. I get so sick of all this "well balanced" theology. It's sterile. He ought to get out of his office and see that many people are liberated by tongues. It is beautiful!
Muskegon, Mich.
Dr. Tuland's one-sided conclusions about the gift of speaking in tongues could almost lead a person to rebuke the Holy Spirit for giving anyone such a worthless and troublesome gift. However, I am restrained from doing this when I see that the Apostle Paul does list this gift along with the other wonderful gifts of the Spirit in 1 Cor. 12 and that he goes on to state that we should "earnestly desire the spiritual gifts" in 1 Cor. 14:1. When I add to this the fact that he thanks God for this gift in his own life in 1 Cor. 14:18, I begin to wonder whether much of the confusion about tongues might not be dispelled with some balanced positive teaching on the subject.
Bethel Lutheran Church of Burien
Seattle, Wash.
I am sorry that he felt in his approach he could discredit an experience of the Holy Spirit that has been and is so meaningful to thousands of us who too are God's children. I sincerely question his scholarship on Acts 2 and 1 Corinthians 14; also the authenticity of the attempt to judge this experience quite unlike Paul did who dealt with tongues experientially (1 Cor. 14:5, 18).
Yes, I speak in tongues daily in my devotions and occasionally in a group where the interpretation makes the gift of tongues coequal with the gift of prophecy (1 Cor. 14:5). We feel that both prophecy and tongues (with interpretation when necessary to be understood) are relevant to the needs of this hour. The depth of edification and inner strength derived in my own life and in the lives of countless others through tongues is too precious and too practical to be summarily dismissed. This experience is not only scriptural but proven in strengthening us in the inner man that we may be more effective witnesses of our Lord Jesus Christ to meet the needs of people.
President
Oral Roberts University
Tulsa, Okla.
"The Confusion About Tongues" seems to me the most lucid and honest treatment of this subject.… I believe that many thousands of Christians and pastors could well use this and help both those with the experience and those looking that way.
First Baptist Church
Aberdeen, Wash.
I think when this charismatic revival is sweeping the church that we ought to be more fair.… Mr. Tuland's attitude of course has been the standard attitude of the major denominations for the past sixty years and they have missed much of the fire and zeal that they might have had if they had known all the gifts of the Holy Spirit. Tongues may indeed be the least of the gifts, but we often have to be open to whatever gifts God has for us.
The Penn Hills Presbyterian Church
Verona, Pa.
The Study Predicament
You have done it again! The article by Dr. White entitled "Pastor's Predicament—When to Study?" (Dec. 6) was a masterpiece. I am sure that it gave encouragement to not only me but thousands of other evangelical pastors caught in the organizational throes of the mechanics of modern church life.
Central Baptist Church
Gainesville, Ga.
From many sermons I have heard lately I am prompted to ask—Do they ever study? They seem to take their sermons from newspapers and magazines and put them in a clerical garb.
Oak Park, Ill.
With all his getting, a preacher must get the habit of thinking, the habit of allround thinking, of thinking fruitfully so as to follow truth up into its higher altitudes. Amid his varied activities he should steal daily into some nook of calm for intensive, concentrated, severe, independent thinking. It is thus that thoughts come into flower. It is thus that the Word of the Lord springs up within him and that he is so far ready to prophesy. Therefore, by diligent reading, research, study, and thought, he should prepare for the pulpit.…
There was never a great preacher who was not a great student. He may have missed college and seminary both, but he was a student. He may not have had any well-appointed "study" nor walls lined with costly volumes, nor rich study gown; nor elegant leisure for dawdling over many books, but if he was a great preacher—a useful preacher, he was a great student—a diligent student!
Minneapolis, Minn.
For This Time
One of my favorite columns in CHRISTIANITY TODAY is A Layman and His Faith by Dr. L. Nelson Bell.
In the December 6 issue he writes under the caption "Turmoil or Peace." This article is especially relevant "for such a time as this."
I especially like the concluding sentences.
Los Angeles, Calif.
Mr. Nixon'S Comeback
I appreciate your balanced and sound editorial appraisal of the awesome burdens facing Mr. Nixon (Nov. 22).…
Here in the liberal East … Hubert Humphrey amassed huge blocks of votes.… Barry Goldwater's proposal to cut off the eastern corner of the nation and float it to sea has never sounded more appealing! Before it floats, however, I hope to flee to the banks of the Wabash with my files of CHRISTIANITY TODAY!
Mr. Nixon's impressive comeback, together with the nine million Wallace votes constitutes a very definite mandate for moderate conservatism. But Mr. Nixon's foes are numerous and he will need the fervent prayers of evangelicals who believe in the efficacy of prayer and divine blessing that he might restore national unity and govern wisely. God bless him.
Watertown, Mass.
The editorial on Mr. Nixon distressed me a great deal. I certainly agree that we should unite in supporting the President-elect; however, the article seemed to be somewhat biased. The author states that Mr. Nixon, '… for some reason or another …", was not supported by minority groups during the campaign. It was quite evident to many that the Nixon-Agnew ticket made no attempt at encouraging minority groups in any way. Indeed the choice of Agnew and Strom Thurmond's subsequent help in swinging most of the normally Democratic South probably gave the election to Nixon. The obsession evangelicals seem to have for Mr. Nixon and other Republicans is certainly not founded on the Christian ethics or principles of these candidates. As a Christian interested in doing all possible to implement programs for the poor and underprivileged I cannot comprehend or sympathize with the alignment many Christians seem to have with political conservatives.
Los Angeles, Calif.
Transmitting Life
Congratulations are due to you and to Dr. Henry for arranging the symposium on "the transmission of life" in your November 8 issue.
While some of the discussion about abortion was necessarily inconclusive, the firm stand on the matter of chastity as a non-option was a needed word to preacher and pew-warmer alike.
Chairman
Social Action Committee
Baptist Convention of Ontario and Quebec
Ottawa, Ont.
All of these articles are based on the Bible and on common sense. The first one goes back as far as Moses. But all of them speak of problems we, the people, face today.
New Orleans, La.
Professor Montgomery does well in calling attention to an alternative interpretation of Ex. 21:22–24 (Letters, Dec. 6). He perverts truth, however, by asserting that I follow David Mace, an English sociologist, "against virtually all serious exegetes." On the contrary, measured by the weight of scholarly opinion Montgomery's view has little support. The view advanced in my paper follows the traditional, normative interpretation of the passage as the following evidence confirms:
1. The translation presented in the paper has the support of the following ancient translations: LXX, Peshitta, Vulgate, Onkelos, and Targum Jonathan. Of the English translations I consulted it agrees with AV, RV (ASV), Rotherham, JPS, Moffatt, American, Basic Eng., RSV, Jerusalem, Berkeley, Torah (1962), Confraternity, and Amplified. To my knowledge the only translations that disagree are the Improved (1912) and Young's Literal (a non-interpretative translation).
2. Commentators with whom I concur in my article are: Philo, Jarchi, Aben Ezra, Rashi, Maimonides, Lange (with translation of Charles M. Mead), Murphy, S. R. Driver, A. H. McNeile, Dummelow, Philip C. Johnson (in Wycliffe Bible Commentary), J. Edgar Park (in IB). Most recently John E. Huesman (The Jerome Bible Commentary, 1968) supports this view.
In addition, Montgomery is mistaken when he says: "The equality of mother and unborn child in Exodus 21 is upheld … by a classic Old Testament scholar such as the nineteenth-century Protestant Delitzsch." In reality, Keil (not Delitzsch) is making a different point; namely, the child in question is not a fetus but a fully developed human being. Lange calls this interpretation "strange." Obviously, Keil's interpretation has nothing to do with Montgomery's conclusion.
Chairman, Div. of Old Testament
Dallas Theological Seminary
Dallas, Tex.
Re: Prof. Montgomery's criticism.…
Why hold on to the medically absurd interpretation of Exodus 21:22–24? The possibility of a fetus aborted by the shock of injury to its mother actually surviving seems too small for it to be a serious grammatical option. The ancient Assyrian text also quoted by Waltke shows far more familiarity with the medical facts than his modern critics when it presumes fetal death in such a situation.
Lubbock Bible Church
Lubbock, Tex.
Have something to add about this? See something we missed? Share your feedback here.
Our digital archives are a work in progress. Let us know if corrections need to be made.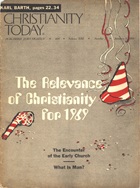 This article is from the January 3 1969 issue.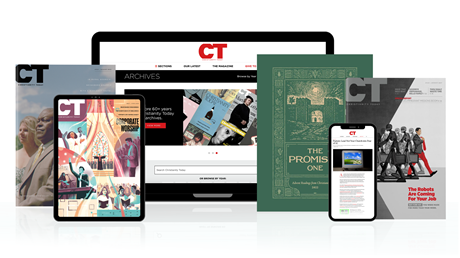 Subscribe to Christianity Today and get access to this article plus 65+ years of archives.
Home delivery of CT magazine
Complete access to articles on ChristianityToday.com
Over 120 years of magazine archives plus full access to all of CT's online archives
Subscribe Now
Eutychus and His Kin: January 3, 1969
Eutychus and His Kin: January 3, 1969