In the 1940s. Jack Benny cracked about Anaheim, Azusa, and Cucamonga—then obscure towns on the far, far fringes of greater Los Angeles—being whistle stops near the end of the railroad line. Anaheim, setting of Disneyland, that jewel of make-believe, has come a long way since then. And so has Billy Graham, who returned to the City of the Angels last month, twenty years after his meteoric rise to evangelistic fame began in a large tent at Washington and Hill Streets near the heart of what is now the nation's third-largest city.Graham later filled the Los Angeles Coliseum in a major crusade in 1963 attended by nearly one million persons.
This time, Graham's record-shattering Southern California crusade (September 26–October 5), was held in gleaming, modernistic Anaheim Stadium, home of the Angels baseball team.
Now 50, the onetime Fuller Brush salesman from North Carolina has preached to more than 50 million people in nearly 200 major crusades and rallies since the September, 1949, "Christ for Greater Los Angeles Campaign"—and the kiss of William Randolph Hearst. After several celebrities professed faith in Christ at that series of meetings, publisher Hearst gave the order: "Puff Graham." And the young, flashy "Gabriel in gabardine" was catapulted on his way toward national fame as "a new revivalist." The thrust was clearly of God. Graham firmly believes.
The man, the crusade methods, and the audience have changed dramatically since those early days of sawdust and love offerings. But the charisma and the message are the same. Billy still socks it to 'em with the simple, straightforward Gospel. And the Anaheim crusade shows that America still responds by the stadium-full.
Those who predict the flame-out of Graham evangelism should note the statistics: The ten-day Anaheim attendance swelled to 384,000. The nightly average of 38,400 was some 2,000 higher than the average for twenty-five days in the Coliseum in 1963. About 20,700 persons came forward to make decisions for Christ at Anaheim, three times as many as during the eight-week 1949 Los Angeles campaign (and twice the number at the New York crusade last June).
Visible church opposition to Graham—still evident in conservative Southern California in 1963—had virtually vanished this time around. Two groups that wouldn't support him then but did this time are the Lutheran Church-Missouri Synod and the Conservative Baptist Association.
It was the young people who responded most warmly to the nightly invitations in this crusade, unlike the earlier ones. On one of several "youth nights," the evangelist, with his 11-year-old son Ned at his side on the flower-banked platform astride second base, proclaimed to his audience (70 per cent under 25): "Jesus offers to young people the greatest challenge in the world.… Tonight I want to tell it to you like it is."
Then, his resonant voice booming through the three-tiered stands: "There's a song coming from heaven, and a beat from Christ. What beat are you marching to? Have you committed yourself to Jesus as a Person, the simple Galilean?" Graham stressed that God demands no less than do revolutionaries for their cause today: "God, you see, has always demanded everything."
Eighty-four per cent of those who walked to the stadium infield in response to the invitation to receive Christ that night were under 25. Forty-two per cent were between 12 and 16, and many were under 12.
Inquirers and counselors in hippie garb were abundant throughout the crusade. A member of the War Lords motorcycle gang who came on a dare from his buddies ended up going forward. A teen-age couple, bound for a drive-in movie, got caught in traffic, were funneled into the stadium—and stayed to make decisions.
A goodly number of Mexican-Americans attended. There was only a sprinkling of Negroes from nearly all-white Orange County; several busloads of blacks came from the Watts section of Los Angeles.
A Marine lieutenant received a standing ovation from a crowd of 54,000 one night, after his stirring testimony of faith and patriotism. He told how he had found Christ after sustaining multiple wounds in Viet Nam. Afterward. Graham said of Lt. Cleve McClary, who lost an arm, an eye, and half his teeth, and who has had sixteen post-battle operations: "He can stand up here and talk about the joy of the Lord with a smile on his face. Christ can do that, and he can do it for you."
Graham consistently lashed at favorite targets: sex ("a big problem for young people, probably the biggest problem you have"); drugs ("drugs are going to destroy the moral fiber of this country"); drinking ("say 'no'; people will respect you"); overindulgence ("overeating also is a sin"); pornography; nudity on the stage, perversion on the screen; crime; and lawlessness.
In his final message to a crowd easily the largest ever assembled in Orange County, Graham asserted also that "our beloved America is in trouble" racially ("racial tensions are building in spite of fantastic reparations already paid by thousands of soldiers who died during the Civil War"—an apparent allusion to the James Forman Black Manifesto), and because of the Viet Nam war ("we're fighting a winless war; I hope it's the last we'll ever fight with no intention to win").
Warning of coming judgment, Graham asked: "Will God spare America? No … not unless there is a national renewal."
At a final press conference, an obviously ebullient Graham, looking rested, declared that the Anaheim crusade was a high point of his career. "I feel more at home here than any place I've ever been," he said, praising those who had planned the smooth-running crusade and members of the mammoth 7,000-voice choir. He expressed confidence that the $585,000 budget would be met with a surplus to use toward taping the crusade for nationwide television presentation on 350 stations in December (cost: about $1 million).
Was he disappointed that no public figures like gangster Jim Vaus, country-music star Stuart Hamblen, or track great Louis Zamperini had come forward as they did twenty years ago in the big tent?
No, Graham replied, the people whose lives have been changed at Anaheim "will be heard from in ten years." He added that recently he had met seven men converted at the Los Angeles campaign twenty years ago "who now are pastors in Orange County alone."
RUSSELL CHANDLER
Have something to add about this? See something we missed? Share your feedback here.
Our digital archives are a work in progress. Let us know if corrections need to be made.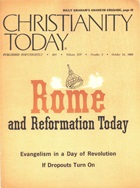 This article is from the October 24 1969 issue.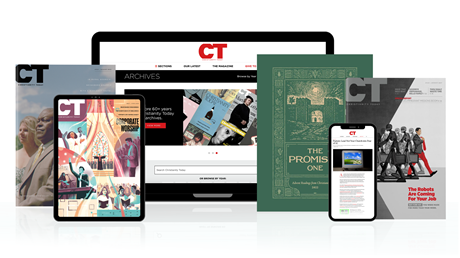 Annual & Monthly subscriptions available.
Print & Digital Issues of CT magazine
Complete access to every article on ChristianityToday.com
Unlimited access to 65+ years of CT's online archives
Member-only special issues
Subscribe
Anaheim Crusade: At Home with the Angels
Anaheim Crusade: At Home with the Angels