"If this town is a microcosm of what can happen in the big cities across the nation," the Rev. Larry Potts said, "then pity this poor country of ours." Larry Potts loves Cairo, Illinois. And ask people in the city of approximately 10,000 what they think of Larry Potts and it becomes clear that Cairo loves the American Baptist minister.
That is, one segment of Cairo does. To the rest, he symbolizes what they're literally up in arms about. The United Front says people like him are keeping Negroes and whites apart in Cairo, and keeping Negroes and the poorest of the poor whites from breaking through the equality barrier.
With only a cursory look at the years of racial strife in this moribund, economically depressed city, one would suspect there might be something to the United Front's allegations. Newspaper accounts of what's been going on in Cairo lead to only one conclusion: Potts and the rest of the town's 60 per cent white population are wrong.
That's on the surface. A different story—though not clear in all particulars—emerges When one digs beneath the surface. The whites, while far from pristine purity in their attitudes on race, are not so black as the public has become accustomed to hearing. And the blacks, who have some just complaints, may have been led astray by zealous "outsiders."
Potts killed a man last year, and it has been hard for him to live it down. Disorders had been going on for some time when it happened. One day when his wife came home she found an elderly Negro waiting inside, club in hand, according to Potts. When Potts came on the scene he thought his young wife had been killed, and he grabbed the club and beat the man to death.
Even Potts is not certain whether this was part of the racial violence or just an isolated incident. "I cannot help but think those guys paid that man to do what he did, though," he says. "Those guys" refers to the United Front of Cairo, headed by the Rev. Charles Keon, who is scheduled for full ordination in the African Methodist Episcopal Church this month. On October 4, during a "parade" marking the sixth month of a nearly total boycott of white merchants, Keon added another notch to his list of arrests. Twenty-three others were arrested with him but were soon bailed out by the National Association for the Advancement of Colored People, a member of the Front.
Keon accuses Illinois Governor Richard B. Ogilvie of being an "enemy of the people" because he will not remove from office certain persons who have refused to give in to United Front demands. He told a press conference in New York, arranged by the National Council of Churches, that Cairo is "one step away from racial warfare."
Few interviewed by this reporter really believe this to be the situation. "They're not afraid of the whites," Potts said. "You know who they're afraid of? It's those hoodlums and gangsters that are threatening them."
Potts was a leader in reviving the "White Hats," a Civil Defense unit that had been organized in the days of Eisenhower and the Korean conflict. When several fires were set by Negroes and shooting intensified, the group was reorganized. Men stood on the alert on their porches while others guarded intersections.
When Koen and an "outsider," the Rev. Gerald Montroy, a Diocese of Belleville priest commissioned to work among Negroes in Cairo, protested to the governor, Ogilivie ordered the White Hats unit disbanded on the grounds that it was an intimidation to Negroes.
Since then another group has been formed—United Citizens for Community Action. It is headed by a lumber-firm operator, Bob Cunningham. Under questioning, several members halfway conceded he might be "a little bit on the racist side" but noted that UCCA is primarily concerned with "ending the whole thing."
Ironically, Cairo's new mayor, Presbyterian Pete Thomas, was the first to have Koen arrested; this happened when Koen was only seventeen. Thomas has a reputation for being fair-minded, however. In his first month on the job, he named Norman Seavers as the city's first Negro city councilman.
In its slipping state, Cairo still shows signs of its former prosperity. Before the crippling boycott, the community boasted a $16 million market. But all the "Cairo—Love It or Leave It" signs posted around aren't helping the city. Many are leaving.
Now, according to Illinois statistics, more than 40 per cent of Cairo's homes are substandard. Unemployment—about 12 per cent—is second highest in the state. The rate for Negro unemployed males is 20 per cent.
Although it dragged its feet on school integration back in the fifties, Cairo had been making considerable progress in race relations before the outbreaks began two years ago. The school board was half Negro, and so was a city advisory group. Schools had become fully integrated two years ago. More than half the teachers were Negroes.
But as of last month, the schools were almost totally black, though whites still are a majority of the population. Then came Camelot.
Fearful for the welfare of their children in the public schools and of a breakdown in discipline, whites asked Potts to help them. He had a way with kids, they knew, because every Sunday morning one side of his church was filled with young people. Hastily, late last summer, an education wing in his Cairo Baptist Church was turned into classrooms and volunteers put Camelot school into shape.
Now nearly 300 whites attend classes in two buildings. Already the school is being ballyhooed by the United Front as the symbol of white resistance.
Potts insists that as far as he is concerned Negroes may come to the school. "We had to do something," he said. "The way discipline had broken down … we just had to do something."
It will take more than a Camelot to solve the city's problems. And naming a Negro councilman won't solve much. But at least 95 per cent of the town would give nearly anything to see civil order return. Now, even though the catfish are biting nicely, who has the heart to go fishing—or the nerve?
WILLIAM WILLOUGHBY
Have something to add about this? See something we missed? Share your feedback here.
Our digital archives are a work in progress. Let us know if corrections need to be made.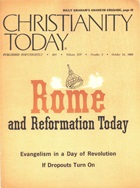 This article is from the October 24 1969 issue.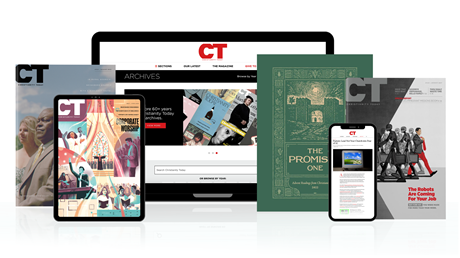 Subscribe to Christianity Today and get access to this article plus 65+ years of archives.
Home delivery of CT magazine
Complete access to articles on ChristianityToday.com
Over 120 years of magazine archives plus full access to all of CT's online archives
Subscribe Now
Cairo: 'Love It or Leave It'
Cairo: 'Love It or Leave It'