In a remarkable book published some years ago, Canon Roger Lloyd makes an archdemon instruct subordinates on an ancient and effective piece of satanic strategy. "Insert yourself into the simple situations which call for plain and obvious duties," urges this devil, "and complicate them, and complicate them again, until at last no one involved in them can make sense of the confusion." Even the title of the volume is peculiarly relevant to Northern Ireland at present, for The Troubling of the City is surely the true theme of daily press reports on the continuing tragedy of Belfast and Londonderry.
What, I wonder, did my American friends make of the conflicting views on the Ulster situation presented to them in recent months by Bernadette Devlin and Ian Paisley? The fact that neither of the two is exactly inarticulate would ensure that at least the political complexity of the situation came across. The ensuing bewilderment may remind some of the woman who asked Dean Acheson to explain a diplomatic problem. He did. Thanking him warmly, she said, "I am still confused, but at a much higher level."
Both the Catholic girl politician and the Protestant pastor claim to be acting in the name of their religion, but in their interpretation of that religion the one owes as little to Francis of Assisi as the other does to Kagawa of Japan. Both Irish protagonists revive a fallacious concept of the Holy War. "I want you to fill your pockets with stones and carry a petrol bomb in each hand," was the song of Bernadette to Londonderry Catholics. At the same time Pastor Paisley was reportedly telling Protestants in Belfast: "We are at a state of war and I believe there should be no comfort or succour or help given to the enemy." The enemy referred to is not, of course, the occupying British troops or the police, but those the speaker has referred to delicately as "blaspheming, cursing, spitting, Roman scum."
Yet Mr. Paisley, unlike Miss Devlin, has not recently tottered into vogue. He is no Ian-come-lately but was stirring things up when there was comparative peace in Ulster. With admirable impartiality he has attacked Roman Catholicism, the outlawed Irish Republican Army, the legal government of Eire (Southern Ireland), Communism, waverers in the Belfast Unionist government, and the ecumenical movement and its local subsidiaries. At times he gives the impression that the whole lot is in league against what he calls the Protestant constitution of Ulster Let no one imagine he is parochially minded, however. Besides his setting America to rights on the subject, he and his men have been engaged in such activities as: reading Revelation 17 (in English) in St. Peter's Square, Rome; disrupting a session of the Church of Scotland General Assembly; making an outcry in St. Paul's Cathedral, London, by verbally consigning a visiting popish cardinal to the bad fire; taking over an ancient Irish city in order to thwart a civil-rights demonstration; and consistently with violence opposing pressmen in the execution of their duty. Thus suppressing free speech in others, he was outraged when others employed the same tactics against him and he was summarily bundled out of Italy and Switzerland, which governments all loyal Protestants know to be the pliable tools of the Pope and the WCC.
It was, indeed, "an ecclesiastical plot stemming from the World Council of Churches" that he alleges was responsible for his conviction and imprisonment for unlawful assembly in 1966.
A letter in a British religious weekly takes up the cudgels (an apt word under the circumstances) on behalf of Pastor Paisley. The writer is concerned to show that some have been converted in his services, and that "others can testify to deliverance from alcoholism, brutality, gambling, smoking, and occasionally loose living." No one, to my knowledge, has ever sought to deny this side of the pastor's activities, but the minister who engages in politics cannot rightfully carp if such secular involvement is assessed and reported in the press in the same way as that of any other aspirant to public office. Mr. Paisley, it should be noted, has vowed to "root out that nest of traitors" when he gets into the Northern Ireland parliament (he was narrowly defeated earlier this year).
A few weeks ago Ian Paisley told a congregation in Belfast that "what we need is another Cromwell." Modestly he proposed no candidate, but this may be just as well, for Cromwell showed a degree of toleration, having had some harsh things to say against religious bigotry. It was, indeed, to more authentic Presbyterians than Mr. Paisley that Cromwell addressed the exasperated plea: "I beseech you, in the bowels of Christ, think it possible you may be mistaken."
Wherein lies Paisley's appeal? The nail was hit on the head by the Dean of Belfast's Protestant cathedral three years ago, when he addressed some forthright words to members of the Orange Order. Said the Very Rev. John Nolan: "The great menace to the Protestant religion today is the 'nominal' Protestant," one who thinks that Protestantism simply means "waving a flag, beating a drum, hurling abuse and chanting vulgar slogans," whose lack of knowledge makes him "a prey to every peddler of religion who comes along with his distorted views, half-truths, and catch phrases."
Paisley gets his headlines by leading in Ulster a popular political cause when what Ulster needs is someone to lead an unpopular religious cause. He himself could do the latter if he would remember that the divine Word he carries about with him calls to a higher allegiance than the Ulster constitution.
The other day I read a little magazine published by the Baptist Association of Southern Ireland. Referring to the Christian's contribution to the restoration and maintenance of civil order, the editorial in the Southern Record quotes some wise words: "Never with the Bible in our hands can we deny rights to another, which under the same circumstances we would claim for ourselves." It calls on Christians to avoid people and principles that advocate violence and not to try to defend the indefensible, and then continues: "It is foolish for His followers to camouflage the inconsistencies and injustices of any body of people in order to save face.… God's standards are absolute, not relative." Pointing out the danger that prejudices will blind Christians to the vision of the lost in Ireland, it concludes: "Our abiding duty is not to shun them but to win them, not to hate them, but to love them, not to destroy them, but to save them."
In contrast, Miss Devlin's Christianity fills pockets with stones, hands with petrol bombs. Mr. Paisley's condemns "comfort or succour or help given to the enemy." Both are blazingly sincere, both command powerful support, but that modest little magazine has seen through the diabolical and confusing element in both, and got Christian priorities right.
J. D. DOUGLAS
Have something to add about this? See something we missed? Share your feedback here.
Our digital archives are a work in progress. Let us know if corrections need to be made.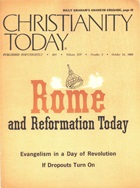 This article is from the October 24 1969 issue.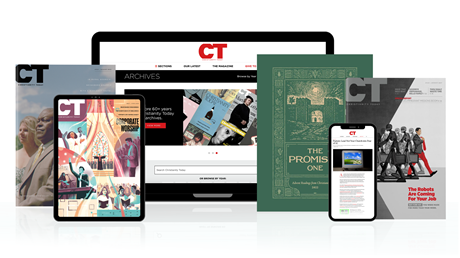 Subscribe to Christianity Today and get access to this article plus 65+ years of archives.
Home delivery of CT magazine
Complete access to articles on ChristianityToday.com
Over 120 years of magazine archives plus full access to all of CT's online archives
Subscribe Now
Not Defending the Indefensible
Not Defending the Indefensible