The rising tide of emphasis on the social gospel is sweeping into its current a number of the unsuspecting, and, though what I am going to write will be unpopular with many, I feel I must say, "Beware!"
All about us there are evidences of secular and material need, and any true Christian is moved by compassion when he sees the plight of the less fortunate. If he fails to give assistance where possible in money, time, and effort, he may prove himself unworthy of the name he bears, and he may miss his greatest opportunity to witness to the validity of his faith.
But let him beware lest he substitute for the Gospel of Jesus Christ a secular gospel.
Surely, helping to meet the material needs of men is a worthy endeavor. Certainly it becomes us as Christians to demonstrate our loving concern for the unfortunate.
But such action can be fatally deceptive in lulling the Church into complacency about its basic responsibility to witness to the Gospel of spiritual redemption through faith in Jesus Christ.
The early apostles were confronted with the crying needs of new Christians, many of whom had given up literally everything to follow Christ. The need was there and also the responsibility, but they never swerved from their own mission of preaching Christ. They said, "It is not right that we should give up preaching the word of God to serve tables" (Acts 6:2).
It still is not right to substitute anything for preaching the Gospel. Those who are called to preach the Word should preach the Word. They must not be insensitive to the secular and material needs of their brethren; but while the meeting of these needs among fellow Christians must be cared for by the Church, the needs of society as a whole must be the concern of the government and of Christians and others working through agencies established for this purpose.
A minister of the Gospel is called to preach; he is not a sociologist, a psychiatrist, or an economist. He preaches for ultimate solutions, not temporary. He preaches about things of eternal import which, if believed, have a tremendous effect on man's temporal welfare.
One would have to be blind not to see that many who speak the loudest about the "social implications of the gospel" have neither knowledge of nor concern for the message of God's redemption for mankind through the death and resurrection of his Son. It is equally obvious that other ministers take every opportunity to help those in need while they faithfully preach Christ as Saviour from sin.
We should beware lest we be swept along in the tide of now popular movements which are, at best, humanistic and altruistic, and in which unbelievers can and do readily join. These are movements which, even if they attained every objective, would still leave men spiritually lost. The right balance between spiritual concern, and compassion in the face of need, though difficult to maintain, is vitally important.
What could please Satan more than for the Christian ministry to be diverted into "serving tables"? What could be more disastrous for the Church and its witness in the world than for it to give the impression that it is primarily concerned with the needs of the body—economic, political, and social?
Although there are people who insist that the influence of the Church has waned because of its neglect of social problems, I am confident that this lost influence is due to the Church's compromise with the world and its failure to preach the simple Gospel of Jesus Christ.
Inherent in the acceptance of Jesus Christ as Saviour and Lord are built-in social advantages. There are opened avenues of blessing reserved for believers alone. In one simple sentence Jesus stated the basic approach the believer should take toward his own economic problems—"Seek first his kingdom and his righteousness, and all these things [housing, food, clothing—the necessities of life] shall be yours as well" (Matt. 6:33). This is not an oversimplification but rather a glorious fact confirmed by millions of believers.
The Apostle Paul tells Christians: "Have no anxiety about anything, but in everything by prayer and supplication with thanksgiving let your requests be made known unto God.… And my God will supply every need of yours according to his riches in glory in Christ Jesus" (Phil. 4:6, 19).
Have we the right to demand for unbelievers the blessings God reserves for those who put their trust in him? Is not the Church in grave danger of betraying its mission when it joins in secular welfare projects that have no concern for the spiritual needs of those involved? Again I say, there is a line of distinction here that must be determined by the leading of the Holy Spirit. I am sure that many true Christian ministers are in danger of being swept into fruitless programs for fear they may be accused of being unloving and unconcerned, when as a matter of fact they are both truly loving and deeply concerned.
Let us be very clear in this matter; a Christian must help meet material and physical need where he finds it. He must exhibit the love of Christ in concrete ways so that the resultant glory and honor accrue to his Lord. But all this is the fruit of the Gospel, not the Gospel itself. If this distinction is always kept clear, we will spare ourselves heartache and misunderstanding. Social concern must never become an alternative for the Gospel; it is a legitimate and certain result of our salvation in Christ.
At the same time, the Christian should not commit himself to every program of social action that comes along. Some of these programs are capable of doing great harm, for they would substitute revolution for regeneration, socialism for free enterprise, and, in effect, Communism for Christianity. We must be exceedingly careful in this whole area, for it is one where the enemies of Christ often masquerade as angels of light. On the one hand we must not be stampeded into some unwise action for fear of seeming "unchristian," or in an attempt to curry favor with those leading the social-action movement. On the other we must never refrain from being involved in works of loving concern for the unfortunate.
Hold fast to the message that Christ came into the world to make new creatures, and to the fact that in twice-born men the social order will be provided with "salt" and "light."
L. NELSON BELL
Have something to add about this? See something we missed? Share your feedback here.
Our digital archives are a work in progress. Let us know if corrections need to be made.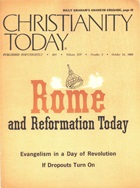 This article is from the October 24 1969 issue.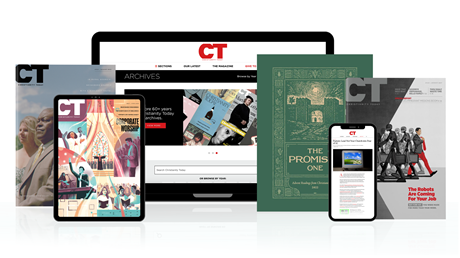 Subscribe to Christianity Today and get access to this article plus 65+ years of archives.
Home delivery of CT magazine
Complete access to articles on ChristianityToday.com
Over 120 years of magazine archives plus full access to all of CT's online archives
Subscribe Now
Beware!
Beware!