Sharp division over the value of Billy Graham's Germany crusade was evident when the evangelist addressed a turbulent meeting of state church clergymen in Dortmund, on the third day of his "Euro 70" campaign this month. From the capacity crowd of 500 came boos and hisses, mingled with applause and the banging of tables.
Industrial Dortmund, in the heart of the Ruhr area, was the hub of Graham's latest crusade. But the outreach was continent-wide. The 13,000-seat Westfalenhalle meetings were carried by the largest closed-circuit TV network ever attempted in Europe. Tens of thousands of people saw the evangelist nightly on large screens in auditoriums from Tromso, Norway (300 miles north of the Arctic Circle), to Geneva, Switzerland.
His sermons were simultaneously translated into seven languages for thirty-five European cities.
The Lutheran ministers' meeting, a session in one of their regular conferences, was not relayed and was not organized by the crusade committee. Graham had accepted an invitation from the churchmen.
As he began to address them, he acknowledged their "division" about his ministry. This was about all he could do before a bearded demonstrator shoved his way to the front. The interloper was involved in a scuffle, smashing his roughly made banner. Graham then allowed him several minutes to speak. The interrupter denounced the crusade and the amount of money spent "to rescue people from spiritual death" (a problem he claimed could be solved by a quick visit to the nearest parish priest) and "taken away from those in danger of physical death by starvation."
There was loud applause when the interrupter claimed: "It's a shame that the Christians give so much money to unimportant things."
Minutes later, Graham resumed his prepared address, referring to "a technological revolution that is changing our lives … a moral revolution in which old standards are passing away … a social revolution in which more people are starving to death every day than ever before in this century … a revolution in warfare in which millions of people can be killed in a matter of minutes … a psychological revolution in which there is a dehumanization of the personality.…"
He emphasized personal redemption and social responsibility. "The two go together," he said, "but true social concern should be based on the Scriptures and compassion."
Graham referred to his own involvement in the U. S. poverty program and race problem. Then he answered those who ask: "What about the demonstrations? Why don't you go out and march in the streets?" He claimed: "I'm already holding demonstrations in the biggest stadiums and halls in the world, but because they are non-violent, people think that's not a demonstration. It is a demonstration."
Booing mingled with applause died away as the evangelist concluded: "I do not believe that man has the capacity, with his sinful nature, of solving all the problems of the world permanently. We can try, but we will ultimately fail. Only Jesus Christ is going to set the world right. God is going to have to intervene in human history and bring peace and social justice and racial brotherhood. God is going to have to do it."
Questions and speeches followed, some with strong left-wing overtones. Graham answered simply, carefully avoiding political involvement. One question was: "What do you believe is more important, the spreading of the Christian faith among the people of these underdevelopment countries, or solving their social needs?"
His reply: "Both are important. But 'what shall it profit a man if he gain the whole world and lose his own soul?' That is the answer of Jesus."
The words of Jesus appeared to be of less importance to many of the listeners than the political views of the preacher. Pressed to make some comment on Viet Nam, Graham concluded his already extended stay at the conference by stating: "You greatly misunderstand my ministry. I do not represent the U. S. government. I represent the kingdom of God. I am an ambassador in a strange world. This world is a foreign world, with all its evils. I am to minister in it. I'm to witness to it every way I possibly can, but I belong to a different kingdom. My flag is the flag of Christ. Why did Jesus Christ not lead a demonstration against the tyranny of Rome? Why did Paul not lead a demonstration? Because they represented a different kingdom."
The atmosphere quieted and then became electric as he said, in a supreme moment of candor: "I cannot defend the United States, any more than you can defend what went on in the thirties and forties in Germany. He concluded: "Now concerning Viet Nam, I promise you this: If Germany is invaded by a foreign power, and the United States comes to your aid, I will not lead a demonstration down Pennsylvania Avenue against giving you that aid."
Prolonged, and for the first time unanimous, applause followed.
At the crusade's half-way point, results were "encouraging"—according to one spokesman, "greater than we anticipated in many of the relay centers." The total attendance for the opening service at the TV centers throughout Europe was 94,000. There were nearly 1,000 inquirers that night throughout the network.
Norway had the highest attendance outside Germany. Oslo was the only city operating two relay centers. Kristiansand's opening night saw as many turned away as were in the capacity crowd jamming a 4,000-seat auditorium. Traffic jams were reported to stretch for many miles. Zagreb, Yugoslavia, the only Eastern European hookup, had a hall seating only 500. On the opening night an estimated crowd of 1,000 filled every available space; the next night there were even more. An interior wall was removed to accommodate them.
One Swiss theologian emphasized the timeliness of the crusade by stressing Germany's need for a new emphasis on the authenticity and relevancy of the Bible. Modern technology enabled Graham's endorsement of this to be taken far beyond the confines of the Westfalenhalle, all across the continent.
DAVE FOSTER
Carl Mcintire'S Victory: 'In This Sign Conquer'
Radio evangelist Carl McIntire doesn't believe in losing. It just doesn't fit into his or God's landscaping. On April 4 the fiery fundamentalist marched with as many as 50,000Washington police chief Jerry V. Wilson, whose department at first refused McIntire permission to march down Pennsylvania Avenue, estimated the crowd at between 10,000 and 15,000. United States Park Police estimated the crowd at more nearly 50,000. McIntire credited Representative L. Mendel Rivers, South Carolina Democrat and war matériel boss, with "showing them who runs this town" by getting the march permit. of those who feel much the same way to the foot of Washington Monument. At his beck, the group turned to the White House and chanted, "We want victory in Viet Nam."
For McIntire, the march has to be the biggest single victory in his relentless fight against the "international conspiracy of godless Communism." But for all his announcements that 100,000 persons would be on hand to "help turn the tide," the press paid little attention beforehand. Even after he made his point and nearly 1,000 busloads poured into the city tying up traffic for hours, reports were downplayed (despite pageone stories in Washington and New York) in contrast to the splash given anti-war rallies.
Forgotten when newsmen started comparing the figures with the New Mobe's anti-war protest in the same area on November 15 was the fact that McIntire's effort was almost a solo affair—one man haranguing on 600 radio stations. Forgotten also was the fact that this was the first sizable pro-war demonstration (that was not a counterdemonstration) and that it attracted nearly twice as many marchers as the first anti-war demonstration four years earlier.
Now the time had come, said the founding president of the International Counoil of Churches, for the "silent majority" to make some noise; while they had been tongue-tied the Communists had taken over.
The biggest noise-maker of them all, the restaurateur who swung his way into the governor's chair in Georgia on the talking end of an ax handle, dished out the warmed-over hash that has been his and McIntire's specialty. Bible-quoting Lester Maddox told the enthusiastic crowd: "We did not lose our war over Communism in Southeast Asia. We lost it here in Washington."
Louisiana's Representative John R. Rarick earlier had scored points on much the same theme: "We are here to seek peace in Viet Nam—peace the American way—with victory." The Democrat dean of House conservatives denounced the Nixon Administration's "no-win" policy and the New Mobe's concept of unilateral withdrawal as foreign to the American spirit.
Here and there groups of hippies and others whooped it up, flashing the "V" sign and, when the Americanisms got thick, bursting out with "oink oink" and "Sieg Heil." But McIntire was not nonplused. He put static into their "V"-sign thunder when he said the youths "stole" it from patriotic Americans. Then he had his throng flash the famed Churchillian sign.
The demonstration, for all the valid or at least plausible points it was making, was an orgy of religious symbolism, patriotism, and militarism. "In this sign conquer" pins had been sold by the thousands. McIntire called on Americans to begin to wage "a holy war against Communism." He warned his audience about the history of the Church in Communist countries and said it was not politics that motivated him to call the march: "One of the reasons why I'm in this fight is to keep the doors of my church open. There's not a single church in Communist China open now.… That's what will happen in this country if they take over."
McIntire is a master at making money out of efforts to thwart him. Playing into his hands most of all was an eleventh-hour letter from the White House saying the march had been postponed. "This just simply is not so.… This just makes my blood boil. People believe in the White House—at least they're supposed to." The White House hastily sent a correcting letter and a promise of an FBI investigation—but not before the evangelist's cries of persecution and harassment brought thousands of dollars of "the Lord's money" into his war chest.
But it was from Dixie that he drew most of his support. The Stars and Bars fluttered alongside the Stars and Stripes. The crowd sang "Dixie," and got some of the words wrong. The appeal was to causes popular in the South: Stop interference in school affairs, put Bible reading and prayer back in the schools, and get sex out. "I like our good brothers in the South," McIntire said. "It looks like they've got more fight in them than we've got farther north."
Aside from traffic problems, the marchers caused not a speck of trouble. One policeman volunteered the opinion that it had been the most peaceful march he had ever seen.
Now that the radio preacher has gained a sorely needed victory within shouting distance of the White House (see editorial, page 25), there is little doubt that, if he speaks for the silent majority, there will be a lot more noise around Washington in months to come.
WILLIAM WILLOUGHBY
Editorial Laurels
CHRISTIANITY TODAY has received an Associated Church Press Award of Merit "in recognition of the general excellence of its editorial advocacy" during 1969. The judges singled out for special praise the nine editorials that appeared in the July 18 issue.
In all, twenty-three awards were presented at the ACP's annual meeting in Chicago this month. Face to Face, a monthly published by the United Methodist Board of Education's curriculum resources division, and World Encounter, a five-times-a-year production of the Lutheran Church in America's Board of World Missions, pulled down top honors by receiving four each—photography, reporting, editorial advocacy, and general excellence.
'Only Her Doctor Knows'
Liberalized abortion laws, three Roman Catholic prelates declared recently, "legalize what is tantamount to murder on demand." Their distress was prompted by what may be the nation's most liberal abortion law so far. The bill, which was passed last month in Maryland, makes abortion strictly a matter between a woman and her doctor, without restrictions on residency or fetal viability.The bill liberalizes an already liberal Maryland law adopted in 1968.
Maryland Governor Marvin Mandel did not indicate immediately whether he would sign the bill, veto it, or ignore it until June 30, when a "pocket veto" would kill it. But Roman Catholic leaders—including Lawrence Cardinal Shehan, archbishop of Baltimore, and Patrick Cardinal O'Boyle, archbishop of Washington, D. C.—promptly denounced it as an "utter repudiation of the sacredness of, and the right to, human life as found in the unborn child." Furthermore, they said, the bill would repudiate that life "without so much as even a consultation with the father.…"
A week earlier, Roman Catholics in Massachusetts, led by Richard Cardinal Cushing, voiced similar protests about a package of bills that would have legalized abortion there. The bills were defeated.
A strange twist of the knife, attributed by some to Roman Catholic influence, narrowly killed abortion reform in New York. For several years, the State House had tried to liberalize abortion while the Senate thwarted every attempt. But last month the Senate approved a bill making abortion the decision of patient and physician, and the House tabled the measure after eight hours of heated debate. The proposal, which includes a fetal-viability restriction, can be voted on again this session.
Meanwhile, in Hawaii, where a liberal law took effect earlier this year (see March 27 issue, page 36), forty-six abortions were performed in one week. In the previous eleven months, seventy abortions were recorded.
Defying Ian Smith
The Roman Catholic Church in Rhodesia, three days before the country's election of a new parliament, sharply attacked sweeping segregationist powers proclaimed last month by the white-controlled government.
Prime Minister Ian Smith's Rhodesian Front was expected to renew control in the election, but the Catholic Church appeared ready to defy his regime if multiracial worship and education are ended in the African country where 228,000 whites rule 4.8 million blacks.
A fifty-six-page booklet issued by Rhodesia's five Catholic bishops said the church "will not compromise its principles or its conscience. In saying this, the church, like its founder, is prepared to lose all so as to gain all."
Have something to add about this? See something we missed? Share your feedback here.
Our digital archives are a work in progress. Let us know if corrections need to be made.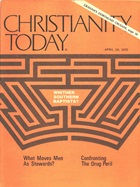 This article is from the April 24 1970 issue.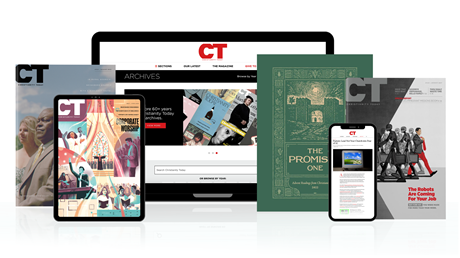 Subscribe to Christianity Today and get access to this article plus 65+ years of archives.
Home delivery of CT magazine
Complete access to articles on ChristianityToday.com
Over 120 years of magazine archives plus full access to all of CT's online archives
Subscribe Now
Graham Dortmund Crusade: A Continent Responds; Some Resist
Graham Dortmund Crusade: A Continent Responds; Some Resist