Long lines will form across Moscow's Red Square this week to view the remains of Lenin, the man who perhaps more than any other in the twentieth century changed the course of world politics. Under the encouragement of Soviet leaders, millions will commemorate the one-hundredth anniversary of the birth of the Russian revolutionary.Forty Lithuanian Catholic priests, in a recent appeal to the Soviet government for relief from religious persecution, quoted Lenin as saying: "Every person must have full freedom not only to profess any religion he wants, but also to publicize and change his faith." Lenin didn't live up to these words, according to the Russian Orthodox Church Outside Russia. It just posthumously excommunicated him from the faith in which he was baptized for alleged desecration of holy places and torture of believers. But while propagandists crank out effusive plaudits for the 1917 "liberation" from czarist decay, many thousands of Soviet Christians will continue to lament the oppression instigated against their faith by the revolution.
To be sure, thousands of churches are open every Sunday all across the Soviet Union. Many are crowded. But the Communist authorities enforce strict regulations against evangelism and Christian education. Those elements are indispensable to a virile church.
Because of these restrictions, many Protestant Christians in the Soviet Union go underground. They defy the law and often find themselves at odds with the authorities. Some are harassed.
A detailed document sent to the West last fall from dissident Protestants estimated that "tens of thousands of believers" died in prisons or in exile between 1929 and 1961. It said that since 1961, "more than 500 brethren have been arrested and imprisoned, chiefly ministers of the church, presbyters, preachers. Among them are our dear young sisters with clean hearts forced in prisons and camps into the depths of sin and depravity among fallen women."
The full document, typed single-space, stretched across eight pages. With it were sixty-two signatures and data on 174 Christians most recently arrested, giving details such as date of arrest, charges, sentence, place of imprisonment, next of kin, and number of dependents.
An expert on religious persecution in the Soviet Union is a Czech-born Presbyterian minister, the Reverend Blahoslav Hruby. He edits a newsletter for the National Council of Churches called Religion in Communist Dominated Areas. Some National Council leaders are opposed to regular exposure of Communist religious oppression, and Hruby's newsletter has been on the verge of extinction a number of times.
The NCC's current financial pinch makes the situation more precarious than ever, and Hruby is quietly appealing for outside funds. His main interest is not theological (he calls himself neoorthodox) but educational; he wants Christians in the West to know what is going on. Last month he succeeded in getting the New York City Presbytery to adopt unanimously a resolution appealing for prayers for persecuted Christians in the Soviet Union and other countries. The presbytery is also asking the United Presbyterian General Assembly to compile a comprehensive report on "the growing number of violations of religious freedom and other human rights in many countries."
The 58-year-old Hruby, whose translation work is enhanced by his working knowledge of more than a dozen languages, says the Soviets are sensitive to foreign reports on religion in the Soviet Union. One of the most important reactions came last October from Izvestiya (News), the chief daily organ of the Soviet government. The paper carried a long rebuttal of religious-persecution charges written by Vladimir A. Kuroyedov, president of the Soviet Council on Religious Affairs.
Kuroyedov did not mention RCDA by name but noted that "in the U. S. A. there is an active center for studying religion in socialist lands." He claimed that much information published about supposed religious persecution in the Soviet Union is false. As Exhibit A he cited reports in Ukrainian-American periodicals that two well-known Baptist preachers, H. P. Wins and Joseph Bondarenko, had died in Soviet prisons.
"Actually," Kuroyedov gloated, "these 'glorious heroes' are alive and in good health; Bondarenko, indeed, not long ago, celebrated a rousing wedding."
Hruby maintains that his newsletter "is not in the category of those who produce false propaganda, as its sources are the Soviet press or verified documentation. We stand by the record." He adds that he does not deny Kuroyedov's contention that thousands of churches are open.
"Our concern," Hruby declares, "is that the Soviet authorities, the council and its deputies, and others in the bureaucracy have not permitted the opening of more churches when formal requests have been submitted in accordance with existing legal procedures. In fact, we feel that they themselves have helped to develop disloyal attitudes by their delays or rejections."
DAVID E. KUCHARSKY
Delegates Of Four Faiths Hold Beirut Dialogue
Thirty-eight scholars specializing in dialogue, representing four religions, gathered officially in Beirut, Lebanon, last month to discuss—for the first time—their areas of agreement and disagreement.
The nine-day "Dialogue Between Men of Living Faiths" was attended by three Hindus, three Muslims, four Buddhists, and twenty-eight Christians of various backgrounds. The World Council of Churches' Study Department sponsored the event.
WCC study secretary S. J. Samartha of India described the gathering as "not a conference of world religions" or of "official representatives." Major objectives were "to set up conditions for dialogue between Christians and men of other beliefs and to think about the priority tasks of the Church." Jews were not invited to the meeting—not because there has been insufficient Christian-Jewish dialogue to set the stage, but because the consultation took place in tension-filled Lebanon. Jews should be included in future meetings, Samartha said.
The consultation, which was closed to the public, was the outgrowth of a 1967 conference held in Ceylon.
Noted a Muslim participant afterwards: "By the very fact that we lived together, over those nine days, shared our common religious concern, and also prayed together, we were made to feel something new, something which cannot be put into words except that we were all too small before God, too small to dispute him among ourselves, and that we had just to surrender, kneel down, and pray."
But a Buddhist said the meeting "was structured in a manner of one-way traffic … our Christian brethren had the opportunity of knowing and sharing more about Buddhism, and opportunity afforded to the Buddhists to know about Christianity was not as much as we desired."
Dr. Hassan Askari, a Shiite Muslim from India's Osmania University, said he felt the search for a broad philosophy covering all religions "is a denial of religion." Conference officials said this view was typical of Christian, Muslim, and Hindu theologians who attended, but not of Buddhists.
Canon David Jenkins, Anglican theologian from the WCC staff, said the conference spent a day and a half on the Palestine question without reaching agreement. Theologians doubted one more statement would add much, anyway. There also was apparent disagreement on communal distrust and violence in India, the Buddhist-Christian tension in Ceylon, and the Christian-Muslim encounter in Indonesia.
Dr. Samartha noted one outcome of the sessions was that participants planned to initiate similar dialogues between the faiths in their own countries.
LILLIAN HARRIS DEAN
Religion In Transit
A committee of Catholic bishops assumed credit for bringing together three southern California table-grape growers and Cesar Chavez's United Farm Workers Organizing Committee in a union contract. The pact, involving pickers for about 1 per cent of the state's table-grape crop, was considered a minor break-through in the nearly five-year-old grape strike.
Disciples' Non-Stance
Staff of the United Christian (Disciples of Christ) Missionary Society are free to take part in the 1973 Key Bridge transdenominational evangelism emphasis if they wish (see February 27 issue, page 26).
The mission society's trustees voted last month to table a recommendation on the matter. Dr. Albert M. Pennybacker, a Shaker Heights, Ohio, pastor, said the tabling didn't represent a stance for or against the evangelism emphasis (he had criticized the idea as "fundamentalist" rather than social-action-oriented at a January meeting of the trustees).
"We have not taken a posture," declared Pennybacker. "We have simply moved away from a posture."
Rare-book dealer Hans P. Kraus of New York is offering for sale at $2.5 million or more a two-volume Gutenberg Bible, one of forty-six copies known to have survived from the fifteenth century.
Trouble-tormented First Presbyterian Church of Chicago (see July 19, 1968 issue, page 54), was used for the mock trial and beating of a youth, the head of an investigating committee confirmed last month. Paul Gebhard said police arrested six Blackstone Rangers for aggravated assault and battery after a complaint. The Rangers regularly meet at the church.
David C. Cook and Gospel Light publications will jointly produce an adult Bible-study curriculum beginning with the 1971 winter quarter.… Eternity magazine has agreed to take over the approximately 5,000 subscribers who received the now defunct Watchman-Examiner.
CBS radio cut short an Easter sunrise service broadcast from Albuquerque, New Mexico, when a Spanish-speaking group attempted to seize the microphone to press poverty concerns.
According to a South Baptist poll, 97 per cent of the convention's pastors and 93.1 per cent of its Sunday-school teachers would expel college students who break laws while participating in college demonstrations.
United States Congress aspirant John Dae Check told a Harrisburg, Pennsylvania, court he was eligible for the office because he computes his age from conception, since Roman Catholic belief is that life begins at that time. But the judge ruled that Check, who will be only 24 years and three months old next January, was ineligible because the U. S. Constitution says a congressman must be at least 25. "This is not a religious issue," the jurist said.
The Rabbinical Council of America, the nation's largest Orthodox rabbinic group, called upon Protestants and Catholics this month to join it in a campaign against drug abuse. The invitation was believed to be the first time a major Orthodox body had promoted interfaith cooperation at any level.
Roman Catholic high schools are more effective than public high schools in sending graduates on to college, a private poll by two educators showed.
President Nixon signed into law this month a bill outlawing cigarette commercials on radio and television beginning January 2.
Personalia
Catholic archbishop John Cardinal Krol of Philadelphia preached to former President Lyndon Johnson and President Nixon at White House worship services April 5.
Missouri Synod Lutheran pastor Richard J. Neuhaus of Brooklyn was eliminated in a pre-primary contest for the Democratic party nomination for the U. S. congressional seat now held by John Rooney (D.-N. Y.).
Two Southern Baptist professors at the University of Richmond took to heart a statement by SBC president W. A. Criswell that those who couldn't agree with Baptist doctrine should leave the church. William C. Smith and Jerry L. Tarver said they would quit their posts at the SBC school and leave the denomination. "It's kind of like the Boy Scouts," Smith told the Baptist Press. "It's a fine organization, but there comes a time to leave."
The Reverend Donald Black, associate secretary of the United Presbyterian Commission on Ecumenical Mission and Relations, will move up to the top post of the agency when Dr. John Coventry Smith retires December 31.
Basketballer Tom Dykstra of Wheaton College has been drafted by the Baltimore Bullets.
Roman Catholic theologian Jean-Paul Audet of the University of Montreal was named one of three $15,000 Molson Prize winners by the Canadian Council last month, causing the Canadian edition of Time magazine to note that it was the first time the government-sponsored council "has acknowledged theology as falling within its field, thus ending a curious anomaly in which classical scholars were given grants to study ancient gods while scriptural scholars were denied recognition."
Because he is convinced that politics in the Church "should be as open and as honest as possible," Dr. Keith Bridston, professor at Pacific Lutheran Seminary in Berkeley, California, has announced he is a candidate for the presidency of the American Lutheran Church this October. The action is believed to be unprecedented in major denominations in the United States. No candidates have been nominated by ALC districts yet, but likely choices are Dr. David W. Preus, ALC vice-president, and Dr. Kent Knutson, president of Wartburg Seminary at Dubuque.
Archbishop Iakovos, primate of the Greek Orthodox Archdiocese of North and South America, has been named Clergyman of the Year by Religious Heritage of America.… Dr. Howard F. Moffett, superintendent of the Presbyterian Hospital in Taegu, Korea, has been named Man of the Year and given the Distinguished Christian Service Award by World Vision International.
Dorothy C. Haskin, known widely for her radio program "Dorothy and Her Friends," is retiring after writing seventy-one books for the religious press since 1940. She has been a staff writer for World Vision International for the past eleven years.
Betty McConkey, head of the Wide Awake Anti-Communist Crusade, had herself designated a "home missionary" so gifts supporting the agency could be tax-exempt. But a jury didn't find her exempt from fraud: the Iowa woman was found guilty of bilking a Roseau, Minnesota, farmer of more than $170,000.
The president of the North American Baptist Seminary in Sioux Falls, Dr. Frank Veninga, will become executive vice-president of Eastern Baptist Seminary, Philadelphia, August 1.
World Scene
Churches newly recommended for membership in the World Council of Churches are the Reformed Churches in the Netherlands (Gereformeerde Kerken), with a membership of 850,000; Nigerian Baptist Convention, 76,000; United Church of Papua, New Guinea, and the Solomon Islands, 72,322; Methodist Church in Malaysia and Singapore, 35,255; and Moravian Church, Eastern West Indies Province, 10,275.
Bishop Ambrosis of Eleftheroupolis, Northern Greece, told the Holy Synod of the Church in Greece that he instructed all priests in his diocese to drop Athenagoras of Constantinople from their prayers because of the "heretical ideas" of the patriarch who is spiritual leader of world Greek Orthodoxy. A week later, Athenagoras was critically ill in a Vienna hospital and churches of the Greek Orthodox Archdiocese in North and South America were asked to suspend usual programs to pray for his recovery.
According to a doctoral thesis at Hebrew University in Jerusalem, electronic computers have proved "beyond doubt" that two Isaiahs, living 200 years apart, wrote the Book of Isaiah. Tests analyzed stylistic and linguistic details.
Pravda, a Communist party newspaper in Czechoslovakia, blasted the Church, particularly the Roman and Greek Catholic clergy, at Easter, thus dimming hopes the regime will continue liberal policies toward religion started during the 1968 reform era.
Parishioners took over five Roman Catholic churches at Corrientes, 500 miles north of Buenos Aires, last month to protest the excommunication of a liberal priest.
Pope Paul VI will make a one-day visit April 24 to the Island of Sardinia, where he will celebrate mass at a shrine.
Deaths
HENRY NICHOLAS Hancock, 63, dean of the Episcopal Cathedral of St. Mark in Minneapolis, author, church executive; in Minneapolis.
DAISUKE KITAGAWA, 59, World Council of Churches executive, author, Episcopal clergyman; in Geneva, Switzerland.
WILLIAM H. RHOADES, 69, retired American Baptist Home Mission Societies executive secretary, lawyer; in St. Petersburg, Florida.
J. M. T. WINTHER, 95, American Lutheran Church missionary, former professor at Kobe Bible Institute; in Kobe, Japan.
Have something to add about this? See something we missed? Share your feedback here.
Our digital archives are a work in progress. Let us know if corrections need to be made.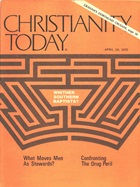 This article is from the April 24 1970 issue.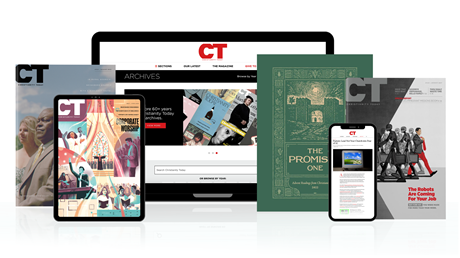 Subscribe to Christianity Today and get access to this article plus 65+ years of archives.
Home delivery of CT magazine
Complete access to articles on ChristianityToday.com
Over 120 years of magazine archives plus full access to all of CT's online archives
Subscribe Now
Religious Oppression: Russian Revolution Yields Bitter Fruit
Religious Oppression: Russian Revolution Yields Bitter Fruit