Those who look past the tinsel, glitter, and commercialism of Christmas to find its spiritual meaning recognize in Christ's coming the supremeness of God's love for this world. But there is far more involved than God's love, and we should search for all the implications if we are to understand not only the meaning of Christmas but also the Gospel of Jesus Christ, of which it is a part.
In the incarnation, birth, life, death, and resurrection of God's Son, we see the holiness of God. Humanity stumbles over this attribute of God, which so completely separates him from sin and the sinner. We equate God with our concept of goodness, but we falter before the perfection that is a part of his absolute holiness.
We can but dimly grasp the meaning of holiness. It is the antithesis of sinfulness, and its very nature demands absolute separation from that which is evil. God is holy, and because man is sinful he can never stand in God's presence without first becoming righteous in his sight. Because of God's holiness, sinful man would be destroyed should he enter the unveiled presence of God.
The psalmist wrote, referring to all mankind: "All have fallen away; they are all alike depraved; there is none that does good, no, not one" (Psa. 53:3). The question then was how, in view of God's utter holiness, man might be made fit for his presence. And in the answer we have the Christmas story.
The holiness of God demands a renewed people if they are to come into his presence, and our Lord made it clear that this requires a spiritual rebirth so that men might become "new creatures" in and through his Son.
There must be a supernatural work of God's Spirit in the lives of individuals, transforming them and transferring their citizenship from an earthly to an heavenly one. Oh, I know the scorn heaped on Christians who, while they try to be good citizens of this world, still maintain that their real citizenship is in heaven and that it is for that country that they long. But being criticized is a part of the Christian's life.
Instructed Christians also know that this transferral of citizenship is not of themselves but is a supernatural work in their lives, the result of Christ's ministry in their hearts.
The holiness of God also demanded an intermediary between man and God, One who could break down the wall that sin had, erected, and the First Christmas brought that Mediator into the world. As the Apostle Paul wrote, "There is one God, and there is one mediator between God and men, the man Christ Jesus" (1 Tim. 2:5).
The Mediator had to be sinless, and he had to be man as well as God. God's Son was the perfect emissary from God to make possible man's redemption and transformation into a being who could stand unafraid in God's holy presence.
The heart of Christmas lies, not in Bethlehem's manger, but in Calvary's cross and the empty tomb, for only through the death and resurrection of Christ can man become holy in God's sight. We stress the love of God at Christmas, and rightly so; but the depth of that love is understood only in the light of Christ's atonement for our sins—for man's hope lies solely in the interposition of the Son of God on his behalf. "For our sake he made him to be sin who knew no sin, so that in him we might become the righteousness of God" (2 Cor. 5:21). And in this we have the Christmas story. Christmas must be viewed within the context of Christ's place in eternity, his incarnation and birth, his life, death, and resurrection, and the certainty of his coming again.
The relation of Bethlehem to Calvary cannot be severed. For all mankind, separated from God by sin, Christ became the perfect intermediary—perfect man and perfect God. He was tempted "in every respect … as we are, yet without sinning" (Heb. 4:15).
At a point in the drama of human existence there appeared One who is superhuman, to do a superhuman work so that all who believe in him "should not perish but have eternal life" (John 3:16).
God's holiness and man's sinfulness made Christmas, the cross, and the empty tomb an absolute necessity, not from man's standpoint but from God's. Because of Christ's atoning work, the Apostle Paul could affirm for the comfort of all who believe: "There is therefore now no condemnation for those who are in Christ Jesus. For the law of the Spirit of life in Christ Jesus has set me free from the law of sin and death. For God has done what the law, weakened by the flesh, could not do; sending his own Son in the likeness of sinful flesh and for sin, he condemned sin in the flesh, in order that the just requirement of the law might be fulfilled in us, who walk not according to the flesh but according to the Spirit" (Rom. 8:1–4).
The holiness of God, which made necessary the coming of his Son into the world on that first Christmas, demands holy lives of those who have been brought by him at such tremendous cost. We are admonished, "I appeal to you therefore, brethren, by the mercies of God, to present your bodies as a living sacrifice, holy and acceptable to God, which is your spiritual worship. Do not be conformed to this world but be transformed by the renewal of your mind, that you may prove what is the will of God, what is good and acceptable and perfect" (Rom. 12:1, 2).
Having been redeemed by the Christ of Christmas, Calvary, and the empty tomb, are we living holy lives? Are we obeying the injunction to "do all things without grumbling and questioning, that you may be blameless and innocent, children of God without blemish in the midst of a crooked and perverse generation, among whom you shine as lights in the world, holding fast the word of life" (Phl. 2:14–16)?
In a very real sense Christmas is the celebration of the way in which a holy God made provision to make us holy: "And you, who were once estranged and hostile in mind, doing evil deeds, he has now reconciled in his body of flesh by his death in order to present you holy and blameless and irreproachable before him, provided that you continue in the faith" (Col. 1:21–23).
Christmas means the holiness of God made available to sinful men. "Consecrate yourselves therefore, and be holy; for I am the LORD your God" (Lev. 20:7).
Have something to add about this? See something we missed? Share your feedback here.
Our digital archives are a work in progress. Let us know if corrections need to be made.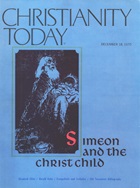 This article is from the December 18 1970 issue.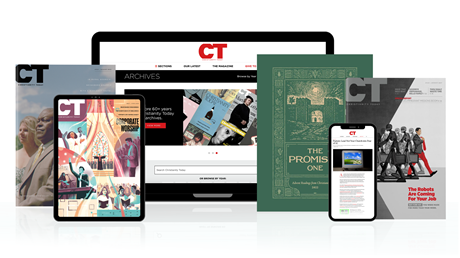 Annual & Monthly subscriptions available.
Print & Digital Issues of CT magazine
Complete access to every article on ChristianityToday.com
Unlimited access to 65+ years of CT's online archives
Member-only special issues
Subscribe
More than Holly—Holiness
More than Holly—Holiness