During the twentieth century the God of our fathers has become a philosophical paradox and a theological problem. Now, toward the end of the century, God is emerging as a question with ambiguous answers.
Few volumes survey this distressing religious drift as instructively as Heinz Zahrnt's The Question of God: Protestant Theology in the Twentieth Century (Harcourt, Brace and World, 1969), an overview of big names and mass ideas in Continental perspective.
It is no easy task to square the conviction that theologians are a trained cadre of scholars whose studies are specially ordered for the sake of conceptually clear comprehension of divine reality and truth with their extensive current disagreement over the essential content of Christianity and the significance of Jesus Christ. No longer can one hurriedly laugh off the Bible-institute graduate who defined contemporary theology as a post-apostolic invention of the anti-Christ. Neo-Protestant theologians use the term God variantly, ambiguously, confusedly, and improperly. Contradiction of one another's views runs so deep that the misuse of God's name has become an evident feature of current theological inquiry. An ecumenical age ought to be no less concerned about this intellectual misconstruction of Christianity than about the institutional misconstruction of the Church.
The merry-go-round of God-theory rotates from Karl Barth's early stress on the infinite qualitative difference between God and man to Herbert Braun's emphasis that God "happens" in interpersonal relations. Hobbyhorses rise and fall carrying banners that proclaim God's reality, non-objectivity, non-existence, subjectivity, silence, absence, and death. About recent schemas from Barth to Tillich, observers are tempted to remark, "By their prepositions ye shall know them"; we are alternatively offered a God "beyond," "up there," "in here," "down under," and so forth.
One vitiating feature of neo-Protestant theology is surely its lamentable forfeiture of cognitive knowledge of God. Until this costly mistake is avoided, the question of God must wait for better answers. Simple believers who still treasure the Bible as required reading will have a sounder view of the Living God than academicians who take this course.
All neo-Protestant theologians anchor their religious theorizing to an espousal of divine revelation of sorts. Revelation they characteristically correlate not with conceptual knowledge but with non-cognitive response. Neo-Protestant theologians disown any divine communication of truths by God about himself. This bequeaths the theologian the task not of expounding what God has cognitively disclosed in his revelation but of venturing a personality sketch of the Divine in the absence of ontological disclosure.
Almost all neo-Protestant dogmaticians emphasize the relativity of human assertions about God. Few presume to utter one final sentence or word of literal truth about God (althought they do not trouble to remind readers of this when they come down hard on the side of their private certitudes).
Wolfhart Pannenberg has been reminding neo-Protestant theologians that the Bible identifies revelation with the divine communication of all sorts of information. If the significance of this fact were rediscovered, contemporary theology would take an important turn. But Pannenberg too considers our conceptual knowledge of God obscure because it is couched in the language of praise. He insists, however, that all history—and not simply a single isolated enclave of special saving-events—must be viewed as a locus of divine revelation.
Moltmann and Cullmann locate divine disclosure in special external saving-events. To Cullmann's credit, although he too shies away from divine conceptual disclosure of ontological truth, he views the scripturally given meaning of saving-events as integral to the revelation.
Moltmann orients the biblical saving-events, and especially Jesus' historical resurrection, to a futuristic theology of hope; the result is the relativizing of all past revelational-knowledge.
These efforts seek to reinforce and to deepen the Barthian emphasis on revelation as a miraculous supernatural event addressed to man from without and above. But they are too halting to turn the tide. Some post-Moltmannians already array the theology of "hope" against a theology of "faith" (which might require a correlation with external historical events); they view Moltmann's emphasis on the historical resurrection of Jesus as a failure to demythologize, and they detach their theology of hope from any anticipatory consummating in history.
The early Barth viewed divine revelation as God's personal self-communication to man, consummated internally by responsive trust. Revelation occurs only in person-to-person confrontation; it includes no communication of concepts or truths about God, but is the self-impartation of divine love issuing in responsive faith and fellowship. Since nature and history are presumably a closed system of cause and effect, no divine disclosure is admissible in the world or in society as a whole. The saving-events—including Christ's incarnation and resurrection—are somehow tangential to the history that the historian knows.
Bultmann demythologized Christianity of "miracles" that Barth had already consigned outside the arena of historical and scientific import. With broader sympathy for positivist prejudices, Bultmann dismissed the supernatural and miraculous as mere verbal mythical coding for an inner existential experience. Revelation, he contended, is not supernaturally addressed to man from without and above, but is transcendently concealed in the events and experiences of the world. It does not provide new knowledge of God; rather, in faith God's address in the Word shapes a new human self-understanding.
Bultmann's more radical critics regard such references to the God who confronts man transcendently in Jesus Christ the Word as an invitation to a further wielding of the demythologizing ax.
Some argue that the critical center of authentic human existence need be located only in man's sense of moral imperative.
Communist tacticians are also ready with Marxian proposals for what new human self-understanding implies. What's more, in expounding the case for dialectical materialism as definitive of ultimate reality, they do not abandon the relevance of reason. They are delighted to welcome neo-Protestant dialogue that takes Christianity out of effective contention.
CARL F. H. HENRY
Have something to add about this? See something we missed? Share your feedback here.
Our digital archives are a work in progress. Let us know if corrections need to be made.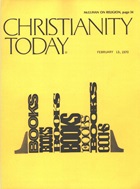 This article is from the February 13 1970 issue.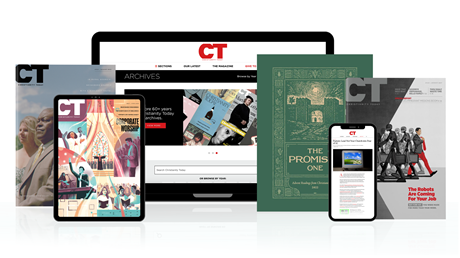 Subscribe to Christianity Today and get access to this article plus 65+ years of archives.
Home delivery of CT magazine
Complete access to articles on ChristianityToday.com
Over 120 years of magazine archives plus full access to all of CT's online archives
Subscribe Now
God as a Problem
God as a Problem