Christianity is not a negative religion; it is a glorious Yes. The Apostle Paul tells us, "All the promises of God find their Yes in him" (2 Cor. 1:20a). Our Lord makes it plain that redemption means passing from a negative ("perishing") state to a positive one—that of eternal life.
But when one has said yes to Jesus Christ, accepting him as Saviour and making him Lord of life, he comes to realize that there are negatives that are a part of the Christian's daily life. Because he is in the world but not of it, he finds that no becomes a very important word and a very important attitude of life. Jesus says, "If any man would come after me, let him deny himself [say no to self] and take up his cross and follow me" (Matt. 16:24).
This saying no to self is a continuing requirement for the Christian. However, it involves a distinction many earnest believers fail to make. For such people, not doing this or that, not going to this place or the other, is the sign of whether or not a person is actually a Christian, and whether or not they may have fellowship with him. From this attitude to modern Pharisaism there is but a short step, and some unwittingly take it.
Being a Christian involves but two things—faith in Jesus Christ and obedience to his revealed will.
But obedience does involve the clear leading of the Holy Spirit as well as convictions about God's will. The Apostle Paul makes plain in word and by example what being a Christian means: "Those who belong to Christ Jesus have crucified the flesh with its passions and desires" (Gal. 5:24). That means saying no to self. While life lasts we are confronted by temptations inherent in the flesh, and they must be dealt with by rejection.
As is true in so many aspects of the Christian faith, we find here a paradox. Jesus says, "He who finds his life will lose it, and he who loses his life for my sake will find it" (Matt. 10:39). And again, "Whosoever seeks to gain his life will lose it, but whoever loses his life will preserve it" (Luke 17:33).
When confronted with an issue that requires a yes or no, what criteria do we have? We must say no to anything that (a) injures the body, (b) defiles the spirit, or (c) contaminates the mind. This is not an oversimplification but a practical basis for ordering our lives as Christians.
The body is a temple of the Holy Spirit, but there is always the temptation to defile it. Therefore the Apostle Paul tells us, "You are not your own; you were bought with a price. So glorify God in your body" (1 Cor. 6:19b, 20). Easy to comply with? No! But God always gives the grace to carry out his holy requirements. We do not know by what particular sins of the flesh the Apostle Paul found himself tempted, but he says, "Every athlete exercises self-control in all things. They do it to receive a perishable wreath, but we an imperishable. Well, I do not run aimlessly, I do not box as one beating the air; but I pommel my body and subdue it, lest after preaching to others I myself should be disqualified" (1 Cor. 9:25–27).
The trend of the world is to defile the spirit, and we find ourselves confronted daily by things that would further this defilement. Unless cleansed by the blood of Christ, the heart is a filthy thing. Jesus tells us, "Out of the heart come evil thoughts, murder, adultery, fornication, theft, false witness, slander. These are what defile a man" (Matt. 15:19, 20a).
If we are honest we must admit guilt in this area of our lives—unworthy thoughts, so easy to hide from others, that sometimes find expression in evil actions. We are born with contaminated minds, minds set on the flesh and not on the Spirit. That is why we must be converted, changed. The Apostle Paul tells us bluntly, "To set the mind on the flesh is death, but to set the mind on the Spirit is life and peace. For the mind that is set on the flesh is hostile to God; it does not submit to God's law, indeed it cannot; and those who are in the flesh cannot please God" (Rom. 8:6–8).
It becomes obvious that for the Christian there are many things to which he must say no. Yet it is axiomatic that God requires nothing of us for which he has not made full provision—the convictions that make us say no, the way of escape when temptations come, the grace for every contingency of life.
For the Christian this means putting first things first. It means facing in the right direction. It means learning the lesson, "If then you have been raised with Christ, seek the things that are above, where Christ is, seated at the right hand of God. Set your minds on things that are above, not on things that are on earth. For you have died, and your life is hid with Christ in God" (Col. 3:1–3).
The "death" of the Christian is hard to understand; the "crucifixion" of self seems unattainable. But both are very real. One of the most sublime statements in the Bible is that of Paul: "I have been crucified with Christ; it is no longer I who live, but Christ who lives in me; and the life I now live in the flesh I live by faith in the Son of God, who loved me and gave himself for me" (Gal. 2:20).
This is the central teaching of the Gospel: Christ in us, and instead of us; a new way of life, a new set of standards, a new code of ethics—all in and of Christ. This is not asceticism but the appropriating of all that a loving and living Saviour provides for his own. Such living is by the grace of God, but there is also an act of the will whereby we appropriate and submit to God's truth.
Submission to the will of an all-wise, all-loving God is the very essence of the Christian life. Many years ago Horatius Bonar put prayer for the grace of submission in these words:
Thy way, not mine, O Lord,
However dark it be!
Lead me by Thine own hand;
Choose out the path for me.
Smooth let it be or rough,
It will still be best;
Winding or straight, it leads
Right onward to Thy rest.
I dare not choose my lot;
I would not if I might:
Choose Thou for me, my God
So shall I walk aright.
The Kingdom that I seek
Is Thine; so let the way
That leads to it be Thine,
Else I must surely stray.
Take Thou my cup, and it
With joy or sorrow fill
As best to Thee may seem:
Choose thou my good and ill.
Not mine, not mine the choice
In things or great or small;
Be Thou my Guide, my Strength,
My Wisdom and my All.
The One who is the eternal Yes has said an eternal No on the Cross—Yes for man's redemption, No to the power of Satan. It remains for us, by his grace, to walk as he would have us walk.
One of the precious paradoxes of it all is that his yoke proves wonderfully easy and his burden unbelievably light. If we say yes to him, he will enable us to say no to evil.
L. NELSON BELL
Have something to add about this? See something we missed? Share your feedback here.
Our digital archives are a work in progress. Let us know if corrections need to be made.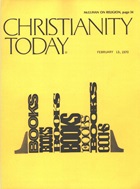 This article is from the February 13 1970 issue.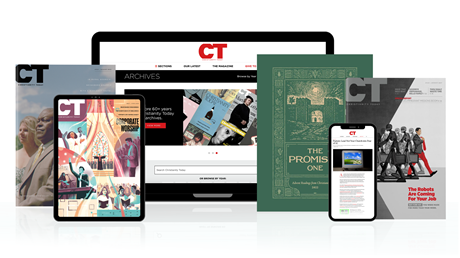 Subscribe to Christianity Today and get access to this article plus 65+ years of archives.
Home delivery of CT magazine
Complete access to articles on ChristianityToday.com
Over 120 years of magazine archives plus full access to all of CT's online archives
Subscribe Now
The Eternal Yes
The Eternal Yes